---
Sometimes a recipe happens by a happy little accident, like this Spaghetti Soup. It has the flavors of spaghetti in a warm and comforting soup. It's super easy to customize to your tastes and to whatever THM fuel type you need, too.
---
Yesterday, I wrote about repurposing…or Making Do With What We Have.
Ironically, that's just what I had to do when making supper later. The result is this deliciously easy Spaghetti Soup!
Wait…it's hot and humid out (or so I hear), why on earth am I making soup?
Well, because when I went to make spaghetti sauce, for some reason I grabbed the tomato juice from my pantry instead of tomato sauce. I had no tomato paste to thicken it and Sister is on an elimination diet which meant xanthan gum could not be used, so I had to Make Do With What I Had.
Excitedly (because when you gotta sell something, enthusiasm helps…), I rushed out to the living room and announced to Sister and Mister…
"Hey kids, want to try a new recipe tonight? Spaghetti Soup!!!!!!!"
Sister looked at me like I had lobsters crawling out of my ears. I explained that I messed up and we're just going to have to be adventurous tonight.
Eat or eat not, there is no making of multiple meals tonight.
For the kids, I cooked brown rice pasta, added it to their bowls and topped with the soup base. They said it was delicious. Mister had two big helpings.
For me, I took two cups of the soup base out of the big pot in which it was simmering and put it into a small sauce pan with about a cup and a half of shredded zucchini, then let it cook while I experimented with making garlic "biscuits". They turned out amazingly well, get the recipe here. I ate a cup of this soup with some shredded Kerrygold Dubliner on top and have some leftover for tomorrow.
It turned out very tasty, and I'll be sure to add this to our cold weather menu. But, since I didn't even go outside today, I really had no idea that it is NOT soup weather out there!
Easily customize your spaghetti soup to fit your THM meal style!
I chose zucchini "noodles" (one of these days I'll get a spiralizer, like this one, but for now I just shred it with a box shredder). Using ground beef that is not extra lean makes this spaghetti soup an S meal so low carb "noodles" are what you need.
I now use this cute little Troodle from the Trim Healthy Mama store to spiralize my zucchini. It's super easy to use!
In addition, cooked and shredded spaghetti squash (how to cook a spaghetti squash here) or konjac noodles make great low carb pasta substitutes.
The Trim Healthy Mama store has Not-Naughty-Noodles, which are konjac noodles. Buy them by the case to save money!
If you are OK with using Dreamfields pasta, use that. However, keep in mind that reheating Dreamfields renders its magical low-carb properties null and void.
For an E style meal, you would need to substitute the ground beef with one of the following:
ground venison (with no added fat ground into it)
lean ground chicken
lean ground turkey
grassfed ground beef
You can then use an appropriate amount of brown rice pasta.
For a Fuel Pull meal, use one of the lean meat options above and an appropriate amount one of the pasta replacement options from the S variation above. Fuel Pull means 5g fat and 10g carbs (or less) per meal.
Be Sure to Pin This Spaghetti Soup Recipe to Your Favorite Pinterest Boards!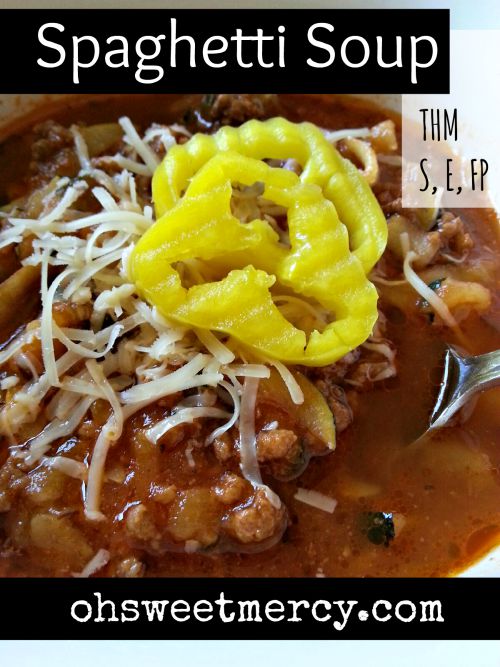 Spaghetti Soup | S, E or FP
Yield: 4 to 6 servings
Prep Time: 10 minutes
Cook Time: 35 minutes
Total Time: 45 minutes
This simple, satisfying soup can be made to suit any THM fuel type. It has the Italian flavors of a spaghetti dinner in a warm and comforting soup.
Ingredients
1 pound ground meat (for E or FP use VERY lean meat, such as grassfed beef, venison, turkey or chicken)
1 qt tomato juice
1 -2 tsp dried oregano, to taste
1 tsp onion powder
1/2 tsp garlic powder
1/4 tsp black pepper
1 clove garlic, pressed or minced
Salt to taste
Plan-approved sweetener, to taste if desired
On plan noodles such as konjac, spiralized veggies, brown rice pasta, or Dreamfield's  (see notes)
Instructions
In a sauce pan, brown ground meat. Drain and rinse as needed.
FOR E MEALS
While soup is simmering cook on-plan pasta to desired doneness according to package directions.
Add to soup immediately before serving.
FOR S AND FP MEALS
If using ZUCCHINI NOODLES either spiralize, shred, or slice and thinly cut zucchini into noodle-like strips.
Add to soup and warm through to desired tenderness.
If using SPAGHETTI SQUASH add cooked spaghetti squash to soup in the last few minutes of cooking.
If using KONJAC NOODLES, rinse well and add to soup after 25 minutes of simmering and warm through.
Notes
TRIM HEALTHY MAMA NOTES
For S or FP meals, using zoodles, spaghetti squash, or shiritaki noodles is your best option as they are Fuel Pull "noodles." Use as much or as little as desired.
For E meals, keep in mind that Dreamfields pasta must not be overcooked or eaten reheated. Cook half to one serving of pasta if you're the only one eating THM style and add to your bowl of soup. Otherwise, cook enough for the number of people eating. Since it's a soup I'd go with half a serving.
Some people's blood sugar still spikes after eating Dreamfields. It should not be eaten more than once a week.
NUTRITION NOTES
Nutrition information based on soup base only without noodle options. Nutriton info will vary according to what you use for noodles.
Recommended Products
As an Amazon Associate and member of other affiliate programs, I earn from qualifying purchases.
Nutrition Information:
Yield: 6
Serving Size: 1 cup
Amount Per Serving:
Calories: 188
Total Fat: 11g
Saturated Fat: 5g
Cholesterol: 47mg
Sodium: 53mg
Carbohydrates: 7g
Net Carbohydrates: 6g
Fiber: 1g
Sugar: 4g
Sugar Alcohols: 0g
Protein: 16g