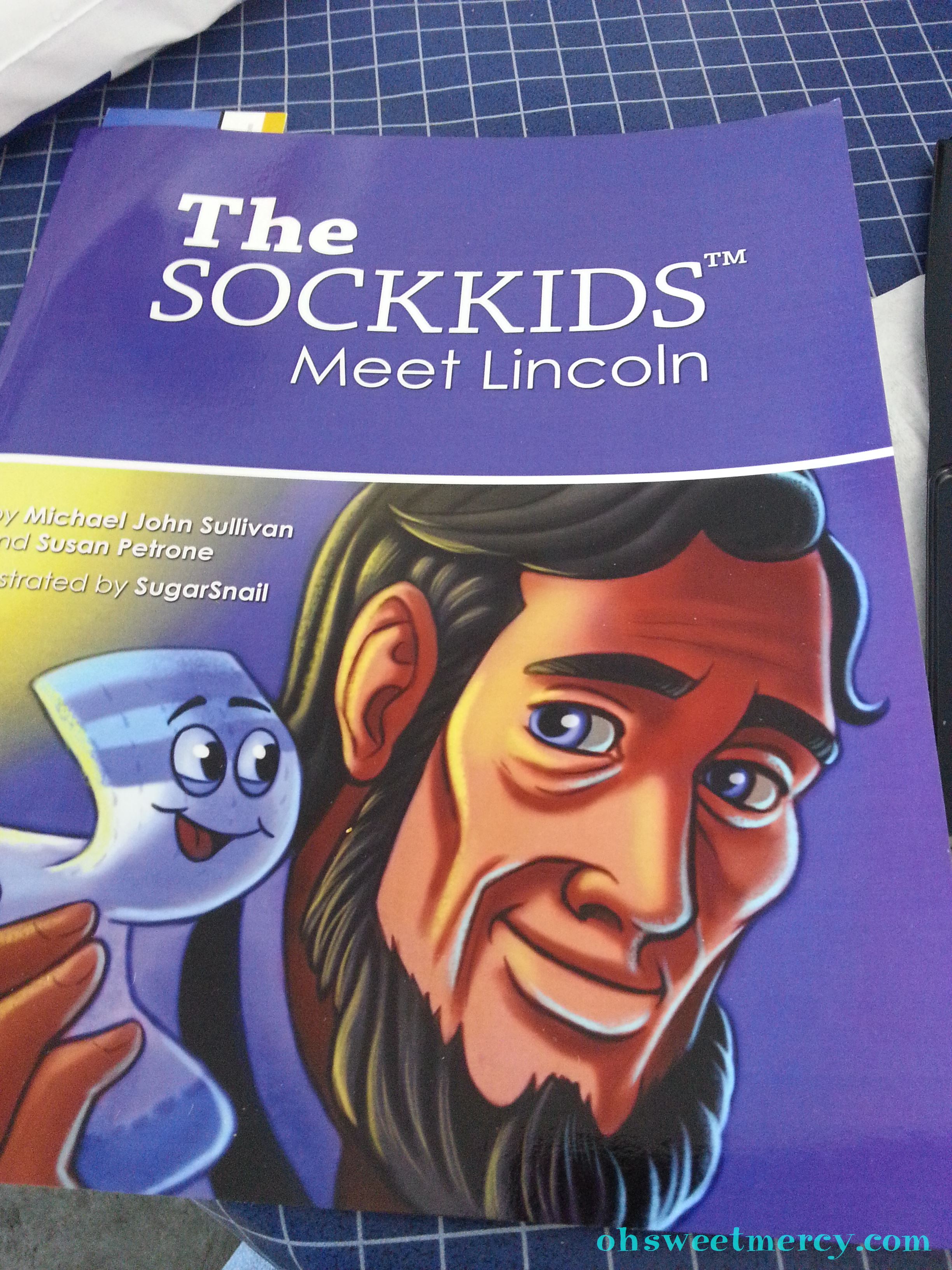 In my recent review of The SockKids Meet Lincoln, I mentioned that I had asked the authors some questions. Their answers were terrific and I didn't want to truncate them, so I decided to write a separate post. If you haven't yet read my review, you can do so here. You can also download a copy of The SockKids Meet Lincoln here on Amazon.
AUTHOR INTERVIEW
1. How long have you been writing?

I knew from a pretty early age that I was going to make my living with
words. My mother worked as a writer and editor before she got married. My
father was a musician, and the two of them wrote the Christmas shows for
one of Cleveland's big downtown department stores. (If you're a
Clevelander of a certain age, you'll know Mr. Jingeling.) And they also
wrote a musician based on the life of St. Augustine, which was produced
several times. Creativity was a family value, so the idea that I wanted to
sit down and write stories wasn't looked at as a questionable decision.
I'm grateful for that.

2. I love the idea of time traveling socks, can you share what inspired you?

I'll let my partner, Michael Sullivan, answer that: "If you need an answer
for how was I inspired to think of the concept, it was because I became
frustrated that I could never find a matching pair of socks. I am a stay
at home dad so I did laundry often. So while at dinner, I started making
jokes with my daughters on where they might go. I love time travel so I
utilized the concept on that they were taking good care of other humans in
different points of time. It was at that moment on a hot, sunny day in
August of 2009 that I first developed the concept."

3. How can parents and educators incorporate your books in their learning times with children?

In The SockKids Meet Lincoln, Stretch, the oldest SockKid, travels back in
time and ends up on President Lincoln's foot during the Gettysburg
Address. The 150th anniversary of the Gettysburg Address is November 19 of this year, so the book is a natural tie-in learning more about Lincoln and the Civil War. I think a book like this can be a starting point to a
bigger learning opportunity. Read it together and then listen to the
questions your kids ask after reading it. Maybe they'll be curious about
Lincoln. Maybe they'll want to learn more about Gettysburg. Or maybe
they'll just be curious about how clothes were washed in the 1860s.

4. Are there more adventures planned for the Sockers?

Absolutely! The illustrator is working on the drawings for the second
book. It's tentatively titled The SockKids Go Dancing and we hope to have
it out before Christmas. This one deals with sibling rivalry in the sock
drawer. And more books are in the works. Please check TheSockKids.com or
follow us on Twitter (@SockKids) or on Facebook (The-SockKids) to get news of upcoming titles.

5. Is there anything else you'd like to add?

We'll be offering The SockKids Meet Lincoln as a free e-book download the weekend of November 8-9. It never hurts to have the kindle loaded with
some great kids books! (And the paperback is also available through
Amazon.) We hope you'll take a little trip in the spin cycle with The
SockKids! Thanks for reading. 🙂
It was so great to meet Susan at Bloggy Conference, and I wish her and Michael all the best as they continue in their SockKids adventure! Can't wait to see the next story! Thanks, Susan and Michael for sharing a bit of yourselves and your work with us!