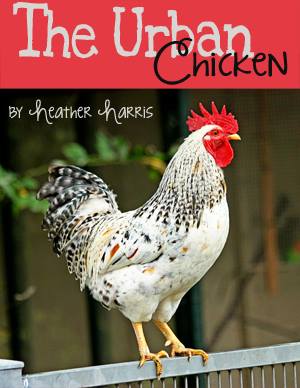 If you know me in real life, you know I've wanted backyard chickens for ever. I now have 3 and a half hens, all laying delicious eggs. That "half" hen is our sweet little bantam, Drumstick. Since I tend to do things backwards, it's no surprise then that I got chickens and then read this book! If you are thinking about getting started with backyard chickens, in an urban setting, then I highly recommend that you read The Urban Chicken FIRST, then get your flock.
**I received a copy of The Urban Chicken from the author, free of charge, in exchange for an honest review**
The Urban Chicken, by Heather Harris, is a quick read packed with tons of useful information. If you are considering or are new to backyard chicken keeping, you will benefit from her knowledge as a seasoned chicken-keeper. It takes you from selecting a breed all the way through to delicious recipes using those fresh eggs and meat.
The first chapter discusses many popular breeds as well as housing and feeding your flock, protecting from predators and the difference between "pastured" and "free range" chickens. You will learn the difference between layers, meat birds and dual-purpose birds and things to consider when choosing they type of birds to raise. The author also discusses legal issues involved with urban chicken keeping, an important thing to consider! I do disagree with the order of considerations – I think you should check first to see if you can keep chickens and then start looking into breeds and coops, but that's just because I hate getting my heart set on something and then not being able to do it.
The Urban Chicken will teach you about hatching eggs and where to get them, ordering baby chicks and what to expect when you bring them home. She discusses issues that are common with chicks and how to address them, and if you decide starting with chicks isn't for you she also discusses starting a flock with established birds. Once you get your flock going and want to add a new member (or more, as it seems to happen with BYC lovers), she'll explain the best way to do that to keep your established flock healthy and happy.
There are many afflictions that can affect your birds. Conditions such as parasites, diseases and even bully birds can crop up in your flock and she does a great job of explaining how to diagnose and cure these problems. You will also learn how to tell if your hens are layers or liars – and she offers some helpful tips to consider when deciding what to do with the liars.
You can't have a book about chickens without chicken and egg recipes, right? You're probably not raising chickens just for fun! Some of the recipes included in The Urban Chicken are Deviled Eggs 3 Ways, Grandma's Chicken Noodle Soup, Brown Bag Chicken and Eggs in a Nest. There is also a recipe for making your own organic chicken feed!
Keeping your flock healthy, protected and entertained (bored chickens can be bad birds!) is very important, and The Urban Chicken is a valuable resource to have on hand to make sure they stay that way. I love the pictures of the different breeds of chickens as well as the useful facts throughout the book, such as how long it takes for a chicken to produce an egg. Now I know why sometimes I get eggs in the morning and sometimes the afternoon – or not at all! I also love how she shares from her own experience, such as the clever trick for keeping raccoons away at night, and her witty sense of humor keeps it entertaining as well as educational.
The Urban Chicken isn't a chicken encyclopedia, of course, but still packs a lot of information in an easy-to-manage package. I like how the book is laid out, taking you from egg to plate in a few chapters. It would be nice if the table of contents were interactive, but since it's not hundreds of pages long you can still find the information you're looking for very easily. The formatting is nice and the book was easily read on my Kindle Fire HD.
My flock is doing well, we're getting fresh eggs daily, and I really enjoy the "girls" a lot. They're fun and entertaining (my husband doesn't see the "charm" in keeping chickens, but he loves the eggs), a great way to teach children responsibility and being gentle (as well as where our food comes from) and not a whole lot of work. I do wish I had read The Urban Chicken first, but either way I'm glad I have this in my collection to refer to whenever I need an answer.

Where can you get a copy of The Urban Chicken? It's easy! You can enter the giveaway below…
or you can just follow the link below and order your own digital copy!
Click here to visit The Homesteading Hippy.