We recently went on a motorcycle ride with our "gang" and stopped to eat at a lakeside restaurant that won Best Burger in that particular county this year.
Hubby had stopped there to eat one day and just completely raved about their Patty Melt. Since burgers are one of my favorite foods, I was excited to try this "famous" burger. Fortunately they had more options to choose from than just Patty Melts, and I chose their "House" burger with their "special sauce."
When I asked what was in their "special sauce" our server said she couldn't tell me. Then she asked if I had ever had their Firecracker Shrimp and that's all I needed to know. It had to be their rendition of Bonefish Grille's Bang Bang Sauce – and I couldn't wait to taste that burger!
You see, I completely fell in love with Bang Bang Sauce one year at my husband's office holiday party.
Me, who did not like spicy food, went completely ape over this stuff. I had to have it again, so that meant making it myself, because the Bonefish Grille is too pricey for us to eat at as often as I want to eat Bang Bang Sauce. So, I searched online and found a recipe from The Noshery to try. It turned out amazingly well, and since I don't eat shrimp anymore, I put it on homemade chicken nuggets.
Oh. Sweet. Mercy. Yes, it is that good.
Ever since the first time I tried those delicious, creamy, fiery nuggets of deliciousness I began to crave Bang Bang Sauce from the Bonefish Grille.
This copycat recipe, which I found over at The Noshery, is just about as close as you can get to their sauce. It's easy to prepare and tastes good on just about anything to which you'd like to add a little sweet, spicy sass.
I followed the directions exactly, only substituting, for the shrimp, one decent sized boneless, skinless chicken breast cut into 1″ cubes.
You can usually find all the ingredients for Bang Bang Sauce at your local grocery store.
If you can't find the Sweet Thai Chili or Sriracha sauces at your local grocery, try an Asian market (or you can find Sriracha Sauce here and Sweet Thai Chili Sauce – non GMO and no corn sweeteners – here). Then, you just mix them up into a creamy, fiery sauce – as fiery as you like, actually – before making your chicken.
Let those ingredients mingle and get to know each other. I believe it's called marrying. It's a big sassy wedding! Also, get your chicken soaking in the milk right away.
The original recipe for Bang Bang Sauce calls for Panko bread crumbs and they really do make these nuggets CRUNCH!
Since going gluten free, however, Panko crumbs are off the menu. I've substituted crushed rice square cereal with great results in other recipes (like my gluten free Mozzarella Cheese Sticks) and they work well here, too.
The trick to these chicken pieces ending up with a crunchy, golden coating that doesn't fall off is actually very simple. Take your chicken pieces (that have been soaking in milk, right? Right!) and dredge them in corn starch (or potato starch), dip them in the milk again and THEN in the Panko crumbs (OR crushed rice square cereal). To keep your fingers from ending up a gloppy mess, remember this:
One hand for wet, one hand for dry
Place the coated chicken pieces on a plate until they are all breaded.
Heat oil of choice for frying and add pieces to the hot oil, frying until golden brown on both sides and chicken is cooked through. Remove from oil and drain on a paper towel lined plate, keep warm.
After you have fried the chicken pieces, coat them liberally in that sassy sweet Bang Bang Sauce.
You'll see it kind of melt into the chicken, that's when it's ready to eat. Serve on a plate of lettuce or shredded cabbage and top with chopped scallions or chives.
Then dig in.
Savor the sweet. The sass. The Oh-Sweet-Mercy-This-Is-Good(ness). Share if you like, or don't. Fortunately, I'm the only one in my house that likes Bang Bang Sauce. I don't have to share!
Try this copycat Bang Bang Sauce on other dishes as well.
It's excellent on omelettes, scrambled eggs, as a dip for french fries or onion rings. Fire up a Beef Bacon BLT. Slather it on a burger. The possibilities are endless.
Now, please excuse me while I go savor some sweet sassy goodness. Nom nom nom…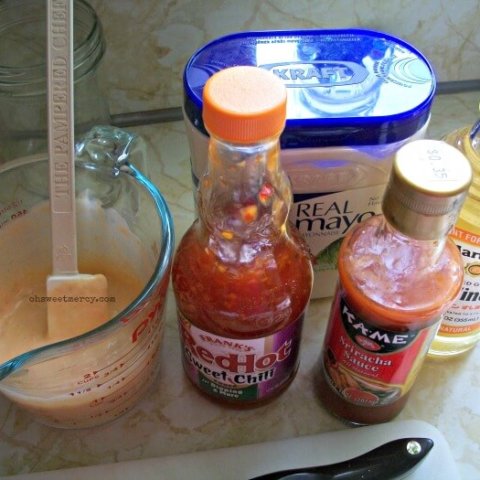 Bang Bang Sauce with Bang Bang Chicken Recipe (NOT THM)
Yield: 2-4
Prep Time: 30 minutes
Cook Time: 30 minutes
Total Time: 1 hour
A copycat recipe for Bang Bang Sauce plus a recipe for Bang Bang Chicken (instead of shrimp). Sweet and sassy, this sauce is awesome on more than just chicken nuggets! Try it as a condiment for other fried foods, on a burger or even on your favorite omelette.
Ingredients
FOR THE SAUCE
1/2 c real mayonnaise
6 tsp Sweet Chili sauce
3 tsp (more or less to your taste) Sriracha Sauce
2 tsp rice vinegar
FOR THE CHICKEN
1 boneless, skinless chicken breast, cut into 1" cubes
1 to 1 /12 c crushed rice square cereal (gluten free) or Panko bread crumbs
Milk - enough to just cover chicken pieces in a bowl
Cornstarch or Potato Starch, for dredging (about 1/2 cup)
1/2 tsp salt
Oil, for frying (such as expeller pressed coconut oil or peanut oil)
FOR SERVING
Shredded lettuce or cabbage
Chopped green onions or chives
Instructions
Soak chicken pieces in milk
In a small mixing bowl, thoroughly combine ingredients for sauce and set aside
Next, dredge a piece of chicken in corn starch, coating completely
Quickly dip piece in milk, then roll in crumbs and set aside
Repeat with each piece of chicken until all are coated
Heat oil in fryer or skillet
Fry chicken pieces until golden brown and cooked through, frying in small batches
Drain cooked chicken pieces on a paper towel lined plate and keep warm
Place cooked chicken nuggets in a medium bowl and pour sauce over pieces
Stir gently to coat all the nuggets
Place on bed of lettuce or cabbage and top with green onions or chives
Serve immediately
Notes
You can use chicken strips or breasts if you prefer, but you may need to increase amounts of breading ingredients. Make a double batch of sauce and you'll have some for later for eggs, french fries or burgers.
Pin this Copycat Bang Bang Sauce Recipe to Your Favorite Pinterest Boards