A Trim Healthy Mama Cookbook? It's like Pinterest on your bookshelf!
I've seen many people asking "Do I really need the new Trim Healthy Mama cookbook? Is there anything new in it or is it the same recipes that were in the old book?" Need is always relative of course. Can you do the plan without the new cookbook? Sure (but it's much more fun with it)!
Is there anything new in the cookbook?
Absolutely! The first book didn't have recipes for GGMS (Good Girl Moon Shine) and several other beverage recipes that are wildly popular among the THM community. There's also tons of crock pot meals, family and quick skillet recipes and soups, lots of breads (including new amazing recipes), desserts and even snacks and condiments – many of the recipes from the original book are there plus even more new recipes.
One of the best improvements in this Trim Healthy Mama cookbook is that there is an index page at the beginning of each section, with the recipes color-coded by fuel type. That makes it so much easier to find what you're looking for, especially for busy THMs!
You'll also find helpful information at the front about some of the recommended ingredients, both special and ordinary, and equipment. Helpful tips are scattered throughout the book, such as shortcuts for Drive Through Sues and budget-saving tips.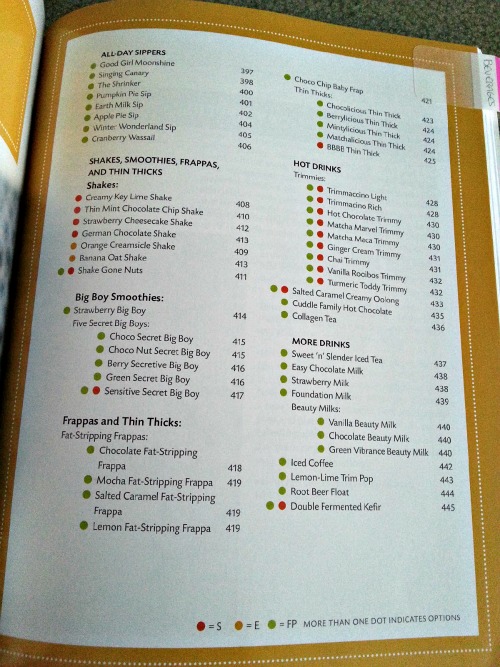 One of my own recipes is even included! If you like chocolate and coconut and cake, be sure to check out page 293. You can order your own copy through my affiliate partner's website here.
I've really enjoyed trying new recipes since I got the new Trim Healthy Mama cookbook!
I have to be honest and tell you that I don't NORMALLY use recipes much, preferring to just dump some stuff together until it it tastes like what I imagined in my head.
Since I have a good grasp on the Plan details, I know if I'm making something E or S, for example, and often modify our "normal" meals to fit my THM needs. Sometimes that means serving a starch like potatoes or pasta on the side for my family, and an on plan option like Mashed Fotatoes on page 219 or sauteed "zoodles" (zucchini noodles made with this fun tool!) for me.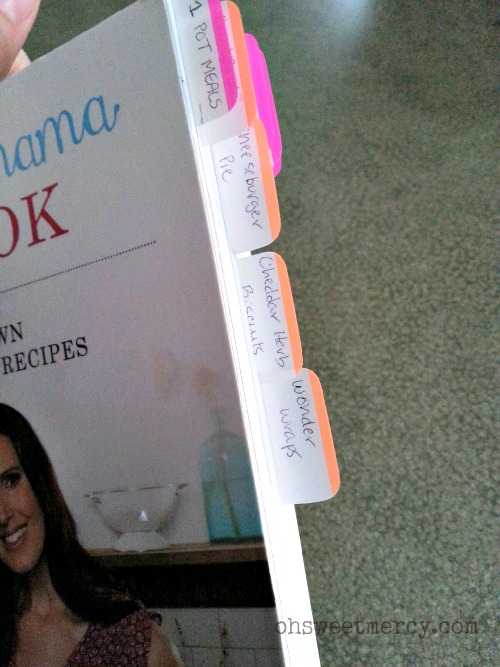 Many THMs "tab" their books for easy reference. I'm not that organized so I never tabbed my original plan book. I have, however, added tabs to my cookbook. I tabbed each section, as well as a few favorites for easy reference. These removable tabs from PostIt are terrific! [affiliate]
Since I'm a "dump cook" I wondered how often I would actually use the cookbook – I've been pleasantly surprised.
I find myself pulling it out several times a week, actually. Looking through the book inspires me at menu-making time. Since there are several recipes that I don't have memorized yet, I love having the book handy instead of using my phone or Kindle, although those are handy options if you prefer electronic versions. I like that the Trim Healthy Mama cookbook never needs charged or a wi-fi connection 😉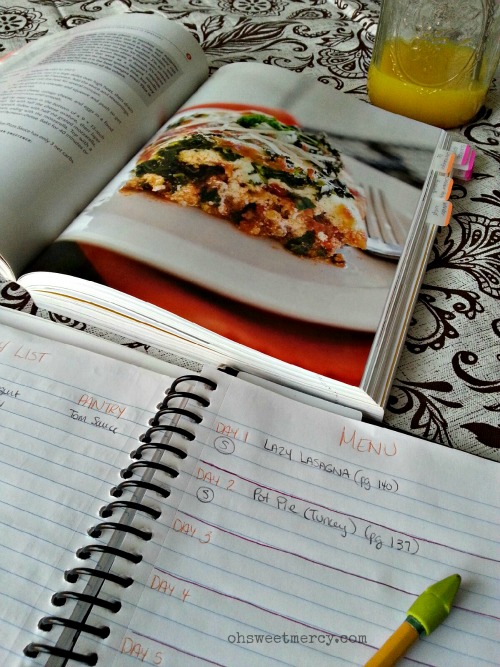 Here's how I roll with the menu and grocery planning. If I don't have the ingredients to make something in the book, I'm often inspired to come up with something similar!
And the photography is just gorgeous! Rhonda Sue did a great job!
Some of my favorites are:
Cowboy Grub (pg 59)
Luscious Lemon Cake (pg 289)
Trim Bouillon Mix (pg 491)
Cheeseburger Pie (pg 149)
Wonder Wraps (pg 204)
Fakertot Casserole (pg 147)
Pay Off Day Candies (pg 381)
The Singing Canary (pg 398)
Lazy Lasagna (pg 140)
Cheddar Herb Biscuits (pg 197)
Chicken Pot Pie (pg 137 – and equally delicious using turkey!)
Trimtastic Chocolate Zucchini Cake (pg 296 – this FAR exceeded my expectations!)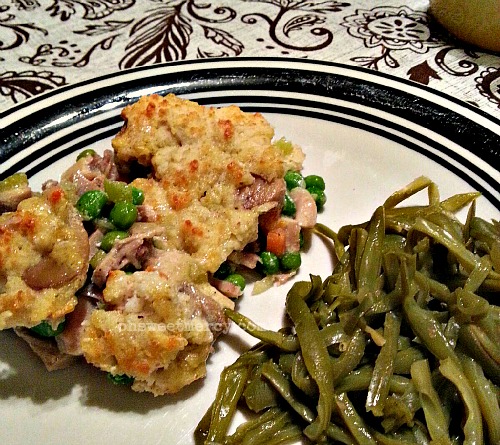 This is MY photo of Chicken Pot Pie (made with turkey, actually), not Rhonda's. Her photos are sooo much better!
What about Special Ingredients? Do all the recipes have them?
You'll find recipes in the book that call for some of the great new THM products like Baking Blend or Integral Collagen (found at the THM online store). Many of the recipes calling for special ingredients can be made substituting a similar ingredient, or even leaving an ingredient out. For example, I made the Cuddle Family Hot Chocolate (pg 435) today without the lecithin that it called for and it was still delicious. My kids loved it too, and had NO idea there was okra in it. You just won't get the benefit of the ingredient if you leave it out, and it's possible the results might not be exactly the same…but often close enough.
Baking Blend is awesome, I'm not going to lie! For my budget at the moment, it's not something I can buy all the time. But when I can, I certainly will. There are several recipes for homemade baking blends out there, such as this one from my THM blogging buddy, Briana Thomas. I haven't tried her version, but I have heard many people raving about it online!
In some cases, however, there just isn't a substitute. Gelatin and collagen can often be used interchangeably, but The Superfood Chews require collagen, and gelatin is NOT a substitute that will work in this recipe.
The verdict…
With the gorgeous photography, better layout and indexing, new recipes and tips – I really believe the new Trim Healthy Mama cookbook is a very worthy addition to your Trim Healthy Mama plan arsenal. It's worth every penny to have this great resource at your fingertips…especially if the power or wifi is out 😉
Ready to order your copy? Click here!
Pin This Trim Healthy Mama Cookbook Review to Your Favorite Pinterest Boards!