I can't be the only one who runs out of ingredients at the worst possible time, right?
Like when your baby boy turns eight. And requests chocolate zucchini cake. And you need to make it Trim Healthy Mama style because his behavior is better that way (and you can eat it too…). And you open the bag of Baking Blend to discover you just don't have enough. And you need that cake pronto. Like, People Will Be Here In A Couple Hours pronto.
You need a rescue!
I found a rescue for the Trimtastic Chocolate Zucchini Cake (on page 296 of the new cookbook) and I'm happy to share it with you. Because no mama should have to not be able to make cake for her baby. Or just make cake, really. I only had half a cup of THM Baking Blend. For a double batch of cake like I needed to make, I would need 1 1/2 cups of Baking Blend. I was a little short!
My Trim Healthy Mama blogging friends gave me some suggestions, thankfully! I couldn't let my little Mister down, that just wouldn't be right!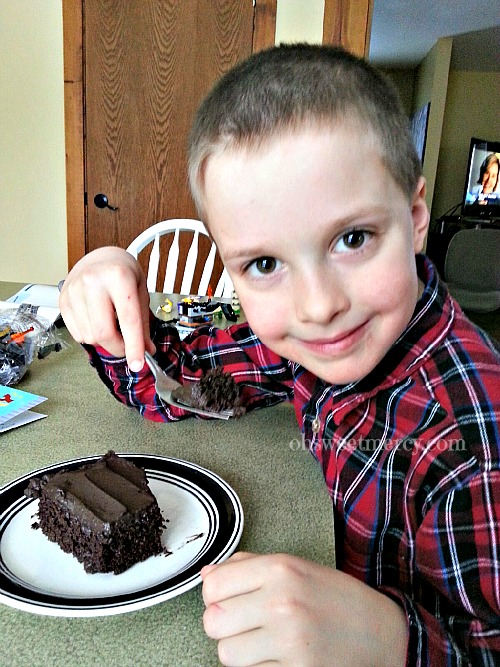 Happy birthday Little Man!
Making chocolate zucchini cake meant making do with what I had on hand.
I love THM Baking Blend, it's so versatile and handy. But when I'm out, or don't have enough, I have to come up with something else. I don't usually have almond flour on hand because it's pretty expensive, and I have yet to buy oat fiber. I had golden flax and coconut flour and some of the suggestions my blogging buddies gave me included those.
No one knew I had served them a gluten and sugar free chocolate zucchini cake.
My dad said, after one bite, that it was sinfully delicious. My daughter, who can usually detect stevia miles away (and turns her nose up at most things containing it), said she couldn't even tell it was made with stevia. My husband, who is rarely thrilled by food unless it's pizza or steak, said it was pretty good…that's like getting three or four Michelin Stars! Only one party guest didn't like it – my 8 year old nephew who doesn't like anything anyway.
This chocolate zucchini cake was moist, chocolatey and delicious. I totally agree with my dad, it is seriously sinfully delicious. If I didn't know better, I would think there is no way this cake could be "diet" cake. And now that I know how to overcome a pantry shortfall, I'll be able to make this cake any time!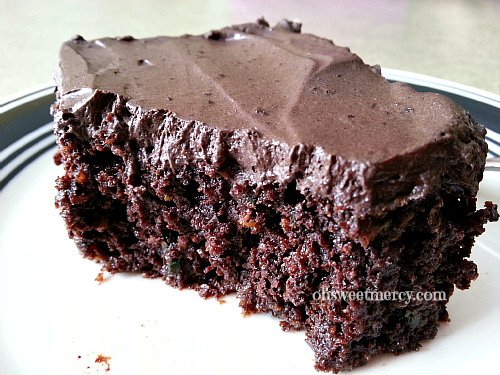 Here's how I made it:
I can't share the recipe for the Trimtastic Chocolate Zucchini Cake, out of respect for the authors' copyrights, but I can share with you what I did to make this cake work with what I had in my pantry.
I was making a double batch, so I needed a total of 1 1/2 cups of THM Baking Blend. I had half a cup of Baking Blend. To this, I added:
The instructions for the Trimtastic Chocolate Zucchini Cake say to use a food processor, which I do not have. This one is on my Amazon wishlist! I used my hand blender (I picked this one up for around $20 and really love it so far) and it worked great. Just make sure your butter is soft!
I followed the instructions as written and also added about half a teaspoon of gelatin to the frosting, as I read somewhere that gelatin can help keep your whipped cream from getting "weepy."
This cake did not last long enough for the frosting to weep, though so I can't confirm that actually works. This cake is seriously that good!
I used a combination of Truvia and Pyure Organic Stevia for the cake and frosting.
Pyure Organic Stevia and Truvia are similar to THMs Gentle Sweet. Be sure not to get stevia labeled as a "baking blend" as those typically contain sugar or other off plan ingredients like maltodextrin. For the cake, I used the same amount of Truvia as the recipe called for Gentle Sweet, plus 2 doonks of THM Pure Stevia Extract.
For the frosting, however, I used the same amount of Pyure Organic Stevia for the single batch of frosting, even though I was making a double batch. I felt it was sweet enough for one, and for two…I was almost out of stevia. Monday morning coffee was a consideration…a very serious matter, trust me!
I also highly suggest using dark cocoa!
Most of the time I purchase regular cocoa at Aldi, but this time I was at another store and they had Hershey's Dark Cocoa. I love that stuff, especially for my Dark Chocolate Coconut Nom Noms and the THM Skinny Chocolate. Oh, and of course, my Dark Chocolate Coconut Cake in a Mug was born because of that dark cocoa.
I love the versatility of the THM lifestyle.
Once you get the basics of the Trim Healthy Mama Plan, it's pretty easy to adapt your favorite recipes to suit your meal style. And many of the recipes in the new cookbook, and found around the interwebs, can be easily adjusted to suit what is in your pantry.
Click here to learn more about my experience with Trim Healthy Mama
So, there's no reason not to make that delicious Trim Healthy Mama chocolate zucchini cake…unless you're out of chocolate. There's just no substitute for that! One bite of this delicious cake and you will want to make it again and again!
Be Prepared! Pin this Chocolate Zucchini Cake Rescue Post to Your Favorite Pinterest Boards!