Are you increasingly uncomfortable with the ingredients found in commercial products?
You know, the ones you put on your skin…use for your health…and all over your home? Do you feel like you're surrounded by a noxious chemical cloud and worry for your safety…and your family's?
Wouldn't it be nice if there was a resource of easy, proven recipes for homemade remedies and herbal products to replace those chemical laden concoctions? Yes, it sure would be nice!
I've got some great news for you…I have found exactly such a resource! It's a brand new book by Jan Berry. You may know her as The Nerdy Farm Wife, and she has just had published a beautiful collection of easy recipes for skin and hair care, homemade remedies, and household cleaners using natural ingredients. I got a chance to review a copy of this book and I'm excited to share with you what I love and why I think you need to add this book to your home library.

"Go green in every part of your life with these easy, all-natural herbal products"
Going green is easier said than done sometimes, right?
Sometimes it means making huge changes and a considerable amount of time to adjust. You want to use homemade remedies and herbal products…but may feel overwhelmed by the time involved, seemingly complicated processes and expensive ingredients or equipment.
Jan's book is not filled with any of that, thankfully.
What it is filled with is straight-forward information and step by step instructions on how to make soaps, lotions, creams, cleaners and more for everyone in the family.
She starts off with a list of common herbs and flowers and their useful properties. Included with each herb or flower are recipes found in the book, with the page number, for easy reference.
Jan also shares how to preserve herbs and flowers through drying, freezing, and making oil infusions. There's a very informative section on oils and cosmetic butters as well as other ingredients such as natural colorants and preservatives.
You also won't find a list of expensive or specialty type equipment, just basic items you probably already have in your home.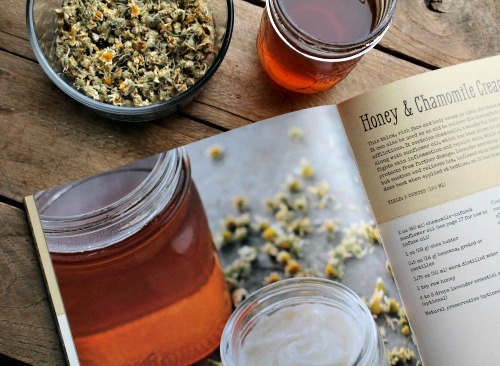 What if you are a total DIY noob?
Even if you have no experience at all in making homemade remedies and herbal products, the photos, tips and instructions in this book will guide you through the process. I especially love the photos in the soap making section, showing the various stages of making soap in your crock pot.
Like "trace" – for most of us, it's easier to understand by a photo than by a verbal description of just what that stage should look like.
As with any recipe or procedure, making sure to read through the instructions is the first step towards success. Thankfully, Jan has noted where and when substitutions can (or can not) be made and offers suggestions if a particular ingredient isn't readily available or budget friendly.
The majority of the ingredients are common and should be easy to find, but there are a few here and there that might be too pricey or difficult to come by depending on where you live. Even so, most of the recipes have suitable substitutions available.
You'll find recipes for herbal products and homemade remedies for every area of your life, even for the family pet!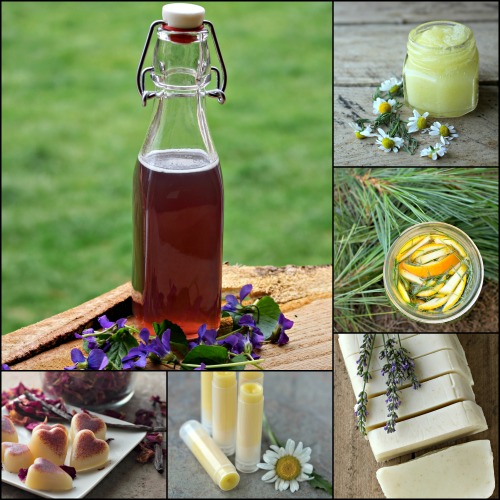 Here's just a sampling of the easy recipes you'll find:
Violet Flower Cleanser (for the face)
Basil & Rose Kombucha Toner (Yay! Yet another amazing use for kombucha!)
Sunflower Salve
Peppermint Pine Headache Salve (I could use this today, actually)
Mint Cocoa Body Butter
Lotion Bars
Bath Soaks and Salts
Garden Bath Teas
Vanilla Rose Bath Melts
Herbal Dry Shampoo
Thyme Flaky Scalp Spray
Shampoo Bars and other Soaps
Catnip & Basil Insect Repellant Spray
Lemongrass Cream Deodorant
Dandelion Magnesium Lotion
Basil Mint Sore Throat Spray
Thyme Counter Cleaner
Four Thieves Vinegar Spray
Rose Window Cleaner
Lavender Laundry Detergent
Peppermint & Parsley Fresh-Breath Dog Treat (I will be making these as soon as I have mint to harvest…)
All-Purpose Animal Salve
I'm a book nerd, so I also have to mention the physical properties of this book that I love…
I first received a digital copy of 101 Easy Homemade Products for your Skin, Health & Home. Right away, I fell in love with the design. The photos are gorgeous, the fonts appealing, and the illustrations on the cover have a whimsical feel to them that speaks to my Inner Crunchy. The color palate is perfect for a book about simple, natural herbal products. The layout and organization inside is clean and simple.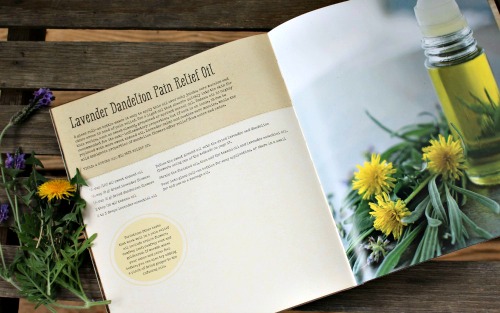 When I received the printed copy, oh sweet mercy! I fell even harder…it is a joy to my senses. I love the feel of the cover, and the quality of this book is wonderful. The pages are stitched, not just glued, and the binding is such that it lays flat easily without any hands or heavy objects to keep the pages in place. A definite must for a recipe book!
Overall, I have to say that this is probably my favorite homemade remedies and herbal products book in my collection and it would be a perfect addition to any natural-minded person's reference library!
Pin this to your Books to Add to My Library Board today!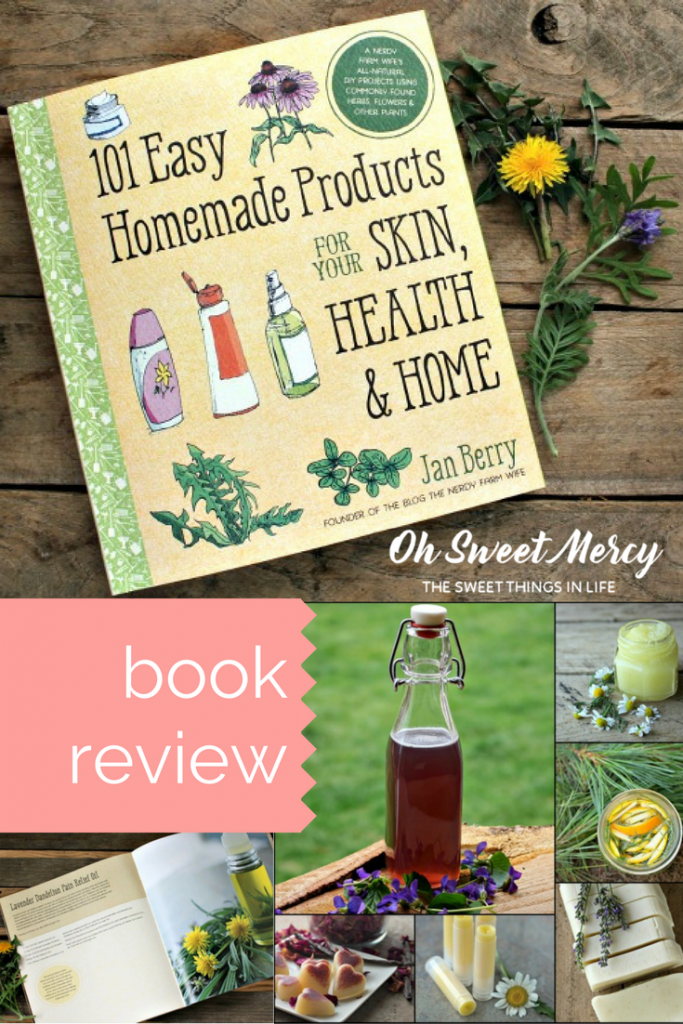 ---
About the Author
Jan Berry is the writer and photographer of the blog The Nerdy Farm Wife, where she shares creative ways to turn herbs, flowers and other garden plants into pretty things that are fun and practical. She writes regularly for HobbyFarms.com and Natural Herbal Living magazine. Her projects have been featured on Natural Living Mama, Empress of Dirt, Lovely Greens, BuzzFeed, Money Saving Mom, the Bulk Herb Store Blog and more. She lives on a farm in the Blue Ridge Mountains of Virginia with her husband, two children and a menagerie of farm animals.
Website: https://thenerdyfarmwife.com
Facebook: https://www.facebook.com/TheNerdyFarmWife/
Instagram: https://instagram.com/nerdyfarmwife
Pinterest: https://www.pinterest.com/nerdyfarmwife/
---
How can you get a copy of this gorgeous, essential resource for easy and natural homemade remedies and herbal skin and home care recipes?
You can order through my affiliate partner by clicking here, and it's Prime eligible for you Amazon Prime Members, so that means free 2-Day Shipping! There is also a Kindle version available, but I highly recommend the print version myself. But then again…I'm a total book nerd. I love my Kindle, but I use it more for streaming video than reading! I just love a real, live book.
It should also be available through Barnes & Noble, Books-A-Million, Indie Bound, and Amazon UK

---
Disclaimer:
The information in 101 Easy Homemade Products for Your Skin, Health & Home: A Nerdy Farm Wife's All-Natural DIY Projects Using Commonly Found Herbs, Flowers & Other Plants is provided for informational purposes only. It is not intended to be substituted for the advice provided by your doctor or other health care professional. If you rely upon any programs or techniques, or use any of the products and services made available by or through the use of the book or our website for decision making, without obtaining the advice of a physician or other health care professional, you do so at your own risk. I was provided a copy of this book in exchange for my honest review.
---