---
These delightful little egg puffs are dainty and delicious. They make a lovely addition to a brunch menu or a special breakfast for Mother's Day. Trim Healthy Mamas, they're a very tasty S recipe that is perfect for making ahead to snack on throughout the week. They're also delicious cold!
---
I have a little clump of delightful onion-y chives growing right outside my bedroom window.
When their dark green shoots begin to emerge from that cold winter blanket of soil, it's a sign of life returning to the land once again.
We also have hens in the backyard that give us delicious, healthy fresh eggs, hours of entertainment, and sometimes heartache.
There's nothing better than going outside on a warm spring morning to gather incredibly fresh ingredients for breakfast. I love the feeling the warmth of a freshly-laid egg nestled in my hand and the way dew-covered herbs sparkle in the morning sun.
Once the strawberries start growing, it won't be long and I'll be able to add fresh, sweet-tart juicy red berries to my plate.
Of course I can't forget the rabbits that have infested our little country haven. Those cute little fluffy wuffies like to nibble on everything. So I may not have many berries this year. And by the looks of things, maybe not chives either. Wascally wabbits…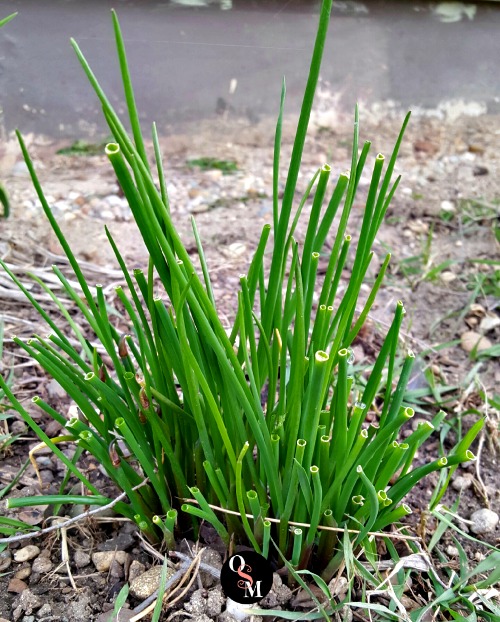 Eggs and chives have this wonderful quality of complimenting each other.
Creamy, fluffy eggs and delicate, onion-y chives are best buds. Cheese will naturally want to join the party, and the result is one rocking good time in your mouth.
I found this super easy egg puffs recipe on 24/7 Low Carb Diner the other day. I made a variation of them, since I didn't have one of the ingredients (and I did have a handful of freshly-picked chives),
They were so good I immediately wrote to Lisa and asked for permission to publish my variation of her fantastic recipe. Thankfully, she said yes and I couldn't wait to share this with you!
Because let me tell you – my kitchen was filled with the most mouth-watering aroma of eggs and cheese and fresh spring chives. The kids love them and we could not stop popping these little eggy gems in our mouths.
Oh wait…that means I will have to share. I think I'm going to need more hens…what a shame…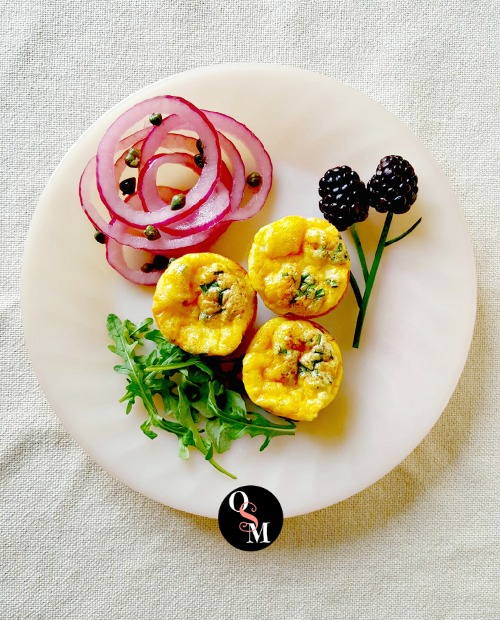 Try serving them with my Easy Pickled Onions with a sprinkle of capers. Capers and eggs are also best buds. Eggs are friends with just about everyone, it seems.
These delicious little eggy wonders are great for breakfast, snacks or even a fancy breakfast or brunch. Lisa says they're even good cold…but mine didn't last long enough to test that. Nom nom nom!
These Spring Chive Cheesy Egg Puffs have three kinds of cheese.
You could use any combination of cheeses, really. Like on the day before grocery day and there's six packages of cheese with just a sprinkling of cheese in each one.
In case that ever happens at your house. Not that I would know anything about that. Or ice cube trays with just one ice cube in them. Nope.
Let's talk cottage cheese for a moment.
I have seen people posting on YouFood scrambled eggs with cottage cheese in them. Now don't get me wrong, I love cottage cheese. However, it just seemed wrong to scramble eggs with it.
Because curds, people. I am a big texture person and if the texture is wrong, I'm not eating it. All I could envision was fluffy eggs with little lumpy, rubbery bits in them. Blech!
Yet people raved about how good they are. And here's this super simple egg puffs recipe – that calls for cottage cheese.
I could leave it out, I thought…just replace it with more extra sharp cheddar. I love extra sharp cheddar.
Or, I could just try it. Maybe I'll like it. I liked asparagus and Brussels sprouts. And Salmon with Blueberry Sauce. What could it hurt?
Thankfully, my hens will eat anything I don't like so not much food gets wasted here (although it does seem kind of wrong to feed my girls their own eggs…ah well, circle of life and all, right?).
But oh sweet mercy…what was I afraid of, anyway?
These Spring Chive Cheesy Egg Puffs were just as Lisa described – like little cheesy souffles. You could see a few cottage cheese curds inside if you really looked hard, but they were not detectable at all. No lumpy, rubbery bits just cheesy, eggy, puffy goodness with a hint of delicate chives.
And just to validate that you can not tell there is cottage cheese in these egg puffs, my super picky 15 year old daughter, when she learned there was cottage cheese in them, said "Wow, there was cottage cheese in those?" Yep. Even she couldn't tell it was in there!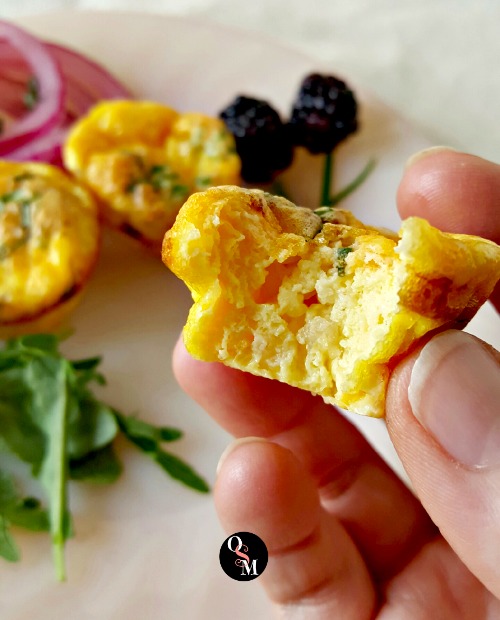 Good news, Trim Healthy Mamas !
These delightful little egg puffs are totally on plan. They are a solid S, and while I considered playing around with the recipe to make them Fuel Pull, I decided against it. Because cheese, people. Cheese.
Sometimes you just need a little cheese in your life.
Also, if you have some Trim Healthy Bouillon Mix from the new THM Cookbook, throw some of that golden goodness in there, too. You'll get the benefit of a little extra protein, fiber and B vitamins.
They are also incredibly simple to make. I made them mini by using a 12-cup mini muffin pan (or you could use a silicone muffin pan like this one), but you could make them full size if you like.
I can't say how many it will make since I've only made them in the mini muffin pan – because I find that having mini-sized foods seems to help satisfy that hand-to-mouth action I crave sometimes. It just seems like you're eating more than you really are. Sometimes, you just need to play mind games with yourself.
One note on the mini muffin pan – You will have some "batter" left over, approximately half a cup. I used a 1/2 ounce ladle to scoop the mixture into the muffin pan, which filled each cup to just under the top. What was left, I baked in a greased glass 6 ounce custard cup, which made a regular muffin-sized puff.
UPDATE: an even better alternative is to use mini silicone muffin cups. They stand alone with no need for a muffin pan. You can fill as many as you need.
The original recipe is great – I just didn't have the exact ingredients so I improvised.
That first started with a trip outside to gather eggs and chives. If you can't do that, no problem! Eggs and chives from the store will work too. I happen to think fresh-from-the-yard ingredients taste way better, but not everyone is so blessed to be able to do that. But do, if you can.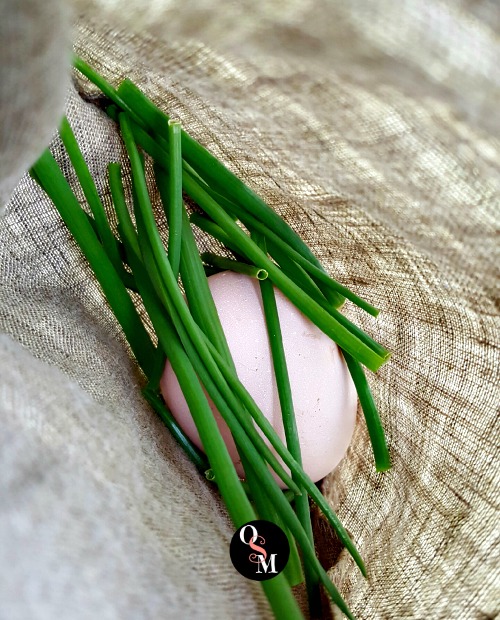 Can I tell you a secret? That's a pocket in my linen pj's there. Yes, I feed chickens and collect ingredients for breakfast in my pj's sometimes. That's just how I roll!
I don't generally have parmesan cheese in the green can, as I prefer to grate my own (have you seen THIS amazing tip for making your own "green can" parmesan with no fillers??). It's possible that if you use that kind of parmesan cheese, it will make this more like a "batter" than an omelette mixture. But, either way, these little egg puffs bake up beautifully.
What if you don't have fresh chives?
Plant some, if you can! They are easy to grow and can grow right in your kitchen window if you have one.
Since you don't want to wait for your chives to grow to make these, however, you can substitute with dried chives. They aren't quite the same of course, but they will work. The substitution ratio for dry-to-fresh herbs is 1:3 – that is 1 part dry is equal to 3 parts fresh.
You could also use the tops of green onions if you have them. If you'd like to plant some chives, indoors or out, here's a great guide to help you get started.
What are YOUR favorite egg puffs variations? Please let me know by leaving a comment below – I'd love to try your favorites!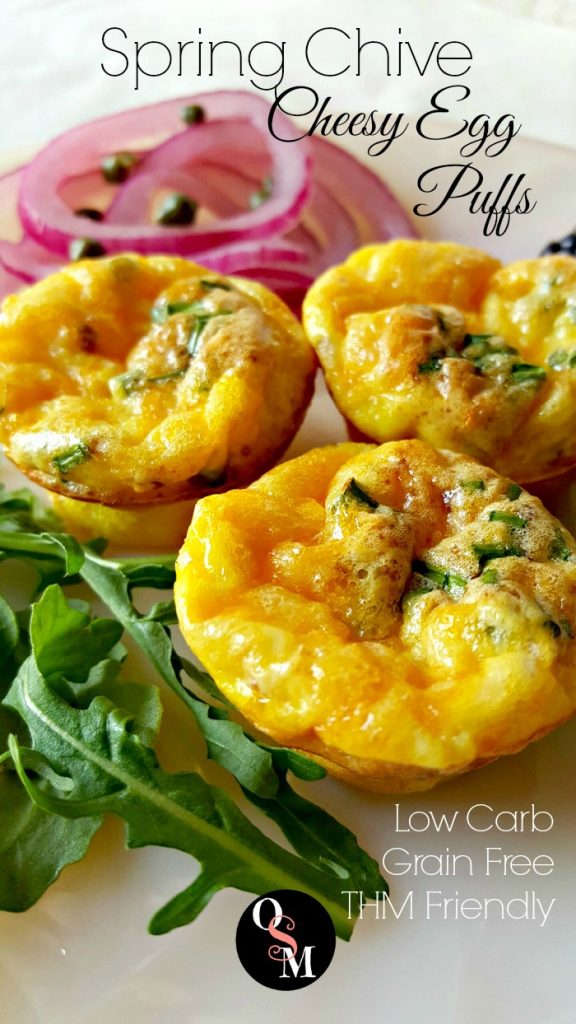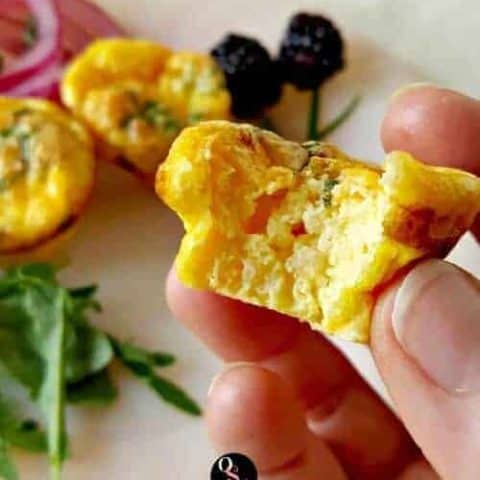 Spring Chive Cheesy Egg Puffs
Yield: 12 plus mini egg puffs
Bring Spring into your kitchen with this delightful, easy Egg Puffs recipe. Based on 24/7 Low Carb Diner's Three Cheese Breakfast Puffs. Low carb and Trim Healthy Mama friendly - a delicious S dish.
Ingredients
4 eggs
1/4 c cottage cheese
1/4 c shredded extra sharp cheddar cheese
1/4 c shredded 6 cheese Italian blend or similar blend of cheeses (mozzarella, smoked provolone, Romano, Fontina, Asiago and Parmesan cheeses)
2 Tbs snipped, fresh chives
1/8-1/4 tsp mineral salt
Instructions
Preheat oven to 350.
In a bowl, whisk eggs.
Add remaining ingredients and mix well.
Fill 12 cup mini muffin pan cups to just under the top.
Bake any remaining mixture in another pan (fill empty cups with water) or in a custard cup
Bake for 15-25 minutes or until cooked through and golden brown on top.
Remove from oven and let rest in the pan for 5 minutes.
Notes
Using stand-alone mini silicone muffin cups is a great option for these egg puffs. You can fill as many as you need.
Recommended Products
As an Amazon Associate and member of other affiliate programs, I earn from qualifying purchases.
Nutrition Information:
Yield: 12
Serving Size: 1 puff
Amount Per Serving:
Calories: 152
Total Fat: 12g
Saturated Fat: 6g
Trans Fat: 0g
Unsaturated Fat: 4g
Cholesterol: 92mg
Sodium: 402mg
Carbohydrates: 1g
Fiber: 0g
Sugar: 0g
Protein: 10g
Nutrition information is approximate and based on the best knowledge available at the time of recipe publication. Your results may vary due to differences in ingredients.
If you like this Spring Chive Cheesy Egg Puffs recipe, can you do me a favor?
Please share and pin this post, then go visit 24/7 Low Carb Diner and show her some love!