---
November is whizzing by us! This week it will be Thanksgiving somehow. But let's take a moment and have another giveaway, shall we? This week's giveaway prize is a beautiful hammered copper water bottle from CopperH2O. Why would you want a copper water bottle? Read on, and enter the giveaway at the bottom of the post.
---
Disclaimer: I am not a doctor and not giving medical advice. Please do your own research!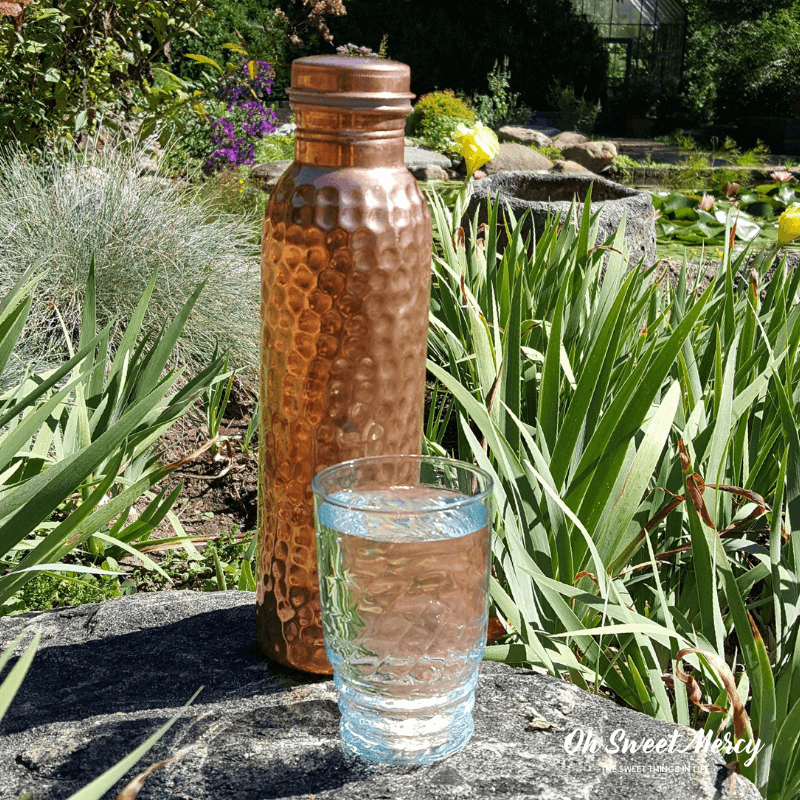 Have you heard of copper water? It's been touted as a wonderful miracle cure (and as terribly dangerous). I believe there's a happy medium here myself.
I first heard about the benefits of copper water earlier this year. This water is naturally alkaline, which is helpful in bringing balance to a body that is highly acidic.
It may also be helpful for weight loss and metabolism, which of course is something I'm interested in! Other claims include improved digestion, supports the immune system, prevents aging, and fights free-radicals. Read more at Copper H2O's website.
Copper is an essential nutrient that may be lacking in our diets due to soil depletion and far too much processed foods. It also dances a very delicate dance with zinc. Too much of one will deplete the other, so balance is key.
Furthermore, copper toxicity is a very real thing. So again, balance is very important!
Copper water has definite proven antibacterial properties.
There have been studies that show water stored in a copper vessel is antibacterial. That's pretty impressive! It's common in India for homes to have a copper vessel to store drinking water to purify it.
I'd had a (glass) jar of copper water sitting on my counter for around 3 weeks and it tasted as fresh at 3 weeks as the day I made it. Normal water that sits around like that tastes "stale"! That was surprising to me, but seems to me to be pretty evident that the copper water prevented any bacteria from growing.
While copper is an essential nutrient, too much can be toxic. Ayurvedic practices are prevalent in India (where storing drinking water in copper pots is also common). Those practices recommend taking a break periodically to avoid a toxic build up of copper in the body.
I've also written an extensive post for Traditional Cooking School regarding this somewhat controversial topic. Read about Benefits Of Copper Water (How To Make And Drink Copper Water Safely!).
[bctt tweet="Nov Birthday Bash Giveaway #3 – A beautiful hammered #copperwater bottle from Copper H2O! #alkalinewater #naturalhealth #giveaways" username="OhSweetMercy"]
Why I Chose a Copper H2O Copper Water Bottle.
I was definitely intrigued and wanted to try it for myself. Another thing I learned about copper was that vitamin C can deplete copper. Since I drink Baobab Water daily (or pretty much daily) I get plenty of vitamin C. I want to make sure to keep things in balance and personally feel that adding copper water to my diet is beneficial.
However, looking on Amazon for copper bottles left me disappointed. Even listings with higher ratings still had comments that made me question the quality and integrity of the products offered.
So, I went searching elsewhere and came across Copper H2O. I was impressed with the information they provided on their site. Additionally, I love the fact that they give back to organizations that work to provide clean drinking water to developing areas of the world.
Their water bottles are also hand-made:
Our water bottles are handcrafted with pride by skilled artisans using traditional techniques. Each of our bottles is shaped from a single sheet of 100% pure copper with no joints or seams, and capped with a beautiful leak-proof cap made of pure copper and a food-safe seal.
I've personally been using one of their gorgeous hammered copper bottles since late July. The water does not taste like a penny, like you might imagine. It simply tastes refreshing.
While I want to drink copper water all the time, I limit it to a small glass or two daily. Because balance 😉 Sometimes I forget to drink it.
The biggest thing I notice when drinking the copper water regularly is that the fine lines on my face seem to diminish somewhat. Copper is also important for collagen production in the body!
I suspect I'd notice more benefits if I was more consistent with drinking it daily. But then maybe that's my way to avoid copper toxicity 😉
Overall, I'm very happy with my Copper H2O copper water bottle and I'm excited to be able to give one away to one of my fabulous readers!
Have you ever heard of or tried copper water? I'd love to hear your experience so leave a comment below.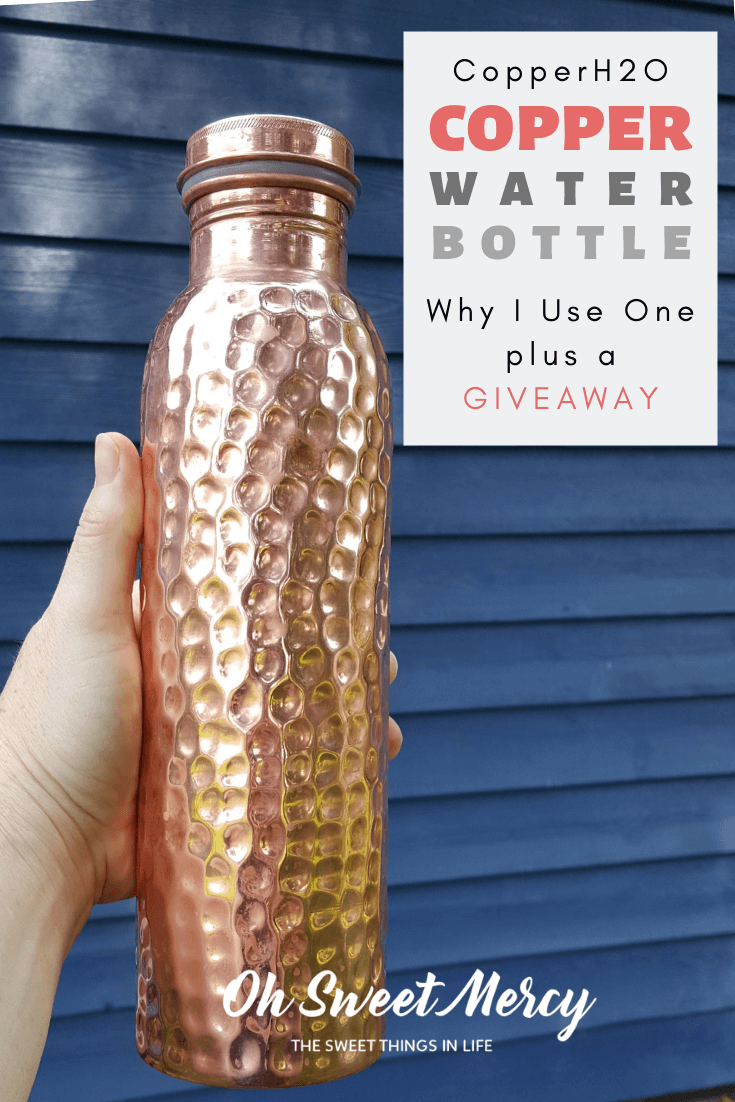 How To Enter To Win A Beautiful Copper H2O Water Bottle.
Just use the Giveaway Tools widget below to enter. Be sure to check your email on Friday, November 23 to see if you're the winner!
And good news for my Canadian readers, this one is for you too!