---
Happy Thanksgiving to you and yours! A holiday feast is a wonderful thing, but what to do with the leftovers? If you're tired of turkey soup and turkey casserole, give these easy Turkey Stuffing Muffins (or Turkey Stuffin' Muffins) a try. Low in fat and made with sprouted bread they're a perfect THM E portable Thanksgiving dinner 😉 I've included single serving and big-batch instructions.
---
My mom always makes the yummiest stuffing at Thanksgiving. It's super simple, too – white bread, turkey, onions, celery, and broth made from the turkey neck and giblets. I've always loved it!
It's not exactly a THM-friendly recipe though as it uses white bread. But I played around in the kitchen and came up with an on-plan version that is very similar to my mom's recipe in flavor. The texture is a bit different but I love this just the same.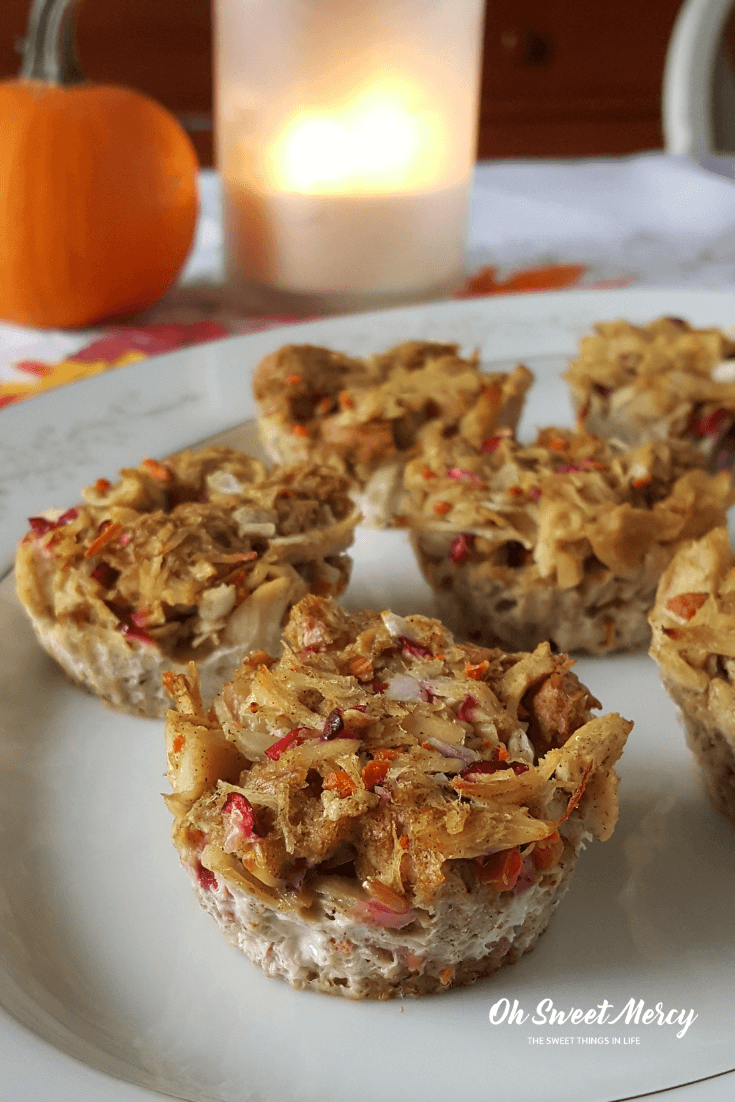 Stuffing Or Dressing?
There's some debate over whether the bread-based dish baked in a casserole instead the cavity of the turkey is stuffing or dressing. We always called it stuffing, maybe because we also ate Stovetop Stuffing mix and that's just what you called that kind of stuff.
If you like Stovetop Stuffing Mix, check out my friend Judy's recipe for a THM S version!
If you prefer to call it dressing then by all means call this recipe Turkey Dressing Muffins. Or if you want to have some phonetic fun call them Turkey Stuffin' Muffins.
No matter what you call them, you're sure to love them! They make a quick and easy snack or packable THM E lunch.
Furthermore, they contain the classic flavors of Thanksgiving dinner (minus the mashed potatoes, gravy, and pumpkin pie 😉 ) without all the work. Really, Turkey Stuffing Muffins are good any time you have leftover turkey, not just after the holidays.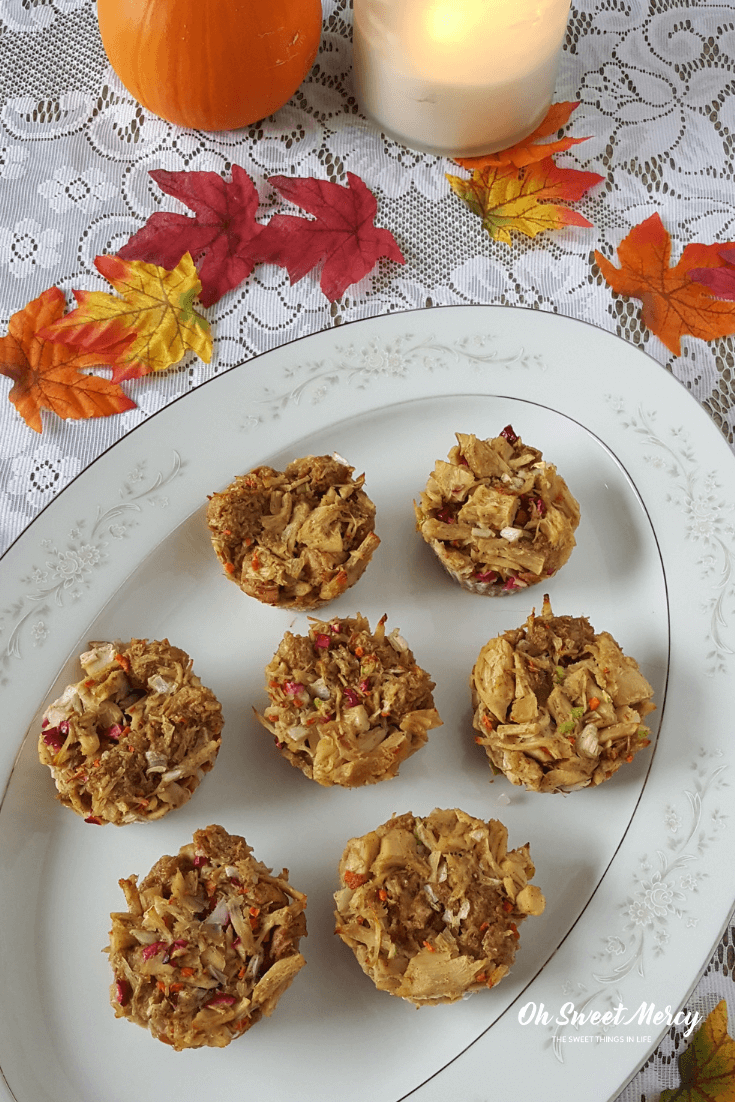 Cranberries – Yes or No?
Cranberries are awesome, don't you think? Don't feel obligated to add them if you aren't a cranberry lover. They just add a pop of tartness that I really enjoy.
I've made them with and without cranberries. Both ways produce delicious results! I just used chopped whole, fresh cranberries but you could also try an on-plan cranberry sauce or relish if you'd like to get creative. I've also got a single-serve Sugar Free Fresh Cranberry Almond Salad recipe that would work.
As I was putting the finishing touches on this post, you won't believe what I found! If you're a lover of that iconic, jiggly, canned cranberry sauce THM has a new Fuel Pull recipe just for you. Check it out on their Author Page on Facebook.
How To Fit Turkey Stuffing Muffins Into Your THM Meal Plan.
Since we're using sprouted bread and no added fat these muffins are a THM E recipe. I try to keep my carb intake on the lower end of the THM E range. A single serving of this (3 Stuffin' Muffins) contains just one slice of bread so adding a fruit for dessert will round out your carb grams for a full E meal.
I also don't add any additional fat to these muffins. This means I can use my added fat grams for an E meal somewhere else, like in a salad dressing or a dessert.
Silicone Muffin Liners – Perfect For Low Fat Baking!
There's nothing worse than stuff that sticks to the pan. In the case of anything muffin-like, losing half your muffin because it sticks to the paper liners is tragic!
I've been using these silicone muffin liners from New York Baking Co. I have both the regular and mini sizes and they are fantastic. Nothing sicks! As of this posting, the mini size are no longer available on Amazon, but these from BakeBaking have good reviews.
Speaking of mini muffins, using the mini muffin liners for this recipe would make great little appetizer-sized stuffin' muffins!
So there you go! An easy and delicious way to use up your leftover turkey.
I hope you had a wonderful Thanksgiving!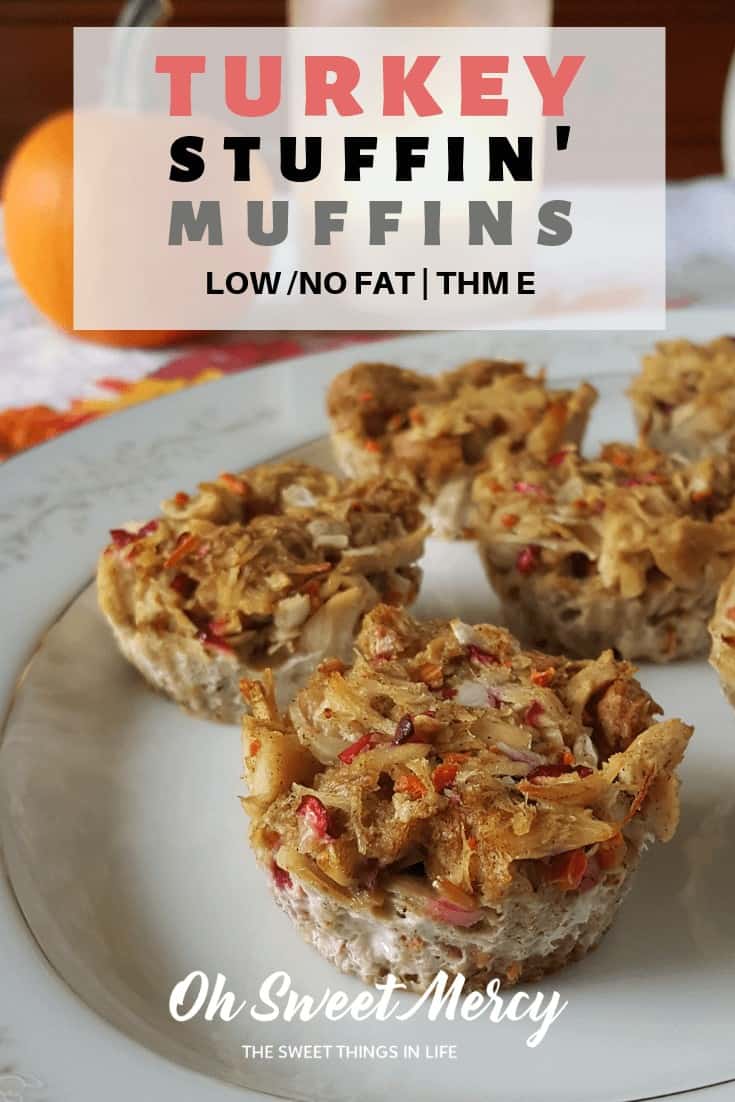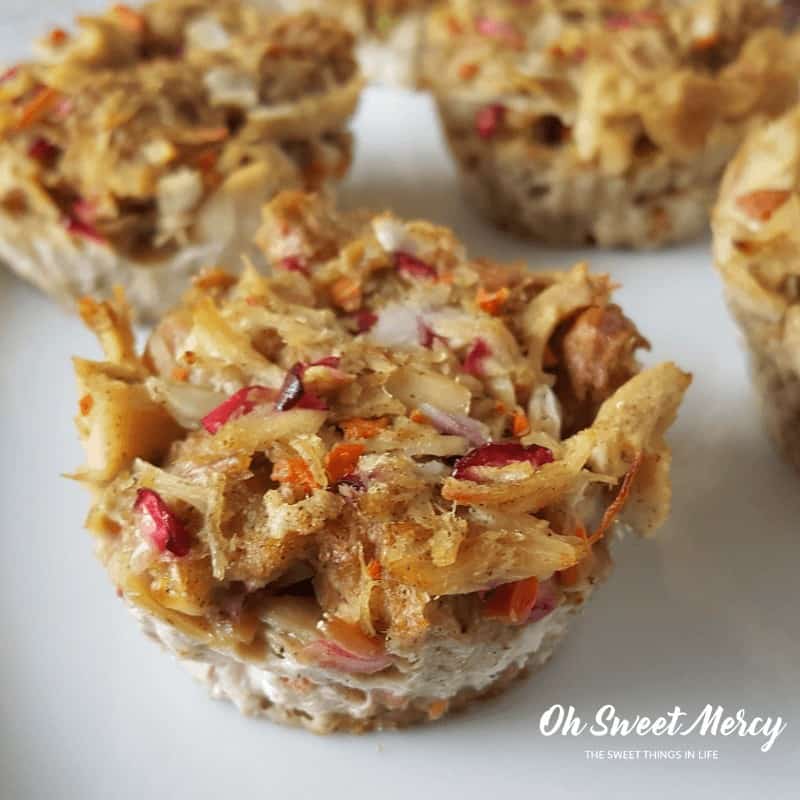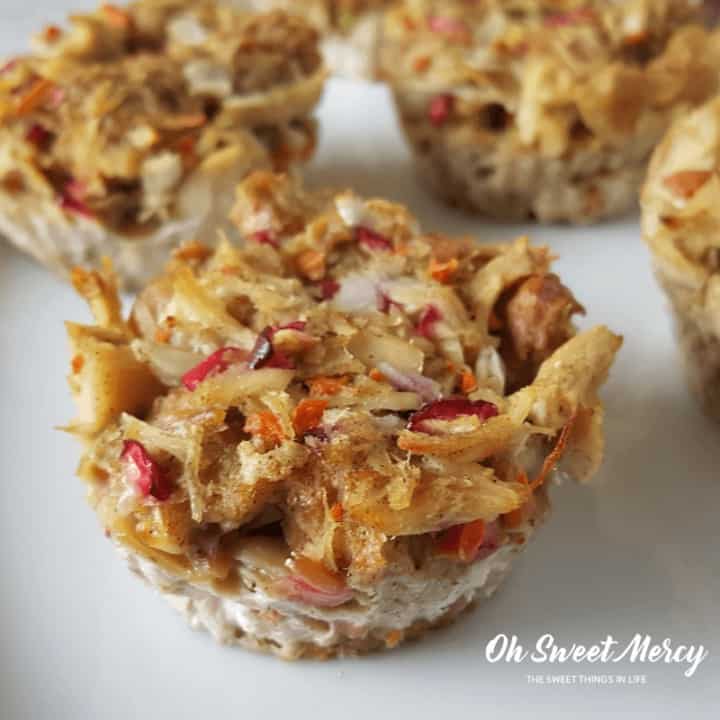 Turkey Stuffing Muffins - Low Fat, Healthy Carbs, THM E
Yield: 1 to 4 servings
Prep Time: 10 minutes
Cook Time: 35 minutes
Total Time: 45 minutes
Turkey Stuffing Muffins are a great way to use up leftover turkey after the holidays. They're delicious even without added fat! Like portable Thanksgiving dinner, too, and actually good any time of year when you have leftover turkey.
Ingredients
Single Serving
3 tablespoon egg whites
2 tablespoons fat free broth
1/4 teaspoon ground thyme
1/8 teaspoon ground sage
1 tablespoon diced onion
1 tablespoon diced carrot
1 tablespoon diced celery
1 slice sprouted bread, cubed
1/2 cup turkey breast, shredded
Mutiple Servings
1/2 cup egg whites
1/3 cup fat free broth
1 teaspoon ground thyme
1/2 teaspoon ground sage
1/4 cup diced onion
1/4 cup diced carrot
1/4 cup diced celery
4 slices sprouted bread, cubed
2 cups turkey breast, shredded
Instructions
For Single Serve or Multiple Serve
Preheat oven to 350 degrees.
If using a muffin pan be sure to use muffin liners.
In a mixing bowl, whisk together egg whites, broth, and seasonings.
Add remaining ingredients and stir well to combine, making sure all bread cubes get coated with the egg white mixture.
Divide mixture evenly into muffin cups (silicone muffin liners work great). For Single Serve, you'll have 3 muffins, for Multiple Serve, 12.
Bake in preheated oven for 35 to 45 minutes, or until firmly set.
Allow to cool for 10 minutes before removing from muffin liners/pan.
Notes
If your broth is already salted, you may want to cut back on the salt in this recipe by about half. I don't always salt my homemade bone broth.
These hold together best with shredded turkey breast rather than chunks.
Recommended Products
As an Amazon Associate and member of other affiliate programs, I earn from qualifying purchases.
Nutrition Information:
Yield: 1 to 4 servings
Serving Size: 3 muffins
Amount Per Serving:
Calories: 153.8
Total Fat: .4g
Saturated Fat: .1g
Cholesterol: 48.6mg
Sodium: 229.4mg
Carbohydrates: 11.1g
Fiber: 2.1g
Sugar: 1g
Protein: 24g