Have you heard of the "No Poo" movement? It has nothing to do with elimination, aside from being another way to eliminate unnatural chemicals from your life. I've tried to do No Poo with homemade shampoo, and I have to admit that I love sudsy, bubbly, shampoos that smell like heaven in the shower with scents that linger throughout my day. I love things that smell good and feel good, and using baking soda to "wash" hair satisfies neither of those requirements.
There's also that awkward "adjustment" stage where your hair starts to look like you take "No Poo" to mean never washing your hair again. It gets greasy because for years, you were washing your scalp's natural oils clean away, every day (if you're like me and can't stand to not wash your hair every day). This caused the oil glands to take it upon themselves to ramp up oil production in an effort to counteract your rigorous cleansing regimen. Eventually, they figure out that you're not stripping your scalp of oil anymore and chill out, leaving you with healthy and beautiful hair.
I have a ginormous aloe plant in my living room in which the leaves reach from one side of my coffee table to the other (that's about three feet across!) and I need to find ways to use it before it takes over my house. I wondered if I could make homemade shampoo with it so did some searching online and found several different recipes. I wanted something easy that used what I already had on hand (or a suitable substitute on hand). This video on YouTube – it called for jojoba oil which I did not have, so I decided to use argan oil. I also found this recipe that included honey, so I kind of mixed the two.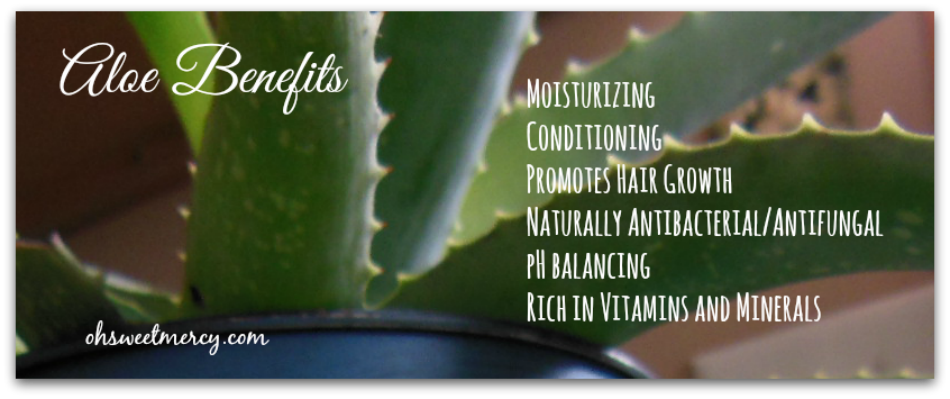 First, I had to "harvest" the gel from the aloe leaf. Most of the leaves on my plant are at least 12 inches long and around 2 inches wide at the base. One thing I learned while researching is that you need to let the yellowish fluid, called aloin, drain out after cutting. Aloin can produce a laxative effect, as well as induce uterine contractions. It also stinks! Don't worry, after draining the aloin out and making the shampoo with rosemary essential oil, there is no bad odor.
I never knew this before, but Aloe vera gel and aloe vera juice are not the same thing. Well, of course not…juice, gel…two different things! The difference is that the gel contains no aloin, while the juice does as it's made from the whole leaf.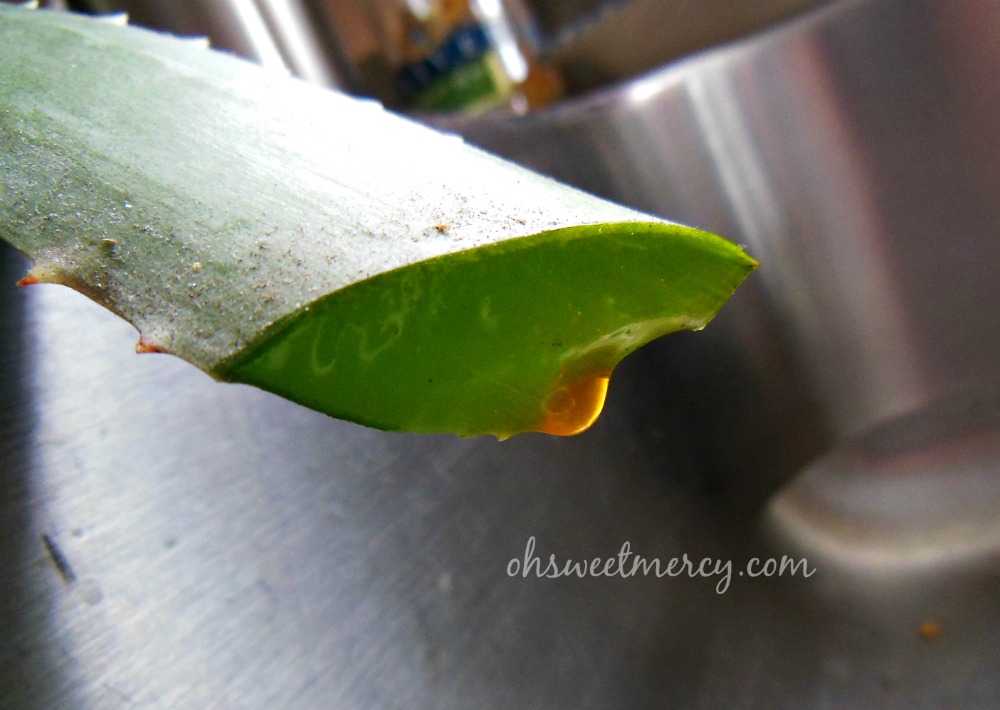 So, after cutting the leaf, I let the aloin drain out first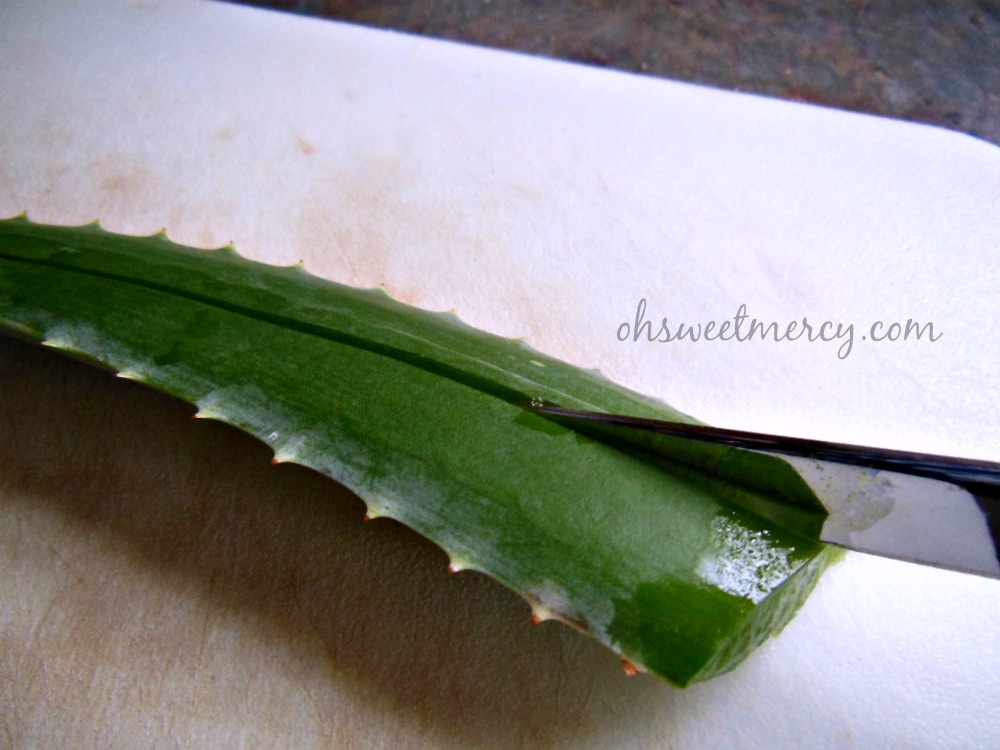 Next, I cut a slit down the middle – just into the skin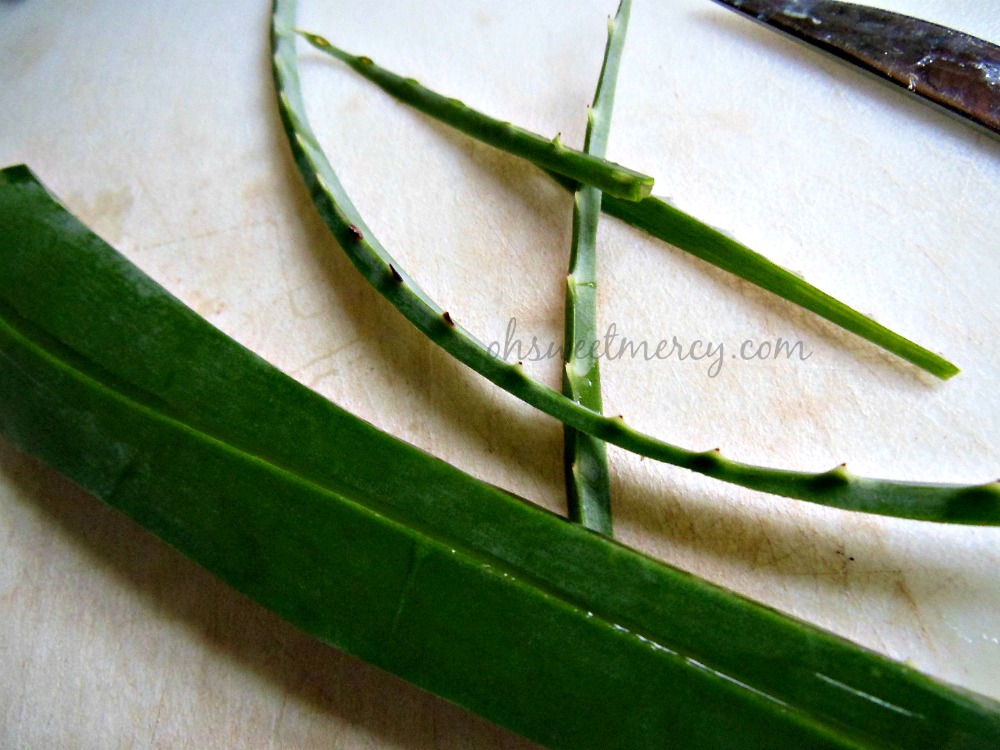 and sliced off the pointy sides
After that, I "filleted" the leaf to get the gel out and also rinsed the gel well
This "recipe" isn't exact, as it will depend on many factors like how much gel you have, the type of hair you have and personal preferences. The ingredients are:
Fresh aloe vera gel
Rosemary essential oil
Argan oil
Honey (optional)
Water
I had approximately 1/8 c of gel and put 2 drops of rosemary oil and 2 drops of argan oil, and maybe added two tablespoons of water. All in all, I ended up with around a quarter cup of homemade shampoo.
A word of caution: some people can be sensitive or allergic to aloe. You may want to rub a small amount of aloe gel on the inside of your forearm before making this homemade shampoo to see if you are sensitive to aloe, if you're not sure. Many people with sensitivities will feel a stinging sensation.
Place all of the ingredients into your blender or food processor. I highly recommend using an appliance that purees very well. I thought mine was pureed smoothly when I made it, but after using the shampoo I found a few little bits of aloe in my hair! You might consider pureeing the aloe gel first and straining before adding the other ingredients.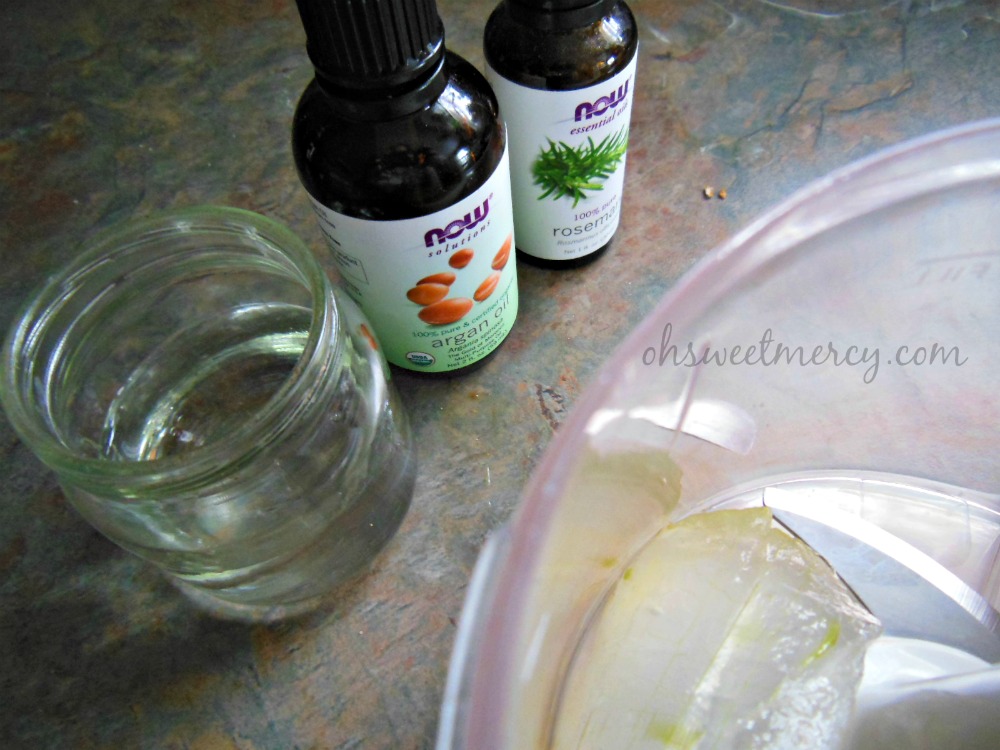 Aloe will oxidize fairly quickly and the homemade shampoo should be refrigerated. You can also add citric acid or vitamin C to the homemade shampoo as preservatives. I did not, as I made a small amount and planned to use it all within 24 hours. I kept it in the refrigerator, but it still turned a lovely shade of pink! It didn't smell badly or feel any different, so I went ahead and used it.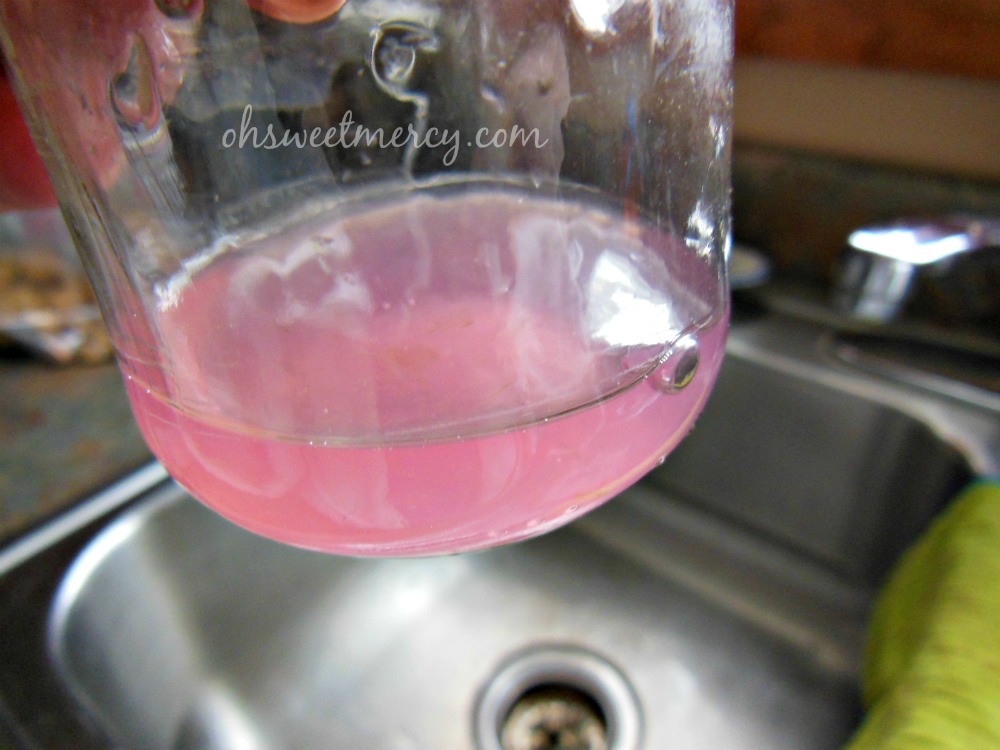 I was a little unsure of how well I liked it after the first time I used it. The homemade shampoo was very slippery and kind of felt more like the shampoo I'm used to when I initially rubbed it into my hair, at least compared to baking soda. No lathering though, of course! After my hair was dry it was still a bit frizzy, although not as bad as normal.
The second time I used it, I also added a few squirts of a homemade shampoo I had made with Dr. Bronner's Lavender castille soap – I'm a complete suds junkie! Until my hair dried completely, it felt a little "coated" I guess. But, my hair had way more body than normal and was also noticeably less frizzy than after the first use. I did not use any mousse or gel to style my hair, and only a little spritz of hairspray and I was very happy with how it turned out. It didn't feel as coated once completely dried.
I do like this version of homemade shampoo.Unfortunately, even though my aloe plant is "ginormous" (for a houseplant, anyway), I do not have enough aloe to make shampoo every day and keep my aloe plant alive. I'm going to try making it with bottled aloe gel and try adding vitamin C or citric acid to keep it from oxidizing too quickly. I hope that I can make a week's worth at a time at least! If you don't have fresh aloe available, you can try a bottled aloe vera gel.
If you're new to No Poo, you may not like this (or any homemade shampoo recipe, for that matter) because it is so different from regular shampoos. Your scalp also needs to adjust and figure out that it can cool it on the oil production. This can take several weeks and require creative ways to keep from looking like you never wash your hair! If you're already a No Poo-er, you may find that you like this recipe better than baking soda washes.
Do you Poo or No Poo? If you No Poo, what do you use to cleanse your hair? Please leave a comment below, I'd love to know!