---
Thinking about ditching your current beauty routine and embracing a more natural way to care for your skin and hair? Here's 5 benefits of a natural beauty routine that will leave you wanting to make the switch for sure.
---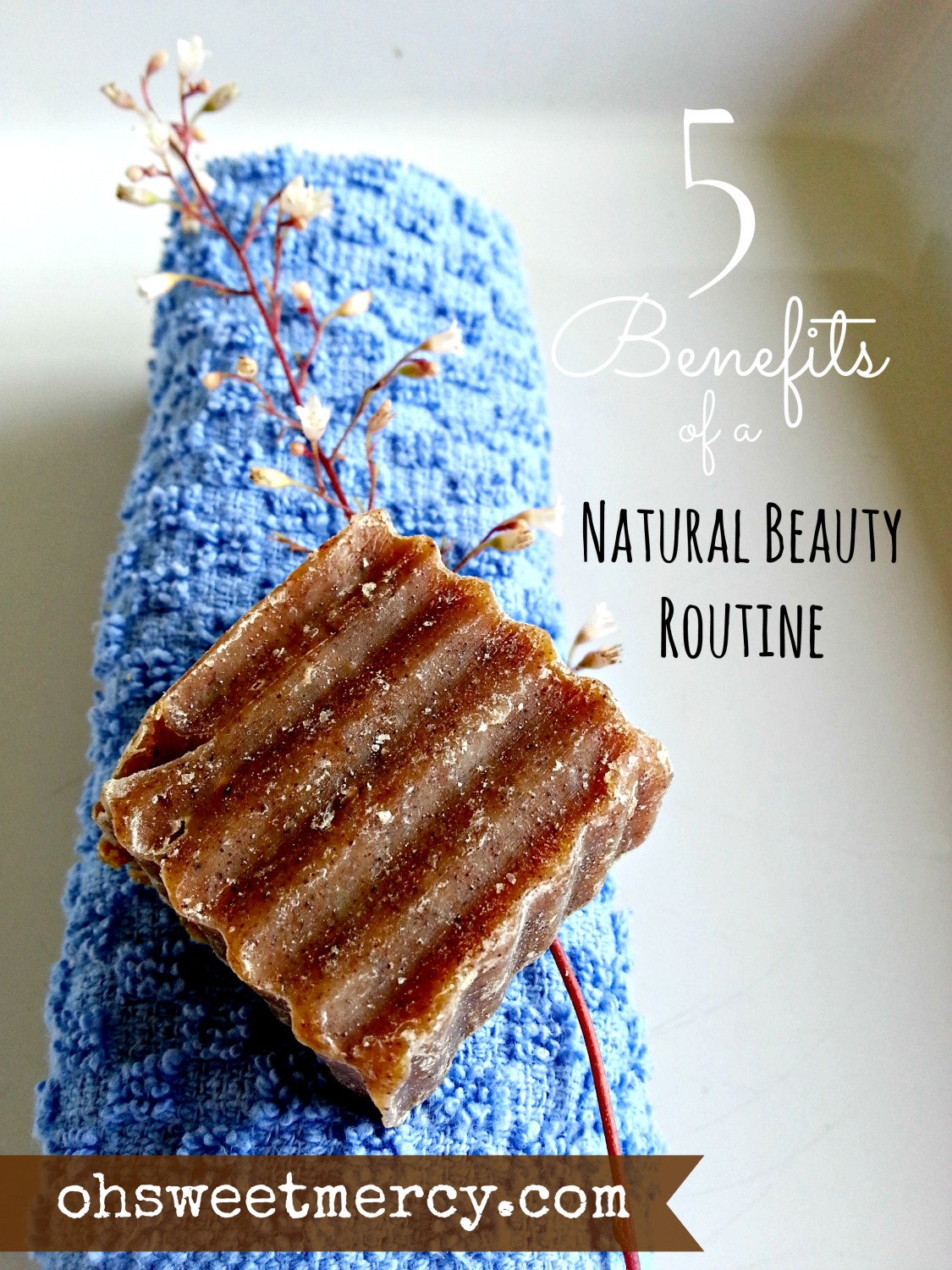 I was invited to a meeting recently where consultants from a well-known cosmetics company gather weekly and bring guests. It was a spa night, and we got to try a bunch of different products. I went because it was my sweet daughter-in-law who invited me, and she is working hard at building her business. I'm excited for her and want to support her, I just won't be buying much! I feel kind of bad for not buying products from her, but I'm not going to change what works for me and is a better fit for my lifestyle – my simple, frugal and natural beauty routine.
Last year, I decided that I just don't want to wear make up anymore. I only ever used it sparingly, like if we went to a wedding or some other fancy-dress type of affair. I never wore it in the summer (unless it was one of those fancy occasions, and then only a tiny bit of eye shadow and mascara) because my face sweats too much. The feel of foundation on my face was repulsive – even that stuff that's supposed to be so light you can't feel it. It smelled funny. And to be totally honest, I hated removing all that junk off my face at the end of the day so it was easier not to put it on in the first place. A natural beauty routine is so much easier!
My husband said he likes me better without it anyway. I love that guy!
Around the latter part of the year, I decided to give the no-poo thing a try again. I stuck with it this time, thanks in part to following my conviction to wear a headcovering. That made the transition phase (read: greasy hair stage) much more bearable. I now only wash my hair once or twice a week and it's shiny, soft and healthier than I can ever remember it being. I don't lose hair constantly, either!
When I left the spa night, my face felt terrific! But, my budget doesn't allow for spending $72 on products to clean my face. When I woke up the next morning, however, my face was so oily I couldn't believe it. Then I remembered what I had put on my face the night before – so, either I used products that weren't quite right for my skin type or my skin was freaking out because it hasn't had those types of ingredients on it in a very, very long time. My face is never that oily with the simple soap I use in my natural beauty routine.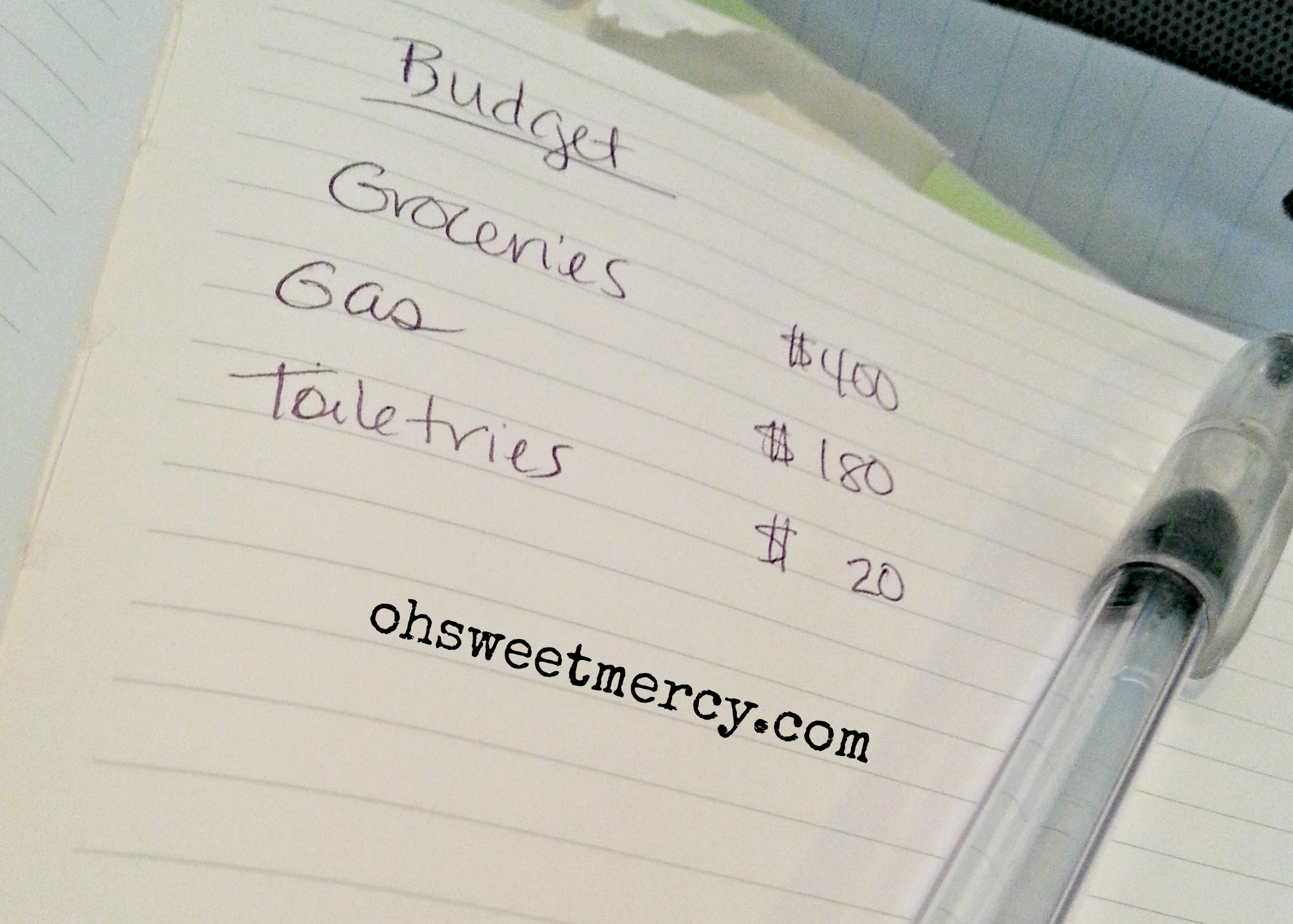 Those are some of the reasons why I ditched the commercial products and embraced a natural beauty routine. What are the benefits? There are many, but here's my top five (in no particular order):
Saving time! Getting ready in the morning usually takes less than 20 minutes, including a shower. For me, beauty means being clean and presentable, and I can accomplish that without spending tons of time in front of a mirror with appliances, sprays and paints. A simple, natural beauty routine gets me ready to go in no time.
A clean(er) bathroom! The floor doesn't get coated with hairspray. The sink doesn't have splotches of foundation on it. There's no powder leaving tiny little dots everywhere. And the faucet doesn't get coated like the floor used to, either. Keeping the bathroom clean is quicker and easier when you don't have to use a jackhammer to chisel the products off of the surfaces you need to clean.
Saving money! The spa night was quite shocking – the thought of spending almost $100 for products to clean my face, well, that is just unthinkable for me! Even if I didn't purchase those products, if I was using hairspray, regular shampoo, conditioner, mousse, facial cleanser and make up I'd have to spend money on those things. My simple and natural beauty routine costs me very little!
Saving energy! Ok, using a hair dryer or flat iron doesn't use that much energy, I know. But I'm still saving energy by not using those products and over the course of time I'm saving money and being green and all. Plus, in the event of a natural disaster, I can still easily maintain my natural beauty routine without electricity.
Preventing cancer! Do you know what is in your beauty care products? I'm a little uncomfortable putting something on my skin, the largest organ of the body which also absorbs whatever you put on it, that I can't pronounce. As a general rule, I try not to put anything on my skin that I can't eat safely. Many beauty products contain chemicals known to cause cancer, I for one don't want anything to do with that!
I love my simple, natural beauty routine – it works great for me. It is also more of a reflection of who I am. The last time I wore make up, I looked in the mirror and thought I looked like a clown. That's when I realized it's just not for me anymore. I'm comfortable with who I am and don't feel the need to use products to try and "enhance" my look. Tomorrow, I'll share the few simple and natural products I use on a daily basis and even a few recipes so you can make your own.
These are just a few of the benefits of ditching commercial cosmetics and toiletries and adopting a natural beauty routine. If you use a natural beauty routine, what benefits have YOU noticed? Feel free to add your own in the comments below!