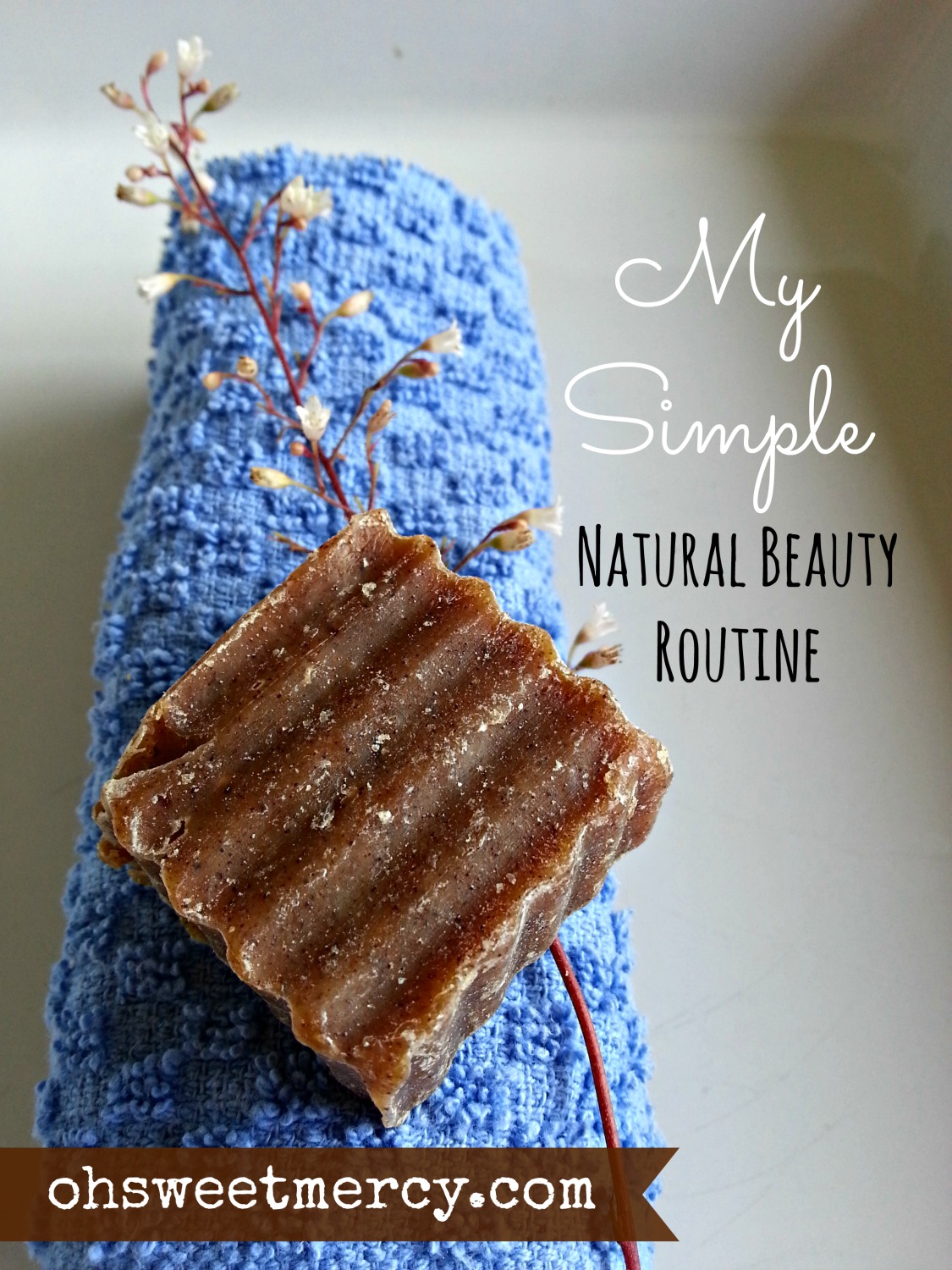 Earlier this week I posted about five benefits of using a natural beauty routine. Today, I'm going to share what I use in my own personal natural beauty routine. Here's a peek at how I get ready each day.
In the Shower. Some people don't shower every day, but I prefer to. Maybe if I was more crunchy and green I wouldn't. I don't spend an hour in the shower, usually about seven minutes tops, unless I'm shaving my legs. Here's what I use in the shower:
Homemade soap for my face and body (unless I've found a good deal on a natural body wash somewhere)
If it's time to wash my hair, I use Shea Moisture Raw Shea Butter Moisture Retention shampoo. I purchased this bottle on January 31 of this year and share it with my daughter. There is still around 1/4 of the bottle left. That means that the $10 I initially spent on it has cost me about $0.48 a week. I can't remember how long a bottle of shampoo would last us, but assuming I bought one a month, that's either the same or less cost AND it has completely natural ingredients.
DIY facial scrub – made with coffee grounds, local raw honey, olive oil and sea salt. I only do this occasionally, but when I do my skin glows and feels terrific. It's kind of messy in the shower, which is probably why I don't do it more often.
After my shower, I just use two more products…
Deodorant. I thought I could never quit using antiperspirants – the mere thought was just abhorrent to me! In the interest of avoiding unhealthy chemicals, I decided to ditch the antiperspirant and made the transition about three years ago by using a more natural Arm and Hammer deodorant. I now use a liquid crystal deodorant and find that even on hot days, it works very well. I have tried making my own deodorant in the past, but just wasn't thrilled with the results. I'd like to try this recipe that uses Redmond Clay from my friend The Homesteading Hippy.
Toothpaste. I've made coconut oil toothpaste and liked it well enough, although it was a bit too salty for the kids. I've since switched to making my own Earthpaste-style toothpaste and really like it. My teeth seem whiter and my daughter will use it because it's not too salty or spicy. I'm not a big fan of fluoride, so I like that I can control what goes in the toothpaste by making it myself. I'll be posting a recipe soon, I thought I had done that but see that I haven't!
After I'm all squeaky clean, I get dressed, put on my headcovering, and I'm good to go. I can easily be ready to go somewhere in twenty minutes or less – a HUGE improvement over when I had to dry and style my hair and "put on my face." Well, right now anyway since my headcovering choice is usually just a bandanna. It's too hot to wear my favorite style, which is a tichel. When cooler weather comes, it will take me a bit longer to get my "hair" done until I get back into practice with wrapping the tichel again. It will still take less time than styling my hair and putting on make up, though!
I love the freedom that comes from not being chained to appliances and products! I feel good, and honestly when you feel good inside it shows on the outside. I'm not competing in beauty contests and the people that mean the most to me love me just like I am, and that is good enough for me.
Do you have a simple, natural beauty routine that you follow? Share what you do in the comments below!