It's pretty trendy these days to make your own cleaners, and for good reason.
Many people are waking up to the fact that we are practically assaulted by chemicals every day. Reducing the amount of chemical exposure your family receives can mean better health in the long run. This all purpose soft scrub cleanser is a great way to green your cleaning supplies. It's so easy to make and you can use it anywhere in your home, from the bathroom shower to scrubbing out your pots and pans and crock pots in the kitchen, without worrying about harmful chemicals.

My crock pot, which always gets that hard-to-remove chicken gunk, cleaned up very easily with this all purpose soft scrub cleanser!
You'll save money by making your own natural cleaners.
Most DIY soft scrub recipes contain baking soda, vinegar, dish soap and essential oils. The essential oils are optional, but provide a lovely scent as well as additional cleaning and even antibacterial properties (depending on the oil used). Even with the essential oils, the cost to make this all purpose soft scrub cleanser is very little. Compare to what you spend on products in the store and you'll see that making your own also will save you money.
Making your own soft scrub cleanser is so easy, you'll wonder why you never made it before.
It's so easy to whip up a batch of this cleanser and we use it to clean sinks, showers, counters and more. Recently, I got the idea to add an additional ingredient to see if it would make my shower shine (and look clean longer). I was pleased to see that it worked very well!
Since the only ingredients are natural, household products you'll find in your kitchen, you can feel safe using this cleanser all around you home. I often use it to scrub out my pots and pans as well as the shower.
What's the secret ingredient? If you have a dishwasher, you probably have it under your kitchen sink!
You know that stuff you put in your dishwasher to give your dishes that spot-free shine? It's known as "rinse aid", and adding it to this soft scrub cleanser will do the same thing to your shower walls. I prefer to use as natural of a product as possible and have been using a rinse aid from Lemi Shine. It uses citric acid and natural citrus extracts for a non-toxic, biodegradable and phosphate-free product.
You can use any rinse aid for this, but if you're wanting something more natural I recommend Lemi Shine. There's also Ecover Natural Plant Based Rinse Aid. I haven't used that so I can't speak to its effectiveness, but if it does a decent job in the dishwasher, I'd imagine it would work well in this recipe.
The citric acid and citrus extracts replace the vinegar in typical DIY soft scrub recipes, so if you use a product without those, you may want to add vinegar.
And since this soft scrub cleanser recipe uses something I'm already comfortable using on my dishes, I keep a tub under my sink for those times I need extra scrubbing power at the kitchen sink. It makes a wonderful, rich and creamy cleanser.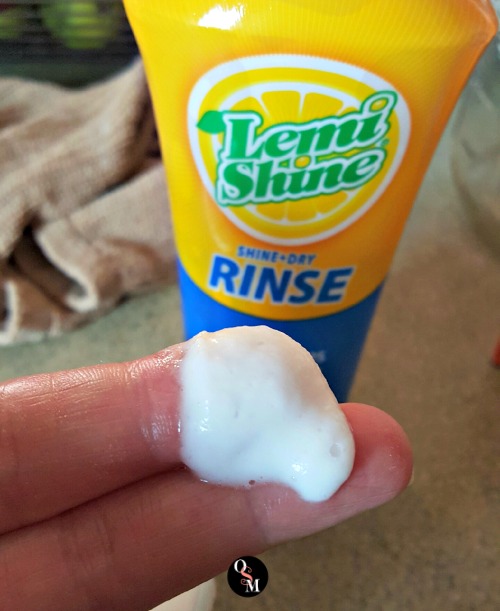 How to make this natural, all-purpose soft scrub cleanser: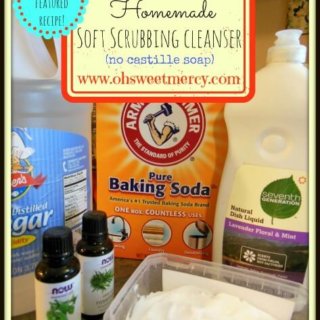 How to Make an All Purpose Soft Scrub Cleanser
Yield: 1 cup
Prep Time: 8 minutes
Total Time: 8 minutes
Ingredients
1 c baking soda
1 Tbs natural dish soap (I use Seventh Generation)
5-10 drops essential oil (optional - peppermint, lavender, rosemary, tea tree and orange or lemon oils are great choices. I love peppermint and rosemary or lavender myself)
Instructions
In a small bowl, mix together the baking soda, dish soap and essential oils (if using) until well combined.
Add rinse aid and mix well (it will foam slightly)
Store in a tightly closed container
Use as you would any soft scrubbing cleanser
Nutrition Information:
Amount Per Serving:
Calories: 0
Cholesterol: 0mg
Sodium: 0mg
Carbohydrates: 0g
Fiber: 0g
Sugar: 0g
Protein: 0g
Do yourself and your family a favor and switch to this natural and frugal cleanser.
It's just one small way to make a change in reducing toxic chemicals in your home. If you're just making the switch to greener cleaning and personal care, this is a great first recipe for you. As you run out of your conventional products, replace them with natural versions. If you need recipes, try these from my friend The Homesteading Hippy:
Do you already make your own cleaning and personal care products? What is YOUR favorite recipe? I'd love to know, so please leave a comment below!
Like this post? Be sure to share with your friends and pin to your favorite Pinterest boards!