Sometimes, you just want something rich, creamy and decadent, right?
It's even better when it comes together in less than five minutes. And it's sugar free. This super easy Decadent Salted Caramel Whip is just that.
It's also wonderful for breakfast (just make sure you have some protein!). And if you can wait long enough to freeze it a bit, it would probably be absolutely divine half frozen.
I don't see that happening in my kitchen, to be honest.
It's totally Trim Healthy Mama friendly, too.
As a Heavy S dish, you won't want to eat every single day. Well, you WILL want to eat it every day, but if you also want to shed that unhealthy excess weight it's not the best idea to indulge in this treat every day.
Since it's an S type dish, that means it's higher in fat and you need to keep any carbs you consume with or near it to 10 grams or less, and keep three hours between eating this Decadent Salted Caramel Whip and an E type meal or snack (higher carbs, low fat).
Wondering what all the fuss is about Trim Healthy Mama? Read my review here!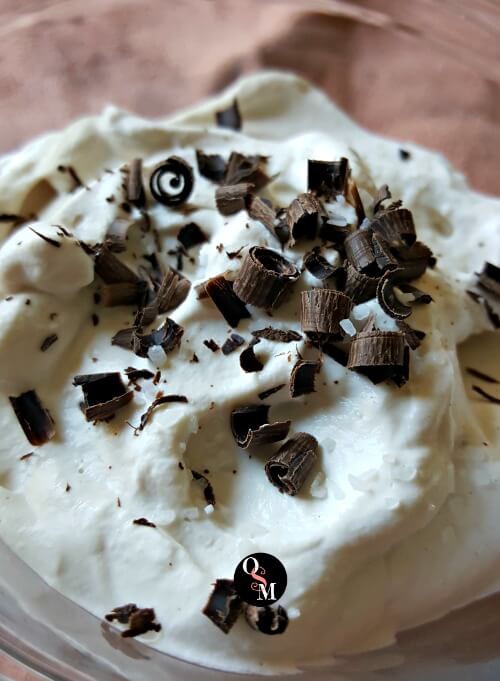 Whipping cream is easy, but you'll want to be careful of just one thing…
If you haven't ever made your own whipped cream before, it may seem a bit daunting. But it really is very simple. The only thing you need to be careful about is over whipping. Over whipping will give you butter! A salty-sweet caramel butter would not be a bad thing, though.
If you do end up with butter, slather that goodness on some Bring on da Buttah Pancakes (page 262 in the new Trim Healthy Mama cookbook), use it to replace the frosting in my Carrot Cake with Caramel Cream Cheese Frosting, or put it on my Dark Chocolate Coconut Cake in a Mug.
Those are already S recipes, so if you want something lighter, try the Basic Mega Muffin made Fuel Pull style or the Everything Nice Cinnamon Spice Muffin, from A Home With Purpose. Or any Fuel Pull style waffle or pancake recipe would taste wonderful with some salted caramel butter!
The right tools make the job easier.
You certainly can whip this by hand with a whisk, if you like. It's a great work out for your arm! I love using my Hamilton Beach hand blender with the whisk attachment. It takes less than 2 minutes, most of the time. In warmer weather, put your bowl and whisk attachment or beaters into the freezer for several minutes to make whipping easier.
A regular hand mixer will work as well. Or if you have one of those big fancy KitchenAid stand mixers and want to make a huge batch, you'll have glorious mounds of salted caramel whip in no time.
A word on sweeteners.
You can use any sweetener you prefer, of course. My favorite stevia for non-cooking applications is by far THM Pure Stevia Extract. I'm out at the moment, but if I'd had some that is what I would have used. It is VERY potent so add small amounts until you get the taste you want. For this single serving recipe, I'm sure a "doonk" would be way too much.
My other favorites are THM Gentle Sweet and Pyure Organic Stevia. If you want to use something else, please refer to this Sweetener Conversion Chart to help you calculate the correct measurement. Or you can just add and taste the cream until it's as sweet as you prefer. Make sure it is the right sweetness level before whipping, too.
This Decadent Salted Caramel Whip will come to the rescue when you need it.
Unexpected company drop by for dinner? Poof, dessert! Kids driving you nuts? Instant serenity…for as long as you can milk it while hiding in your room. That time of the month? Who needs Midol when you can make this "medicinal" recipe?
Keep some heavy whipping cream and caramel extract on hand and you'll always be prepared at a moment's notice for when the need for something rich, creamy and decadent strikes.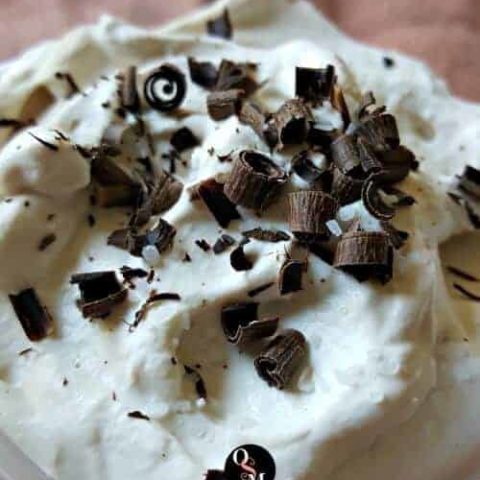 Decadent Salted Caramel Whip
Yield: 1
Active Time: 10 minutes
Total Time: 10 minutes
A quick and easy delectable dessert that you can make in less than 5 minutes. Sugar free and Trim Healthy Mama friendly, Heavy S.
Ingredients
1/4 c heavy whipping cream
1/4 tsp caramel flavoring
Splash of vanilla extract
85% dark chocolate curls and Kosher salt for garnish
Instructions
In a small mixing bowl, combine heavy whipping cream, stevia, flavorings and sea salt and stir to dissolve salt.
Using a hand blender with a whisk attachment, or hand mixer, whip cream for a few minutes until stiff peaks begin to form
Put in a bowl and garnish with chocolate curls and a pinch or two of Kosher salt
Notes
Trim Healthy Mamas, enjoy this after a light S or Fuel Pull meal, or pair with a small amount of lean protein for a Heavy S snack. Save this for special occasions!
Recommended Products
As an Amazon Associate and member of other affiliate programs, I earn from qualifying purchases.
Nutrition Information:
Amount Per Serving:
Calories: 0
Cholesterol: 0mg
Sodium: 0mg
Carbohydrates: 0g
Fiber: 0g
Sugar: 0g
Protein: 0g
Like this recipe? Your friends will too, please share and pin to your favorite Pinterest boards!