Ever hear the term "Creme Anglaise" [krem an-glaze] thrown around on those Food Network cooking competition shows?
You know…"today chef I have prepared for you Durian Profiteroles with Creme Anglaise" …as if a fancy sauce can really mask durian, probably the world's strangest (and odiferous – it's banned in many public places in Southeast Asia) fruits.
Sounds like one of those difficult, technical things taught in fancy culinary schools, doesn't it? Well, I've got a secret for you – it's really an easy thing to make. And it's known by common folk as
"vanilla custard sauce."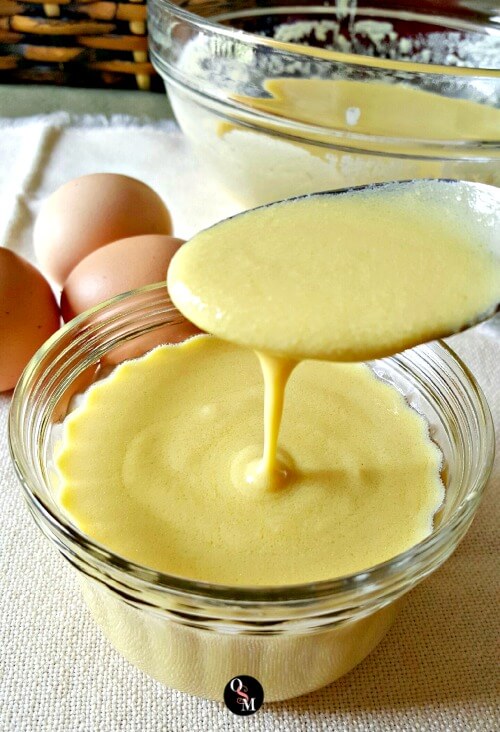 Anyone can make this easy vanilla custard sauce, no fancy culinary education necessary.
A traditional Creme Anglaise is made by whisking egg yolks and sugar together, then slowly adding hot milk. While this recipe is not prepared the same way, the result is a delicious, creamy vanilla custard sauce that is lovely poured over tart berries, decadent cakes or just by the spoonful.
Or so I hear. Ahem.
Try this lovely sauce poured over a bowl of fresh, sweet-tart berries for a light summery dessert. Or try it with one of these easy and delicious baked goodies:
Dark Chocolate Coconut Cake in a Mug,
Balsamic Berry Coconut Muffin in a Mug
Flourless Chocolate Cake with Coconut Almond Topping
Anywhere you need a sweet, creamy, custardy sauce this easy Vanilla Custard Sauce will do the trick.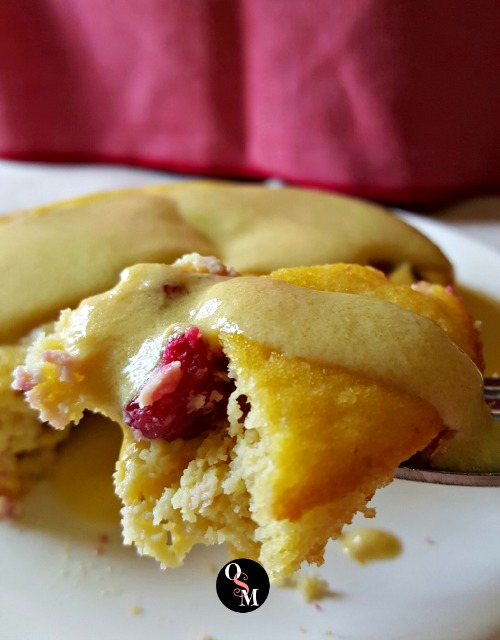 Temper, Temper…
One technique you'll need to employ is tempering your egg yolks. This simple procedure gradually warms the eggs without cooking them and turning them into little eggy curdles instead of a smooth, creamy sauce. Anytime you want to add either whole eggs or egg yolks to a hot dish, you want to be sure to temper your eggs.
You simply whisk your egg yolks in a bowl (or a Pyrex glass measuring cup, like this one. I love mine and use it daily!), then slowly add about a cup of hot liquid, depending on how much liquid is in the recipe.
In this recipe, you'll use cashew milk heated almost to boiling. Add it a few tablespoons at a time, while whisking, until you've added about a cup and the yolks and cashew milk are thoroughly combined. Then slowly pour the mixture back into the remaining hot cashew milk, while whisking, until it's all added and mixed together.
While this method generally results in no eggy bits, it's not unusual at all to have a few. Be sure to strain your vanilla custard sauce through a fine mesh strainer to remove any stray eggy bits.
That's all there is to tempering an egg. Easy peasy!
Trim Healthy Mamas, here's how this yummy sauce fits into your day.
This is an S style recipe, due to using egg yolks. Enjoy with berries only if having with fruits, and any S or Fuel Pull style cake or muffin.
Wondering what this Trim Healthy Mama stuff is all about? Read my review here.
Let's make some Easy Vanilla Custard Sauce!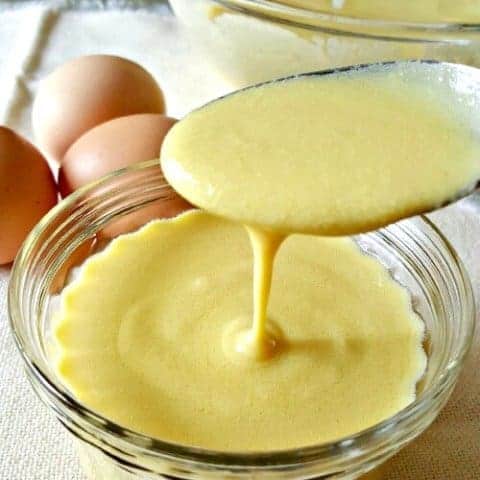 Easy Vanilla Custard Sauce - Sugar and Dairy Free
Yield: approx 2 3/4 cups
Active Time: 30 minutes
Total Time: 30 minutes
No more missing out on a creamy custardy sauce because of dairy allergies! It's also sugar free, pour over fresh berries or your favorite low carb cake or muffin for a delicious THM treat!
Instructions
In a small sauce pan, combine cashew milk and sweetener of choice
Bring to a near boil (bubbles form around the side of the pan and it's steaming)
Meanwhile, whisk egg yolks in a bowl or large measuring cup
When cashew milk is at a near boil, remove pan from heat
Temper the egg yolks by slowly adding about one cup of the hot cashew milk to the egg yolks, while whisking
Whisk well until thoroughly combined, then slowly whisk back into the remaining hot cashew milk
Add salt, vanilla and buttery coconut oil and whisk well
Heat over medium heat, whisking constantly until mixture begins to thicken, about 5 minutes or so, then heat a few more minutes before removing pan from heat
Strain through a fine mesh strainer and chill.
Recommended Products
As an Amazon Associate and member of other affiliate programs, I earn from qualifying purchases.
Nutrition Information:
Amount Per Serving:
Calories: 0
Cholesterol: 0mg
Sodium: 0mg
Carbohydrates: 0g
Fiber: 0g
Sugar: 0g
Protein: 0g
Like this recipe? Be sure to share and pin to your favorite Pinterest boards, your friends will like it too!