What is matcha tea?
Matcha tea is a green tea that is unique to Japan and comes from the plant Camellia Sinensis. It has been used for hundreds of years in tea ceremonies.
Matcha is the only form of tea in which the whole leaf is consumed rather than just brewing in water such as with loose leaf teas. Consuming the whole leaf means you also get more of the nutrients in the tea.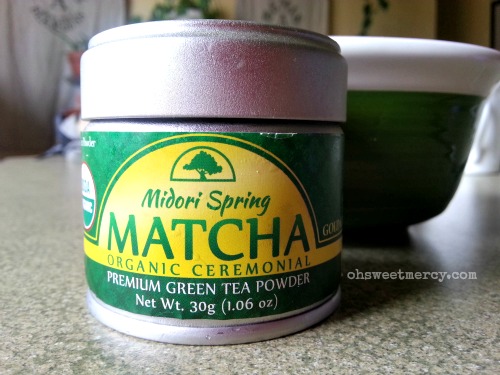 What are the benefits of drinking matcha tea?
Matcha tea has been touted to boost energy, increase metabolism, burn fat, fight cancer and increase concentration. It contains catechin polyphenols which are powerful antioxidants that are supposed to help stabilize blood sugar and blood pressure, reduce harmful cholesterol and protect the body from toxins, the most important of which is EGCG (epigallo-catechin gallate).
Matcha also contains an amino acid called L-theanine, that may help reduce stress and increase mental focus. The high levels of chlorophyll help detox the body from harmful substances.
"Boost immune system and reduce inflammation – Matcha has the highest rated ORAC (Oxygen Radical Absorbance Capacity) compared to many fruits and vegetables. Matcha also contains a specific Catechin called Epigallocatechin Gallate (EGCg). EGCg is most widely recognized for its cancer fighting properties. Research has found that Matcha contains over 100 times more EGCg than any other tea on the market." – Midori Spring FAQ page
Does Matcha tea have caffeine?
Yes, matcha tea does have caffeine. According to the Midori Spring website, "A cup of Matcha (using 1g of Matcha powder) has 35mg of caffeine compared to a cup of coffee sitting at 95-200mg of caffeine. Since Matcha contains L-Theanine, drinking Matcha has a calming and relaxing effect." If you are highly affected by caffeine and wish to drink a lot of matcha, you may want to consume matcha tea during the morning and early part of the afternoon.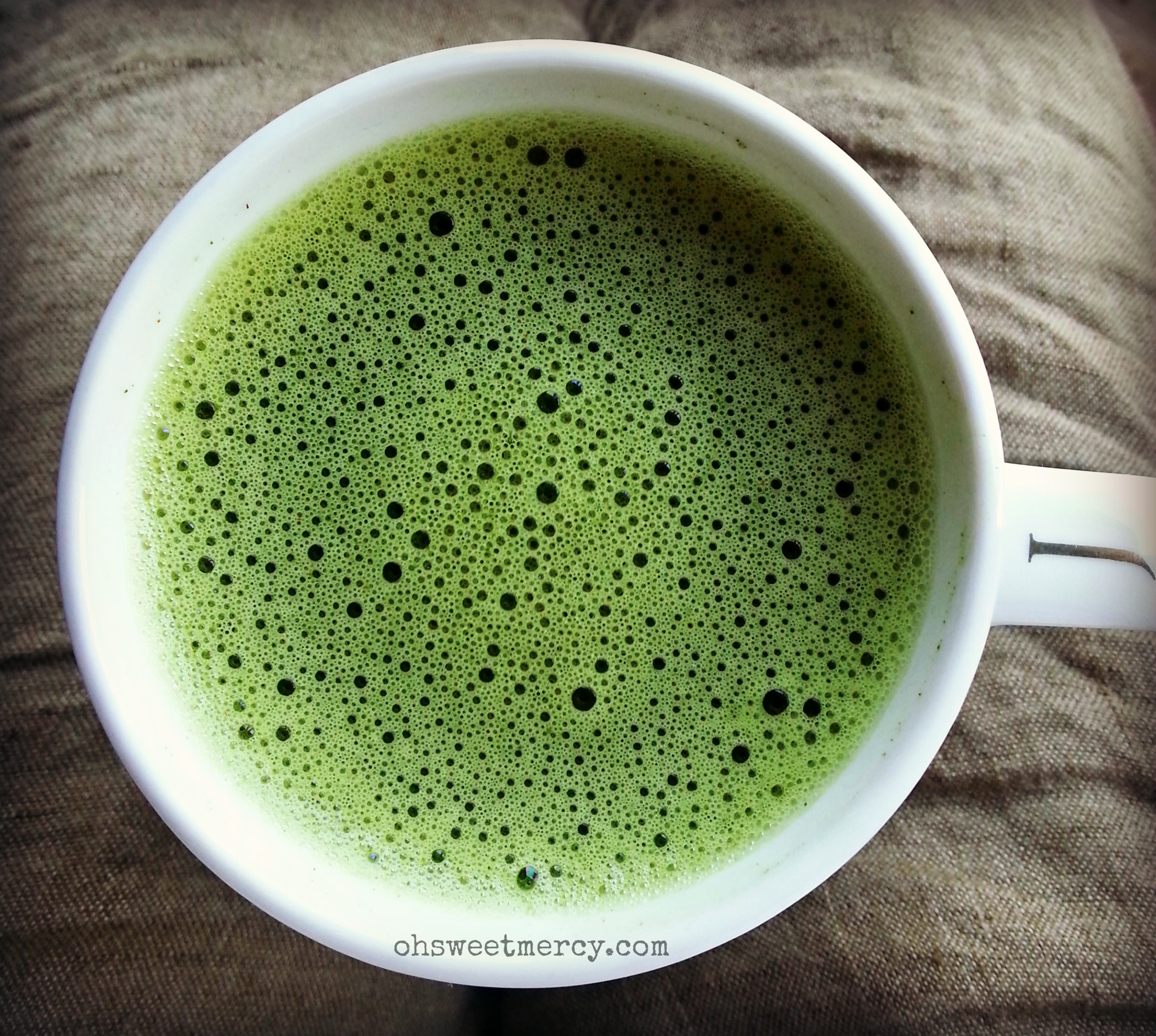 What does "Ceremonial Grade" mean? Is it something religious?
Ceremonial Grade designation has nothing to do with anything religious. It is used to describe matcha tea made from the "first flush," or harvest, of green tea leaves. These are the most tender outer leaves on the plant.
The "ceremonial" comes from the fact that only the best grades of Matcha are used in the Matcha Tea ceremony.
Midori Spring Matcha is certified Vegan, Kosher and USDA organic. It is also gluten, GMO and soy free! See this page for nutrition information and third-party certifications.
How does Midori Spring Ceremonial Grade Matcha Tea taste?
I have never had matcha tea before, other than what I had at Starbucks years ago. I remember really liking the Green Tea Frappuccino, but I couldn't really describe the flavor to you.
Matcha has a unique flavor and I'm not quite sure how to describe it. It's not really as green tasting as it looks, but there is a green element there. It's not bitter, unless prepared incorrectly. There is a bit of an astringent flavor at first and then a lingering sweetness that is quite pleasant. I've really enjoyed getting to know this wonderful tea! After a few cups, I found myself saying "where have you been all my life?"
How do I use Midori Spring Ceremonial Grade Matcha Tea?
Matcha powder is very fine, and clumps easily if not added to your water properly. It is recommended that you use a bamboo matcha whisk. I do not have one, but used a small stainless steel whisk and it worked fairly well. I think it would work better with the bamboo whisk. My affiliate partner has some lovely matcha tea accessories to enhance your matcha experience.
Using water that is too hot can result in bitter Matcha. The optimum temperature is between 162 and 169 degrees (Fahrenheit). Be sure to check this Perfect Matcha Brew page for detailed instructions.
Midori Spring also has a great video showing how to traditionally prepare their Ceremonial Grade Matcha Tea. You can watch it below:
Matcha tea is not just for drinking, however! You can add it to a variety of foods, such as baked goods, smoothies and ice cream. I can personally vouch for the deliciousness of Matcha Tea on creamy vanilla ice cream. It is amazingly delicious!
I've made a Matcha Muffin in a Mug, Cream Cheese Matcha Frosting, Matcha Yogurt, added Matcha to smoothies…all with delicious results! Try my delicious Creamy Mint Matcha Shake.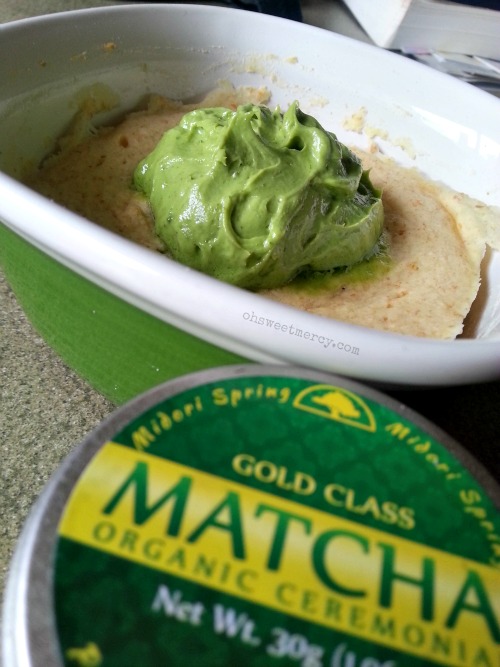 How do I store Midori Spring Ceremonial Grade Matcha Tea?
This is not noted on the packaging, and I just happened to come across it while looking for information on matcha tea – you should store your opened container of matcha tea tightly sealed in the refrigerator (or a cool, dry place) and consume it within three months for maximum benefit.
Once opened the chlorphyll will begin to oxidize over time and the color will change from a vibrant, emerald green to a yellow or brown. Midori Springs emphasizes that the tea is still safe to drink, however. You should also not leave the open container out for long periods of time at room temperature.
Where can I purchase Midori Spring Ceremonial Grade Matcha Tea?
Midori Spring Ceremonial Grade Matcha Tea comes in either a 30-gram or 100-gram food grade tin. It can be conveniently purchased on Amazon.com and delivered right to your door in just two days, if you're an Amazon Prime member. If you're not a Prime member yet, you'll want to click this link and start your free 30 Day Trial now! Try Amazon Prime 30-Day Free Trial
**FTC Disclaimer**

I received this product in exchange for an honest review. The opinions expressed here are entirely my own.
If you like my product reviews, be sure to…
Pin This Midori Springs Matcha Tea Review to Your Favorite Pinterest Boards!