By now, you've probably seen or heard about Trim Healthy Mama.
Do you see people posting delicious looking meals in your Facebook feed? With a seemingly strange language to describe it…like "I just made this amazing GGMS and CIM for breakfast! I can't believe I'm eating cake for breakfast and it's good for me!!"
And, even more confounding is that they are losing weight while eating what looks to you to be fattening foods? Do you want to know more about it?
Maybe you know enough about it and want to join the THM Food Freedom revolution, but haven't been able to get the books yet. If any of those describe you, keep reading and be sure to enter the giveaway below!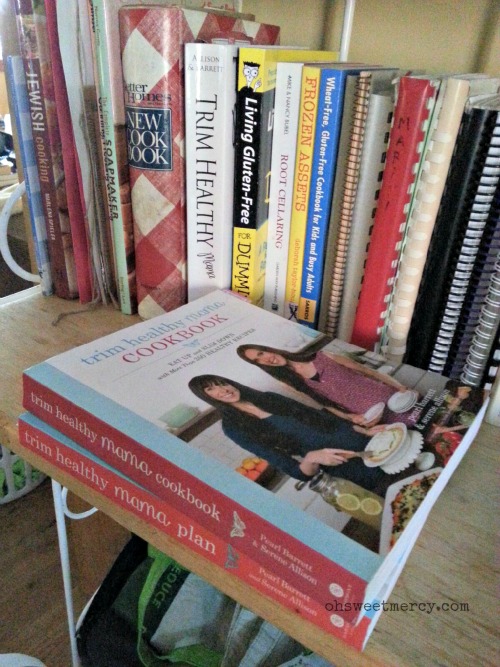 I have a lot of cookbooks, but these two books sit right here for super easy access, since I use them frequently!
I started my THM journey in August of 2014.
I had to lose some weight…a life-changing trip to Israel and Jordan required that I get in shape. And to be honest, my blood pressure and blood sugar were demanding the same thing. It was time to really do something – about and for my health.
This has been the only "diet" that has ever truly worked for me. I've gone from a size 20-22 to a 14. My blood pressure is normal without meds, and my blood sugar is stable.
I feel so much better, and very rarely do I ever feel "deprived." The sensible approach to eating outlined in the Trim Healthy Mama plan has changed my life and the lives of countless others. Now, the Trim Healthy Mama sisters have recently released two new books – the updated plan book AND a cookbook!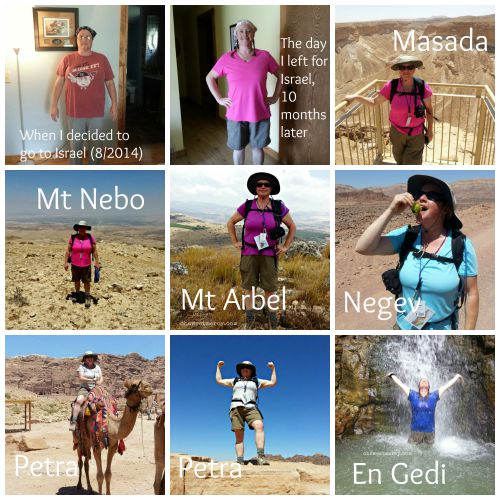 There was a LOT of walking. And the Holy Land is entirely uphill. I kid you not 😉
You can read my original Trim Healthy Mama review and update posts here and here
What's new in the new Trim Healthy Mama plan book?
The original book was a BIG book…over 600 pages! Many of the pages were recipes, but still…it was kind of daunting at first. The new book is much smaller, streamlined and has new and updated information, including a new Fuel Cycle plan and tips for "turtle" losers.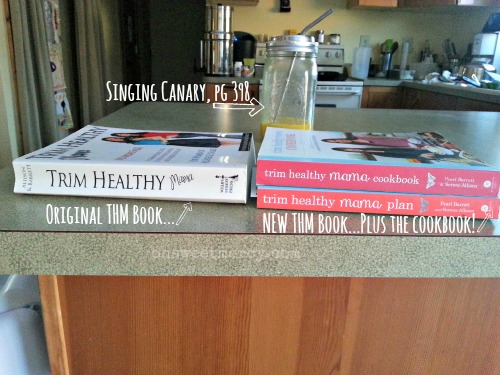 It presents the core principles of the plan in an easier-to-understand format. There are what I like to call "CLIFF Notes" style outlines for the basics of different meal styles, which makes it super easy to see at a glance just what an E meal is or if the dish you want to make for supper is a Fuel Pull or Cross Over.
The Sisters heard a lot of feedback from the thousands of THMs who follow their plan and did their best to create a new plan book that meets the needs of so many people (mamas, kids and even men can and do benefit from this lifestyle!) – no small task, I assure you.
There's less "chit chat" and more focus on plan details. You'll find new recommended foods and supplements, sample menus for each style as well as information for the Drive Thru Sue, Vegetarians, Purists, Budgeting Mamas, Mamas with Allergies and more that will help anyone begin to implement the plan.
One of the things I LOVE about Trim Healthy Mama is how encouraging they are. They are very realistic (being busy mamas themselves) and understand that life happens, hormones happen, tight budgets happen…and sometimes our food choices suffer because of that.
Do we beat ourselves up? No, we start over again in three hours and get right back on plan. We do the best we can with the resources we have available. We don't obsess over numbers – calories, clothing sizes, scales – but we consistently work on making good choices, one meal at a time. This came through in the first book and is carried on the in new plan book.
A Trim Healthy Mama Cookbook? It's like Pinterest on your bookshelf!
I've seen many people asking "Do I really need the cookbook? Is there anything new in it or is it the same recipes that were in the old book?" Need is always relative of course. Can you do the plan without the new cookbook? Sure (but it's much more fun with it)!
Is there anything new in the cookbook? Absolutely! The first book didn't have recipes for GGMS (Good Girl Moon Shine) and several other beverage recipes that are wildly popular among the THM community. There's also tons of crock pot meals, family and quick skillet recipes and soups, lots of breads, desserts and even snacks and condiments – the recipes from the original book are there plus even more new recipes.
One of the best improvements, I think, is that there is an index page at the beginning of each section, with the recipes color-coded by fuel type. That makes it so much easier to find what you're looking for, especially for busy THMs!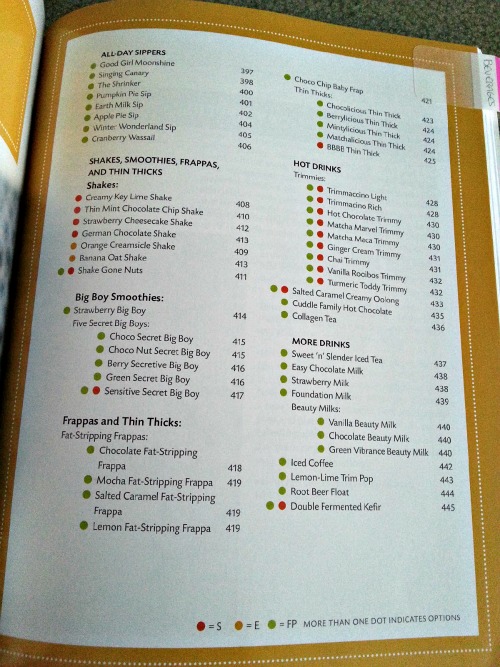 One of my own recipes is even included! If you like chocolate and coconut and cake, be sure to check out page 293. You can get a sneak peek at the cookbook at my affiliate partner's website here.
I've really enjoyed trying new recipes since I got the new cookbook!
I have to be honest and tell you that I don't NORMALLY use recipes much, preferring to just dump some stuff together until it it tastes like what I imagined in my head. Thankfully, my grandmother taught me a lot and most of the time it turns out very tasty.
Except that one time. That I made what was dubbed "Dead Sea Chili." It was actually inedible (but made a great chili "starter" for a very large crowd…)!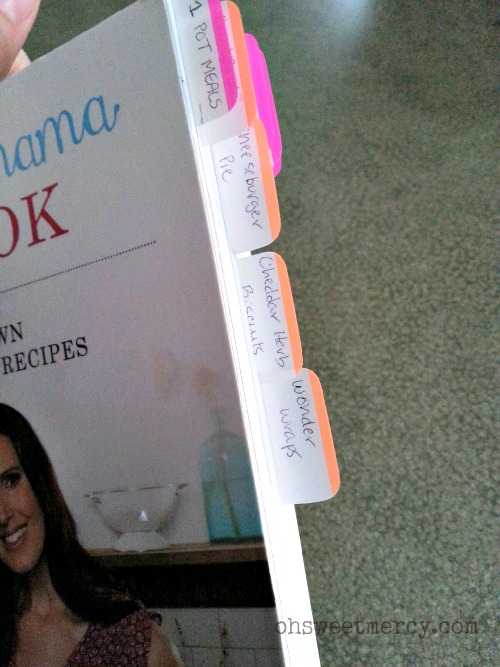 Many THMs "tab" their books for easy reference. I'm not that organized so I never tabbed my original book. I have, however, added tabs to my cookbook. I tabbed each section, as well as a few favorites for easy reference. These removable tabs from PostIt are terrific! [affiliate]
Since I'm a "dump cook" I wondered how often I would actually use the cookbook. I find myself pulling it out several times a week, actually. Looking through the book inspires me at menu-making time. Since there are several recipes that I don't have memorized yet, I love having the book handy instead of using my phone or Kindle.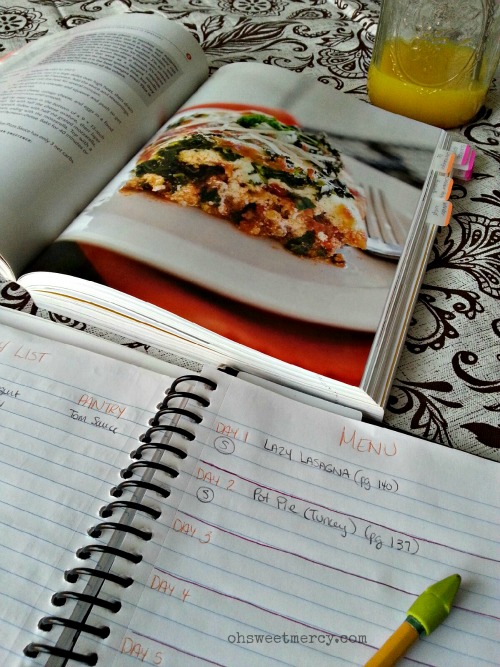 Here's how I roll with the menu and grocery planning. If I don't have the ingredients to make something in the book, I'm often inspired to come up with something similar!
And the photography is just gorgeous! Rhonda Sue did a great job!
Some of my favorites are:
Cowboy Grub (pg 59)
Luscious Lemon Cake (pg 289)
Trim Bouillon Mix (pg 491)
Cheeseburger Pie (pg 149)
Wonder Wraps (pg 204)
Fakertot Casserole (pg 147)
Pay Off Day Candies (pg 381)
The Singing Canary (pg 398)
Lazy Lasagna (pg 140)
Cheddar Herb Biscuits (pg 197)
Chicken Pot Pie (pg 137 – and equally delicious using turkey!)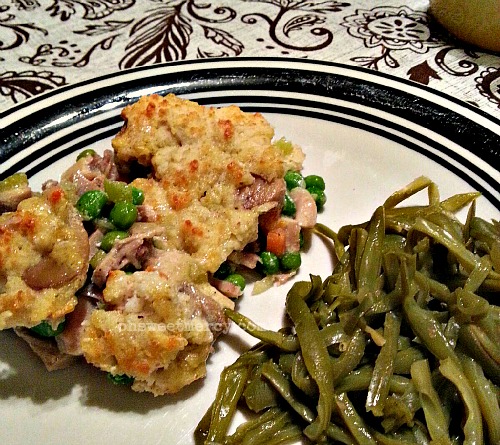 This is MY photo of Chicken Pot Pie (made with turkey, actually), not Rhonda's. Her photos are sooo much better!
What about Special Ingredients? Do all the recipes have them?
You'll find recipes in the book that call for some of the great new THM products like Baking Blend or Integral Collagen (found at the THM online store). Many of the recipes calling for special ingredients can be made substituting a similar ingredient, or even leaving an ingredient out. For example, I made the Cuddle Family Hot Chocolate (pg 435) today without the lecithin that it called for and it was still delicious. My kids loved it too, and had NO idea there was okra in it. You just won't get the benefit of the ingredient if you leave it out, and it's possible the results might not be exactly the same…but often close enough.
Baking Blend is awesome, I'm not going to lie! For my budget at the moment, it's not something I can buy all the time. But when I can, I certainly will. There are several recipes for homemade baking blends out there, such as this one from my THM blogging buddy, Briana Thomas. I haven't tried her version, but I have heard many people raving about it online!
In some cases, however, there just isn't a substitute. Gelatin and collagen can often be used interchangeably, but The Superfood Chews require collagen, and gelatin is NOT a substitute that will work in this recipe.
Even though some recipes call for "special ingredients" there are MANY that do not. The old favorites from the original book are there as well as a ton of amazing new recipes. It's definitely worth purchasing to have this great resource at your fingertips…especially if the wifi is out 😉
Want to get started on this amazing Trim Healthy Mama journey?
If you have had these books on your wish list since you heard about them coming out here's your chance to win a copy of each! Or maybe you know a family member or friend who really wants them and would like to give them as a gift…be sure to enter and share on your social networks about the giveaway so they can enter too. Just follow the easy entry instructions below! Just click on the Amazon ads in my side bar to order your copies today! I plan to do more giveaways of the books soon, so stay tuned!
Be Sure to Pin this Review Post to Your Favorite Pinterest Boards!