---
It's my birthday month! What better way to celebrate than to have a big ole birthday bash giveaway, right? What that means here at OSM is that you'll get a chance to win some prizes to help YOU on your THM journey!
---
Keep an eye on your email inbox for details every week this month. If you're not signed up for my email newsletter you can sign up at the bottom of this post. I only send out newsletters when I post new recipes or when something like a giveaway is going on, so no worries about your inbox being inundated!
And be sure to follow OSM on Facebook and Instagram too. You just never know when I might decide to do a flash birthday bash giveaway 😉
Each Tuesday in November I'll feature a giveaway.
My actual birthday is the 13th and I'll be 47 years old. I'm not quite sure how that happened so quickly! Seems like just yesterday I was in my 20's.
People are always amazed when I tell them my age. I know it's from the good, healthy lifestyle of THM. And some good genetics also play a part. My grandma is close to 100 and still going strong.
Her secret? Feeling young on the inside!
Since my birthday is on a Tuesday I'm going to have a giveaway every Tuesday this month! I don't want to wait until my actual birthday to give some gifts so we'll start today.
I'm Giving YOU Gifts!
I'm so thankful for each and every one of you who visit my blog and social media pages. I love hearing your stories and that you enjoy my recipes, too! It only seemed appropriate to give YOU gifts that can help you as you find your Trim.
Being networked with some fabulous THM bloggers is such a blessing! I've got some eBooks and printables lined up from the kind and generous ladies at My Montana Kitchen, Northern Nester, TJ's Taste, Wholesome Yum, and Wonderfully Made and Dearly Loved.
A delicious spice gift set from FreshJax is also on the agenda. FreshJax is a Florida-based company that handcrafts their spices. There's no funky ingredients in them, either.
Our family favorite is their Toasted Onion Seasoning. My personal favorite is their Spicy All Purpose Seasoning.
Because my family, bless their hearts, are wimps and can't handle the heat!
I've also got some surprise FLASH giveaways planned on social media that you won't want to miss either!
How to Enter This Week's Birthday Bash Giveaway (and What You Can Win).
This week's prize is one you definitely need to help you on your THM journey! TJ from TJ's Taste has offered 2 premium binder printables to help you organize what's important. Not only that, 3 lucky winners will receive both sets!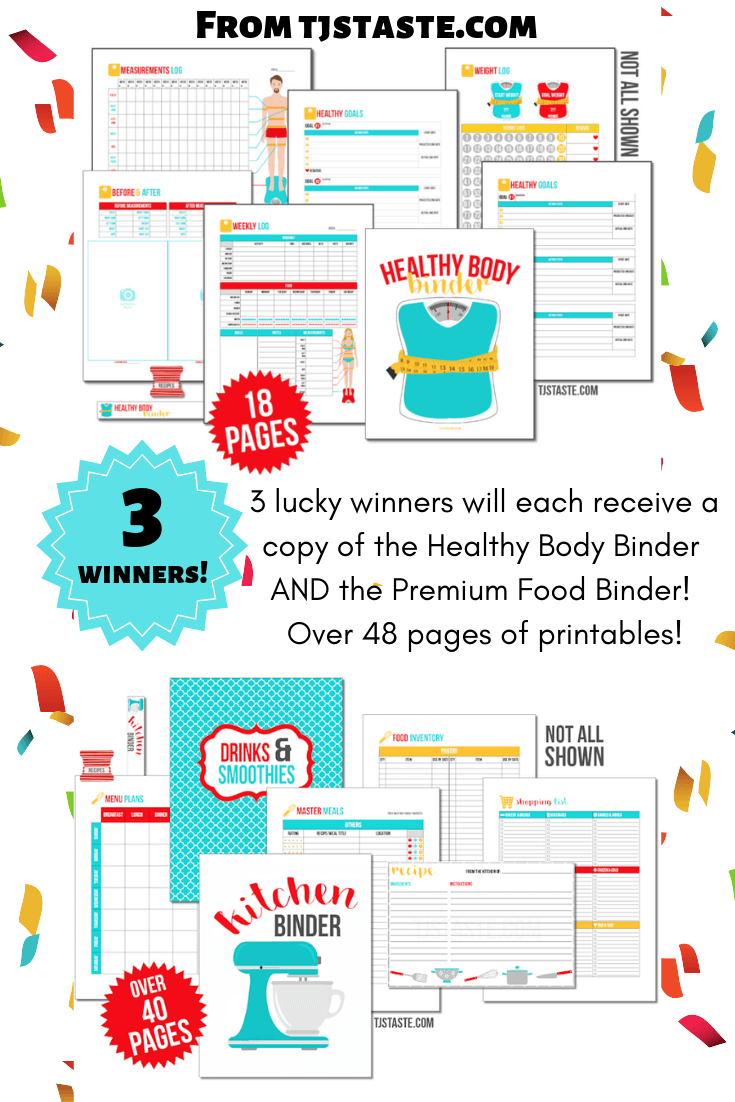 Editable Premium Healthy Body Binder Printables – this great set features both cover and spine printables to make your binder look fantastic. Inside, you can put log sheets for weight and measurements, food, exercise, goals, before and after info, and more!
Editable Premium Food Binder Printables – this will help you stay on top of all the food things. It also includes a beautiful cover and spine to print as well as pages to track recipes to try, food inventory, menu planning, shopping list, and more!
Simple giveaways are my favorite! So, I'm going to keep it fairly simple for you.
Since it's my birthday, you get some free entries without doing a thing! Just a little way of saying thank you for being a reader.
And since TJ is so kindly offering her products as a prize, show her some love by visiting her site and commenting on a post.
You can also earn extra entries if you want by signing up for my newsletter, visiting my Facebook Page, Pinning this post, or visiting TJ's Taste on Facebook.
Just enter via the Giveaway Tools widget right here (Giveaway open from 11/6/2018 at 6am ET until 11/8/2018 at 11:59pm ET):
Best of luck to you and be sure to stay tuned for more birthday bash giveaway fun! I'm going to make myself some cake 😉
Pin This November Birthday Bash Giveaway Post Here: