Can I be excited? My Dark Chocolate Coconut Cake in a Mug recipe was included in the NEW Trim Healthy Mama Cookbook! You'll find it on page 293.
When you think diet, what comes to your mind?
Deprivation? Like, all the things you can't eat anymore? Pizza. Cake. Cookies. Chocolate. Ice cream.
That's one thing I love about Trim Healthy Mama. If I want cake, I can have it – generally whenever I want – as long as I'm following the plan guidelines. Same goes for pizza, cookies, chocolate, ice cream, and many other of my favorite foods.
read my Trim Healthy Mama Review here
Who wants to give up comfort food?
This past week was a tough one for me. I don't do DST well. I hate it…like God hates sin. It makes me cranky and miserable.
So, I needed some comfort food. And what I wanted was a decadent, dark chocolate cake. I didn't want to have to wait around for it. I wanted just enough to satisfy me, not a whole cake to tempt me to eat the whole thing. And I wanted it topped with cream cheese frosting.
A tall order, you say?
No problem! Trim Healthy Mama says make a Cake in a Mug!
How's that for a wonderful way to eat? Not to mention the shrinking side effect. I love that part!
read my 90 Day Progress Update here
I need to do another update post, but here's a recent picture, plus where I started for comparison. I woke up the next day two pounds lighter, with a total loss of 40 pounds since last year! I had lost 10 pounds just prior to starting THM, so 30 of that was all thanks to Trim Healthy Mama. And I eat cake often, actually. I'm about 25 pounds from my goal weight now. A light at the end of the tunnel!
I love getting creative with my THM menu!
So I went to the kitchen and whipped up this yummy cake in a mug in no time flat. Since I love coconut, I wanted to incorporate that into my dark chocolate cake in a mug loveliness. But, often baked goods with coconut turn out dry. On a hunch, I decided to try adding a li'l something and it turned out just like I wanted, dark…chocolatey…moist…just a hint of coconut.
I shared this on YouFood and promised to try to get this posted this week. Somehow, I would plod through the DST-induced fog and get this recipe posted 😉
learn about TwoGrand here…then sign up and come find me!
Easy Cream Cheese "Frosting"
This isn't so much a recipe…but is based on what is in the Trim Healthy Mama book under the Cake in a Mug recipe (which is, interestingly, very similar to how I used to make cream cheese frosting anyway…except I used to use regular sugar. Great minds think alike, right?) I just throw some stuff together until it tastes like I want. But, I'll try to make it a "recipe" for you:
Cream cheese
Butter
Vanilla
Stevia
I use equal parts of butter and cream cheese…I think. I eyeball it. Then a splash of vanilla and some stevia. Mix it all up until it's fluffy or at least well mixed. I always just use a spoon or fork and mash it all together and stir it until it's smooth and creamy.
I saw someone on YouFood that makes up a bunch of cream cheese "frosting" and keeps it in a mason jar in the fridge. I don't think I have the self control to stay out of it if I did that, so I just make it as I need it.
This Dark Chocolate Coconut Cake recipe in the THM cookbook has a light glaze that you can also try instead when you want a bit lighter dessert. Too much cream cheese and Heavy S foods can be the culprit behind stubborn stalls!
Eat the cake and leave the guilt behind!
Serve this Dark Chocolate Coconut Cake in a Mug topped with cream cheese frosting and a fresh strawberry, if you like.
Then, have your cake and eat it too. 'Cause it's totally on plan.
Don't Forget to Pin this Dark Chocolate Coconut Cake in a Mug Recipe to Your Favorite Boards!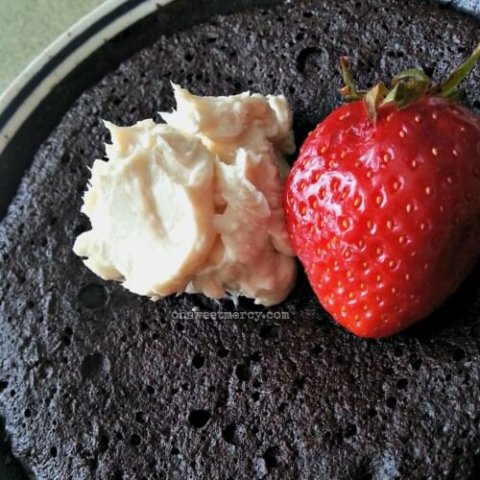 Dark Chocolate Coconut Cake in a Mug | THM S, Low Carb, Keto
Yield: 1 serving
Prep Time: 5 minutes
Active Time: 1 minute
Total Time: 6 minutes
Craving chocolate? On a low carb diet? This easy Dark Chocolate Coconut Cake in a Mug recipe will give you the chocolate decadence you crave without blowing your healthy eating plan! Sugar and grain free, quick to make! And, you'll find this recipe in the first THM Cookbook on page 293!
Ingredients
1 egg
1 heaping tablespoon dark cocoa powder
2 tablespoons Greek yogurt (can sub sour cream or ricotta cheese)
1 tablespoon shredded, unsweetened organic coconut
1/2 teaspoon baking powder
1/2 teaspoon pure vanilla extract
Pinch or two of THM Mineral Salt
Water, as needed for consistency
Instructions
MIX THE BATTER
In a bowl or mug, whisk one egg
Add remaining ingredients and mix well to combine
Add water, a tablespoon at a time, until the batter is the consistence of muffin batter
MICROWAVE COOKING
Microwave for one to one and a half minutes or until cooked through.
OVEN BAKING
Preheat oven to 350
Bake for around 12 minutes or until it passes the toothpick test
Allow to cool before frosting.
MAKE THE FROSTING
Mix together equal parts of cream cheese and butter, add sweetener to taste and a splash of vanilla
Or, follow the recipe on page 293 in the Trim Healthy Mama cookbook for a lighter glaze
Recommended Products
As an Amazon Associate and member of other affiliate programs, I earn from qualifying purchases.
Nutrition Information:
Amount Per Serving:
Calories: 0
Cholesterol: 0mg
Sodium: 0mg
Carbohydrates: 0g
Fiber: 0g
Sugar: 0g
Protein: 0g