So there I was again, stricken with Food Apathy.
I needed to eat something, but nothing sounded good. I didn't feel like making anything, either. How do I keep ending up here, anyway?
You know the drill…need something quick and easy…need to be on plan with Trim Healthy Mama.
Standing there, staring into the fridge and assessing the possible combinations with the available ingredients staring back at me (because we never have actual food in our house, just ingredients…), the proverbial light lit up above my head.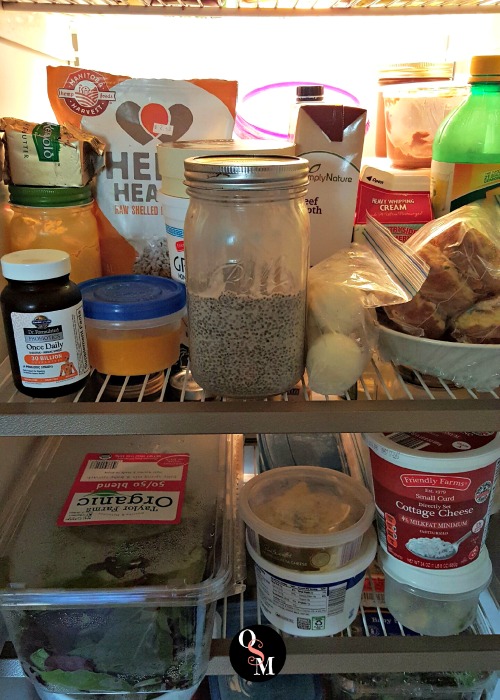 Ding.
Strawberries…coconut…muffin in a mug. Mmmm.
Since I'm also trying to stick to an anti-candida diet, that meant no grains. Using my THM Baking Blend was out of the question (even though it's a fabulously easy option!). That left coconut flour and flax as my best "flour" options. I already have a delicious recipe for a Coconut Chai Muffin in a Mug using those, why not adapt that?
It was a winner! And adding one little tweak made it even tastier. Can you guess what it is?
I'll give you a hint…balsamic vinegar.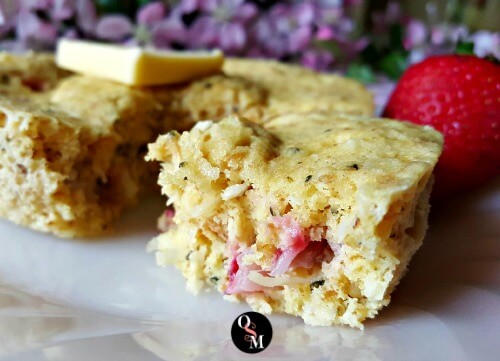 Balsamic vinegar in a muffin? What?
Ok well, not exactly IN the muffin. But strawberries marinated in balsamic vinegar. If you've never had those…oh sweet mercy do I feel for you. They are so much more flavorful…deep and dark and lovely.
Balsamic vinegar can even make strawberries that don't have much flavor taste good.
You know the ones…that don't grow in your yard and have to be shipped to your local grocery store from hundreds or thousands of miles away? They just don't have much flavor, usually, unlike freshly picked, in season, local berries. Those sweet-tart juicy berries that delight your taste buds and bring back memories of berry picking as a kid…when more went in your mouth than the bucket.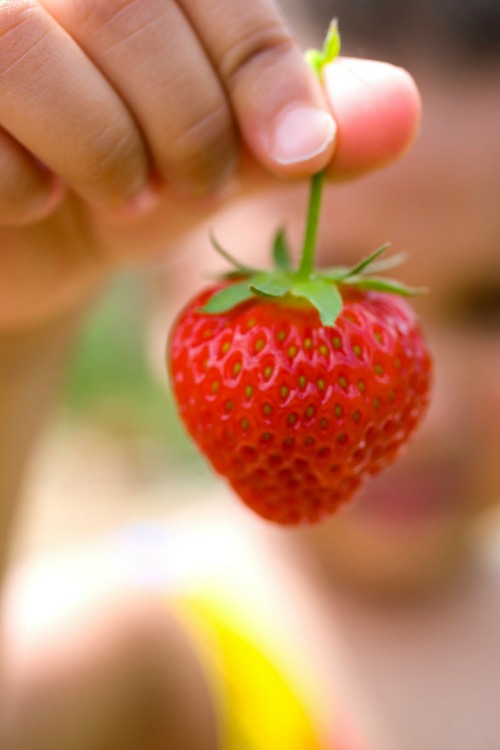 Photo credit: Darren Baker
I didn't have balsamic strawberries ready the first time I made this Balsamic Berry Coconut Muffin in a Mug, but the next time I made it (later the same day, to be honest…) I used those instead. The balsamic vinegar intensifies the strawberry flavor, so the few berries I put in the muffin seemed like more. What a great way to keep those carbs low!
Use the best quality balsamic vinegar you can afford. There is truly a HUGE difference.
What is true balsamic vinegar?
True Balsamic vinegar is an artisan product from Modena, in Emilia Romagna, Italy, and is made with grape must (juice) that is simmered to make a concentrate, allowed to ferment, then, for a minimum of 12 years, matured in barrels of progressively decreasing size, made from different woods in order to impart different flavours. The result is dark, rich and syrupy and to be used very sparingly.

The real thing will be marked with 'tradizionale' and/or DOC and will be expensive. You can also buy the more afforable, industrially made 'aceto balsamico di Modena', which uses vinegar as well as grape must; as it's not aged for so long, the flavours won't be as strong. [source]
If you can splurge a little.., get the good stuff. It is seriously ah-MAZ-ing. The less expensive "aceto balsamico di Modena" is good, but some brands are rather harsh. The good stuff…you can almost drink it straight.
If you do get the good stuff, I recommend topping this muffin with a few slices of berries with just a few drops – that's all you need – as true balsamic vinegar isn't meant for cooking. Use the less expensive variety for that.
Learn more about balsamic vinegar here.
How to make Balsamic Strawberries
If you've got a budget like mine, as in No Room For The Good Stuff, you can still make balsamic strawberries using a more affordable variety of balsamic. Simply slice strawberries and soak in some balsamic vinegar for several hours. You may also add a bit of stevia, or sweetener of choice (I like Gentle Sweet, from my affiliate partner). Leave them at room temperature, too, and stir a few times. Reuse the vinegar for a new batch of berries.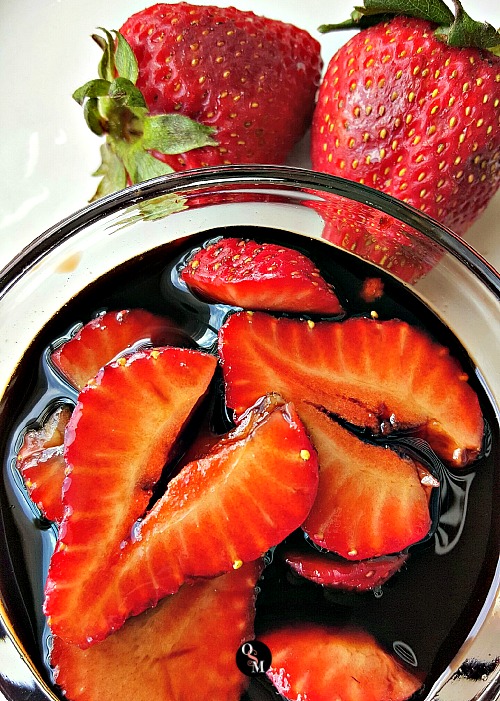 Trim Healthy Mamas, here's how this muffin in a mug will fit in your THM meal plan.
This is a delicious S style muffin in a mug. You'll want to pair it with a bit more protein as on its own it does not have enough protein for a meal. Try Collagen Tea made with Integral Collagen, a protein shake or if dairy isn't a problem for you, some cottage cheese or yogurt. Just remember to keep your net carbs to 10 grams or less and you're good to go.
So the next time you find yourself staring in the fridge, looking for inspiration…look for coconut.
And coconut flour. And I hope you have some balsamic strawberries already made!
Now, if I can only find a way to permanently banish Food Apathy…if YOU have, please share your secret in the comments below. I really, really want to know!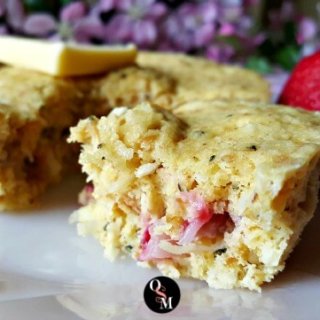 Balsamic Berry Coconut Muffin in a Mug
Yield: 1
Prep Time: 5 minutes
Active Time: 1 minute
Additional Time: 1 hour
Total Time: 1 hour 6 minutes
Balsamic vinegar brings out the deep, berry flavor of strawberries and makes your basic low carb muffin more sophisticated. THM S friendly!
Ingredients
8 slices of balsamic strawberries, sliced or diced. (2 whole strawberries)
Balsamic vinegar (THMs, use one with 2g carbs or less per serving)
1 egg
1/2 tsp baking powder
1/2 tsp vanilla
1-2 Tbs cashew milk
Instructions
PREPARE THE STRAWBERRIES
In a small bowl combine strawberries and enough balsamic vinegar to cover
Allow to marinate for at least an hour or overnight.
Strain out berries (save the vinegar for a new batch if desired)
MICROWAVE DIRECTIONS
Spray or grease a microwave safe bowl or mug.
Mix all ingredients together.
Add more liquid as needed for right consistency.
Microwave for 1 minute or until cooked through.
OVEN INSTRUCTIONS
Preheat oven to 350.
Grease or spray an oven safe dish.
Mix together as directed in microwave directions.
Bake in a 350 degree oven for about 20 minutes or until cooked through.
ENJOY!
Top with grassfed butter and enjoy with a bit more protein for a complete meal, such as Collagen Tea, a protein shake, cottage cheese, yogurt or fried or scrambled egg.
Recommended Products
As an Amazon Associate and member of other affiliate programs, I earn from qualifying purchases.
Nutrition Information:
Amount Per Serving:
Calories: 0
Cholesterol: 0mg
Sodium: 0mg
Carbohydrates: 0g
Fiber: 0g
Sugar: 0g
Protein: 0g
Like this Balsamic Berry Coconut Muffin in a Mug recipe? Your friends will too! Share and pin to your favorite Pinterest boards.