---
Another thrift store find taught me an important lesson on brokenness, restoration, and wholeness. Let me tell you the tale of my beautiful blue mug, what it taught me about healing, and how that affects your Trim Healthy Mama journey.
---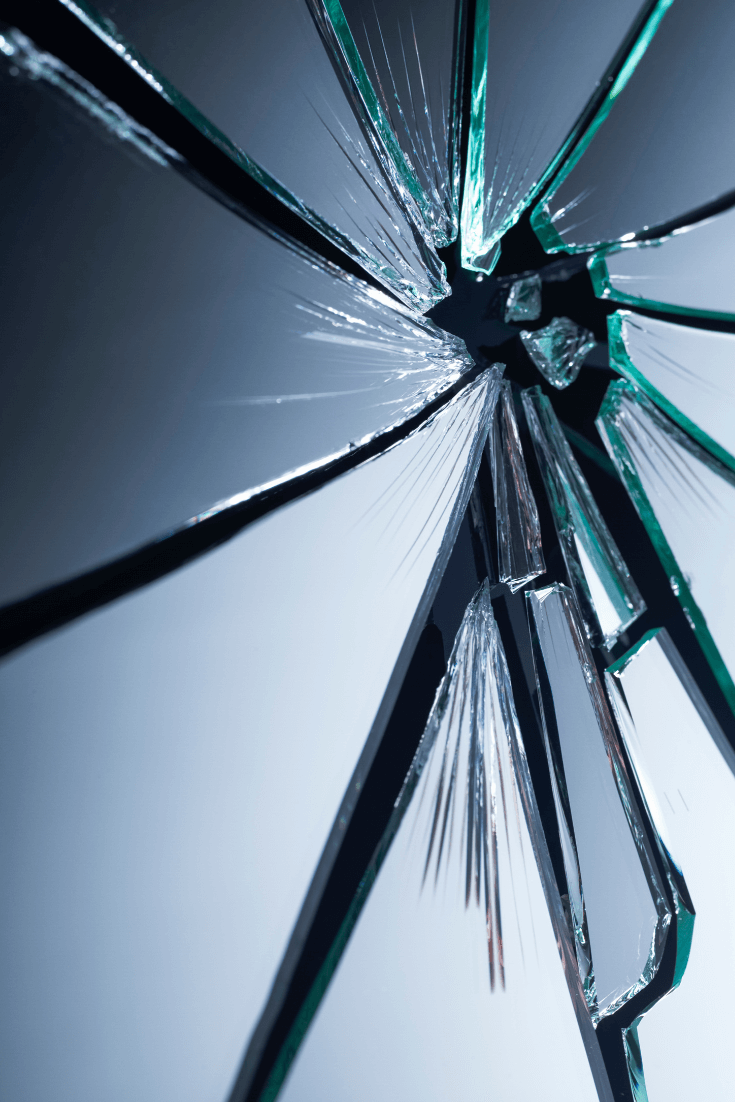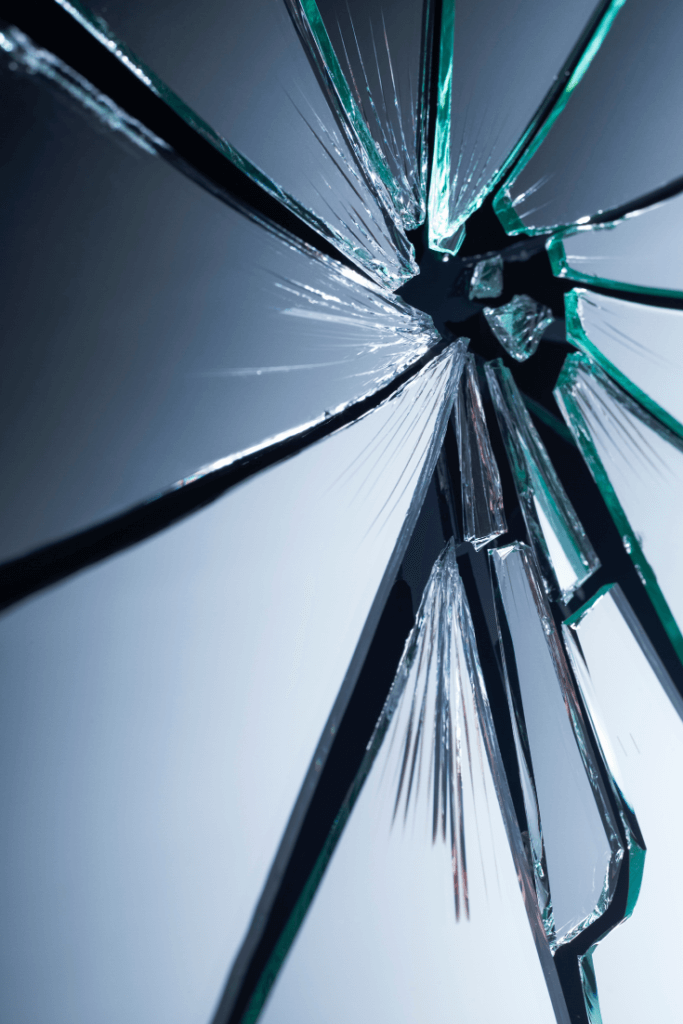 We are all broken, somewhere. We can't make it to adulthood without some kind of emotional wound, it's sadly just part of life.
Some wounds heal quickly and leave no trace. Others leave deep, painful scars. Some seem to never heal. Sometimes emotional trauma shatters parts of us to pieces and it seems they can never be put back together again.
That's just it though…it seems impossible to put those pieces back together. Or it feels pointless because you'll never be the same even if you could manage to put those shards of you back into place.
But it matters. It's important!
Wholeness is essential to wellness. We really can be whole again, even if we aren't exactly the same. That difference doesn't have to be a stigma, or a constant painful reminder of the past. It can be beautiful…
Let me tell you a story of a beautiful blue mug. Keep what I just wrote in mind as you read on…I'll even tie it into the Trim Healthy Mama journey at the end.
2017 – The Year Of The Beautiful Blue Mug.
There's a thrift store in my area that I like to go to now and then. Sometimes I find nothing, sometimes I find a treasure or two or something that I actually need.
I found another thing at a thrift store that taught me a powerful lesson, too. It actually goes along with this one so I encourage you to read What's In Your Bowl? too:
Finding A Gem, Out Of The Blue.
One day I was perusing the kitchenwares area and my eye caught this beautiful blue mug. There's a pottery studio nearby and you often find mugs, bowls, plates, and other pottery creations here in this thrift store.
I've always thought they must be either practice pieces or perhaps ones that were seen as defective somehow. Maybe a perfectionist potter thought they were defective but I usually didn't see anything wrong with them.
I picked the mug up, turning it over and over in my hands. There was no maker's mark on the bottom, so I have no idea who made it. Or if it even came from the nearby pottery studio.
It was a little pricier than the other mugs, so I hesitated. But it softly called to me and said "please take me home with you." What else could I do? I can make room for one more mug, right?
#favoritemug
Yes, I hesitated over a dollar. The thrifty in me is very strong sometimes.
Coffee and tea in this mug just seemed so much better. It fit in my hands perfectly. It's like this mug was made just for me.
The lovely partnership between myself and this beautiful, blue mug created by unknown hands continued uneventfully for several months.
Disaster Strikes!
Then one day, disaster struck! I can't remember when or exactly how it happened, just that something fell on the mug and broke the handle into pieces.
I might remember that something…ahem…fell out of the mug cabinet right above the counter where this mug sat. Because the mug cabinet overfloweth…
September 8, 2017 was the last appearance this mug made on my Instagram so it was some time after that when this beautiful vessel was broken and rendered mostly useless.
Mostly useless because the handle was destroyed. Yet, it could still hold liquid…the main part of the mug survived the shattering blow.
I felt literal sadness…I know – how silly, right? It's just a coffee mug for crying out loud.
You have enough mugs to start your own mug thrift store, practically. Why feel sad over this one breaking?
You didn't make it. You don't even know who made it so there's no nostalgic provenance here.
The handle broke into 3 pieces and I put them in a zippy bag, just in case I could fix it. I had no idea how I would…super glue maybe?
Perhaps I could take it to the pottery studio and ask them if they could make a replica. I wouldn't even mind paying considerably more than the dollar I'd paid for the original.
That mug had, for some odd reason, really captured my heart. It was like a friend you have that almost eternal connection with, even though I'd only had it for a few months.
I set the mug and its shattered pieces aside until I could get around to repairing or replacing it.
2019 – Fixing Shattered Pieces.
This whole mug-metaphor thing that I'm going for here would probably benefit from a story about some awful event that happened in my life after my beloved mug broke that equates to shattering pieces of my heart.
While I'm so very grateful that is not the case, my heart has been shattered into pieces many times in my life. Sometimes from my own poor choices. Other times from choices others in my life made. Either way, parts of me were broken.
Broken parts often make us feel worthless. Cast aside. Unworthy. Useless.
Useless, even though the main part of us is still intact.
We focus on the broken pieces. Maybe we lament over them, over what they used to be. We mourn the loss of them. Sometimes, we even curse the hands that formed us because of it.
We might save those shattered pieces, hoping yet not really believing they can be repaired. Fearing the cost may be too great.
Sometimes we take those sharp pieces out of storage and handle them, only to be cut again.
Sometimes, we cut others with those sharp, broken, shattered pieces.
Other times, we toss the whole lot into the trash. It's irredeemably broken. It's useless.
We give up because our mind whispers I'm irredeemably broken. I am useless.
Kintsugi: The Japanese Art Of Beautiful Repair.
Some time ago I learned about kintsugi. It's an ancient Japanese technique that beautifully repairs broken pottery. Sometimes, people even purposely break things just so they can use kintsugi to repair it.
The Art Of Precious Scars.
By repairing broken ceramics it's possible to give a new lease of life to pottery that becomes even more refined thanks to its "scars". The Japanese art of kintsugi teaches that broken objects are not something to hide but to display with pride.

With this technique it's possible to create true and always different works of art, each with its own story and beauty, thanks to the unique cracks formed when the object breaks, as if they were wounds that leave different marks on each of us.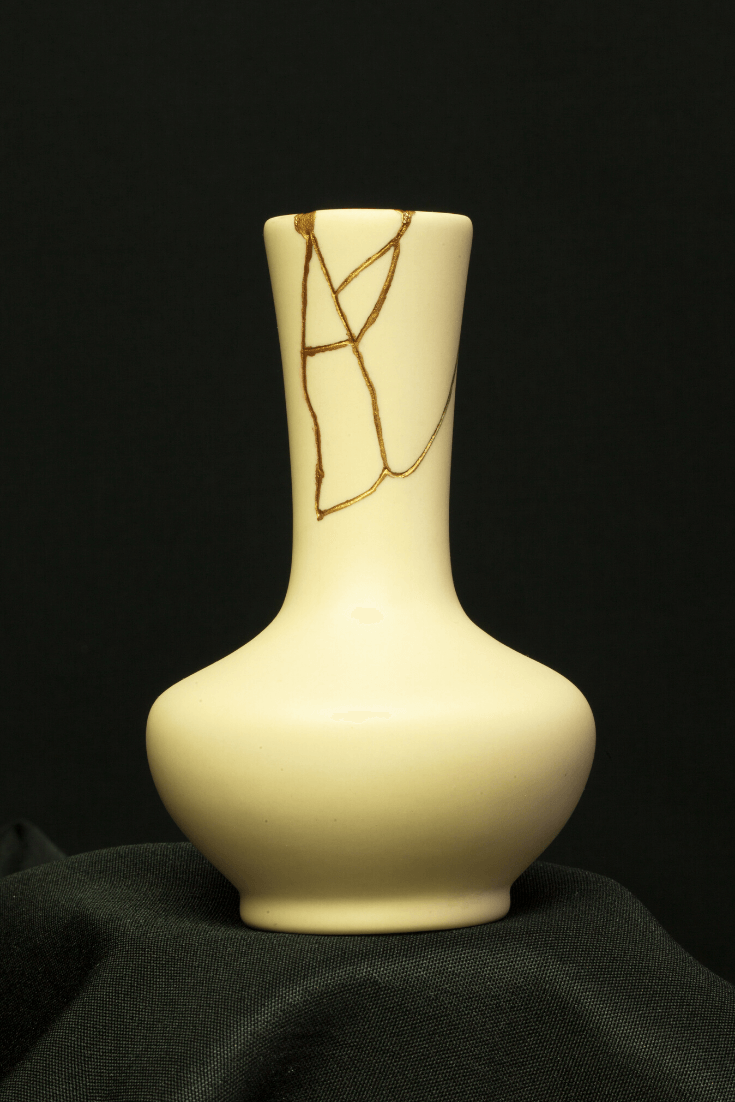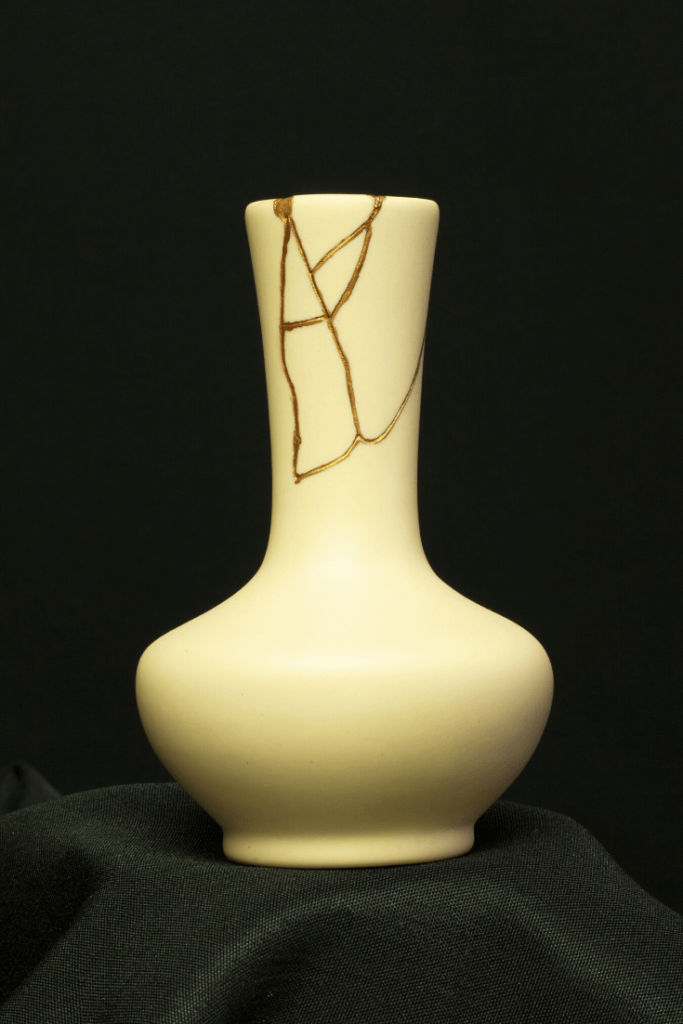 The repairs were traditionally made with liquid gold, which left gleaming, golden "scars" where the shattered pieces were mended.
No two pieces of kintsugi pottery are alike. It's impossible! There is no way to precisely control how ceramics break.
The repairing process restores the vessel and creates a beautiful pattern that is wholly unique to that vessel and its circumstances.
Restoring The Beautiful Blue Mug.
A friend of mine from our home fellowship shared on Facebook that a plate had broken. It was one of those personalizesd ceramic plates with the baby crib on it that also had her name, birthday, and birth stats.
She was sad that she had to throw it away. I shared an article about kintsugi with her and encouraged her to try and fix it that way.
I also looked on Amazon for a kintsugi repair kit and about fainted at the price…that was the last I thought about kintsugi for a while.
You see, she was about to embark on some big life changes right at that time. I thought kintsugi is a beautiful picture of how our Creator puts our broken pieces back together. Perhaps using this technique on her plate might encourage her when she looks at it.
Especially if (or when, as the case may be) those big life changes are difficult. Or break off more pieces that need restoring.
Some time later she sent me a text of a picture of a kintsugi repair kit she'd ordered — though not on Amazon, so much more affordable! It is from overseas however and took some time to arrive.
One day she came over with the broken plate she rescued from the trash and we fixed our broken pottery.
A Lesson In DIY.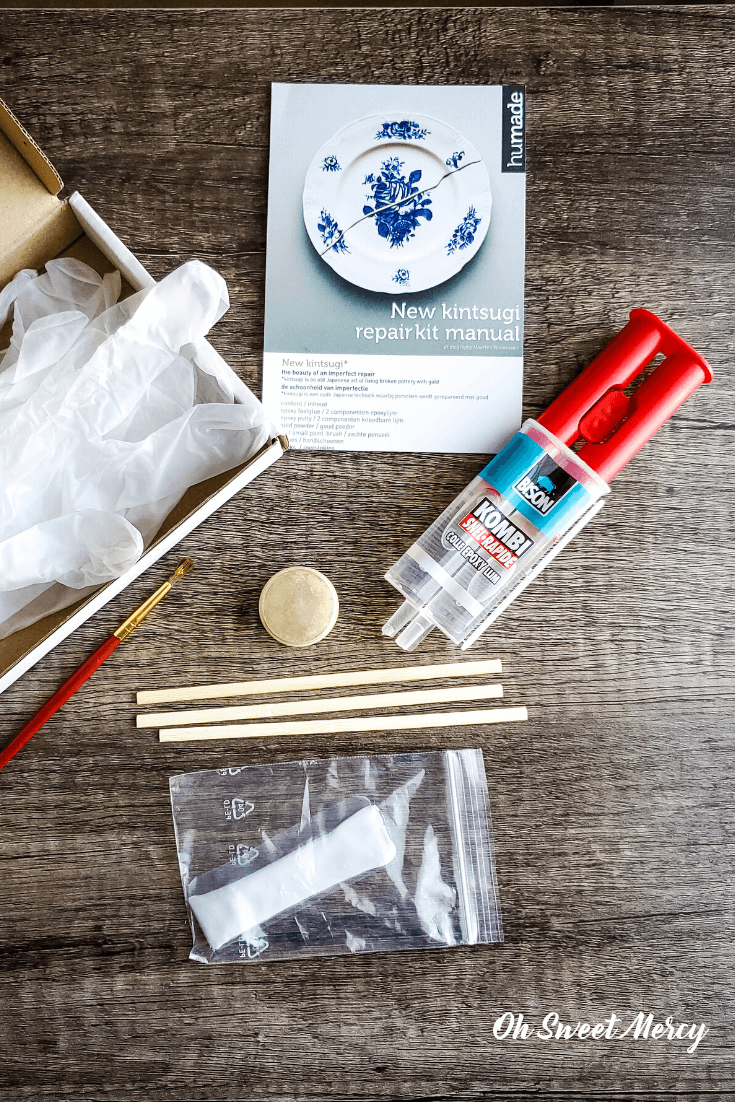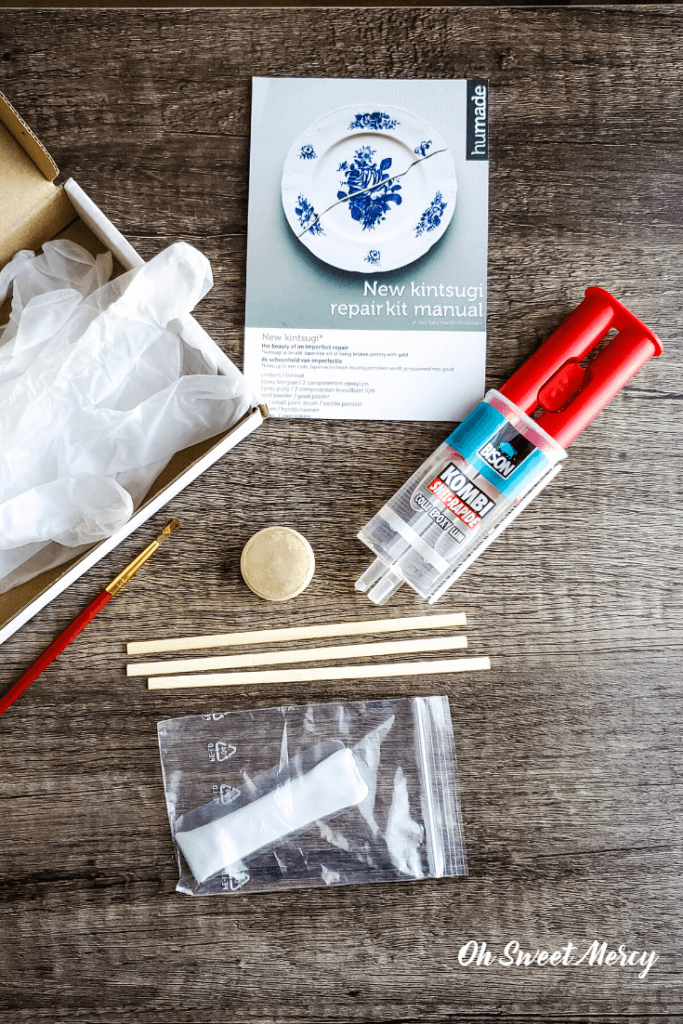 Just attempting kintsugi in itself was a good lesson! We read the directions but really didn't know what we were doing. The epoxy in the kit dries fairly quickly, and very hard.
Turns out you shouldn't use the paintbrush in the kit for that. The epoxy just dries to a hard clump, making the brush useless. Apparently, that's what those sticks are for. Thankfully I had extra brushes on hand.
While you do mix some of the gold powder into the epoxy first, the brush is for brushing the gold powder onto the epoxied lines after they'd dried a bit (but are still tacky).
In spite of not doing this perfectly we had a great time. And our pottery got fixed. There may have been some wine involved, too.
I set my mug aside to let it cure. The directions said you only need to let it sit for 2 days.
Yet, I was afraid to pick it up and use it. I was afraid it would break again. Another lesson in this mug metaphor: when our Creator restores us, we are restored.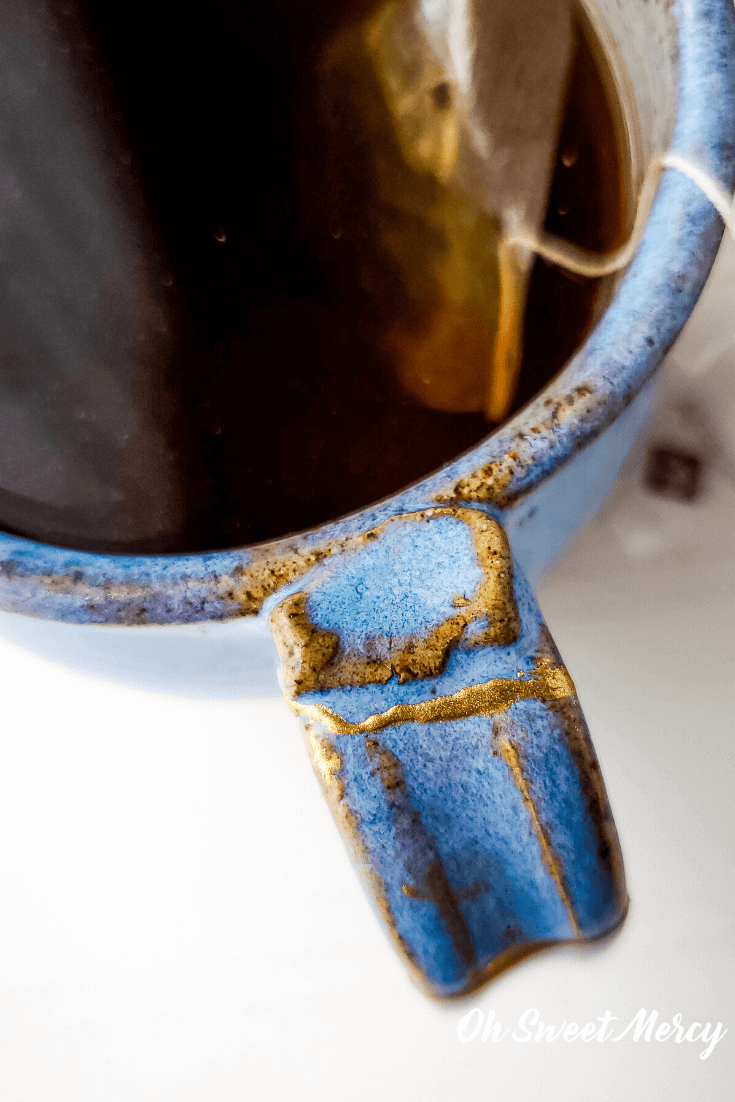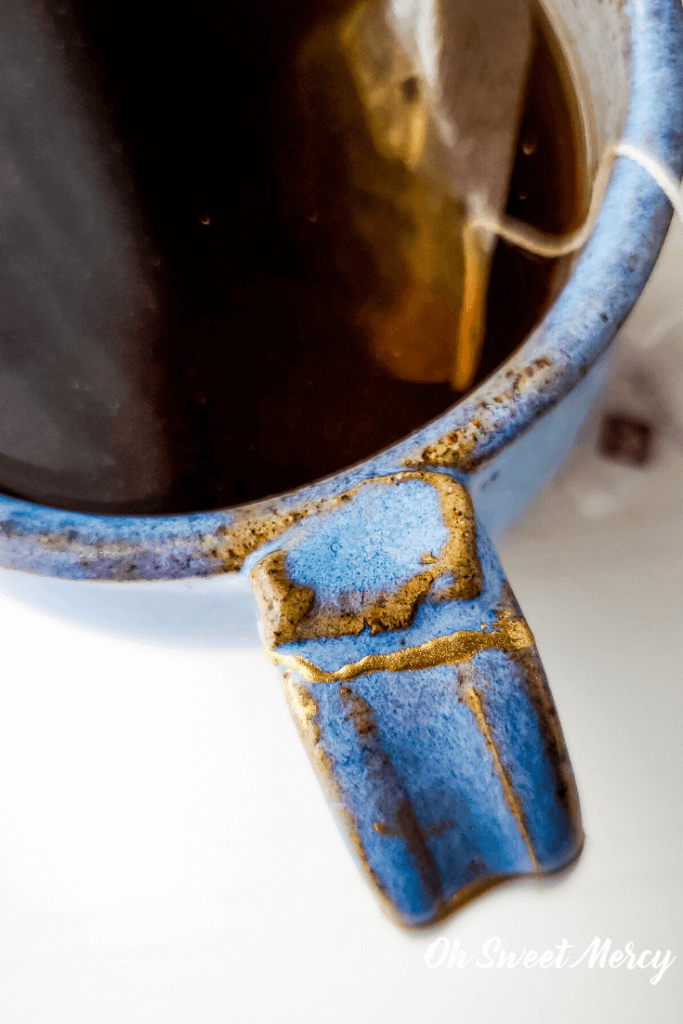 Wholly Restored. Beautiful. Useful.
That mug sat for a few weeks before I tried picking it up by the handle. It felt secure. I was still afraid to put anything in it though.
It sat for a few more weeks.
Until today. I made some hot tea in it. I bravely carried it by the handle back to my office to finish this post.
My beautiful blue mug is restored. It can be used, just as before. It brings me joy again!
And when I see those golden scars on the handle, I think of how long that mug patiently sat, waiting to be repaired and restored.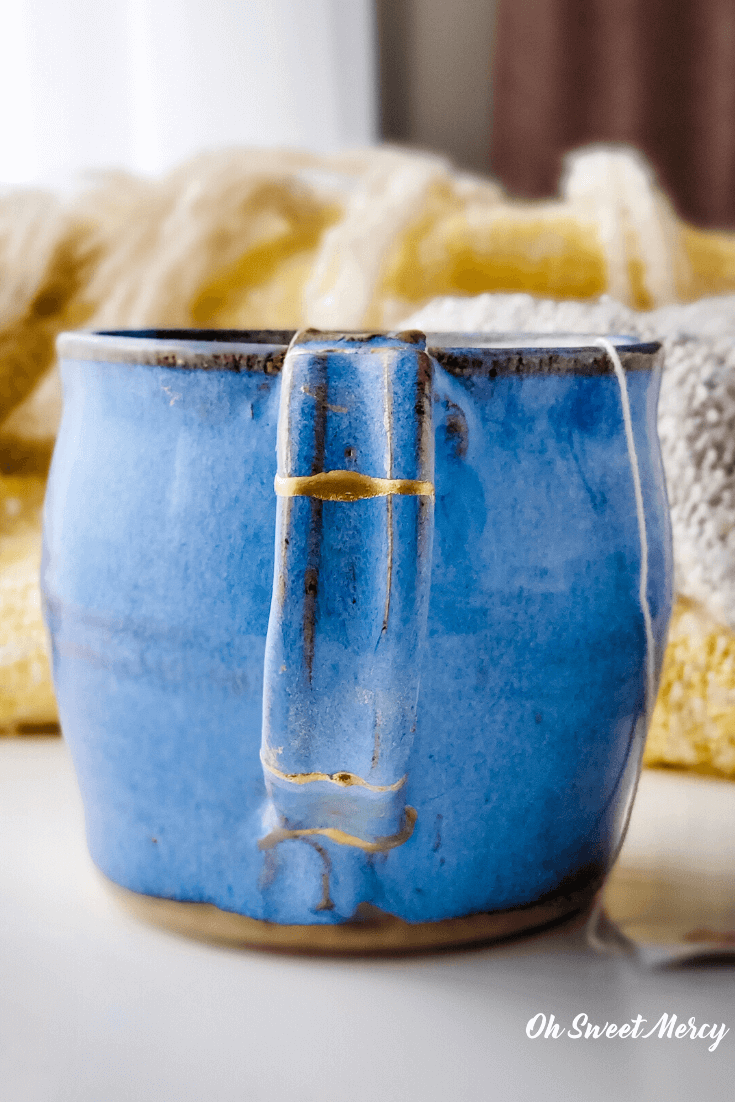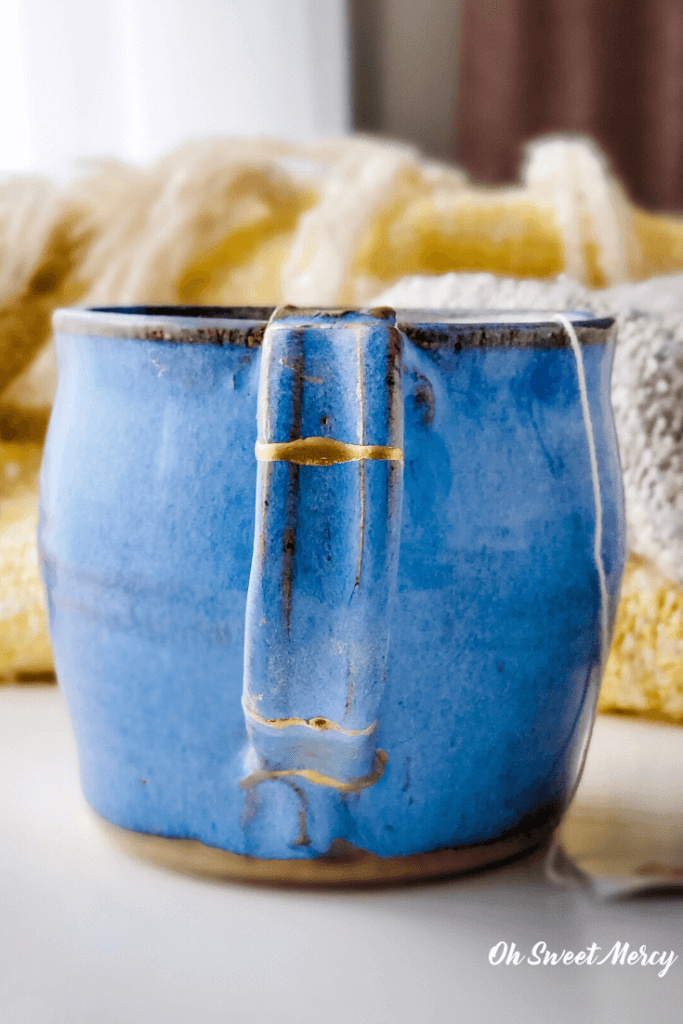 I think about those shattered pieces of my own heart, still stored in zippy bags and set aside, patiently waiting to be restored.
Our Creator knows exactly how to fit those pieces together. His golden touch is perfect, He knows not to stick the brush into the epoxy. Will we let Him, that is the question?
He restores us. And those scars are a beautiful reminder of how we were once broken and then lovingly restored.
Not just repaired, but restored. Made whole. With golden accents.
What Will You Choose?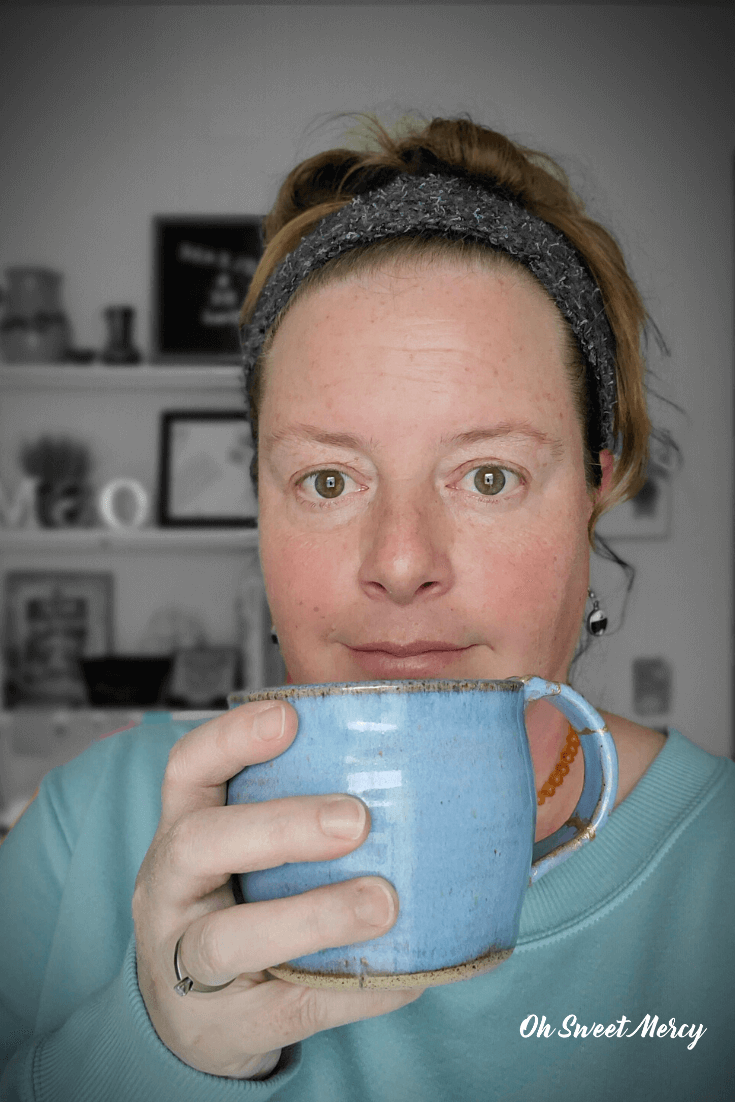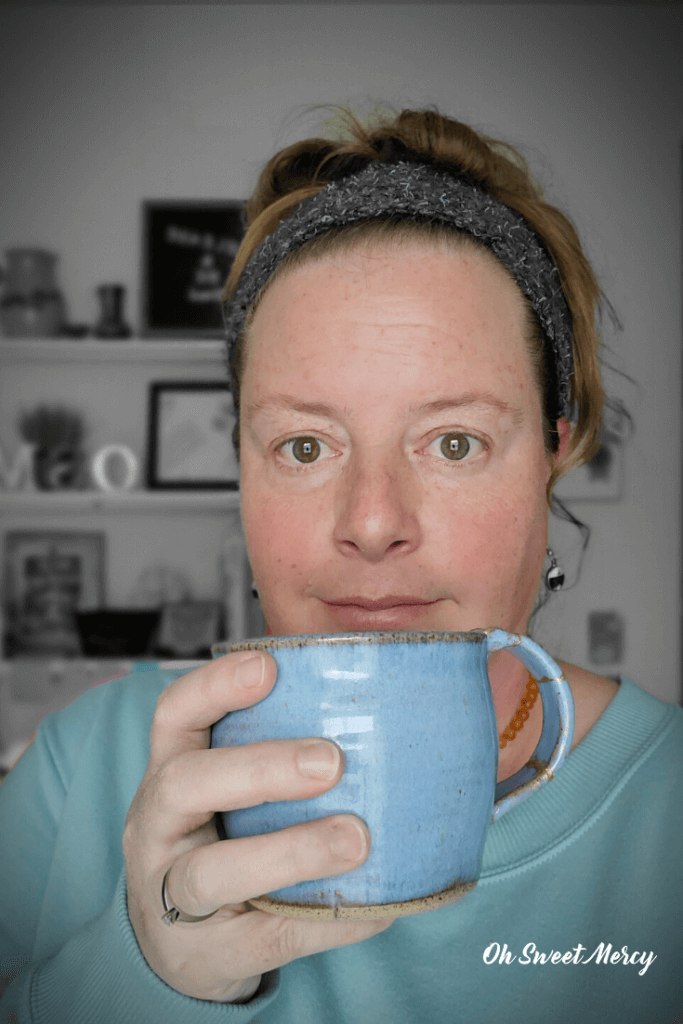 However, it's our choice – we can mourn over broken pieces. We can try to fix them ourselves with super glue. We can pay someone else to fix us…make a replica of who we used to be. But perhaps forever still feel worthless, unusable, even a fake.
Or we can let our Creator beautifully and lovingly restore us. Make us whole again. Learn to appreciate our scars, which are now golden, and how they are a part of who we are today.
We are different, yes. But we are whole. We are not useless! We are a thing of beauty to behold.
What Does This Have To Do With THM?
I mentioned earlier I'd tie this all in with your Trim Healthy Mama journey. Can you see where I'm going with all of this?
Those wounds that leave us shattered and feeling useless and hopeless often affect our attitudes toward food, our weight, and our self-worth.
When we see ourselves as useless, as hopelessly broken and irredeemable, we may turn to food for comfort. This can be as destructive as turning to drugs.
Stuffing ourselves with unhealthy foods will not restore our hearts, minds, or spirits. And it certainly will not restore our bodies!
What it will do is pack on the weight, cause health problems like diabetes and high blood pressure, cause our clothes to not fit. All of this feeds that unhealthy belief that we are somehow damaged goods and not worthy of restoration.
THM Is The Physical Part Of The Restoration Process.
We start THM full of hopes and dreams, and rightfully so, because this lifestyle is wonderfully balanced and healthy. If followed correctly it nourishes our bodies, promotes healing, helps us lose weight, gain confidence, and most importantly, gain better health and wellness.
However, for some of us, when we fail to address our emotional health — whether out of ignorance or because we just don't want to go there — it can be nearly impossible to reach our health and weight loss goals.
I truly believe that hanging on to our broken pieces, staying stuck in the past, allowing bitterness and anger to rent space in our hearts and minds, and refusing to let go of what once was and embrace the beauty of what can be keeps us stuck in all areas of our life.
It keeps the fires of chronic inflammation burning bright instead of quenching them.
Which fuels chronic disease, such as diabetes and high blood pressure. This article talks about an interesting perspective on the spiritual causes of diabetes.
It keeps weight hanging on that should be released.
Finally, it feeds into a cycle of self-hate and self-punishment that can keep us stuck in the mud, so to speak — in our relationships, jobs, finances, and more.
It's a crazy merry-go-round ride but you can choose to step off at any time. As we heal inwardly our physical body can also heal and let go of what is unhealthy…you know, all that extra weight we've been battling.
Learning To Let Go, Learning To Love.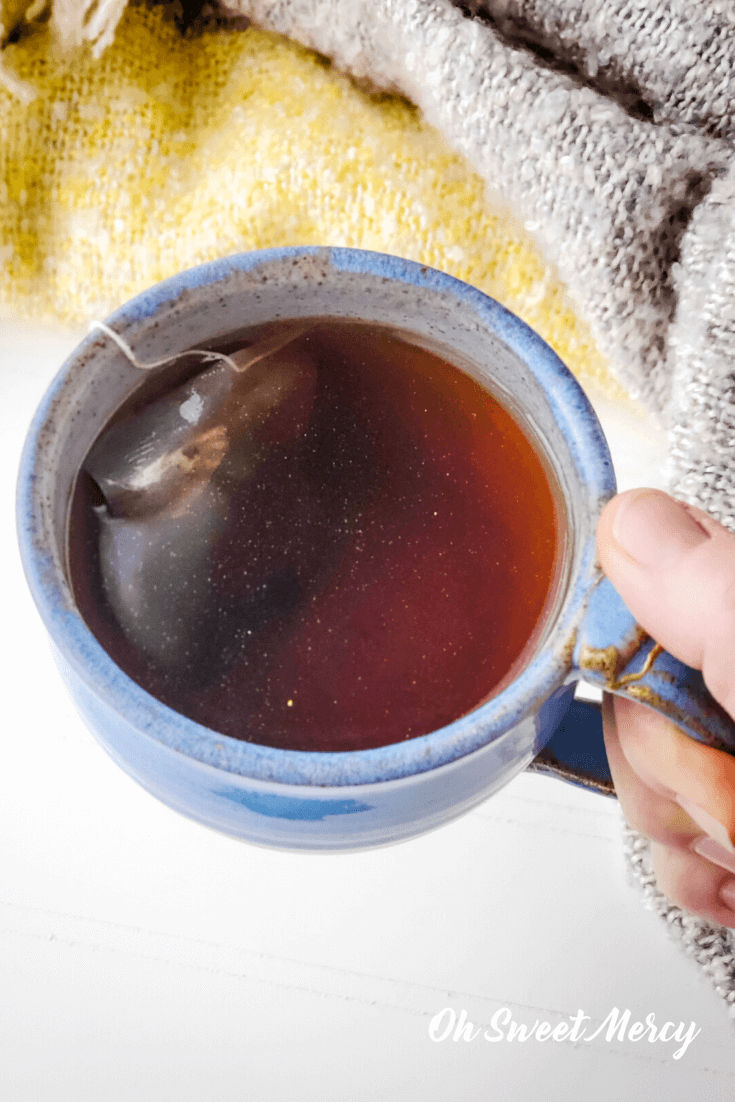 I've come to see my stubborn weight as a…security blanket of sorts. Not because it comforts me, because it surely doesn't. But it somehow seems like a barrier that protects those broken, shattered pieces I've refused to release.
Maybe it keeps me distracted…focused on the physical symptom instead of the root cause.
Some of those broken pieces are buried so deep I fear at times I'll never find them. Thankfully, my Creator knows where they are and how to get to them.
And He knows how to restore them, how to create wholeness and beauty out of brokenness.
If you are struggling with your THM journey, I encourage you to spend some time in prayer and quiet reflection. Ask our Creator to show you what broken pieces you're clinging to and for help in letting go of them and trusting the restoration process.
Keep following the THM plan. Learn to see your scars as proof of healing, not just a reminder of past hurts.
Learn to love your body — we nurture and care for what we love. We ignore and neglect what we hate or, even worse, try to destroy it.
Don't be afraid to ask for professional help if you need it. Some wounds are deep and festering and we need help with them.
It's not a sign of weakness to get help, but of bravery and commitment to doing what is best for your mental, emotional (and ultimately physical) health.
Let Your Golden Scars Shine, They Tell A Precious Story Of Restoration And Wholeness.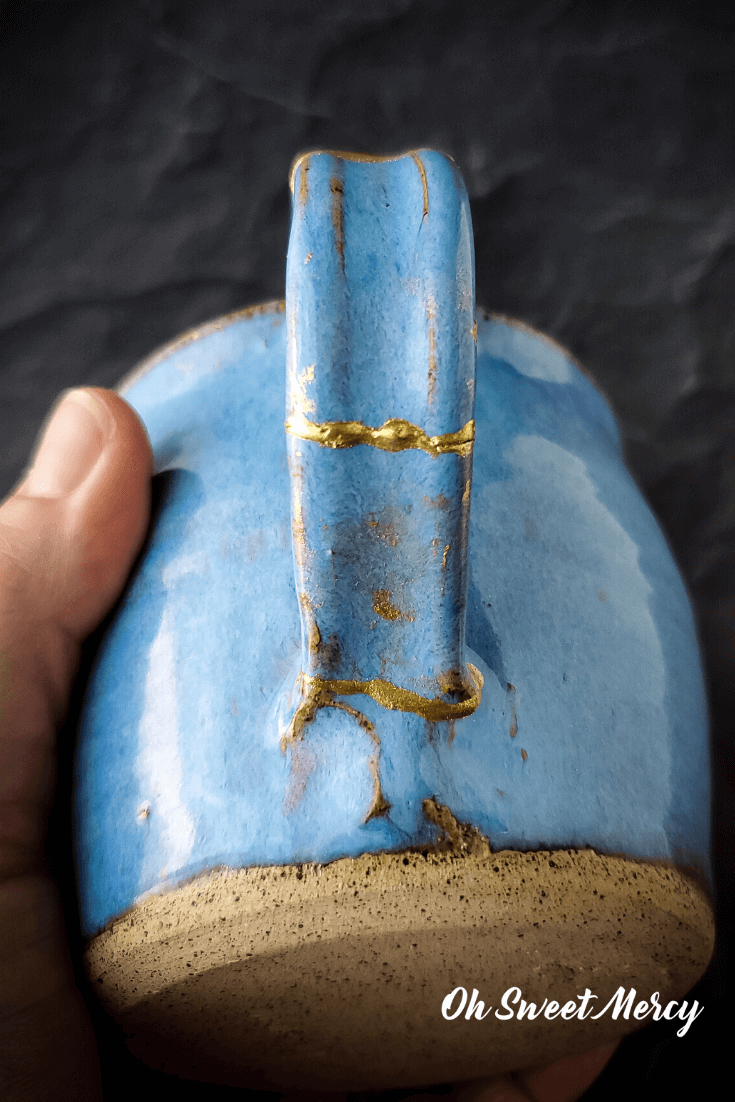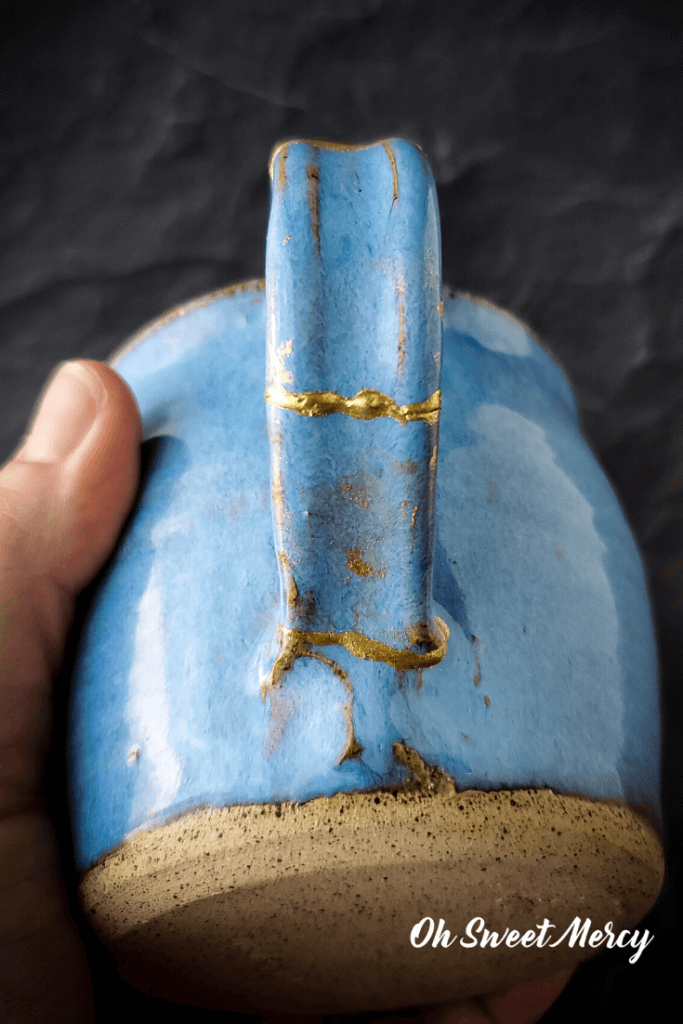 You are worthy of restoration. You have so much good to give to this world that is trapped with those shattered pieces. Your golden scars tell a story of love and redemption unique to you — and encouraging to those with whom you share it.
Finally, remember that when you are restored you are restored. Don't just set yourself on a shelf and be afraid to be used again (in a healthy way, of course).
Go out and shine your light, share your story, and encourage others in this hurting world.
What Shattered Pieces Are You Holding On To? Will You Let Go And Let Them Be Beautifully Restored?