---
Make my creamy and easy ranch dressing recipe with real, whole food ingredients – no buttermilk needed! Trim Healthy Mamas, make it for S or FP salads by easily adjusting the amount of oil you add. It also doubles as a dip for your fresh veggies.
---
Ever read the label on a store-bought bottle of ranch dressing? You might be shocked at what's in it that isn't even necessary. Like MSG, sugar, maltodextrin, or modified food starch.
I grew up with a certain ranch hidden in a valley, and sure it's tasty. But when you're concerned about the chemicals and unnatural additives in your food you need an easy homemade ranch dressing recipe.
If you're also a Trim Healthy Mama, then you also need a ranch dressing recipe that is versatile. I aim for recipes that can be made for more than one fuel type. It makes it so much easier!
I think this easy ranch dressing delivers – both on flavor and versatility. My kids like it too, so that's always a winner!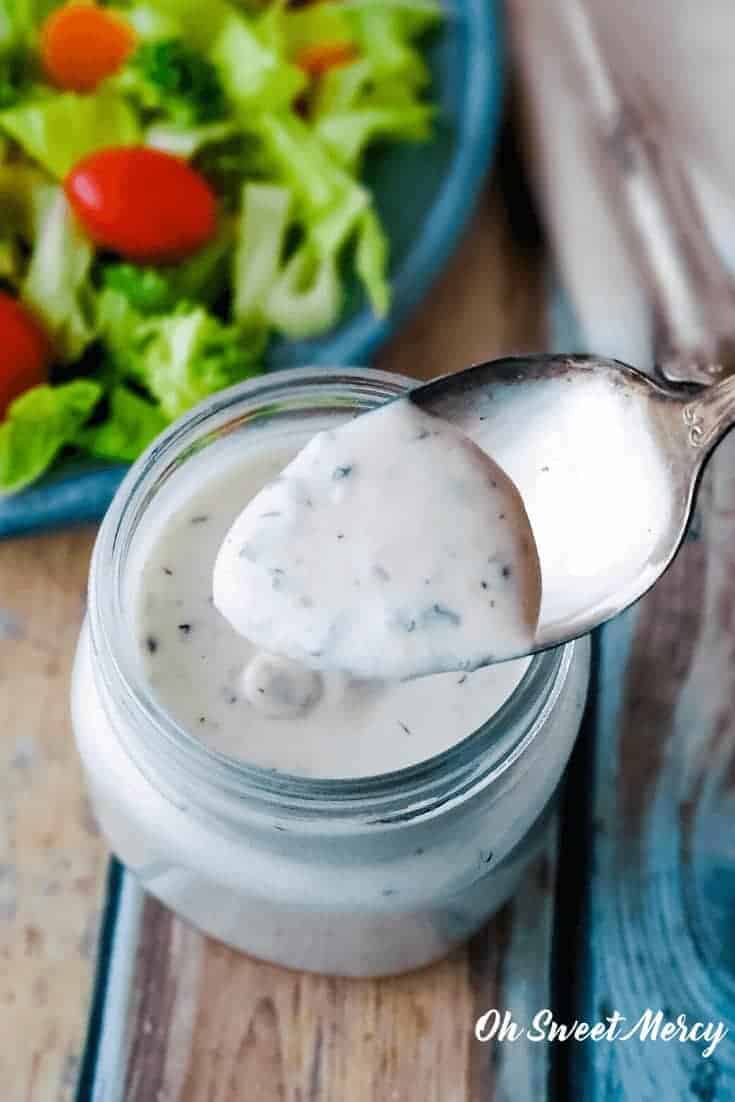 Can Buttermilk Be Used On THM?
Buttermilk on its own is not encouraged on THM. There's just too many carbs and like milk, liquid carbs are not helpful for many of us trying to lose weight.
However, a small amount is OK in a multiple-serving recipe, such as a ranch dressing. The buttermilk is spread out that way and not such a carb-bomb for our blood sugar.
See the notes in the recipe card below for details.
What Can I Use Instead Of Buttermilk In My Ranch Dressing?
If you want to use buttermilk in this recipe, feel free. However, I've got another solution for you.
Add kefir! This recipe is great for that last little bit of kefir you've had in your fridge for a while, too. I had a bottle in the fridge I'd forgotten and when I gave it the sniff test, my first thought was this smells like buttermilk!
Fresher kefir is certainly just fine, too. If you're wanting to make this THM S style (low carb, healthy fats) I suggest using double fermented kefir as its carb count is reduced.
Low fat, double fermented kefir is very versatile. You can use it in S, E, and FP recipes. Just add more fat for S!
HOW TO MAKE DOUBLE FERMENTED KEFIR:

This works with either homemade or store bought kefir.

STOREBOUGHT KEFIR: when you get home from the store, simply leave the bottle of kefir (choose low fat for more versatility) on the counter, unopened, for 24 hours. Store in the refrigerator.

HOMEMADE KEFIR: After the initial ferment, strain your kefir and put in a mason jar. Cover with a lid and leave on the counter for 24 hours.

Store in the refrigerator.
Need More Kefir Recipes?
Ranch Dressing Ingredients Don't Need To Be Unhealthy (Or Complicated).
You likely have all these ingredients on hand already. We use fat free Greek yogurt as our base, thin it a bit with low fat kefir and lemon juice, and season with some classic herbs and spices:
Garlic powder
Onion powder
Dried parsley
Dried dill
Ground mustard
I'm eliminating some foods for a while to see if my body does better without them. If you'd like to add other spices, such as black pepper, feel free to do so!
If you'd like to make this a fat-free ranch dressing simply leave out the oil. There is some fat in low-fat and full-fat kefir, but spread out over a cup that's less than a gram of fat per tablespoon.
For an S style dressing, simply add more fat than stated in the recipe below. This will also thin your dressing out a bit more.
Like Spicy Ranch Dressing? You'll Like My Creamy Cajun Ranch Dressing:
Some Optional Special Ingredients You Might Like To Try.
I really love THM's Simply Sunflower Lecithin. It helps emulsify and add creaminess to recipes. You can certainly omit it if you don't have it or don't care to use lecithin.
For a more metabolism-boosting ranch dressing try replacing the olive oil with MCT oil. You can actually use twice as much MCT oil as compared to olive oil. This is because your body metabolizes it faster.
In addition, try using a mix of olive and MCT oil. This is a great for people who aren't crazy about the flavor of olive oil, too.
My Favorite Olive And MCT Oils:
Ways To Use This Easy Homemade Ranch Dressing Recipe On The THM Plan.
Ranch dressing is a very versatile thing as it is, right? You can do so much with it! Here's some ways to include this tasty dressing in your THM menu plan this week:
Salads, of course! Make it FP style and use it on S, E, and FP salads.
As a veggie dip. Simply make this dressing on the thicker side and it makes a great dip. Even as a dressing it's fairly thick and still makes a great dip. A great item to add to your charcuterie boards for snacking or entertaining.
Try it as a marinade for poultry. Marinate your chicken or turkey overnight (or for several hours) before baking or grilling.
Top a baked sweet potato. If you like savory sweet potatoes, this dressing (make it FP style) is a wonderfully satisfying topping without adding fat. Try dunking my Sweet Potato Kale Tots in this easy ranch dressing.
Wraps and sandwiches! Especially for E and FP varieties – lots of flavor, and you can use plenty so you don't have a dry sandwich or wrap. Try my Low Fat Mayo, too.
As you can see, there are many ways to use this super easy homemade healthy ranch dressing recipe. Keep it on hand in the fridge and you're always prepared for a ranch tooth flare up.
Remember that commercial? Though don't watch it if your willpower is undone by seeing fast food 😉
How Do You Like To Use Ranch Dressing? Do You Make Your Own?