---
Rich, creamy, dairy-free pumpkin pie ice cream with bits of pie crust chunks? Yes please! My latest low carb dessert creation tastes like pumpkin pie without sugar, carbs, dairy, or eggs! Perfect for Trim Healthy Mamas who love ice cream no matter what the temperature is outside.
---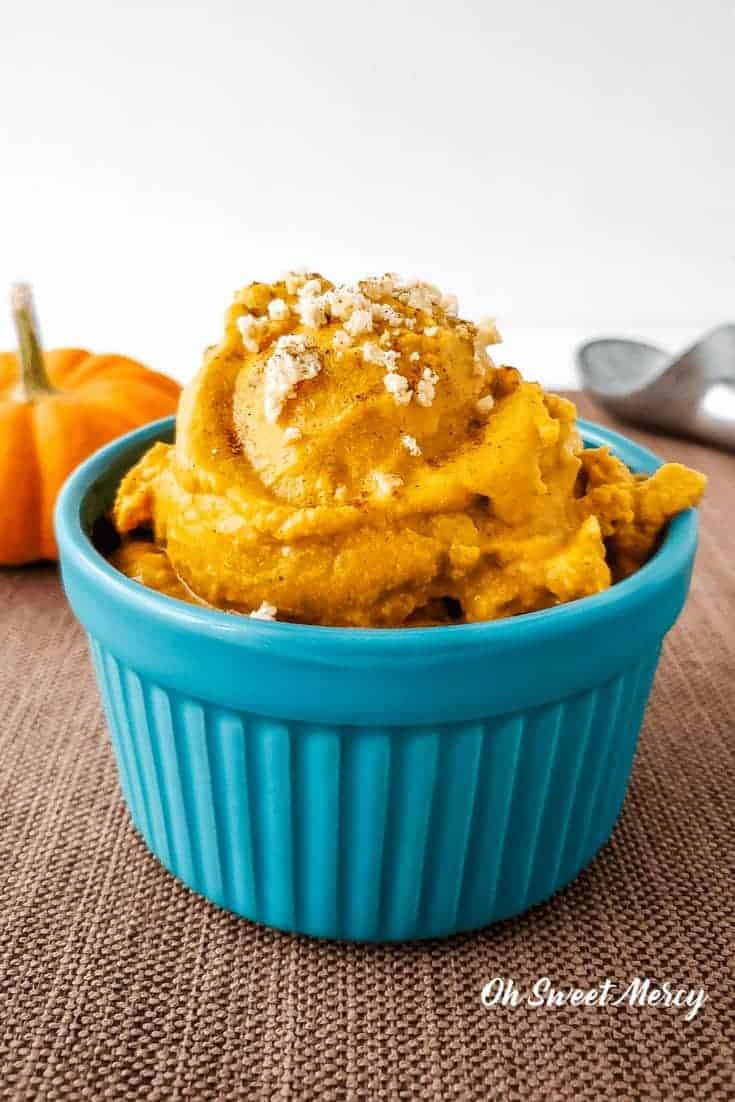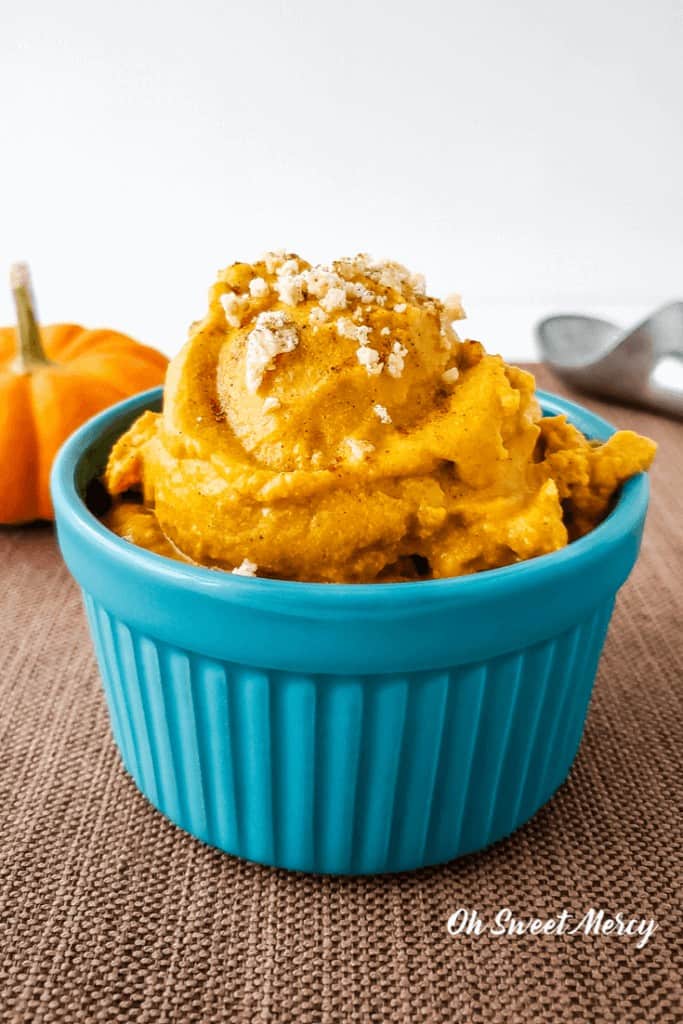 Even though we have no specific need to eat dairy-free in our household, I still like to create delicious recipes without it. Like my Chocolate Ice Cream with Peanut Butter Swirl, for example.
For one thing, too much dairy — especially heavy cream and cream cheese — can stall your progress on the THM plan.
Also, having a sensitivity to dairy can cause problems and it's not uncommon to be completely unaware of having one. Many times people struggling with stubborn pounds find that cutting out dairy makes a huge difference.
In addition, with so many people having food sensitivities and allergies these days, it's great to have dairy-free recipes in your recipe box. You're always prepared for entertaining or potlucks and dairy-free guests will appreciate your thoughtfulness!
How To Make Delicious Homemade Ice Cream Without Dairy.
Coconut milk, and coconut cream, is a wonderful substitute in homemade ice cream recipes for dairy products. I've made this recipe with both and it's delicious either way.
Using coconut cream gives a more noticeable coconut flavor. If you, or family members, aren't super crazy about coconut flavor, go with the coconut milk. Full fat coconut milk works best in my experience.
Some coconut cream products contain sugar. Be sure to read labels carefully!
Another secret ingredient to creamy goodness without dairy is THM Simply Sunflower Lecithin. It's totally optional though so if you don't have it no worries!
Lecithin is an emulsifier and helps make things deliciously creamy. It also helps nourish your brain and nervous system. Many processed foods contain soy lecithin but THM's lecithin is made from sunflower seeds instead as well as non-GMO.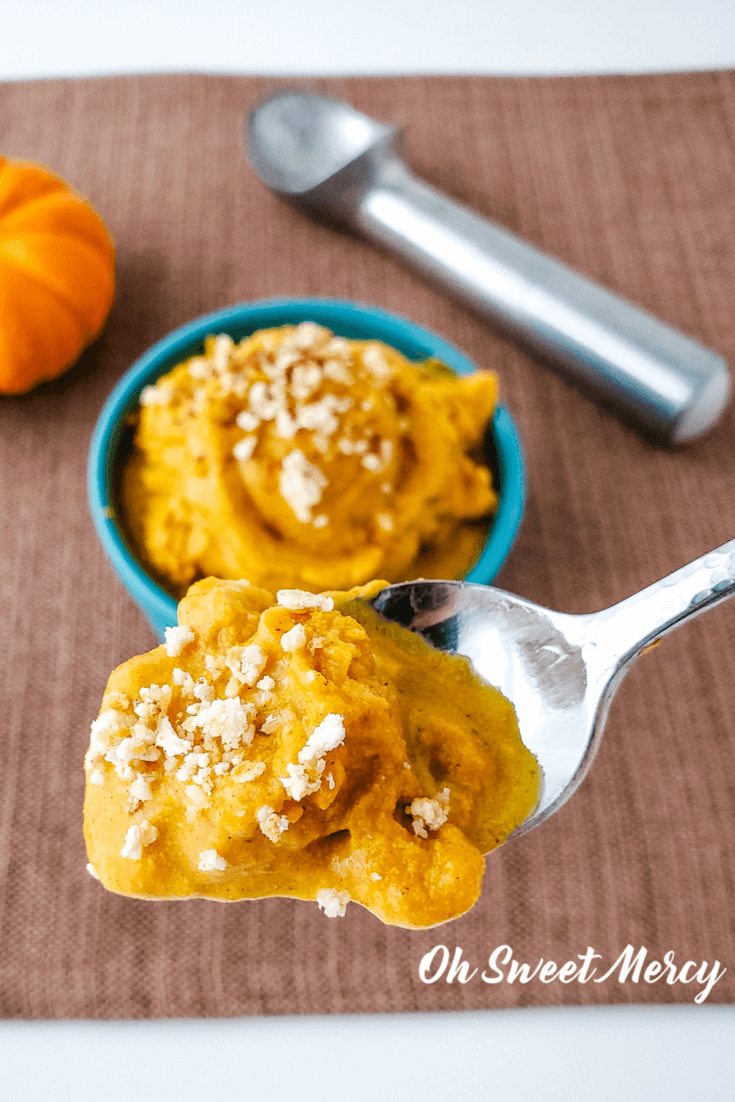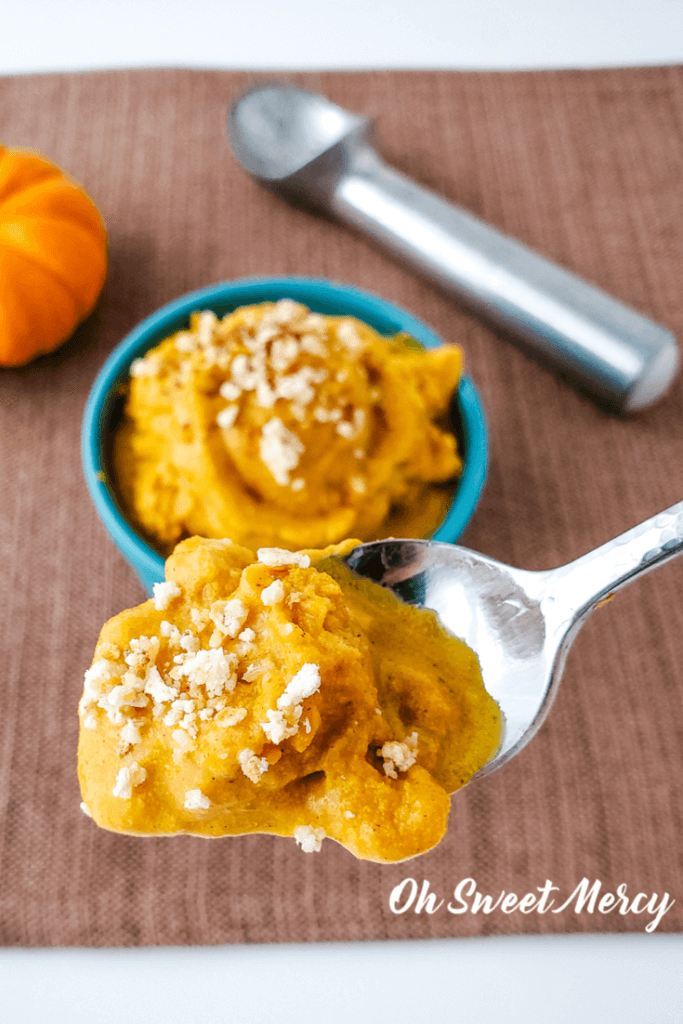 Does This Pumpkin Pie Ice Cream Stay Soft In The Freezer?
Commercially-made ice creams contain additives to keep them soft and scoopable. Since we're not adding any in this homemade ice cream recipe it's not going to stay soft.
It's at its very best immediately out of the ice cream maker. However, it's still delicious if you have leftovers and put them in the freezer.
Just get it out of the freezer about 20 minutes or so before you want to eat it to let it soften.
Alternatively, scoop the leftover ice cream into popsicle molds. Then you'll have super easy pumpkin pie ice cream pops!
How To Add My Pumpkin Pie Ice Cream To Your THM Menu Plan.
This recipe is a lovely THM S so be sure to enjoy it in a low-carb setting.
Since we're using higher-fat ingredients in this recipe, being mindful of the fat in our meal is wise too.
If you eat this after a THM FP (Fuel Pull) your meal then becomes an S.
Eating my pumpkin pie ice cream after a THM E meal makes your meal a Crossover.
Leaving out the pie crust chunks lowers the fat content a bit, too. It's just as delicious without them so feel free to add or leave them out.
Ice Cream Love Knows No Season!
As I write this, we've had a cold front sweep in to our area. It's not what you'd typically call "ice cream weather." However, if you're an ice cream lover like me you know that ice cream is delicious any time of year.
What could be better during pumpkin spice season than this pumpkin pie ice cream?
I hope you enjoy this seasonally-inspired homemade ice cream recipe as much as we do! It's perfect for a snack, dessert, or treating someone with a dairy allergy to something special.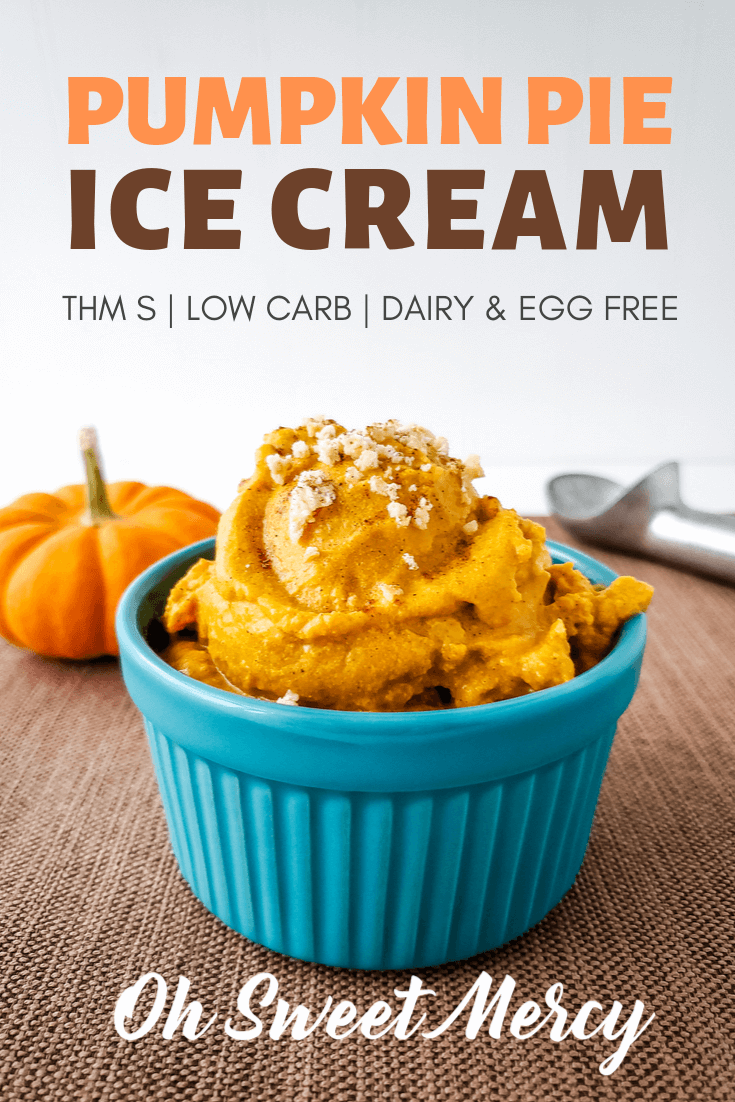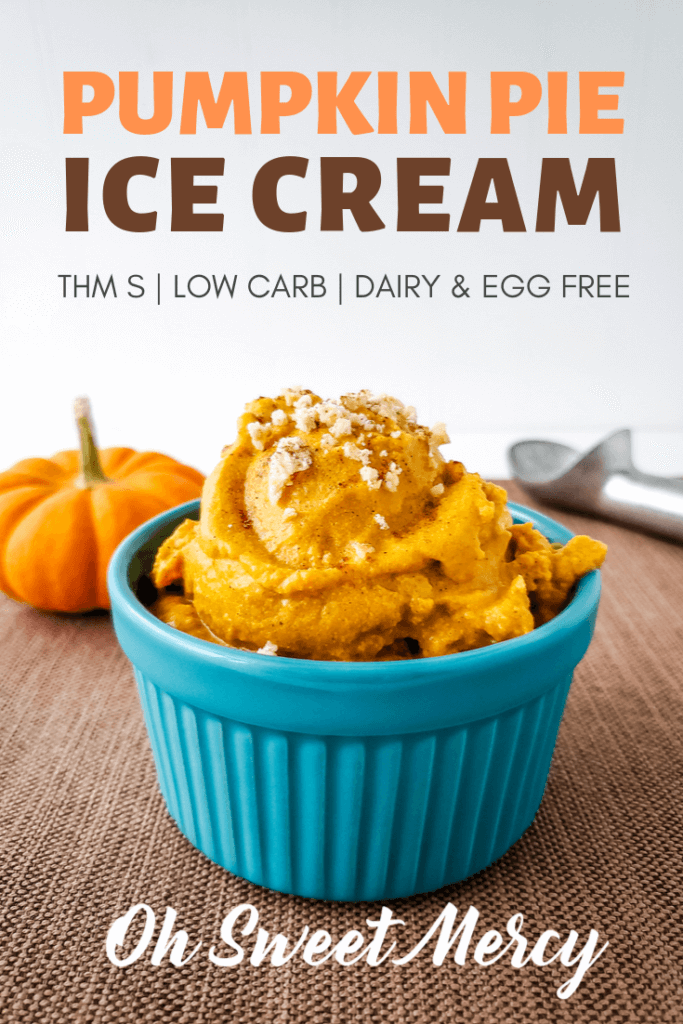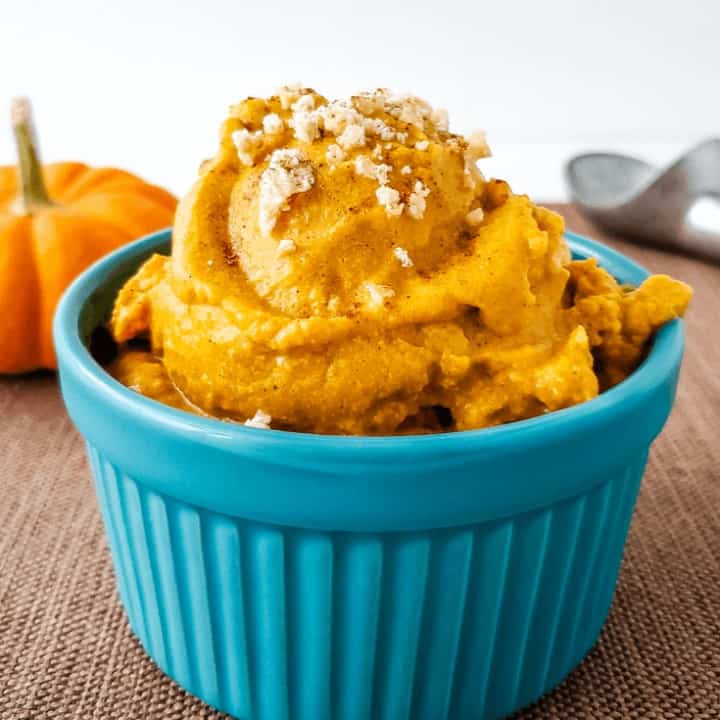 Pumpkin Pie Ice Cream | THM S, Dairy Free, Low Carb
Yield: 6 servings
Prep Time: 5 minutes
Freeze Time: 20 minutes
Total Time: 25 minutes
Creamy yet dairy free, this low carb pumpkin pie ice cream is deliciously spiced and perfectly sweetened. Sugar and gluten free, too. Perfect for Trim Healthy Mamas and anyone following a carb-conscious lifestyle.
Ingredients
Pie Crust Chunks
3 to 4 tablespoons unsweetened almond milk
Pumpkin Pie Ice Cream
1 can coconut milk (or 1 cup coconut cream)
1 cup unsweetened almond milk
1 cup pumpkin puree
2 teaspoons pure vanilla extract
Instructions
Make The Pie Crust Chunks
In a small bowl, mix together the Baking Blend, sweetener, and salt.
With a fork, cut in fat until mixture looks clumpy.
Add almond milk a tablespoon and mix until it sticks together like a pastry dough.
form dough into a pancake shape and put into a preheated skillet.
Cook for about 3 minutes then flip, cooking another 3 minutes. It will likely fall apart, that's fine as you're just going to break it up into chunks before adding to the ice cream.
Remove from pan to a plate then put in the freezer until later.
Make The Ice Cream
In a blender jar add coconut milk, almond milk, pumpkin, sweetener, pumpkin pie spice, glycerin, salt, and lecithin and blend for 30 seconds or so or until completely blended together.
Taste and adjust sweetness and/or pie spice as desired.
Pour into ice cream maker and freeze according to your model's instructions.
Get the pie crust chunks out of the freezer a few minutes before the ice cream is ready and break up into bite size pieces.
Remove the ice cream into a bowl and stir in the pie crust chunks.
Enjoy!
Notes
This ice cream is best eaten right away as it will harden in the freezer. Just get it out of the freezer about 20 minutes or so before you want to eat it if you do put it in the freezer.
Recommended Products
As an Amazon Associate and member of other affiliate programs, I earn from qualifying purchases.
Nutrition Information:
Yield: 6
Serving Size: 1/2 cup
Amount Per Serving:
Calories: 167.4
Total Fat: 15.2g
Saturated Fat: 12.2g
Trans Fat: 0g
Unsaturated Fat: .7g
Cholesterol: 0mg
Sodium: 53mg
Carbohydrates: 7.8g
Net Carbohydrates: 4.1g
Fiber: 3.7g
Sugar: 2.7g
Sugar Alcohols: 0g
Protein: 2.7g
Nutrition information is approximate and based on the best knowledge available at the time of recipe publication. Your results may vary due to differences in ingredients. You can make your own calculations if this recipe does not include nutrition info by using an online calculator such as https://recipes.sparkpeople.com/recipe-calculator.asp