Somehow, when I wasn't looking, April completely blindsided me.
I mean, it's not like I didn't know April was next, of course. It's always in the same spot on the calendar – every single year. It's reliable like that.
It's just that time and I have always had a strange relationship. It's one of those vapory, nebulous things that I can't seem to get a grasp on many times. I can go into a store and feel like I've been there 15 minutes, only to discover it's been an hour and a half. I don't know how to explain it, or overcome it. So I face each day with a battle looming before me…who will win? Time? Or Me?
I'll give you a hint…a Time Lord, I am not.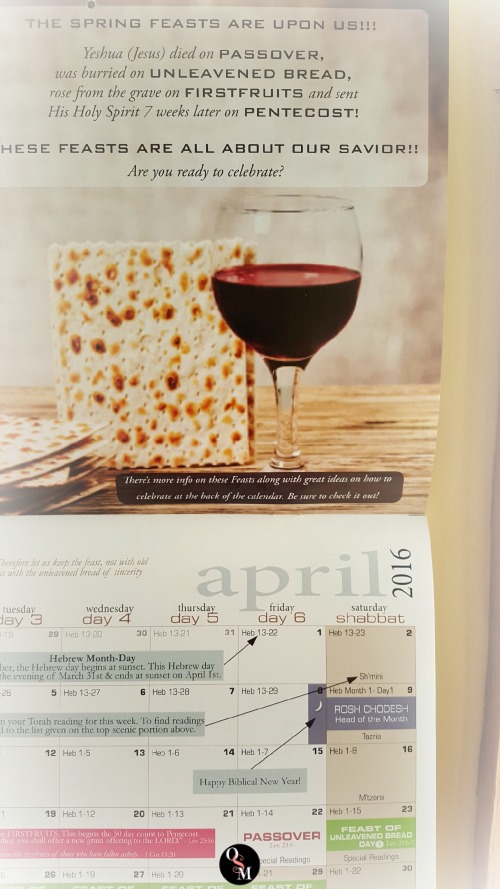 Look at that. There's April, right where it always is. If you're interested in this beautiful calendar, and the Feasts of our Creator, you can learn more here at Love and Instruction.
I'm not going to give you a list of what I did well and what I did not.
In my first two Reality Check Monday posts (read them here and here), I shared what I needed to be accountable about in my Trim Healthy Mama journey, and how I was going to make some much needed changes. Since these posts are all about being real with where I'm at and encouraging you to be real as well, I'm just going to go ahead and do that.
Fair warning – I'm not wearing my Big Girl Pants right now. But don't worry, I am wearing actual pants.
It's just not fair.
Ever feel like that? Sure you do.
Your best friend bought a gorgeous new house that you are sure you saw pinned on someone's Dream Homes board on Pinterest. You're just feeling blessed to not live in a cardboard box right now.
Your neighbor just rolled up in a new car. Your 1970's Pinto hasn't exploded yet, there's that. And the fact that it still runs is pretty much a miracle, really.
That lady in your Bible study group who homeschools, keeps a spotlessly clean home and has 8 perfectly behaved children? Yeah, here you are struggling to get your preschooler (your ONLY child) to learn the alphabet. And wear clothes. And not pee on the living room rug.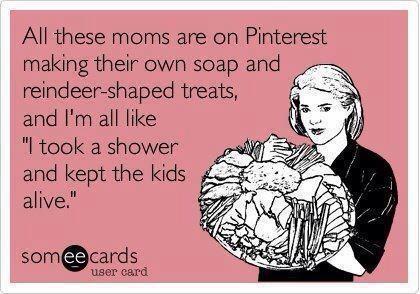 At 11:30 pm you're scrolling through the Trim Healthy Mama groups on Facebook and see all these "I lost 8 pounds this week!" posts. You haven't lost a single pound in the last 8 months. And all you want right now is a big bowl of ice cream to drown your sorrows. 
Or your mother-in-law (whom you truly dearly love, and for whom you are truly very happy) who starts Trim Healthy Mama almost a year after you do, reaches goal weight in just a few months. And you've been stalled for months. Well, stalled in a downward direction but having no trouble with upward mobility. After losing the most weight you've ever lost and getting really close to losing ALL that flab, finally.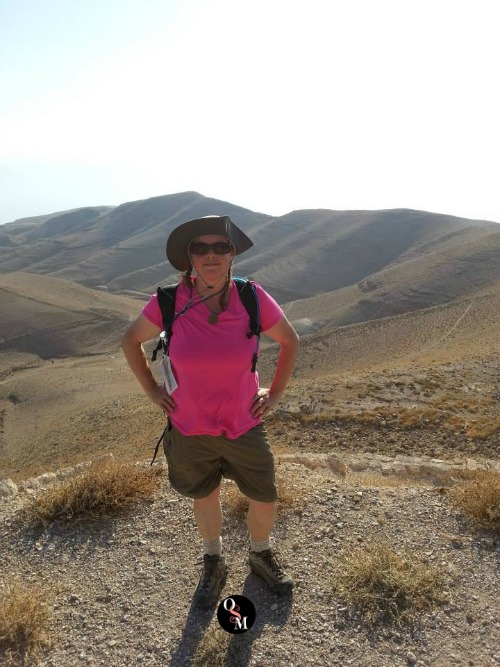 Here I am, feeling pretty boss after a rather grueling hike at Macherus, Jordan…one of many hard, uphill climbs in the Holy Land. I was just 25 pounds from my goal weight and 10 pounds from where I'd aimed to be before leaving for my amazing trip to Israel and Jordan last summer.  And after spending nearly three weeks hiking five to ten miles a day up and down and around the hills and deserts of Israel and Jordan (the Holy Land is entirely uphill, folks 😉 ), I had not lost one single ounce. Not one.
Talk about feeling IT'S NOT FAIR!
In spite of that, I know that I am very blessed.
We have a safe home that I love living in with my family. Our vehicle doesn't break down all the time (or explode). Sister and Mister have been potty trained for years (although I did catch him peeing on the living room carpet years ago when I thought he would NEVER be potty trained) and while my house isn't spotless or something you'd find pinned to a Pinterest board, it's relatively clean most of the time.
Except lately, but that's just because I just don't do DST well. I'm still dragging and battling with brain fog, so just the very, very bare minimum gets done, and I'm OK with that.
So while I'm having a fantastic pity party inside right now because it's just not fair that others are losing and I'm not, even when I think I'm totally on plan (and I say think, because I'm probably not remembering a bite of this or a taste of that) there's one thing I have to keep reminding myself.
This is MY body. Not that lady's on Facebook that lost eight pounds this week.
My Trim Healthy Mama Creed
This is my new Trim Healthy Mama Creed. It is loosely based on The Rifleman's Creed, something our amazing Marine knows well! I came up with this to help me remember that I can't compare myself to others and that I need to do what is best for MY body, even when I'd rather eat four slices of Chicago deep dish pizza and a big old bowl of Moosetracks ice cream.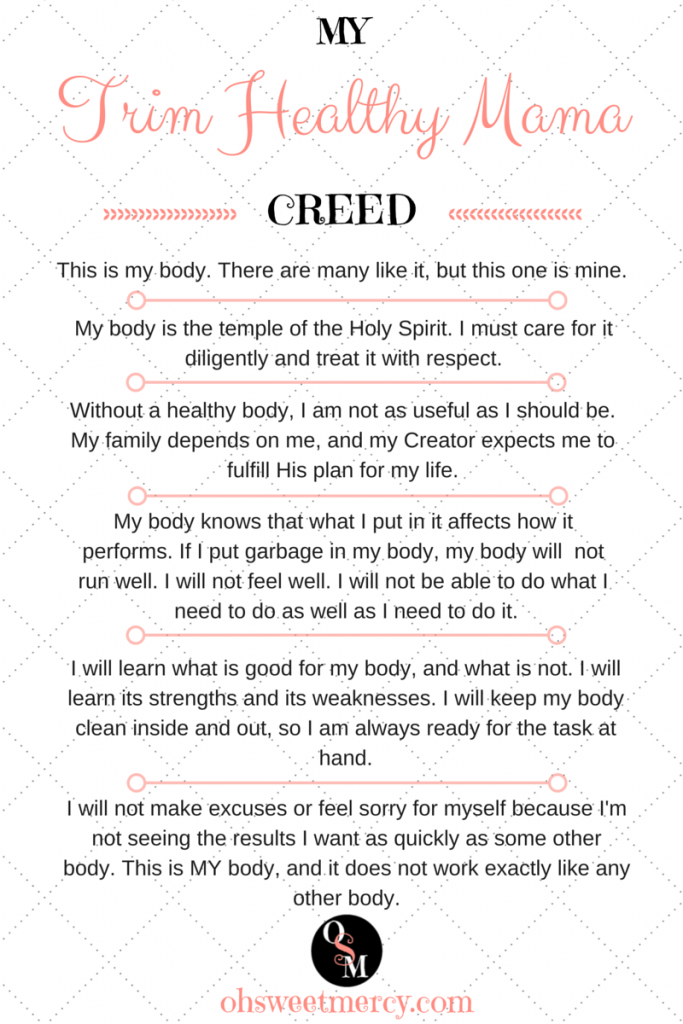 It's a new day with new opportunities to take or same old excuses to make. It's my choice.
I know that I've not been keeping to the plan like I should. I have no right to feel sorry for myself for not seeing any changes (other than my jeans getting tight again) when I eat off plan foods. That just end up making me feel terrible…which makes me feel sorry for myself…which makes me eat cake.
No, it doesn't make me eat cake – I choose to eat it in spite of what I have experienced and know to be true – that the Trim Healthy Mama plan works – and works well.
Like most things, Trim Healthy Mama will only work as well as you work it. And for some of us, that means only 100% On Plan will yield the results we want. 
We can NOT focus on how some lady in the Facebook group has only been on plan for 3 months, only eating on plan meals 80% of the time, is now only 2 pounds away from her goal weight and fits into her high school prom dress again.
That may be what worked for HER body, but this is YOUR body.
And yeah, that sure feels unfair.
 But it's the reality of YOU.
You are not that lady in the Facebook group you're reading about whose success is making you feel all sulky inside, like a kid who can't have that toy she wants that all her friends have.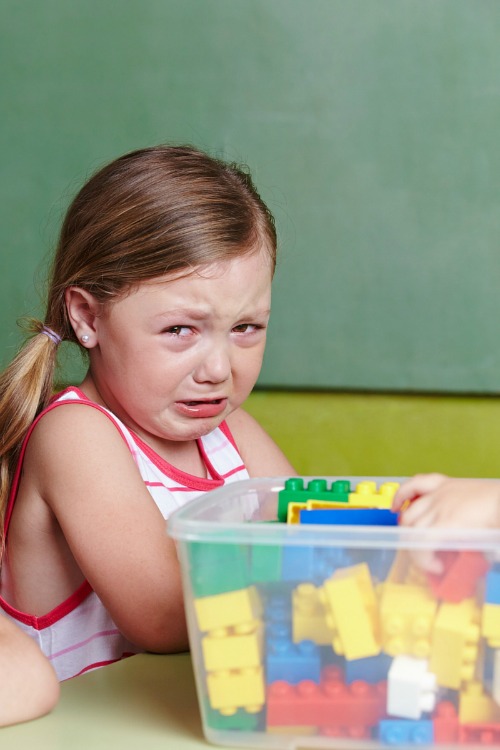 ©Robert Kneschke via Canva.com
Your metabolism is different. Your lifestyle is different. Your motivations are different. You may have health challenges that she doesn't…or that you aren't even aware that you have.
You can't compare yourself to someone else and expect to be happy.
You CAN be inspired by their success. You can ask them "what did you do that worked so well?" You can try what they did, and you may find that it doesn't work for you.
And that's OK, truly. Because this journey to better health is so much about discovery.
Discovering your body's strengths and weaknesses. Discovering what is healthy for YOU. Discovering those emotional saboteurs that get you time and time again.
And that's just it – it IS a journey. It is YOUR journey. It doesn't have to look like someone else's.
So stop comparing, Mama. If you must compare something, compare what choice you are about to make to choices in the past –  ask yourself, "did a previous choice like this help or hinder my progress?"
Or better yet, compare that meal or snack to the Trim Healthy Mama guidelines in the book. 
You control the choices you make. It's that simple.
My reality check this Monday?
I've been a pouty, sulking little kid inside. I haven't been following the rules but expecting the benefits anyway. Time to put on my Big Girl pants again…the ones I wore here, until they get too loose, that is: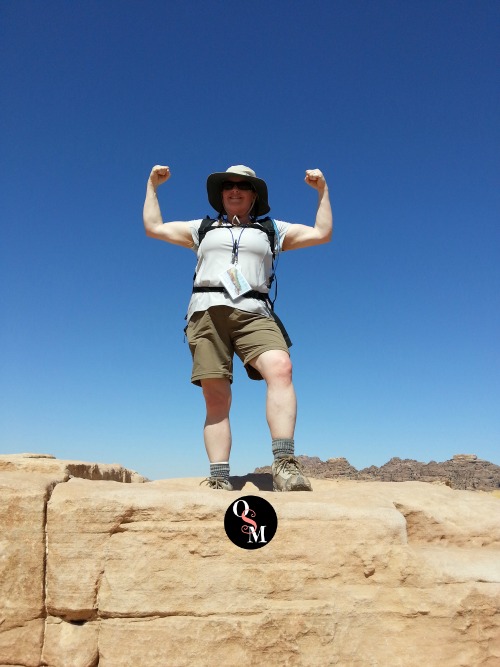 Standing on a Pagan altar in Petra…after a very, very, very long and arduous trek to the top (I had no idea the desert could have so many stairs!). I love this picture, because it says so much to me – it says "You Can Do It!" It says "Victory Is Yours For The Taking!" And, it says "My Heavenly Father Is So Good To Me!"
You know what else it says? It says "You'll Never Get To Where You Want To Be Unless You Take That First Step And Keep On Climbing."
Like this post? Be sure to pin it to your favorite Pinterest boards!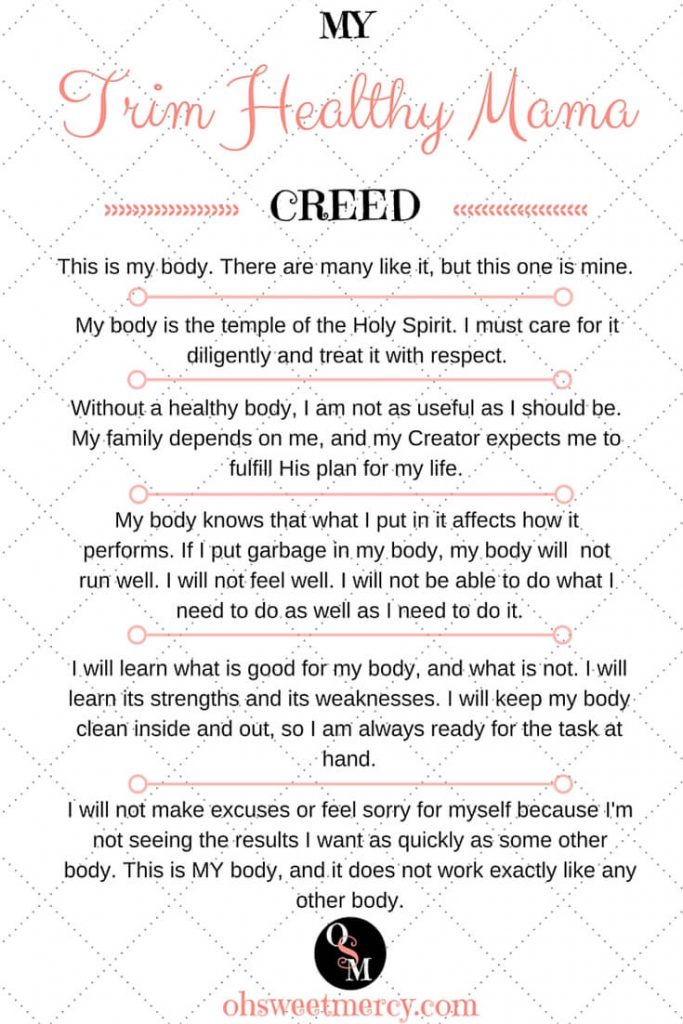 What is YOUR reality check today? What first step do you need to take TODAY to reach that goal before you? I'd love to hear about it, please leave a comment below!