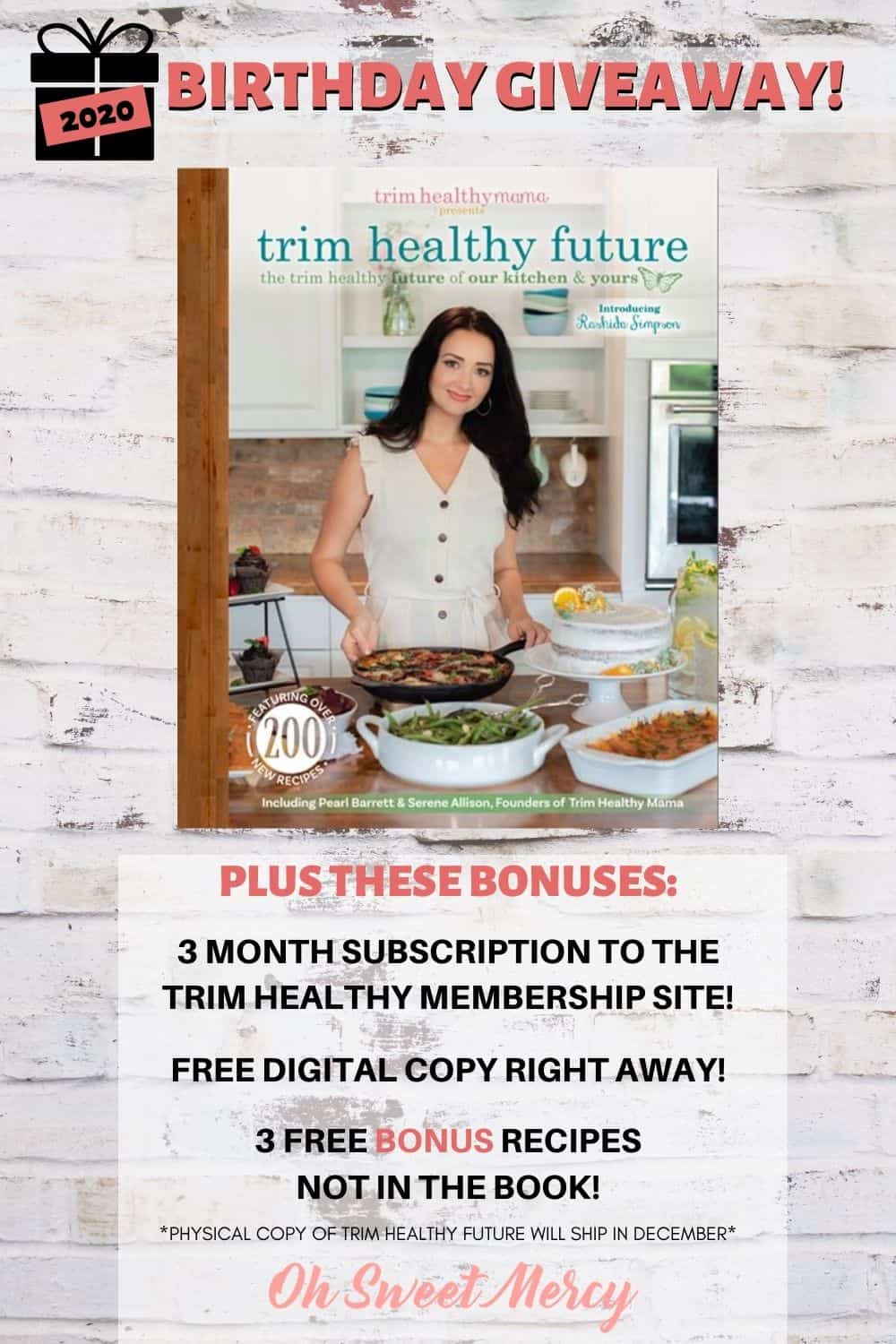 ---
Today's my birthday! I want to celebrate by giving away a copy of the NEW Trim Healthy Future Cookbook. Would you like to win one? Keep reading and be sure to enter the giveaway at the bottom of the post!
---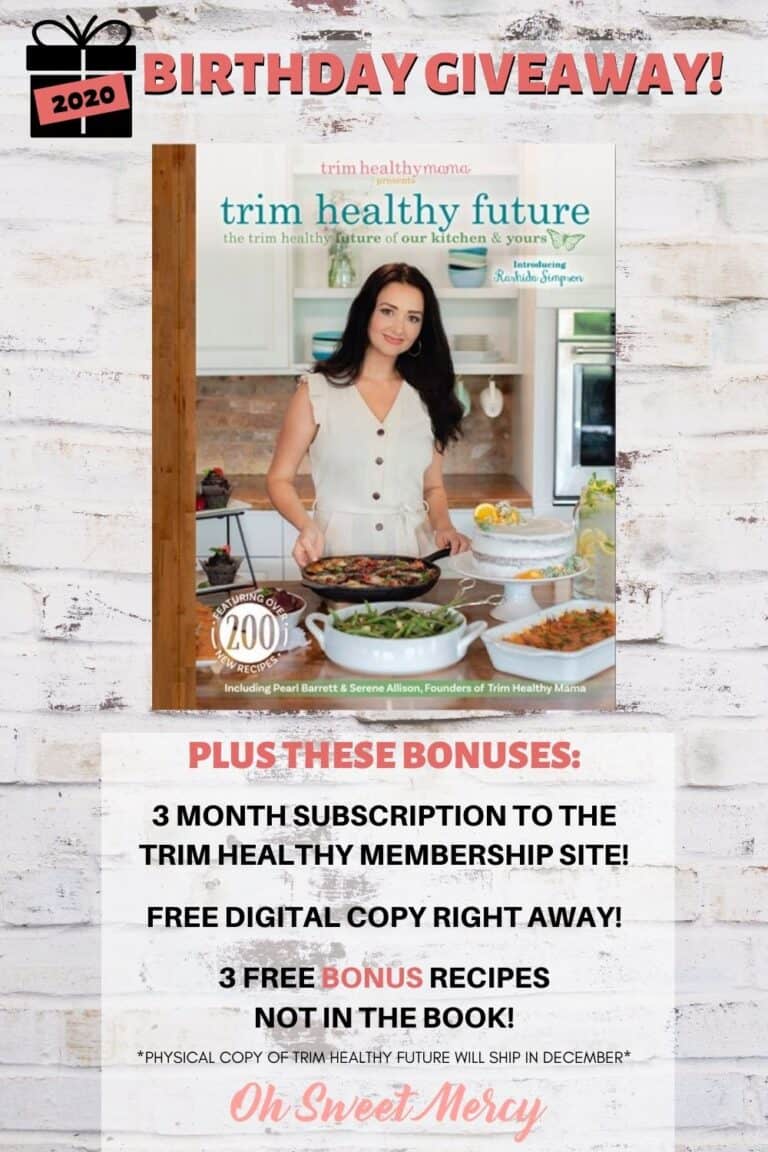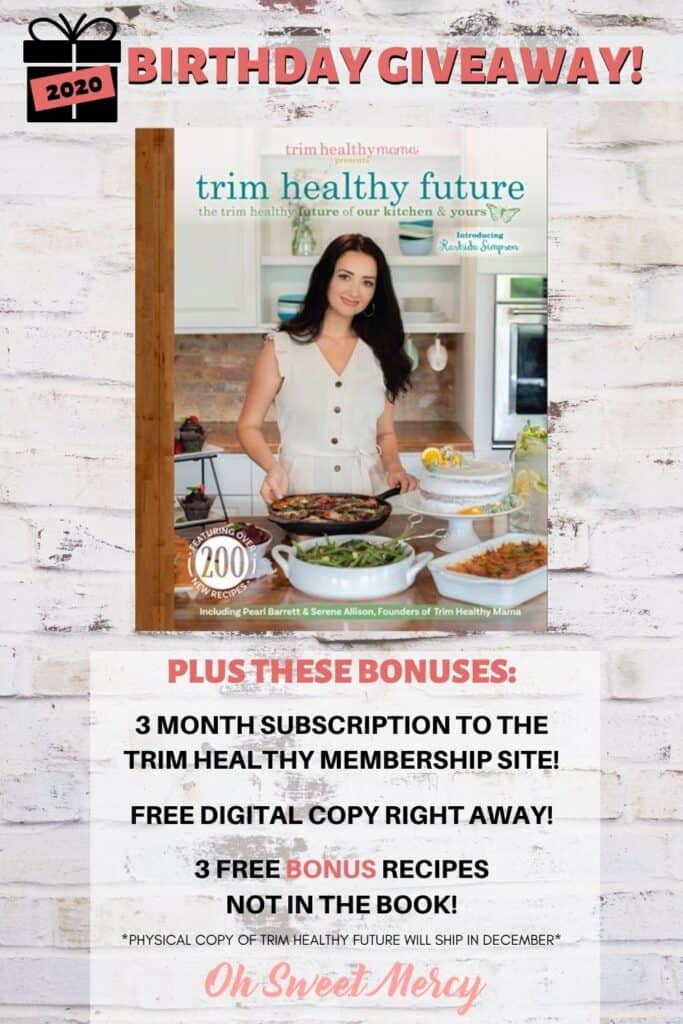 The older I get, the more my birthday is just another day. I am truy blessed with family and friends to love, a safe place to live, and I never go to bed hungry.
I've lived through very lean times. I've had some pretty intense struggles. Things haven't always been as good as they are now and I'm grateful for both the hard times and the good because they helped make me who I am today.
So, I thought what better way to celebrate my birthday than to bless someone else?
And the hottest thing in the THM world right now is the NEW cookbook!
Inside these 408 pages you will find more than 200 all new, scrumptious and time saving recipes, designed to catapult you and your family's future into easy and abundant health! Rashida has created over 170 homestyle and family friendly recipes with lots of dairy free options and easy to find ingredients.

Product description on the THM store website
The photos are beautiful, and the Mamas are raving in the Facebook groups about the delicious recipes! I haven't had a chance to make any yet as I've been a little crazy busy lately but will as soon as I can.
Also, if you're looking for dairy free recipes, you'll find quite a few in here! I just went through and counted in each category:
Sippers – 17
Shakes/smoothies – 7
Breakfasts – 7
Skillet meals – 10
Oven meals – 4
Soups – 8
5 minute meals – 16
Air fryer recipes – 7
Sides – 8
Baked goodies – 10
Sweets and desserts – 14
Savory crunch – 4
Dips, dressings, spreads – 17
The Trim Healthy Future cookbook is in pre-order right now but ships in December. You also get some nifty bonuses:
FREE 3 month membership to the Trim Healthy Membership site. Existing members, it will get added on to your current subscription! PLUS members get a 10% discount on THM products as long as their membership is active!
3 Free bonus recipes not in the book!
FREE digital copy of the book right away so you don't have to wait until December to see the recipes and start trying them!
How Will I Get My Prize?
We all have to wait until December for the book to ship, so once it's shipping it will come straight to your door.
The free digital bonuses and member site subscription will come as soon as possible after a winner is verified. I'll need to contact customer support to set up your membership (or add to your existing, if that's the case).
How Do I Enter The Trim Healthy Future Giveaway?
This part is very easy! Just follow the instructions in the Giveaway Tools widget below:
Good luck and I hope it's a blessing to you on your THM journey!