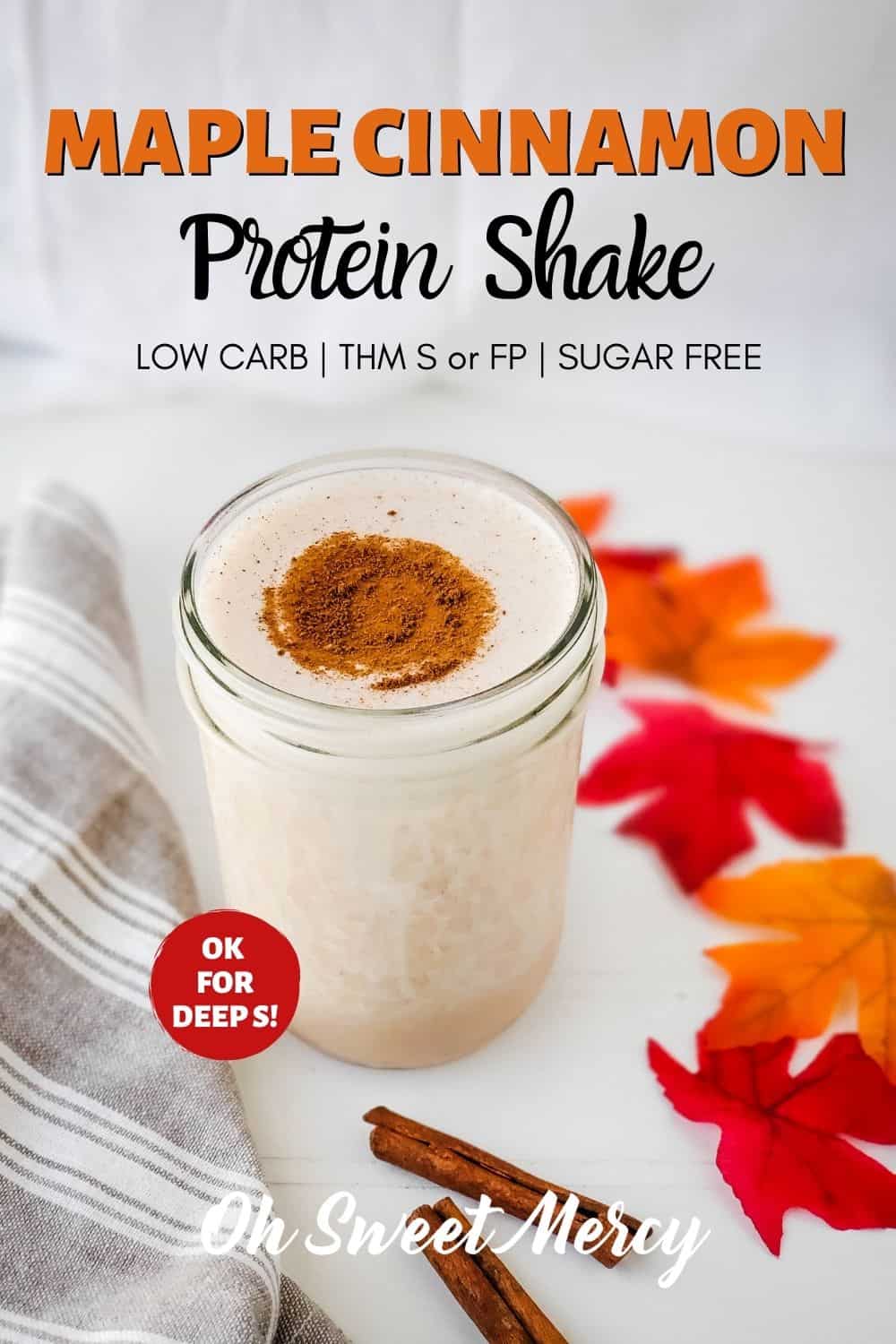 ---
Thick and creamy, this low carb maple cinnamon protein shake makes a delicious snack, dessert, or quick meal on busy days. Trim Healthy Mamas, make it to suit S or FP styles and even Deep S!
---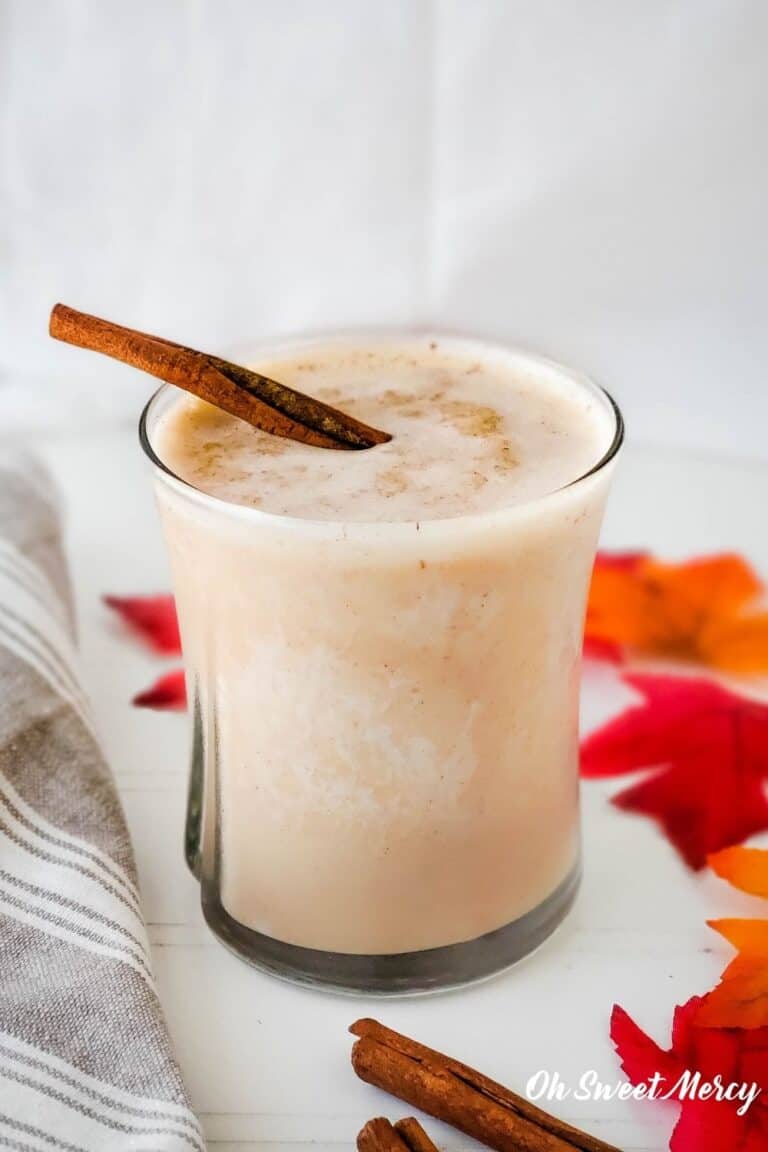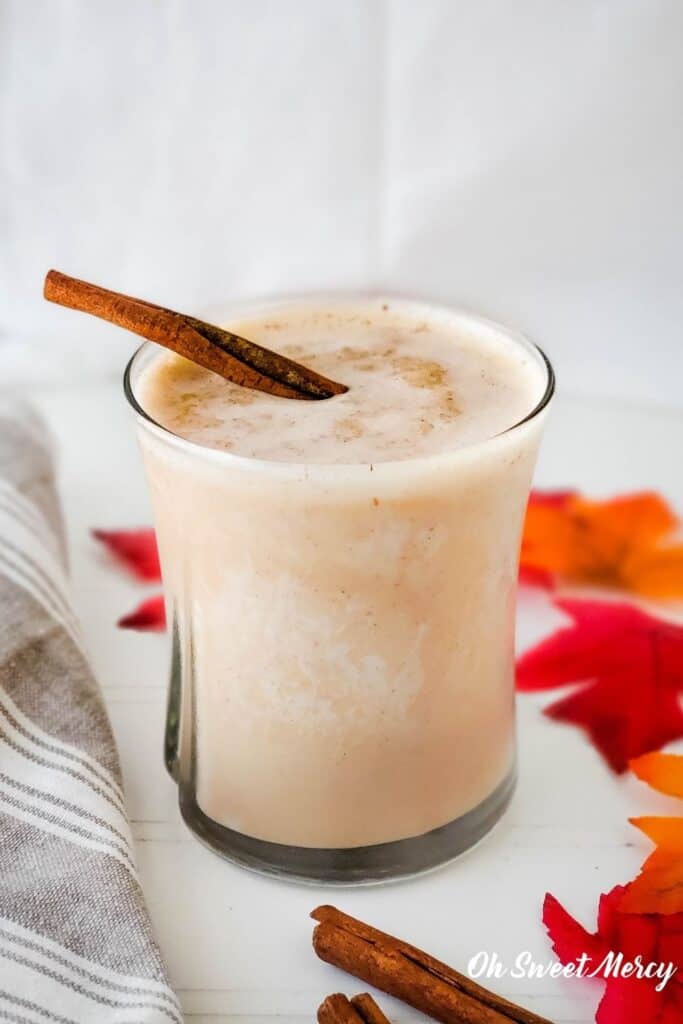 What do you do when you crave something sweet and need it to be Deep S compliant?
If you're like me, you throw some stuff in a blender and whip up something tasty. Well, most of the time anyway. Now and then I have a flop!
Being fall, maple and cinnamon comes to mind. You know that's a winning flavor combination!
And, I was right. This creamy, yummy shake is all cinnamony and mapley and totally hit the spot.
WHAT IS A DEEP S ON THE THM PLAN? "These meals contain only the purest fats without carbs. Your extra-virgin oils and the natural fat in meats and eggs are the fats that work their ultra-slimming magic here…

…Deep S meals do not use some of the regular S-friendly foods that are a little bit higher in carbs, such as berries, dairy (aside from butter), tomatoes, onions, and nuts or seeds. They focus on leafy greens and the lowest-carb, non-starchy veggies and are liberal with superfood oils."

THM Plan book (revised edition), page 91
What Do I Need For This Recipe?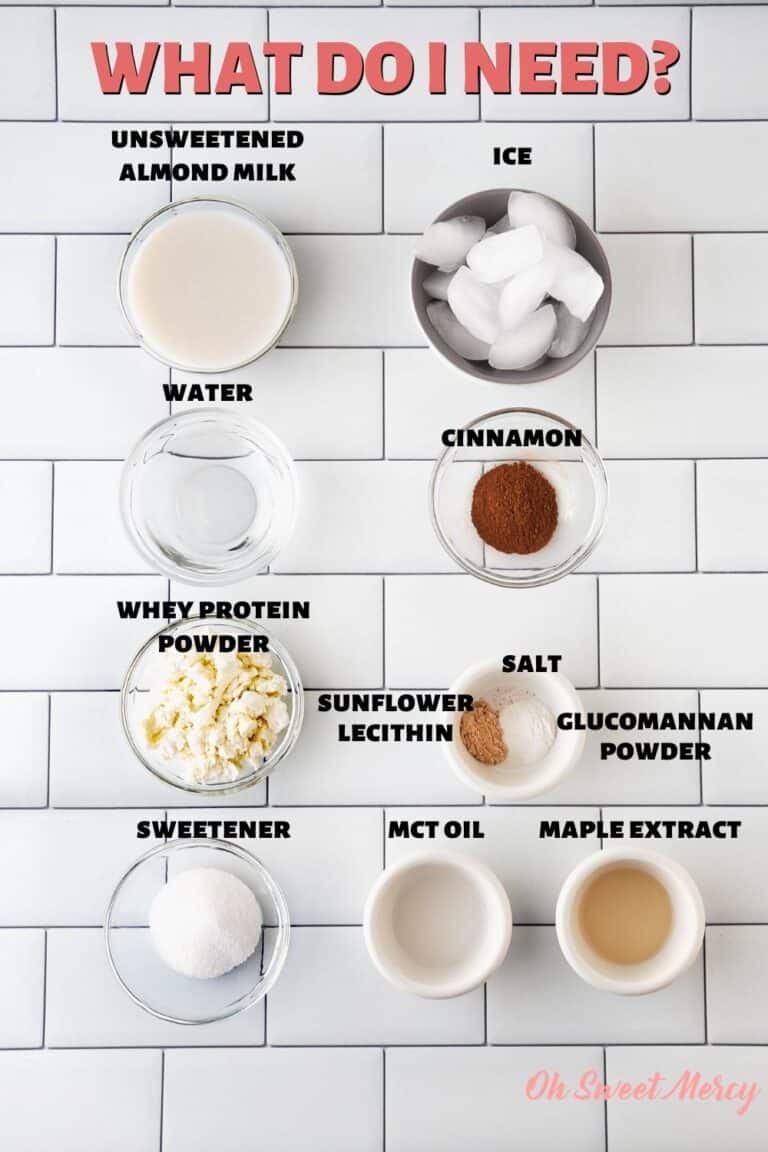 You'll need:
While I try to keep special ingredients to a minimum in my recipes, the 3 I use in this recipe really do make a difference.
The whey protein powder, which is OK for Deep S, gives a more dairy-like flavor without actual dairy (such as cottage cheese, cream cheese, or heavy cream), which is not allowed on Deep S.
If you don't need a Deep S shake, try using 1/4 to 1/2 cup cottage cheese instead of whey protein powder if you don't have it. You'll probably want to leave out the salt if you use cottage cheese.
The sunflower lecithin helps give a more creamy consistency, and the gluccie (or glucomannan powder) helps make your low carb maple cinnamon protein shake nice and thick.
I also add MCT oil for a metabolism boost. You can leave it out if you like, or drizzle in some melted coconut oil while blending if you don't have MCT oil.
This combination of ingredients results in a creamy, delicious shake with cinnamon front and center and a lovely hint of maple. Add more maple, of course, if you like but I like it subtle.
How To Include This Low Carb Maple Cinnamon Protein Shake In Your THM Meal Plan This Week.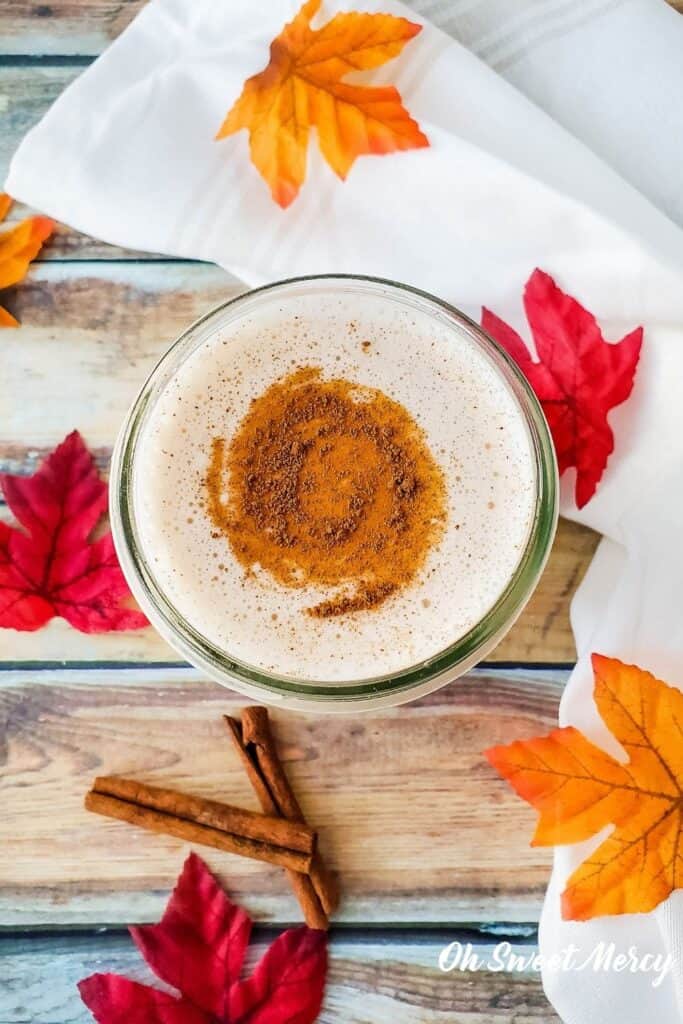 As written, this recipe is a delicious THM S/Deep S. Just omit or reduce the MCT oil for a THM FP.
As part of a Deep S meal, enjoy after your main dish for dessert. Your meal might look like this…
Or, have as a snack between meals.
isisWhile shakes as meal replacements are not really encouraged on THM, on occasion they're fine.
Too busy to cook something? Pregnant and feeling nauseated at the sound of anything but a creamy shake? Not super hungry but need to eat? A quick and easy shake like this is just fine.
It's definitely better than hitting a drive through or grabbing off-plan foods in the house!
If you're like me, a shake is delicious any time of year – even winter! I hope you enjoy this easy low carb protein shake, especially if you're craving something sweet but need to stay in the Deep S guidelines.
Need more smoothie and shake ideas? Check out my Beverages category.
PIN IT!
is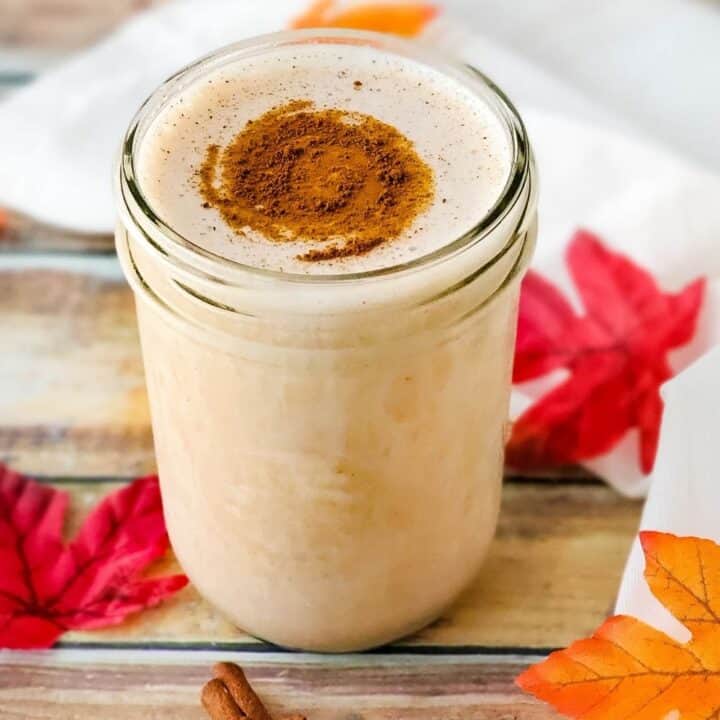 Low Carb Maple Cinnamon Protein Shake | THM S or FP, Sugar Free
Yield: 1 serving
Prep Time: 5 minutes
Total Time: 5 minutes
Thick and creamy, this low carb protein shake is cinnamony and mapley and totally THM friendly! Make it suitable for S (including Deep S) or FP.
Instructions
Place all ingredients into a blender jar.
Blend until smooth.
Sprinkle with cinnamon and enjoy.
Notes
SUBSTITUTION NOTES
If you don't have whey protein, try using 1/4 to 1/2 cup cottage cheese and omit the salt. This will not be Deep S compliant, though.
Regular coconut oil, refined or virgin, can be substituted for the MCT oil. Melt it gently, then pour into your blender (while blending) in a thin stream for best results.
NUTRITION NOTES
Nutrition information at the bottom of this recipe card is for this shake made Deep S style, with 1 tablespoon MCT oil. Reduce the amount of MCT oil to 1 teaspoon, or omit, for a Fuel Pull.
Recommended Products
As an Amazon Associate and member of other affiliate programs, I earn from qualifying purchases.
Nutrition Information:
Yield: 1
Serving Size: 1
Amount Per Serving:
Calories: 218.7
Total Fat: 16.7g
Saturated Fat: 14.3g
Trans Fat: 0g
Unsaturated Fat: 2.3g
Cholesterol: 5mg
Sodium: 144.2mg
Carbohydrates: 4g
Net Carbohydrates: 1.9g
Fiber: 2.1g
Sugar: 0.6g
Protein: 20.5g
Nutrition information is approximate and based on the best knowledge available at the time of recipe publication. Your results may vary due to differences in ingredients. You can make your own calculations if this recipe does not include nutrition info by using an online calculator such as https://recipes.sparkpeople.com/recipe-calculator.asp