It's been a couple of years now that I have been observing Shabbat.
I'm not Jewish, I just don't see where God has changed the Sabbath from the seventh day of the week (which He established at Creation) to the first day of the week.
I did learn, in my studies, that a man (Emperor Constantine) decided that the Sabbath was to be observed on a different day. Since I follow God's rules above man's, I have chosen to stick with what God did at the beginning, and it has been a tremendous blessing.
Anyway, I don't do any cooking on the Sabbath unless it can be cooked in my crock pot (and now, my Instant Pot).
Last Shabbat, I had a hankering for hard boiled eggs and wondered if you could make them in a crock pot.
Silly me, of course you can! You can make anything in a crock pot (like awesome baked potatoes and effortless-shucking corn on the cob)! It turned out that I didn't have enough eggs to make it worthwhile to fire up the crock pot so I decided to make crock pot hard boiled eggs next time I got more eggs.
Sure wish we had chickens, although with the arctic weather we're having these days they'd probably be on strike and not laying anyway. Fortunately, they were on sale this week for 99 cents a dozen so I stocked up!
Water or no water?
After a little research, I learned that some people say to use water and some say don't.
Being much like water myself, in that I always seek the path of least resistance, I opted for the water-less version to make my crock pot hard boiled eggs. Besides, we have to pay for our water so that just makes it more frugal.
Now for the instructions. Super easy!
1. Put the eggs in a single layer in your Crock Pot
2. Put the lid on and set your crock pot on HIGH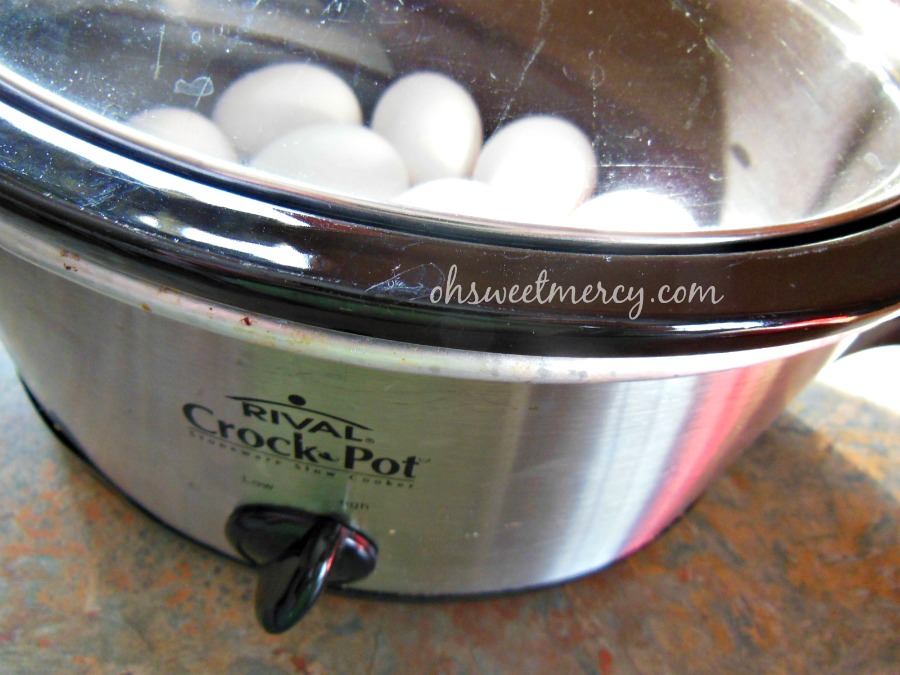 3. SET YOUR TIMER. I may or may not have remembered to set my timer. Ahem. For medium eggs, 1.5 hours. For large/jumbo eggs, two hours. Since I *might* have spaced out setting the timer, some of my eggs had these brown spots on them.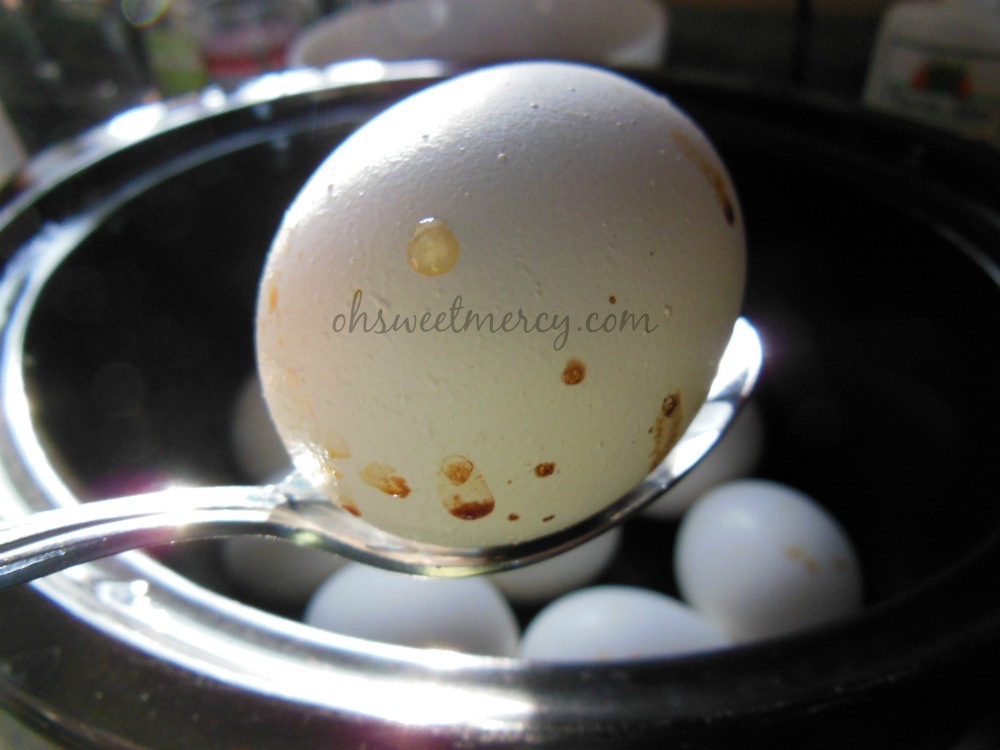 The eggs with brown spots on the shells also had a spot or so on the white of the egg: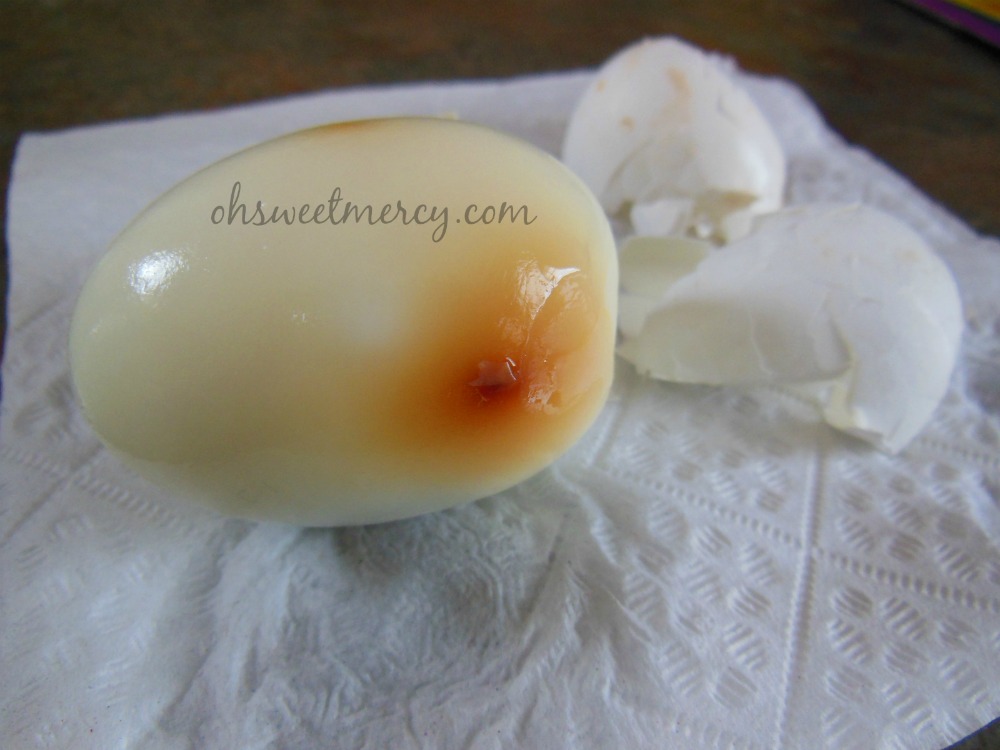 3. Run cold tap water over the eggs or put them in a bowl of cold tap water and ice. If you live in Indiana right now, you don't need ice. You practically have ice coming out of the tap. Bbbrrrr!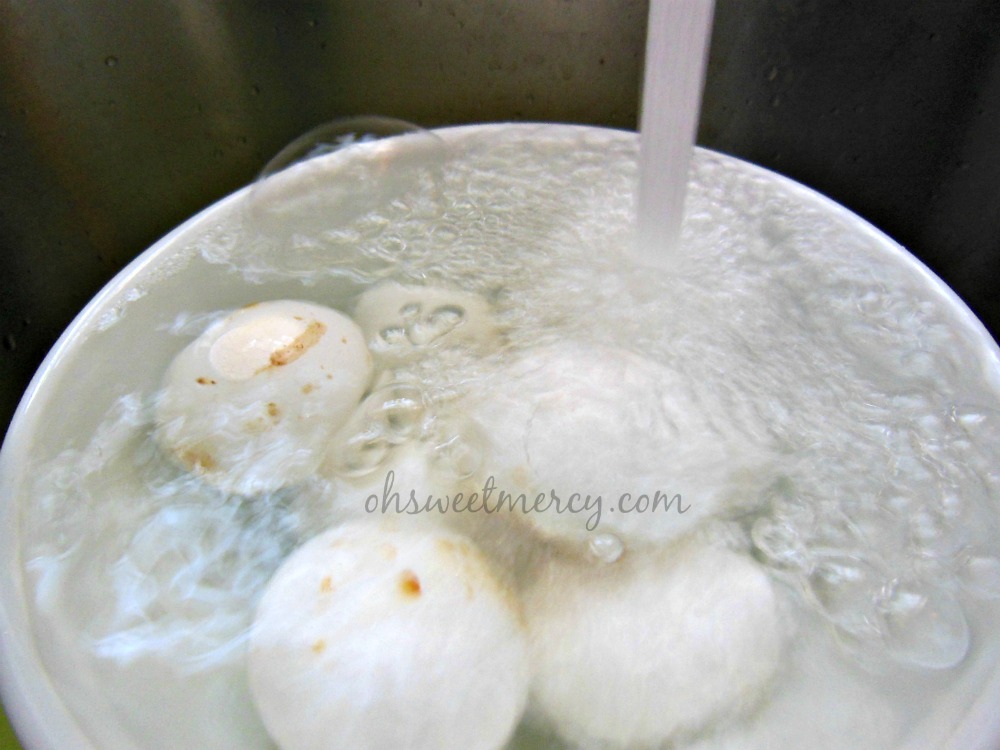 After your eggs have cooled, peel and enjoy.
I had varying results with my crock pot hard boiled eggs, just like when cooking on the stove. I'm not sure if the eggs were too fresh or too hot (I might also be impatient. Maybe.), but some of them peeled perfectly (oddly, all the eggs with the brown spots peeled very easily!) and some of them, half the white came off with the shell. The yolks, however, were perfect! Creamy smooth and delicious.
Why would you want to take 2 hours to do what takes 30 minutes, you ask?
As I mentioned above, I don't cook on Shabbat and since I don't always remember to do things ahead of time, this is a great way to cook eggs for egg salad for lunch or just to munch on – my kids LOVE hard boiled eggs. In the summer, you can make eggs for a cool, creamy egg salad without turning on the stove and steaming up the kitchen. You can also "boil" eggs without using tap water, which may be an issue for some of you. True, it takes a little longer, but I think that it's still an option that is worth keeping in mind and using.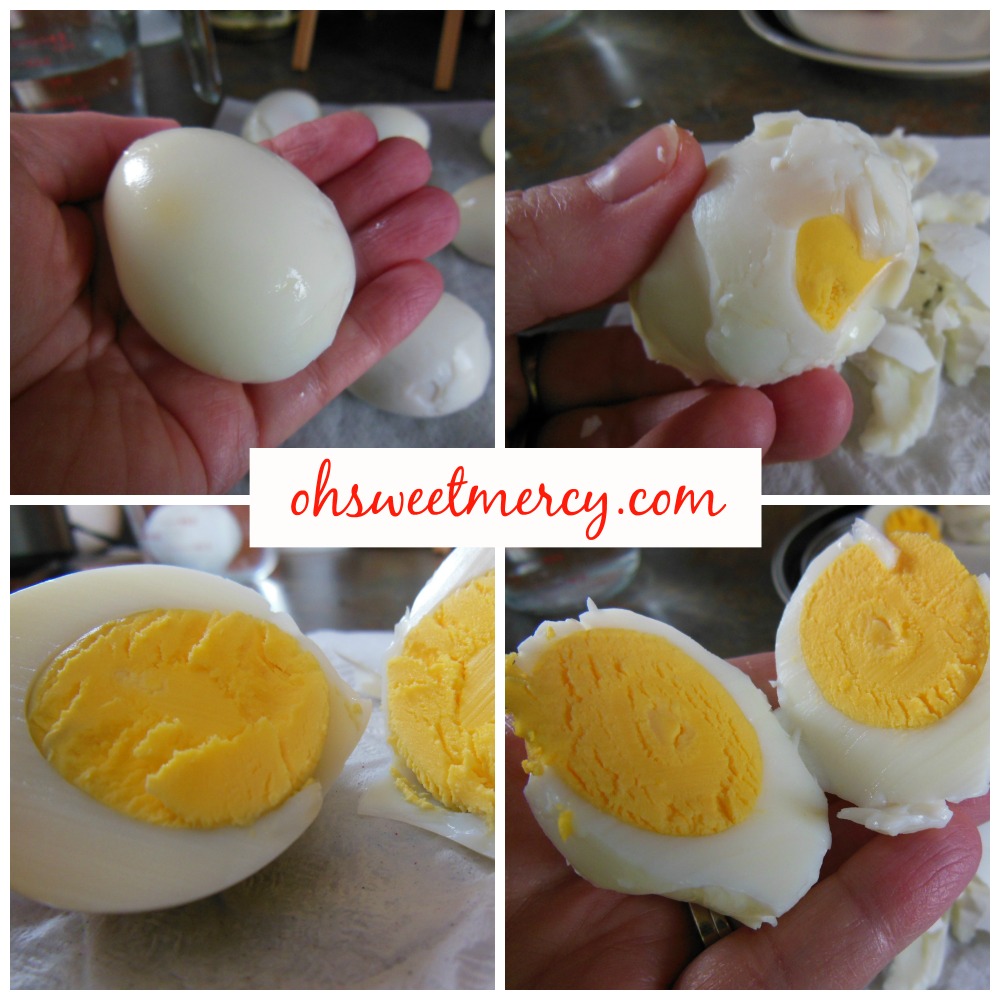 Making crock pot hard boiled eggs is ridiculously easy!
I can't believe it never crossed my mind before.
Is there no end to the versatility of the Crock Pot? I can not thank Irving Naxon enough for inventing the crock pot, which was, interestingly, invented for Sabbath cooking!
Do you need a Crock Pot? I would recommend this affordable Crock Pot 6 qt Cook 'N Carry available on Amazon.
[Affiliate Link]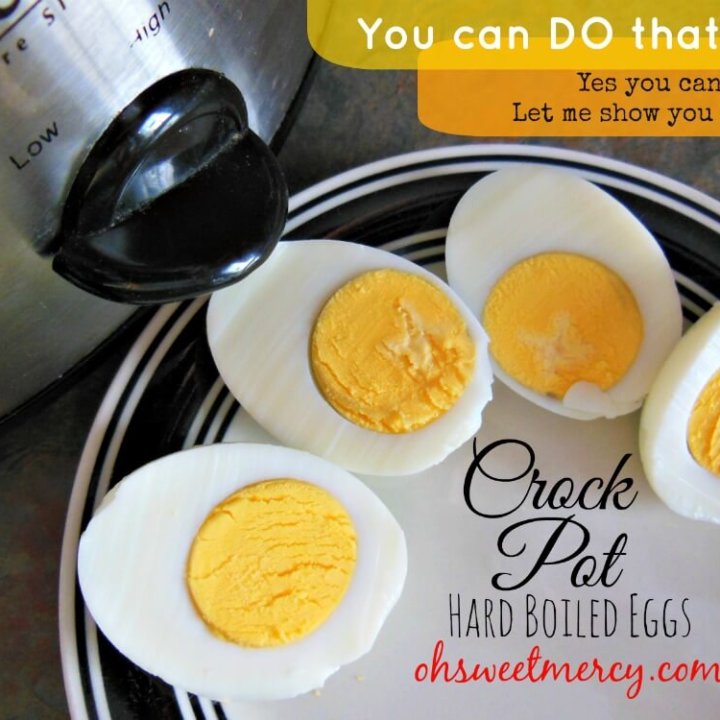 Crock Pot Hard Boiled Eggs (Waterless Method)
Yield: 6-12
Prep Time: 5 minutes
Cook Time: 2 hours
Total Time: 2 hours 5 minutes
Easily cook hard "boiled" eggs in your Crock Pot without water!
Instructions
How many eggs you can cook depends on the size and shape of your crock pot. I got 9 or 10 in my six quart oval cooker.
In a COLD crock pot, put your eggs in the crock in a single layer
Put the lid on
Set the crock pot to HIGH
Set a timer for 11/2 hours for MEDIUM eggs, 2 hours for LARGE/JUMBO eggs
Remove from crock pot and run cold water over the eggs or put them in a bowl of cold water
Peel and use as you would any hard boiled egg
Notes
If you leave them in too long, some eggs could develop brownish spots on the white part. Just cut those parts off if you don't want to eat them.
Recommended Products
As an Amazon Associate and member of other affiliate programs, I earn from qualifying purchases.
Nutrition Information:
Amount Per Serving:
Calories: 0
Cholesterol: 0mg
Sodium: 0mg
Carbohydrates: 0g
Fiber: 0g
Sugar: 0g
Protein: 0g
What is the most unusual use for a crock pot you've seen? Have you tried it yourself?
Pin this Ridiculously Easy Recipe to Your Favorite Pinterest Boards!