Like this post and don't want to miss more like it? Be sure to sign up for my newsletter at the end!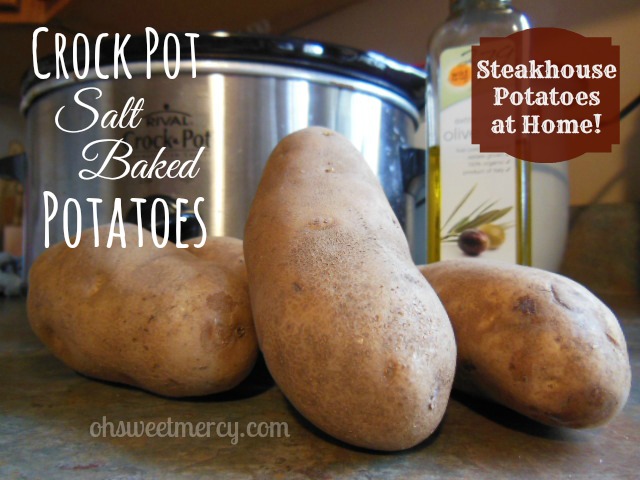 We had these amazing Crock Pot Salt Baked Potatoes for supper last nigh and I had to share this with you! Crock pot salt baked potatoes are so easy to make and so much like steakhouse baked potatoes! I have long been puzzled by how to get the same texture as you find in a steakhouse. I don't know if this is how they make them, but it's just like what I've had in a steakhouse restaurant.
You only need four things to impress your family with amazing Crock Pot Salt Baked Potatoes!
Potatoes
Healthy, traditional fat such as butter or olive oil
Kosher salt, 2-3 cups (I have used regular salt with no problems)
Start with a good baking potato, such as Russet. The size of your crock pot as well as potatoes will determine how many you can do at one time. I used my smaller crock pot, which I think is 3 1/2 quarts (I can never remember the size, and wish the manufacturers would put that information on the unit somewhere!). My potatoes were on the small side, and I put 6 in there with room to spare.
Put a layer of salt in the bottom of your crock pot about one inch deep. Scrub your potatoes clean, pat dry, prick with a fork and coat well with a healthy, traditional fat such as butter or olive oil. Place potatoes in the crock pot.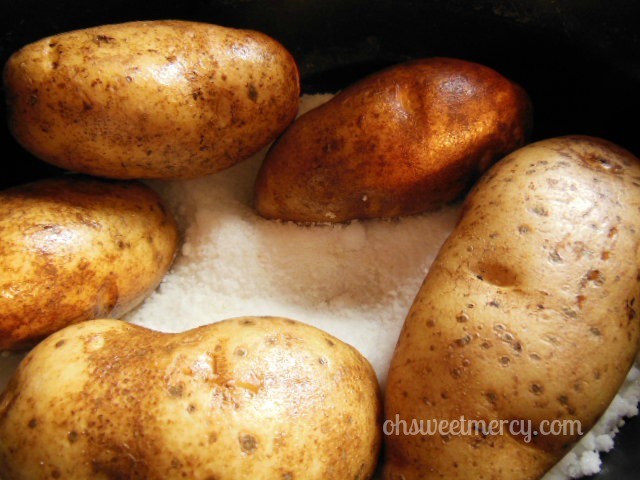 Cover with the rest of the salt, making sure that all of the potatoes are covered. The top will form a "crust" which keeps the moisture in so this is important. Cover and set your crock pot on high and cook for two hours or until they are fork-tender. Carefully break the salt crust and dig out the cooked potatoes. I call it a carb-eological dig. The potatoes will be very done so be careful! Brush off excess salt.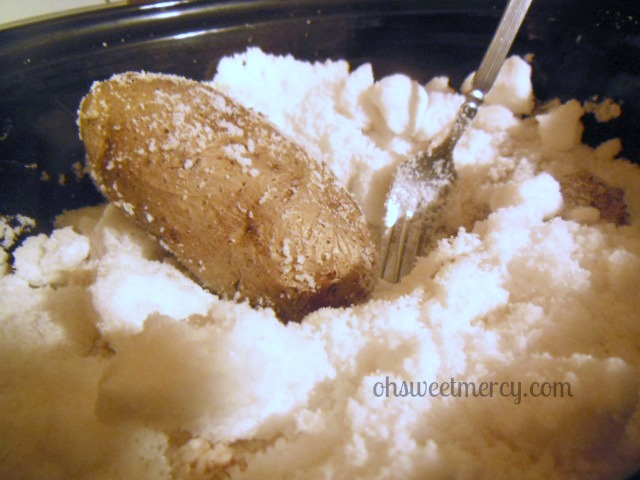 Let the salt cool completely…BUT don't throw it out! It can be re-used up to 10 times! I do try to pick out any bits of potato skin that may have been scraped off during the dig, but since salt has been used for centuries to preserve foods I'm not worried about bacteria building up during storage. I usually let the salt sit in the crock pot over night to make sure it dries out before storing it.
Salt baking is commonly used for fish, and as early as 4 BC was a method used (possibly earlier). This post has a nice little history about salt baked fish. I'm not a big fan of fish, although I may get adventurous some time and it. Maybe. For now, I'll stick to making these delicious Crock Pot Salt Baked Potatoes to go along side a delicious steak (or this delicious Brown Bag Chicken) and salad – and skip the high prices and questionable ingredients one might find in a restaurant!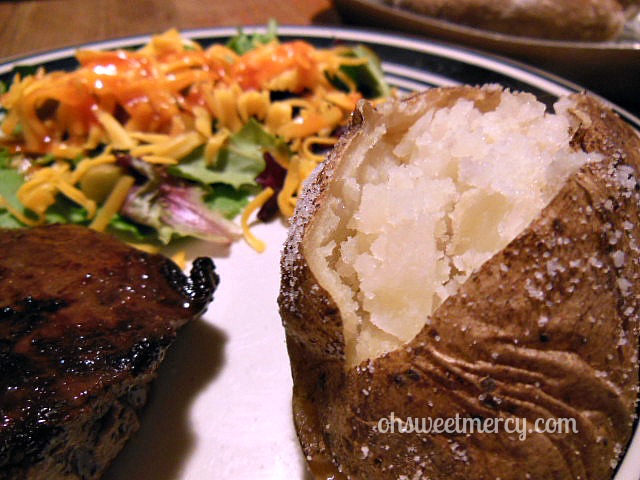 Have you ever baked in salt before

?