These dark and lovely little gems are a great way to get healthy fats into your day. Plus an added ingredient in these easy fat bombs powers up the nutrients!
Don't fear the fat!
Modern nutritional advice says avoid fat at all costs, but our bodies really do need adequate amounts of healthy fats. Processed vegetable oils are NOT healthy, however. Well, they are healthy for corporate wallets…
Reasonable amounts of healthy, traditional fats (yes, those evil saturated fats we've been warned about) are essential for brain health – especially in growing children and as we age.
I love buttah, truly! But being reasonable means we don't eat a stick of butter for dinner, right?
A great way to get a little blast of healthy, saturated fats is with organic virgin coconut oil. These yummy little dark chocolate candies are easy to make and a great treat when you need one. If you're a Trim Healthy Mama, these are an S and also suitable for Deep S.
If you tried the Coconutty Peanut Nom Noms I posted recently, then you'll enjoy this chocolate version.
Get some amino acids in your diet, too!
These easy fat bombs have a secret ingredient that will ramp up their nutritional profile. Have you heard of Moringa Oleifera?
Moringa has 18 amino acids, plus nutrients like potassium, magnesium and B vitamins. I think I've been deficient in those for some time, so I've really enjoyed finding ways to add Moringa to my foods.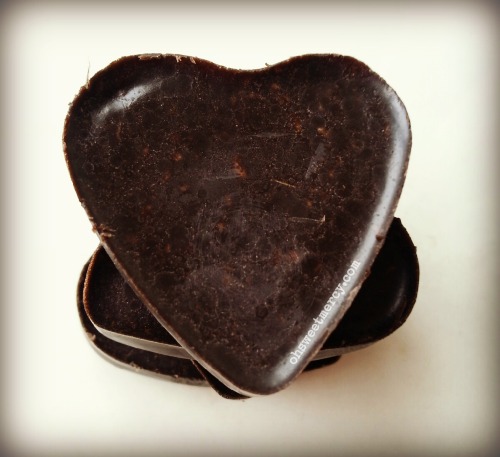 If you don't have moringa powder, that's OK too. You can just leave it out. But, if you can get some, I highly recommend it! This is the brand I'm currently using.
And this is how I know moringa powder is effective – after beginning to take it daily, I noticed a dramatic change in cravings I had! The nutrients in moringa were exactly what my body was crying out for and it was finally satisfied.
No Moringa? Try Maca Instead.
If you don't have moringa powder but still want to increase the nutrition in your easy fat bombs, try some maca powder. Maca is an adaptogen, which supports our body's ability to handle stress. It's an ancient superfood that has been used for its energizing properties and pairs very well with cacao.
Decadence is allowed on the Trim Healthy Mama plan!
If you're feeling very decadent, you could make my Dark Chocolate Coconut Cake in a Mug and garnish it with one of these Dark Chocolate Coconut Nom Noms.
It's all good. It's all on plan.
However, do be reasonable! Remember – just because you can do something doesn't always mean that you should. You should definitely get plenty of good, healthy, metabolism-stimulating fats like coconut oil into your diet. Just don't go off the deep end!
Enjoy these easy fat bombs in a light S setting, or with a Fuel Pull snack, and make sure to keep appropriate time between consuming them and an E meal or snack. Always consult the plan book for complete details!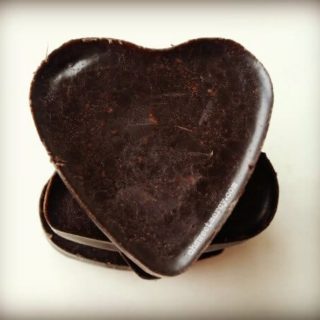 Dark Chocolate Coconut Nom Noms - Easy Fat Bombs
Yield: 7 pieces
Prep Time: 10 minutes
Chill Time: 30 minutes
Total Time: 40 minutes
 Sugar free dark chocolate coconut fat bombs, plus added superfood powders for a nutritional punch!
Ingredients
1/2 cup virgin coconut oil
2 tablespoons dark cocoa
2 tablespoons shredded, unsweetened coconut (omit for a smooth chocoalte)
2 teaspoons moringa powder (optional)
OR 1 teaspoon maca powder (also optional)
1 to 2 doonks of pure stevia extract (1/32 to 1/16 tsp) or preferred sweetener to taste
pinch of high mineral salt
1/4 teaspoon pure vanilla extract
1 teaspoon butter (optional)
Instructions
Gently melt coconut oil in a double boiler or in a heat-safe bowl set on top of a sauce pan that has hot water in it.
Stir in the remaining ingredients and taste for sweetness, adjusting as necessary.
Spoon mixture, stirring well between scoops, into a candy mold, silicone mold, silicone cupcake liners, or pour entire mixture onto a plate or into a baking dish and spread the coconut shreds around as evenly as possible.
Refrigerate or freeze until set.
Remove from molds and store in a container in the refrigerator or freezer.
If you use a plate or baking dish, break the hardened chocolate up into bite size pieces and store as stated above.
Notes
If you don't like the flavor of coconut or coconut oil, you can use refined coconut oil and omit the shredded coconut.
Recommended Products
As an Amazon Associate and member of other affiliate programs, I earn from qualifying purchases.
Nutrition Information:
Amount Per Serving:
Calories: 1081
Total Fat: 118g
Saturated Fat: 101g
Cholesterol: 0mg
Sodium: 297mg
Fiber: 6g
Sugar: 9g
Protein: 4g
Don't Forget to pin this easy fat bombs recipe to your favorite pinterest boards!

.