---
A frugal weeknight dinner, this Easy Cabbage and Sausage Stew is perfect for the Trim Healthy Mama's plate. In fact, the whole family will enjoy it! THM's, enjoy the slimming benefits of this cabbage dish with mashed cauliflower or an S-friendly bread.
---
Cabbage is an unsung hero in the superfood world. It's packed with nutrients that help support the body's natural detox system. It's a great source of fiber, too. That adds bulk to your bowl without a lot of calories or fat.
Not that we're afraid of fat, oh no! Trim Healthy Mamas know that fat has its place. We eat it responsibly! A great option to enjoy this slimming Cabbage and Sausage Stew are these yummy Keto Dinner Rolls. They are perfect for keto (and of course, THM S) meals.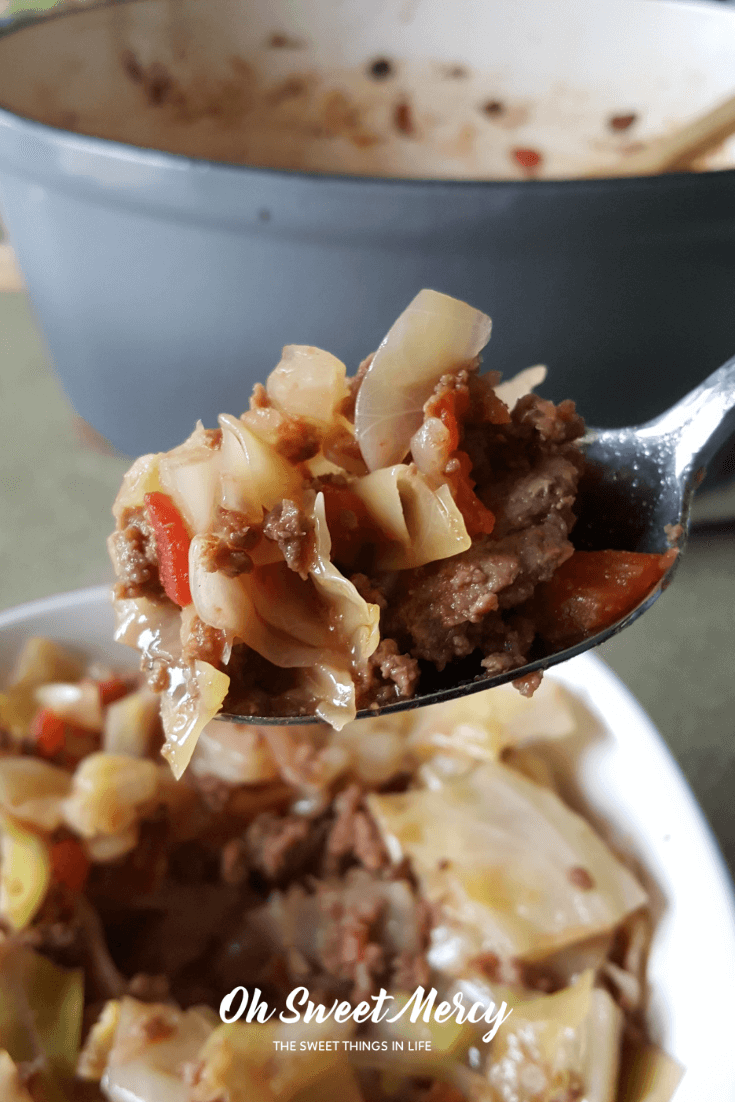 A Simple, Economical, And Slimming Dish!
This recipe only has 4 ingredients (aside from salt and pepper). That means you can quickly throw this together and get it cooking.
I baked this because I didn't want to babysit it. However, you could easily let it simmer on the stove and stir it occasionally. Let it bake, or simmer, until the cabbage is as tender as you like. For us, 45 minutes was perfect.
Cabbage is a very affordable food, and a small can of diced tomatoes is typically around or under $1. Just taking a stab at it, I'm guessing this meal fed my family for under $3, with a small serving left over. Since we already had venison sausage in the fridge, picking up a cabbage and can of tomatoes is super cheap!
Making cabbage-based meals is a great way to support your slimming and trimming efforts. The fiber helps fill you up and control blood sugar. The nutrients in cabbage help nourish your body and help it detox naturally. Plus, since this dish is lower in fat and (countable) carb-free, you can enjoy a hearty helping without guilt or repercussions.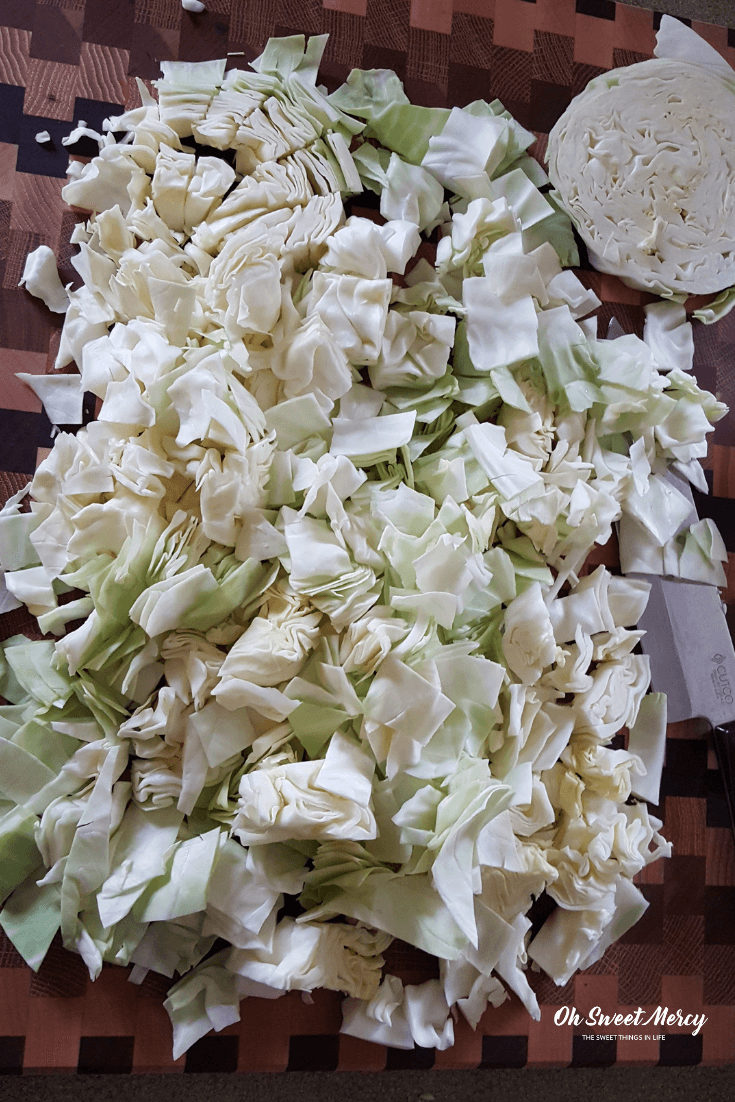 Use The Right Equipment!
Just look at all that cabbage! One small head (you can see the diameter from the slice) turns into a pile of cabbage. It does cook down considerably though. Be sure to use a big Dutch or French oven, or deep casserole dish, when baking this. If cooking on the stove you need a big pot too!
Additionally, I highly recommend a very large cutting board. We got a gorgeous, handmade end grain cutting board recently and it's perfect for chopping cabbage! Check out this bamboo one (bamboo is very renewable!).
End grain cutting boards are durable, resistant to scratches, and typically self-healing. I was afraid to cut on it but so glad I decided to try it anyway. It makes cutting veggies more enjoyable 😉
This affordable superfood even had a Superfood Spotlight on the weekly Trim Healthy Podcast (or Poddy). If you missed that episode, you can listen to it here. The Superfood Spotlight begins at around 38:00 but the entire Poddy is great!
How This Easy Cabbage And Sausage Stew Fits Into Your THM Menu Plan.
This dish makes me want mashed potatoes with it. THMs know that normal mashed potatoes are not exactly weight loss friendly.
So we make mashed cauliflower instead. That's also a great option to go with this dish. In fact, I have a recipe right here on the blog for you! How to Make Amazingly Fluffy, Creamy Mashed Fauxtatoes.
I wanted to add green beans to it but Mister doesn't like them anymore so I left them out. So if that sounds good to you, throw some green beans in there. That will stretch this dish even farther too! You may need to add a bit more seasoning if you do, just taste it and add more if you like.
We have some delicious ground venison sausage in our freezer, thanks to my hunter hubby. Feel free to use any kind of sausage your family prefers. Using a leaner sausage like venison or turkey can help you keep your fat intake balanced and reasonable.
Sometimes, lighter S meals are a great idea! This is especially true if you're weight loss has slowed down or you're getting older.
It may seem odd to post a stew recipe now that it's Spring, but let me tell you. No one told Indiana it was Spring yesterday! Cold, gloomy, and dreary is how Spring arrived for us.
No matter the time of year this Easy Cabbage and Sausage Stew makes a great addition to your menu. Eating healthy knows no season, right?
Do You Include Cabbage In Your Meals?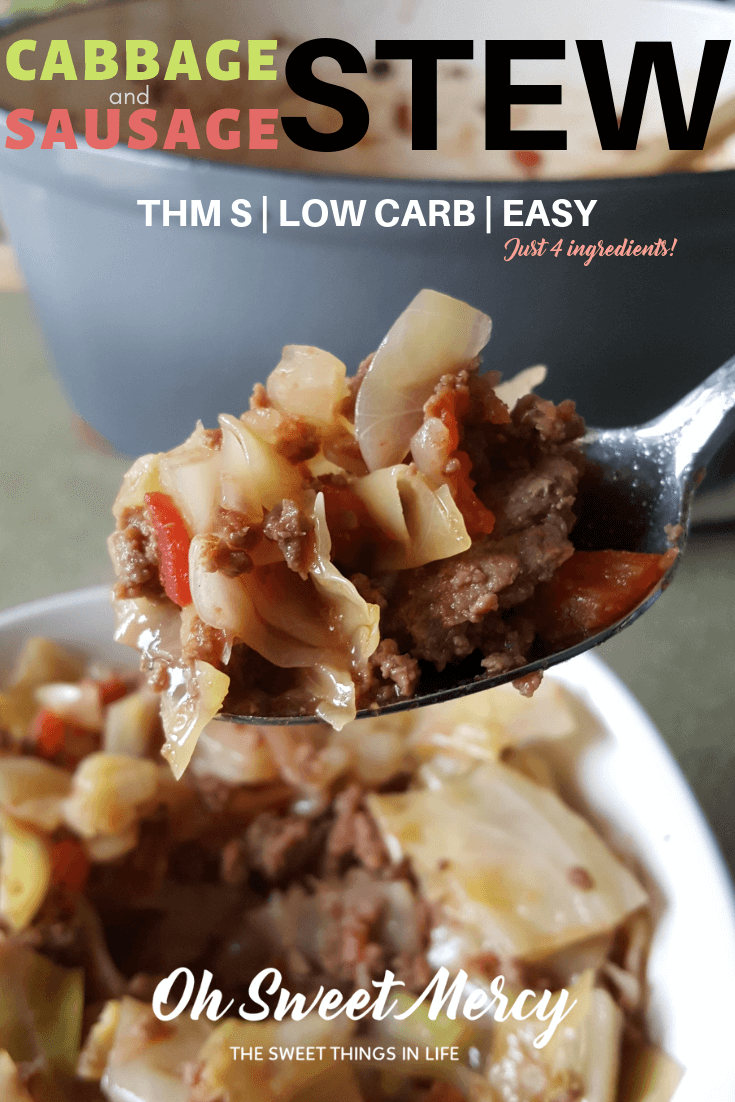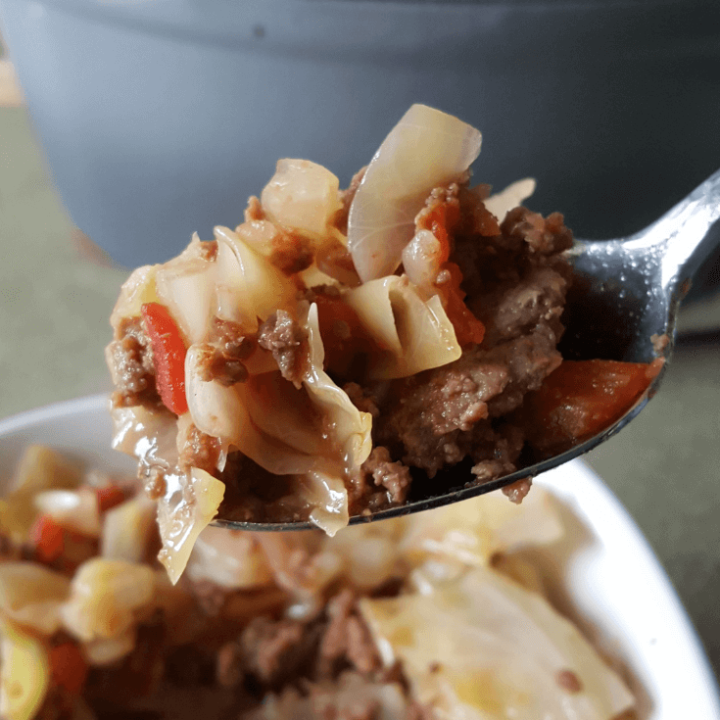 Easy Cabbage and Sausage Stew | THM S , Low Carb
Yield: 4 servings
Prep Time: 15 minutes
Bake Time: 45 minutes
Total Time: 1 hour
This Easy Cabbage and Sausage Stew is a simple, delicious, slimming THM friendly meal. Make it S or FP style, too.
Ingredients
1 pound ground venison sausage or sausage of choice
1 small head of cabbage
1/2 onion, diced
1 (14.5 ounce) can diced tomatoes
Salt and pepper to taste
Instructions
Preheat oven to 350.
In a French or Dutch oven, brown the sausage and onion.
Add tomatoes and mix well with the sausage.
Add the cabbage on top.
Sprinkle salt and pepper on the cabbage, cover, and put into the oven.
Bake for 30 to 45 minutes, stirring after about 25 minutes or so.
When the cabbage is as cooked as you like it's done.
Notes
Alternatively, simply cook on the stove top, stirring occasionally, until the cabbage is as cooked as you like.
Trim Healthy Mamas
Serve with low carb bread or mashed cauliflower for an S.
Your non-THM family might enjoy this with bread and butter or mashed potatoes.
Recommended Products
As an Amazon Associate and member of other affiliate programs, I earn from qualifying purchases.
Nutrition Information:
Yield: 4
Serving Size: 1/4 recipe
Amount Per Serving:
Calories: 236
Total Fat: 14g
Saturated Fat: 9g
Trans Fat: 0g
Unsaturated Fat: 0.2g
Cholesterol: 110mg
Sodium: 277mg
Carbohydrates: 13.4g
Fiber: 5.0g
Sugar: 8.3g
Protein: 22.4g