---
Buffalo chicken dip is amazing but sometimes we need something a little lighter. These Buffalo Celery Bites have the creamy cheese and hot sauce flavors in a crunchy little package that's lighter for your waistline. Trim Healthy Mamas, make them S or FP style to suit your trimming snack needs.
---
Inspiration for these snacky little Buffalo Celery Bites came from a dear friend of mine. I was helping her come up with a THM menu and she came up with celery, cream cheese, and hot sauce as a snack.
Pretty sure I began drooling a little. Because I love anything Buffalo – chicken, chicken dip, chicken casserole, cauliflower bites.
Yes, Buffalo all. the. things.
But those things take time. And when you want a Buffalo-style snack in a hurry those aren't going to be quick!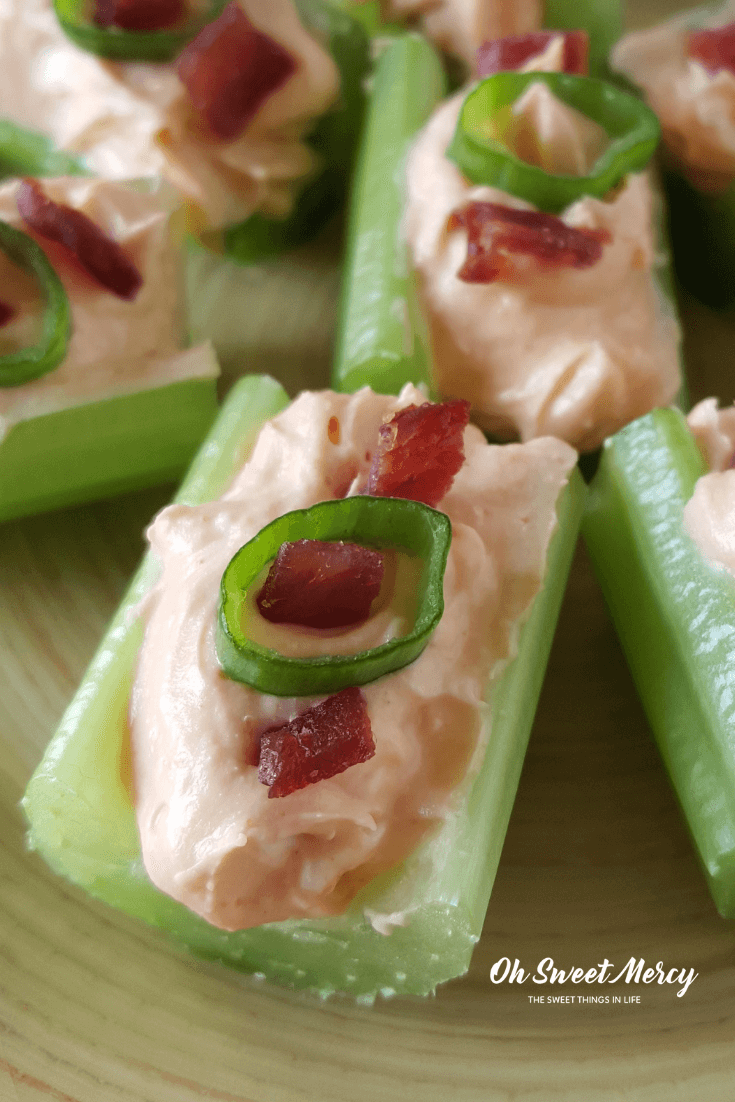 Buffalo Celery Bites Are An Easy, Cheesy, THM Snack.
This was my snack today and it really hit the spot! It ticks all these snacky boxes for me:
Crunchy – celery, while not my absolute favorite veggie, is super crunchy and a perfect vehicle for Buffalo goodness
Creamy – cream cheese. Need I say more?
Spicy – red hot sauce makes these Buffalo Celery Bites metabolism-friendly!
Low Carb – celery practically has negative carbs, what with all the chewing involved, right?
Fuel Pull Potential – swap the cream cheese for fat free Greek yogurt cheese (or Light Laughing Cow cheese wedges) and you've got yourself a Fuel Pull snack, my THM friends.
Celery Bites Are Easier To Eat.
While celery is a great low carb vehicle for tasty Buffalo cream cheese, those strings are annoying! Cutting the celery into bite-sized pieces eliminates celery string getting stuck in between your teeth.
If you're not bothered by that like I am then feel free to spread this Buffalo cream cheese on a whole stalk or just dip it in the cream cheese.
How To Fit Buffalo Celery Bites Into Your THM Meal Plan.
As written, these are a yummy S snack. Remember that we don't want to overdo the cream cheese. If you're struggling with stubborn weight loss then don't make them an every day snack!
If you choose a fat-free Greek yogurt cheese or Light Laughing Cow wedge then you'll have a Fuel Pull snack. They make a great evening snack as a Fuel Pull, like when watching a movie. They're crunchy and the smaller pieces give more hand-to-mouth satisfaction.
Wondering where to find Greek yogurt cheese that's on plan? It's really very easy to make yourself (just takes several hours of hands-off time to make). You can read how I make Yogurt Cheese with Cilantro, Garlic, and Lime here. Just leave out the seasonings for a plain yogurt cheese that's a lot like cream cheese.
If making your own is not your style, Franklin Foods makes a Greek Cream Cheese that has 3 grams of fat per serving (2 tablespoons), compared to 9g in regular cream cheese. That's even less than Neufchatel (1/3 less fat) cream cheese which has 6 grams per serving. Greek cream cheese also has twice as much protein per serving at 4 grams.
You can check Franklin Foods website for a list of stores that carry their Greek cream cheese.
Additionally, this simple Buffalo cream cheese filling makes a tasty spread for a low carb wrap!
Perfect For Snacking Or Partying!
Whether you're making a snack for a movie or appetizers for a party, these Buffalo Celery Bites make a great low carb option. Add them to a charcuterie board, too!
Finally, only one question remains: do you like your Buffalo Celery Bites blazing hot (or not)?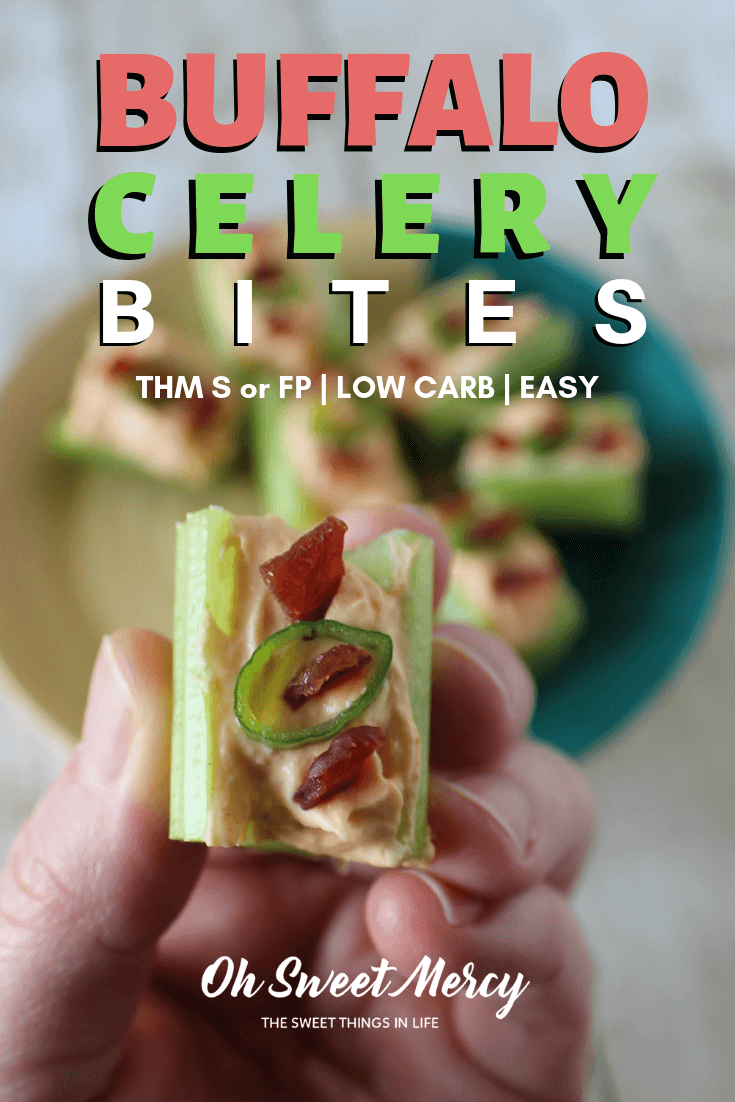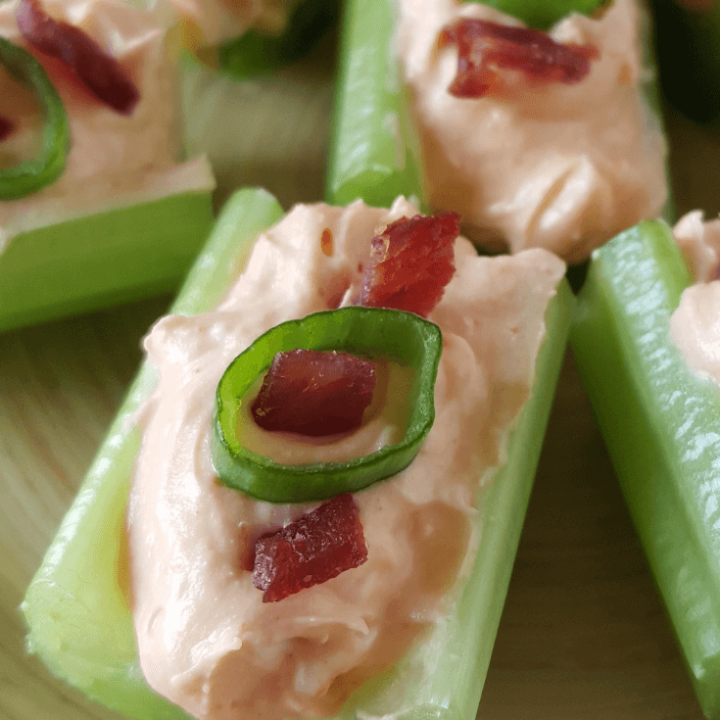 Buffalo Celery Bites | THM S or FP
Yield: Single Serving or Multiple Servings
Prep Time: 5 minutes
Total Time: 5 minutes
These easy little Buffalo Celery Bites are stuffed with spicy cream cheese, giving you that classic Buffalo flavor without all the work of making Buffalo dip. Trim Healthy Mamas, you can make them to suit S or FP style, too.
Ingredients
Single Serving
2 ounces cream cheese (2 tablespoons) *see note for FP version
3 to 4 teaspoons of your favorite hot sauce, or to taste
2 celery stalks, washed, trimmed and cut into bite size pieces
Sliced green onion tops and chopped turkey bacon for garnish, optional
Multiple Servings
8 ounce cream cheese
3 tablespoons or 1/4 cup of your favorite hot sauce, or to taste
8 celery stalks, washed, trimmed and cut into bite size pieces (or as many as desired)
Instructions
FOR CREAM CHEESE/YOGURT CHEESE VERSION
In a bowl, combine the cream cheese and hot sauce until mixed well.
Spread a small amount onto each piece of celery.
Garnish as desired
FOR LAUGHING COW CHEESE WEDGE VERSION
Spread a small amount of cheese on each piece of celery.
Top with your favorite Buffalo hot sauce.
Notes
FOR A LOW FAT, THM FP VERSION USING LIGHT LAUGHING COW WEDGES
For a single serving, use up to 2 LLC cheese wedges. For multiple servings figure 2 cheese wedges per person.