---
I'm on a cookie dough kick lately and these Salted Caramel Cookie Dough Bites hit the spot! Eat them plain or covered with a White Chocolate Mocha Drizzle. I highly suggest the drizzle, it's made with a happy-fying ingredient that's sure to put you in a good mood. A perfect snack for THMs and low carbers!
---
Did you try my Chocolate Chip Cookie Dough Bites I shared the other week? Or how about my Easy No Bake Peanut Butter Cookies (essentially cookie dough 😉 )? Here's a new version for you (and I'm working on more, I just can't help myself)!
Salted caramel is one of my favorite flavors. Naturally, it's well suited to a low carb cookie dough recipe. This cookie dough is quick to make, then just give it a quick chill in the freezer before coating with the white chocolate mocha drizzle.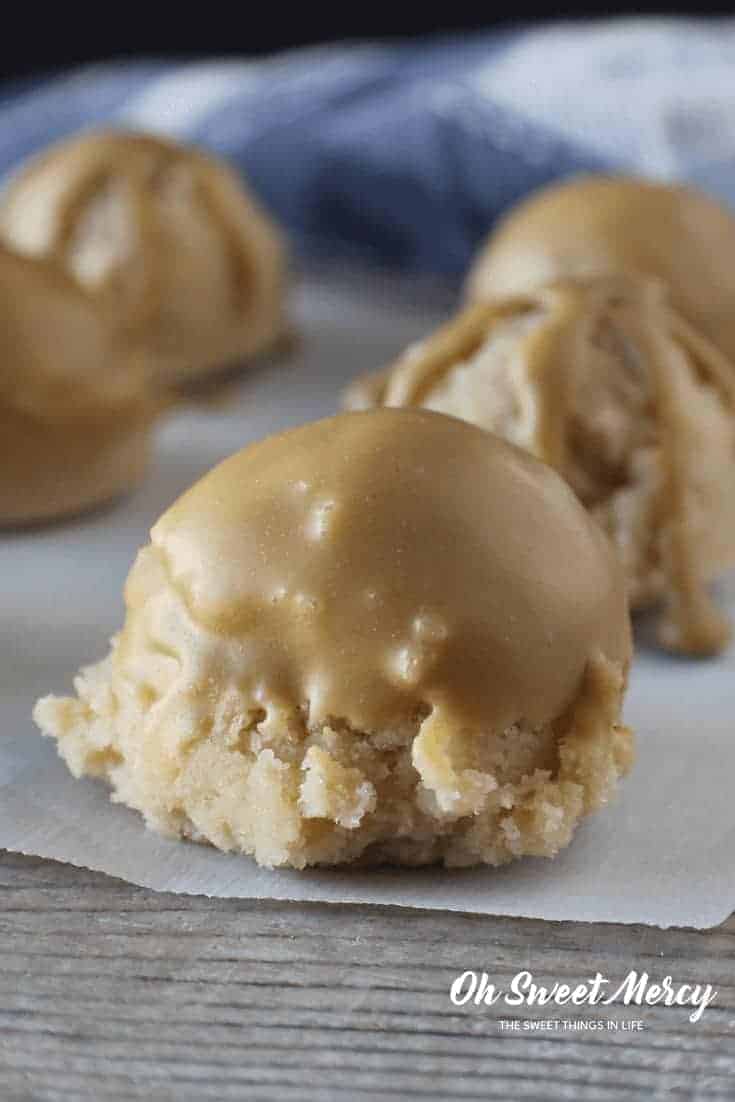 I used Dandy Blend to make the white chocolate mocha drizzle because I gave up caffeine a few weeks ago.
Do you think it crossed my mind that the time change was just around the corner?
No, of course not. I block that out until the last possible minute. #notafan
Dandy Blend is a wonderful, healthy alternative to coffee, however. I really enjoy it and surprisingly I think I may even like it better than coffee.
Ssshhh…don't tell coffee I said that OK?
Making White Chocolate Drizzle Will Make You Happy.
If you don't have Dandy Blend you can use any instant coffee. You can also leave it out entirely and just have white chocolate drizzle. That stuff is amazing too! It just doesn't do much to make salted caramel cookie dough bites photogenic 😉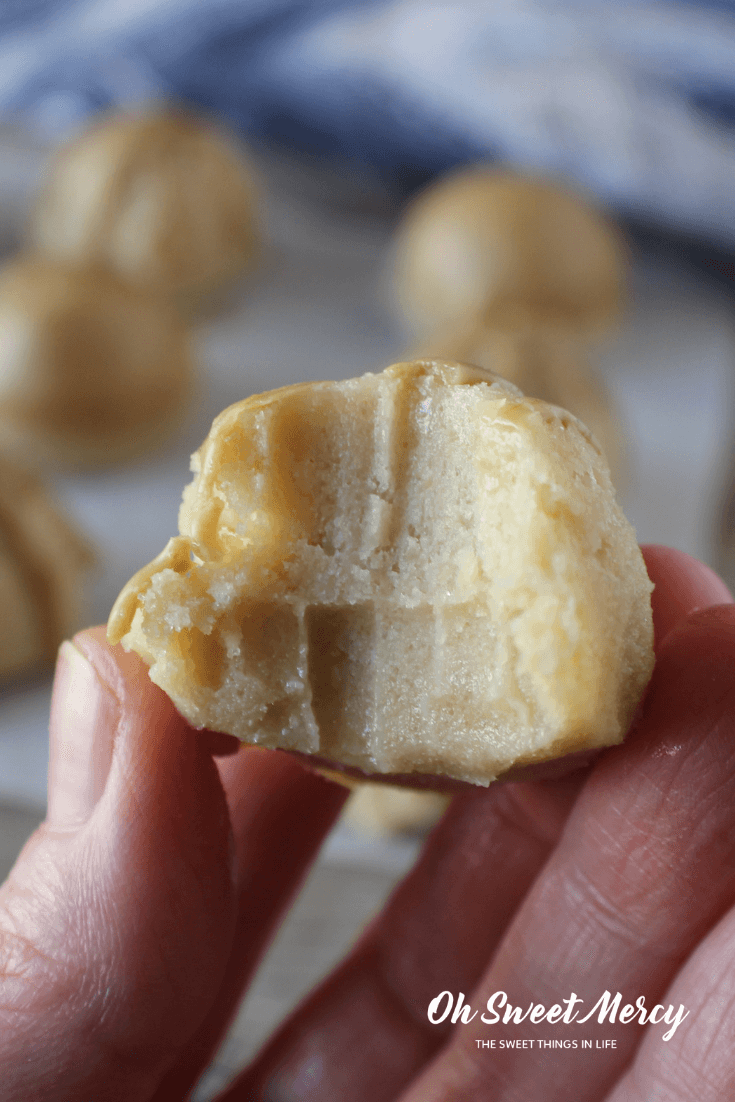 The essential ingredient for making my sugar free white chocolate mocha (or not) drizzle? It's not white baking chips. It's raw cacao butter!
Raw cacao butter is what chocolate is made of and responsible for improving your mood. It contains compounds that encourage the release of endorphins and serotonin, which make you happy.
I've used 2 brands of raw cacao butter:
Both brands are delicious, but I think I prefer the Wildly Organic (if I had to choose one). Navitas is availably locally for me so that's more convenient.
Just like with any chocolate raw cacao will burn easily. You should melt it in a double boiler. If you don't have a double boiler, a heat-safe bowl or small sauce pan set atop a pan of boiling water will work just fine.
Tips For Making Salted Caramel Cookie Dough Bites.
Making sugar free cookie dough bites is not difficult. But I do have a couple tips for you:
Use A Very Fine Ground Almond Flour For Best Results.
I tried this low carb cookie dough with the new almond flour at Aldi. It was good, but not quite as fine as I prefer. I felt like I had almonds stuck in my front teeth.
With a finer almond flour I didn't notice that as much. I have a picky friend who can't stand the texture of most almond flours. However, she does like this one from Wellbee's. An organic option is Kirkland's, available at Costco and my affiliate partner, Amazon.
Beat Together The Butter And Sweetener, Just Like Real Cookie Dough.
While you absolutely CAN make this without a hand mixer, it's quicker and easier to use one. Beat the butter and sweetener until light and fluffy, just like when you make "real" cookie dough.
If you find yourself needing cookie dough while the cranky kiddo (or significant other) is asleep you can still make this. Use fairly well softened butter (though not too soft) and either a fork or pastry cutter to mix in the sweetener. Then use a mixing spoon to stir in the remaining ingredients.
It will take a little bit longer, but it's totally doable.
Need some quick and quiet snack ideas that won't wake the house? I've got over 40 THM friendly recipes that don't need noisy appliances in this post for you!
How These Sugar Free Salted Caramel Cookie Dough Bites Fit Into Your THM Meal Plan.
They're a delicious, yummy, satisfying S treat. However, be aware that they are more of a Heavy S. This is because they're made with all almond flour and also contain a bit of heavy whipping cream.
Enjoy this delicious, low carb Salted Caramel Cookie Dough Bites recipe with your favorite hot beverage for an on-plan afternoon snack.
They make a terrific dessert after a lighter S or FP meal. Just never after an E unless you're fine with a Crossover.
However you choose to eat these tasty little Salted Caramel Cookie Dough Bites you're sure to love them. They also make a great treat to take along to a party, potluck, or meeting to share.
Love salted caramel? Try my Salted Caramel Frappe and super easy Decadent Salted Caramel Whip, too.
Can You Use Baking Blend?
Yes, you can! I'm so thankful to my reader, Ally. She tried it with my Chocolate Chip Cookie Dough Bites and let me know it works.
She did recommend using more liquid to get the right consistency. The amount will vary depending on whether you're using THM Baking Blend or a DIY version. Add extra liquid in small amounts until you get the perfect cookie dough consistency.
Let's Make Some Low Carb Salted Caramel Cookie Dough Bites! Are You Team Mocha or Team White Chocolate? Let Me Know Below.
Be sure to pin below, too!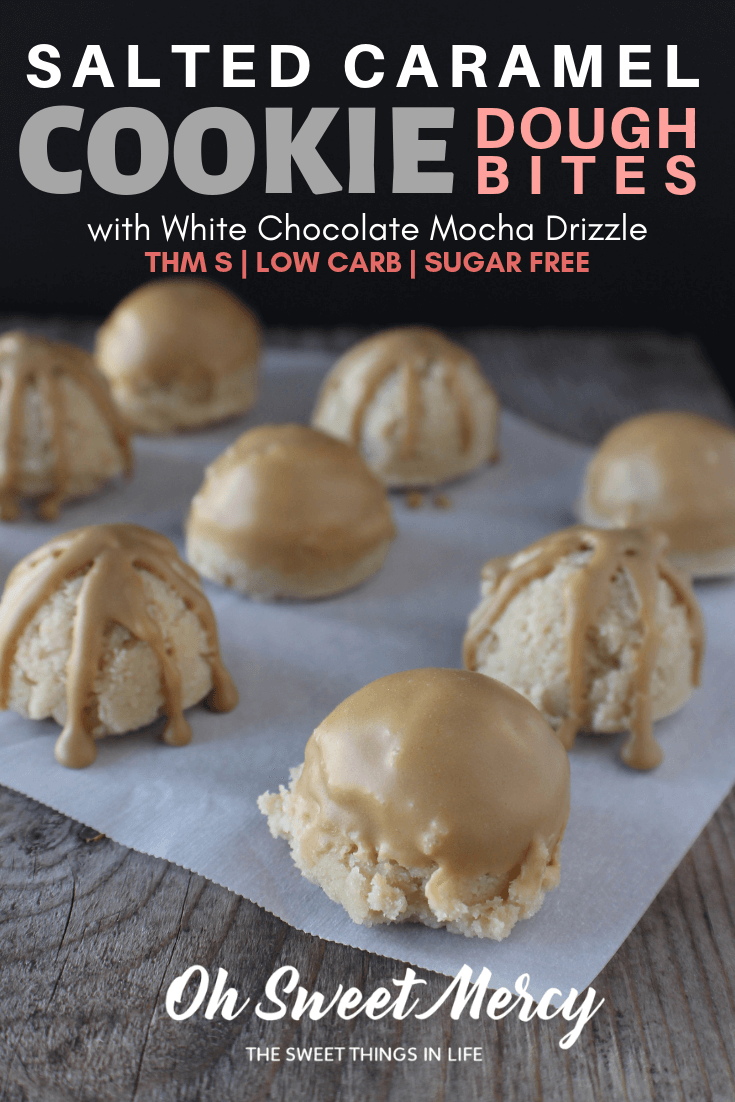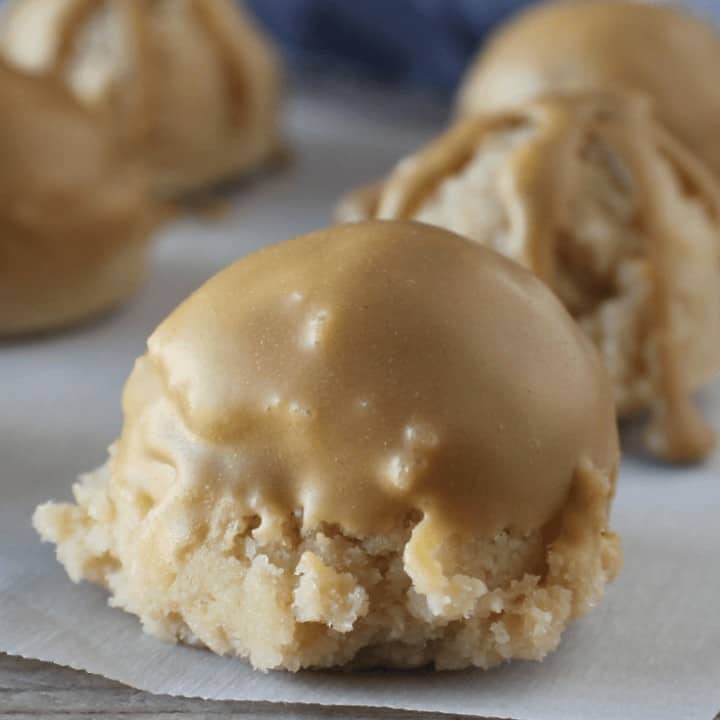 Salted Caramel Cookie Dough Bites | THM S, Low Carb
Yield: 12 to 14 Bites
Prep Time: 10 minutes
Chill Time: 30 minutes
Total Time: 40 minutes
Just like my Chocolate Chip Cookie Dough Bites, this Salted Caramel version will satisfy that crave for cookie dough. Take it up a notch with my White Chocolate Mocha Drizzle and prepare for the happy.
Ingredients
Salted Caramel Cookie Dough
1 stick butter, soft but still slightly chilled
1 teaspoon pure vanilla extract
1 tablespoon heavy cream, half and half, or nut milk
White Chocolate Mocha Drizzle
1/2 teaspoon pure vanilla extract
pinch of salt
1 tablespoon granulated stevia or sweetener of choice, to taste
1/2 to 1 teaspoon Dandy Blend, as desired
1 tablespoon heavy cream
Instructions
Make The Cookie Dough
Cream together the butter, sweetener, vanilla, and caramel extract.
Add the salt, oat fiber, almond flour, and whey protein (if using) and beat until combined (less than a minute)
Add the heavy cream and beat until the dough clings together
Using a cookie scoop, scoop the dough out onto a cookie sheet.
Alternatively use a spoon and your hands to form the dough bites.
Put in the freezer for 20 mintues or until firm.
Make The White Chocolate Mocha Drizzle
In a double boiler, or heat safe bowl over a sauce pan of boiling water, gently melt the cacao butter
While that is melting, in a small bowl combine the heavy cream, sweetener, salt, Dandy Blend, and vanilla extract and whisk well to combine thoroughly.
When the cacao butter is melted whisk in the heavy cream mixture until incorporated.
Allow to cool, or chill a few minutes in the fridge (be careful not to forget, it will harden if left too long) until it's slightly thickened.
Remove the cookie dough bites from the freezer and either dip them into the white chocolate mocha mixture or use a spoon to drizzle over the bites.
Pop back in the freezer to firm up.
Store in an airtight container in the freezer or refrigerator.
Notes
Feel free to use your favorite instant coffee in the White Chocolate Mocha Drizzle, or leave it out entirely.
I've made this with and without the whey protein powder and it turns out fine either way.
Trim Healthy Mamas
This is a Heavy S treat so enjoy responsibly!
Baking Blend Substitution
If you don't have oat fiber or protein powder, you may need to increase the almond flour, or add coconut flour (in small amounts), to achieve a dough-like consistency.
You can also use 3/4 cup THM Baking Blend, or a DIY version. You may need to add more liquid to get the right consistency
Nutrition Information:
Yield: 12
Serving Size: 1 bite
Amount Per Serving:
Calories: 168
Total Fat: 15g
Saturated Fat: 7g
Trans Fat: 0g
Unsaturated Fat: 7g
Cholesterol: 24mg
Sodium: 265mg
Carbohydrates: 7g
Fiber: 3g
Sugar: 3g
Protein: 4g
Nutrition information is approximate and based on the best knowledge available at the time of recipe publication. Your results may vary due to differences in ingredients.