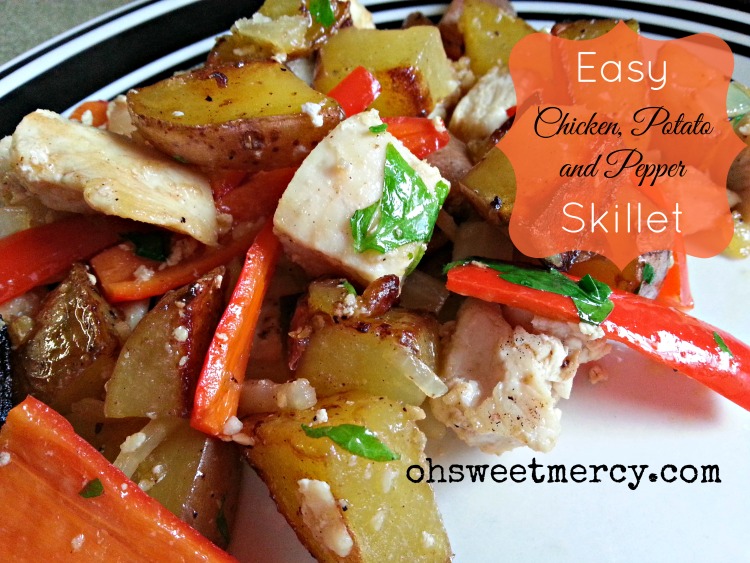 Following recipes is not my usual cooking style – I like to just throw things together. This is something I made last night with chicken, in spite of feeling rather uninspired I loved how it turned out. Seasoned simply (or as elaborately as you like), it comes together quickly. Serve with a green salad if you like or some fresh fruit and you have a delicious summer meal.
Start with some red skinned potatoes, such as Klondike Rose (I used three medium-largish sized potatoes for our family of four). Wash well, then chop into half inch or so pieces. Season well with sea salt and fresh ground pepper. Heat your preferred healthy cooking fat in a large cast iron skillet (if you have one, if you don't then my affiliate partner has a great deal on a set!) and then add the potatoes.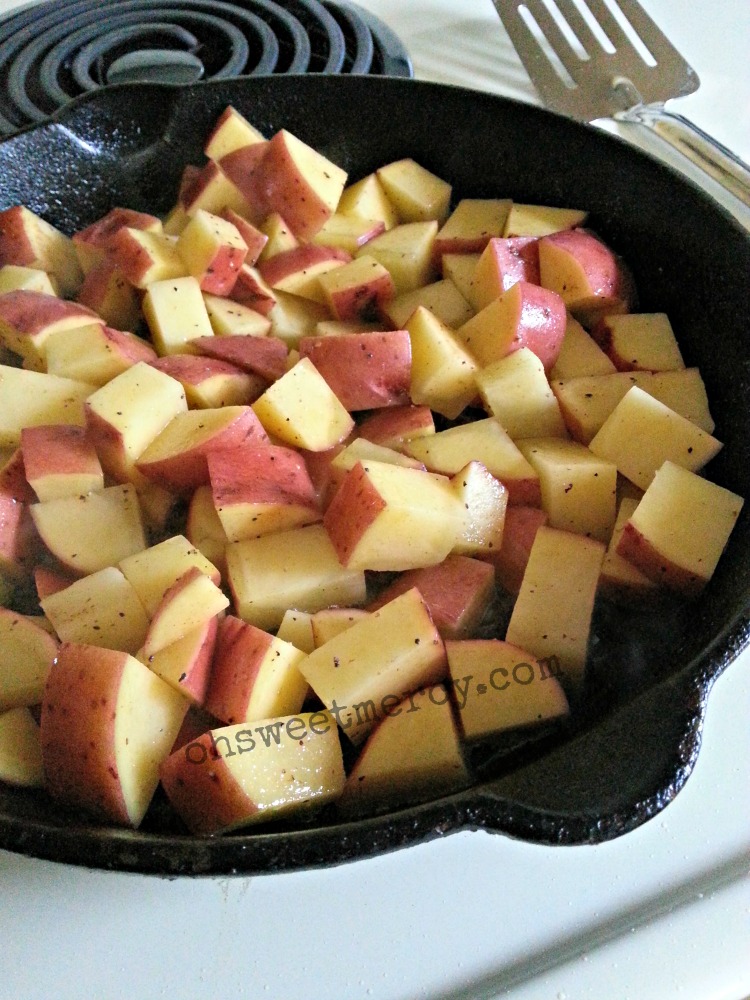 Meanwhile, chop half an onion (more or less to your tastes) and cut two mini sweet red peppers into strips. I cut the peppers in half, seeded, then cut each half in half again and cut those pieces into strips. You can, of course, use any peppers you like.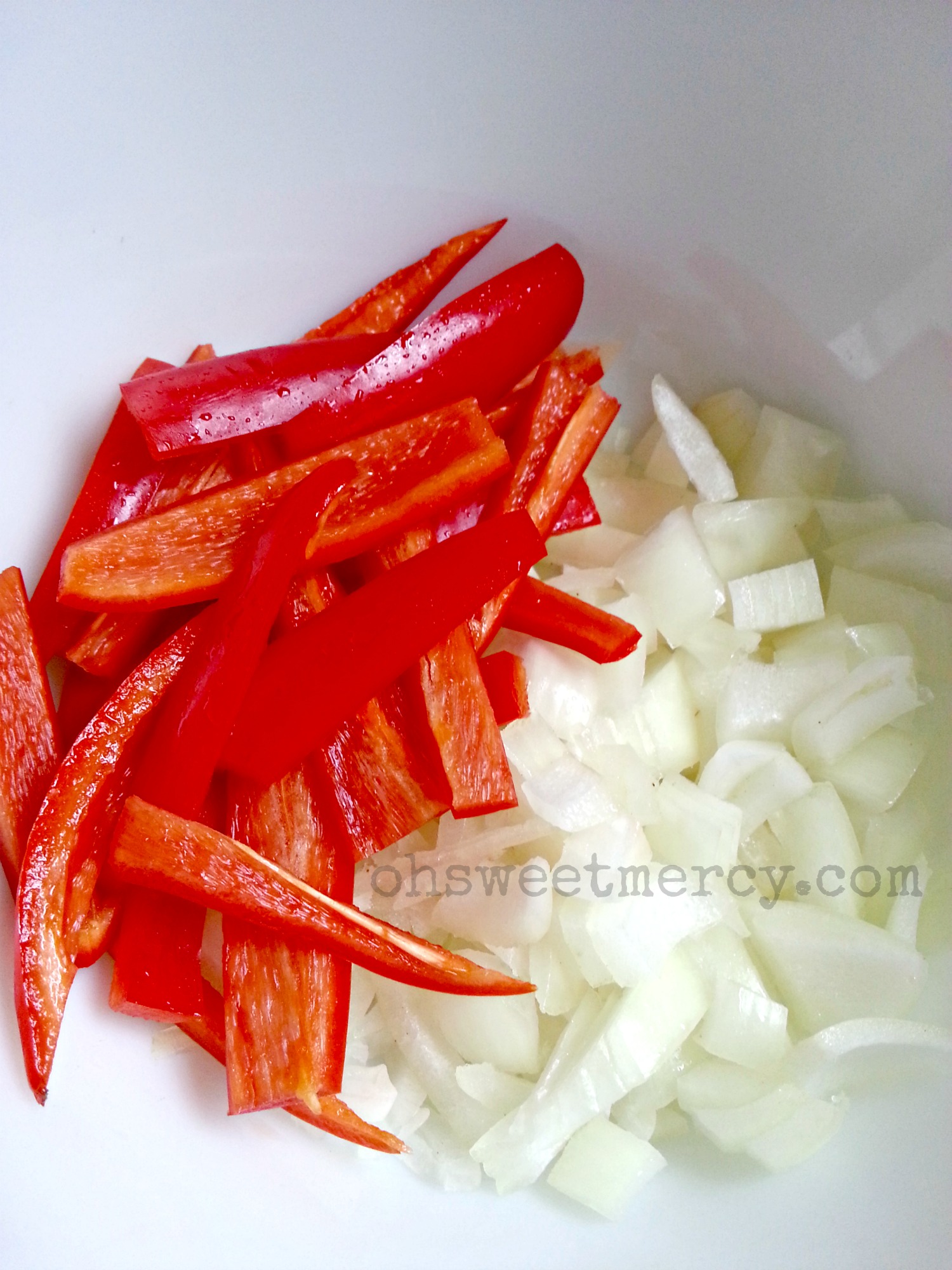 If you have Italian Flat Leaf Parsley growing in your windowsill, snip some off and coarsely chop it. I think I had about a tablespoon of chopped, fresh parsley. Any of your favorite fresh or dried herbs will do.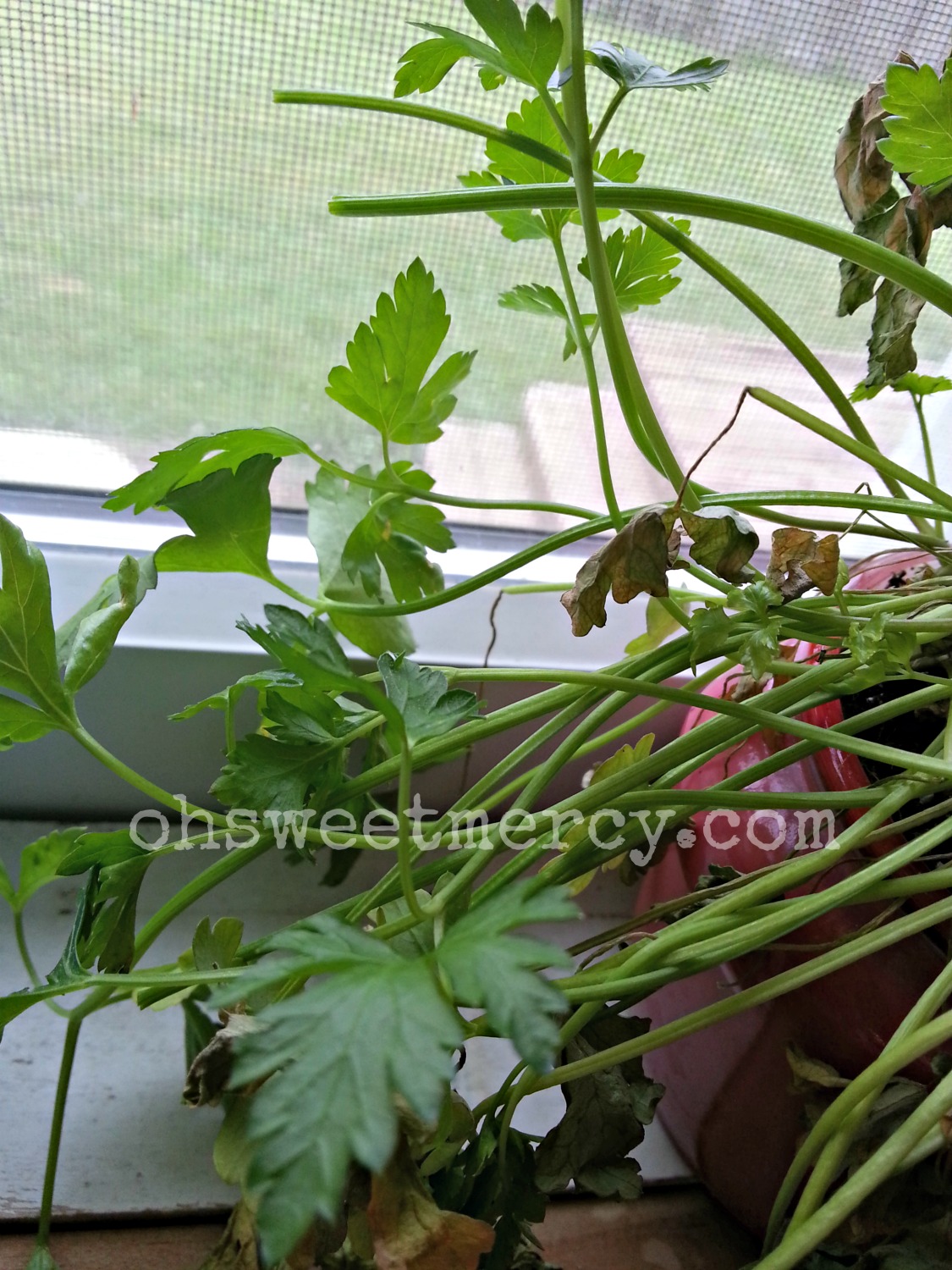 Be sure to keep an eye on the potatoes! The trick to getting them nice and crispy on the outside is to leave them alone for a bit, not stir them constantly. Check them after about five minutes and if they have a nice, golden crispy look, then flip them over in sections and let them do the same thing on the other side. If you get distracted, you might end up with some burnt potatoes. But if you have a chicken or four, they'll eat them for you.
Not that I would know anything about that, of course.
Now that you've cut your veggies and herbs, cut two boneless, skinless chicken breasts into chunks, about an inch or so.
Heat another cast iron skillet, add a little olive oil (don't get the pan too hot, smoking olive oil is not good for you!) and quickly cook the chicken chunks. Season with salt and pepper. When the chicken is almost cooked through, add the peppers and onions and a little minced garlic. I was out of fresh so I used dried, about half a teaspoon.
Stir the mixture until the veggies are cooked to crisp-tender (or longer if you prefer). Add the potatoes and stir well. Adjust the seasoning as needed. Right before serving, add the parsley and stir well.
I found that simple salt, pepper and garlic were all that was needed. The peppers and onions added another dimension of flavor. Well, a little Sriacha sauce on the side was pretty tasty, but Mister and I are the only ones here who like it. You could add any kind of spicy pepper to this if you like a little heat.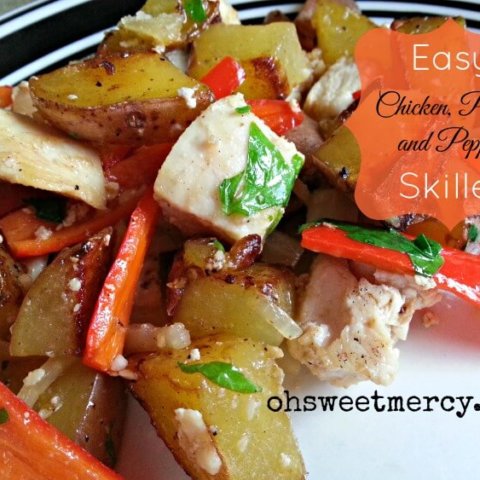 Easy Chicken, Potato and Pepper Skillet (NOT THM)
Yield: 4
Prep Time: 10 minutes
Active Time: 30 minutes
Total Time: 40 minutes
An easy and delicious chicken skillet recipe using fresh, wholesome ingredients. I used simple seasonings to flavor the dish, but you can add your own variations to suit your taste preferences. Serve with a green salad and fresh fruit for a healthy and flavorful summer meal
Ingredients
3 medium to large red skinned potatoes, such as Klondike Rose
1/2 onion, chopped
2 mini red sweet peppers, seeded and cut into strips
2 boneless, skinless chicken strips, cut into one inch chunks
1 Tbs of fresh Italian flat leaf parsley, coarsely chopped
1/2 tsp dried, minced garlic (or one fresh garlic clove, minced)
Sea salt
Pepper
healthy traditional fat for cooking
Instructions
Wash and chop potatoes
Season potatoes well with sea salt and pepper
Heat enough of a healthy, traditional fat to cover the bottom of a cast iron skillet
Add potatoes, cook until they have a crispy, golden outside and are done in the middle
Meanwhile, heat another cast iron skillet with a tablespoon or so of olive oil
Add chicken chunks, season with sea salt and pepper, and quickly cook until almost cooked through
Add peppers, onions and garlic
Stir and cook until the veggies are crisp tender
Add potatoes and stir well to combine
Right before serving, add chopped parsley and stir well
Notes
I didn't want a complicated dish so I just used simple seasonings. The peppers and onions added a fresh pop of flavor and complimented the chicken and potatoes well. You can, of course, use any peppers and herbs you like, and try adding something with a little heat if you like spicy - I had some Sriacha sauce on the side for dipping and it was delicious.
Nutrition Information:
Amount Per Serving:
Calories: 0
Cholesterol: 0mg
Sodium: 0mg
Carbohydrates: 0g
Fiber: 0g
Sugar: 0g
Protein: 0g