Like this post and don't want to miss more like it? Be sure to sign up for my newsletter at the end!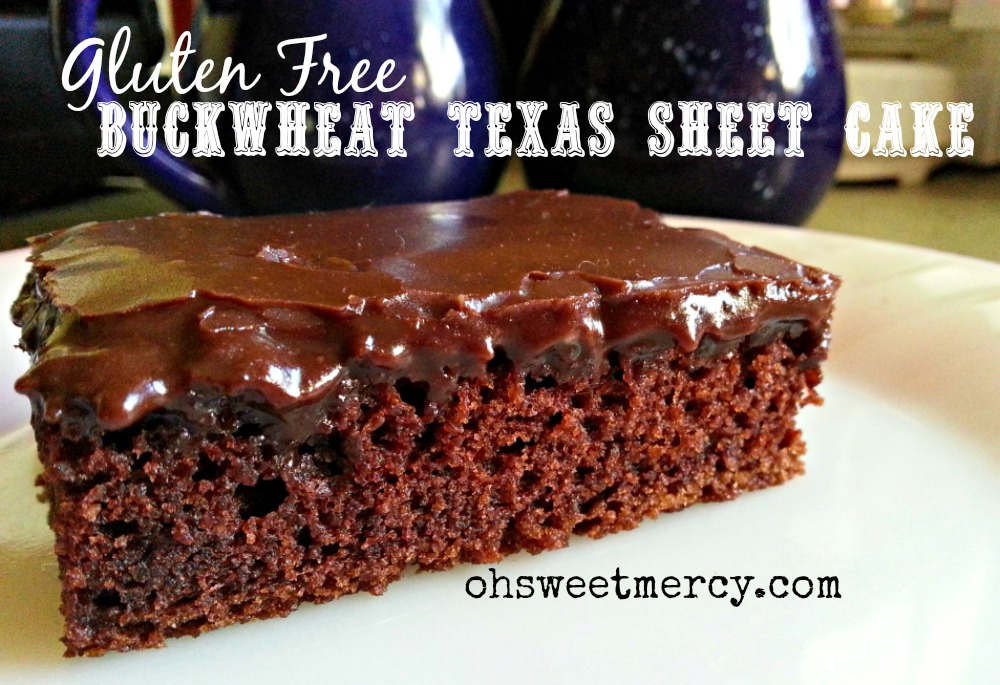 Going gluten free often means saying no to desserts at potlucks, picnics and family gatherings. If you bring your own desserts, that solves the problem for you but sometimes those gluten free recipes leave something to be desired and gluten-eaters are not impressed. Not so with this Gluten Free Buckwheat Texas Sheet Cake. My husband had some for breakast today and asked "is this gluten free?" Score one for this gluten free mama!
We had a family thing to go to – celebrating my husband's grandfather's eighty-seventh birthday, and my mother in law asked if I could bring a sheet cake. Texas Sheet Cake is a favorite in this family so I knew I wanted to make that, but the challenge was making it gluten free without running to the store. I had picked up a few things I knew I needed when I got groceries, but there wasn't room in the budget this week for any fancy gluten-free flours.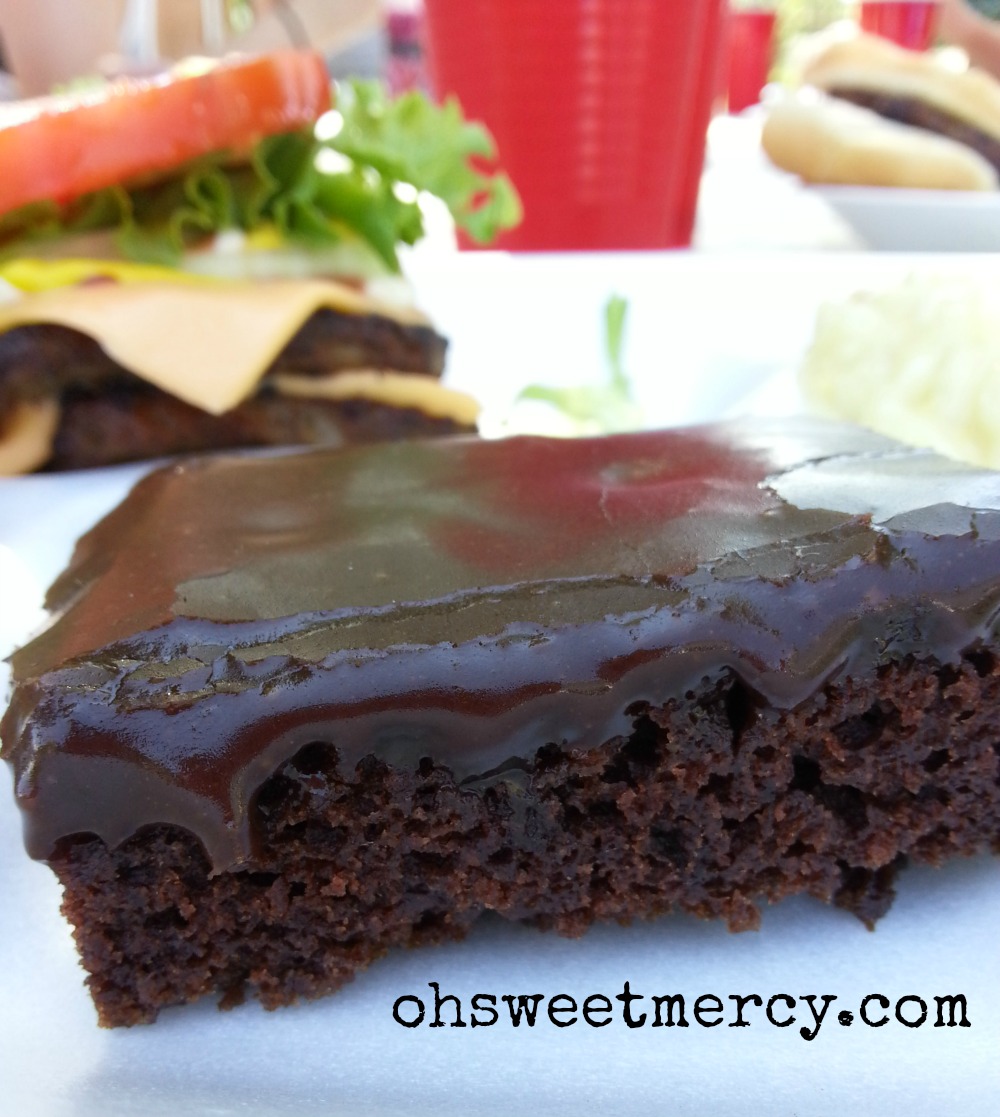 Since most gluten free baking works best with a blend of flours instead of a single one, I usually use a combination of various flours such as sweet rice, buckwheat and brown rice. Those work well, but sometimes the rice flours can feel a little gritty. Also, almost all of the gluten free buckwheat cake recipes I've found called for almond flour. I wanted to pull off a 100% buckwheat cake that didn't include almond flour – didn't feel like selling off an arm, leg and my first born to buy that!
After searching online, I found this recipe on Gluten Free on a Shoestring and thought I'd give it a try. I had an idea on how to make this Buckwheat Texas Sheet Cake "cakey" without using a flour blend. You see, when I make buckwheat pancakes or waffles, I always separate the yolks and whites, beating the whites until they are stiff and then fold them into the batter. It makes fabulous pancakes and waffles, why not a cake?
Why not, indeed. Come on, y'all, and take a gander at this Gluten Free Buckwheat Texas Sheet Cake. Then make one yourself, it's easy!
This isn't quite as wholesome as it could be, since I am out of sucanat and used regular white sugar (I did measure it a bit scant, at least). The frosting also uses powdered sugar, so if you have a boiled frosting recipe for a Texas Sheet Cake that has more real-foody ingredients, go ahead and use that. I'm going to be searching for one or trying to make my own since this is going to be my go-to cake recipe from now on. That said, if you are eating as real-foody as you can most of the time, indulging in a little less-than-ideal goodies once in a while is OK.
Gather your ingredients: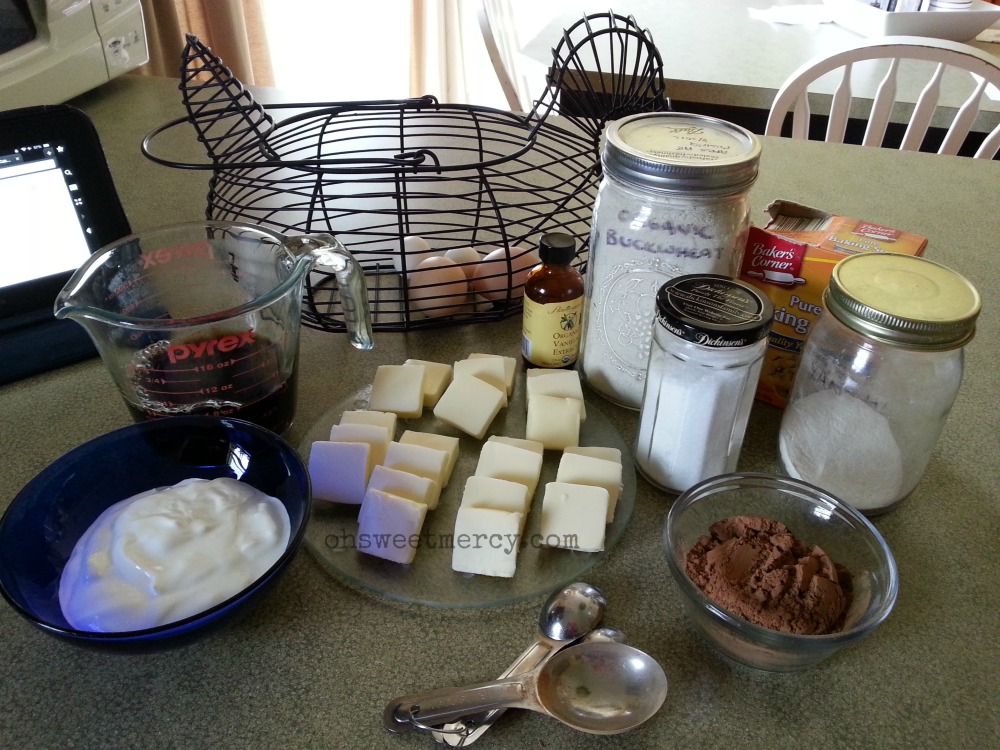 Whip it up and throw it in the oven:
Whisk the dry ingredients together in a large mixing bowl. Delegate this task to your wonderful Kitchen Assistant, if you have one.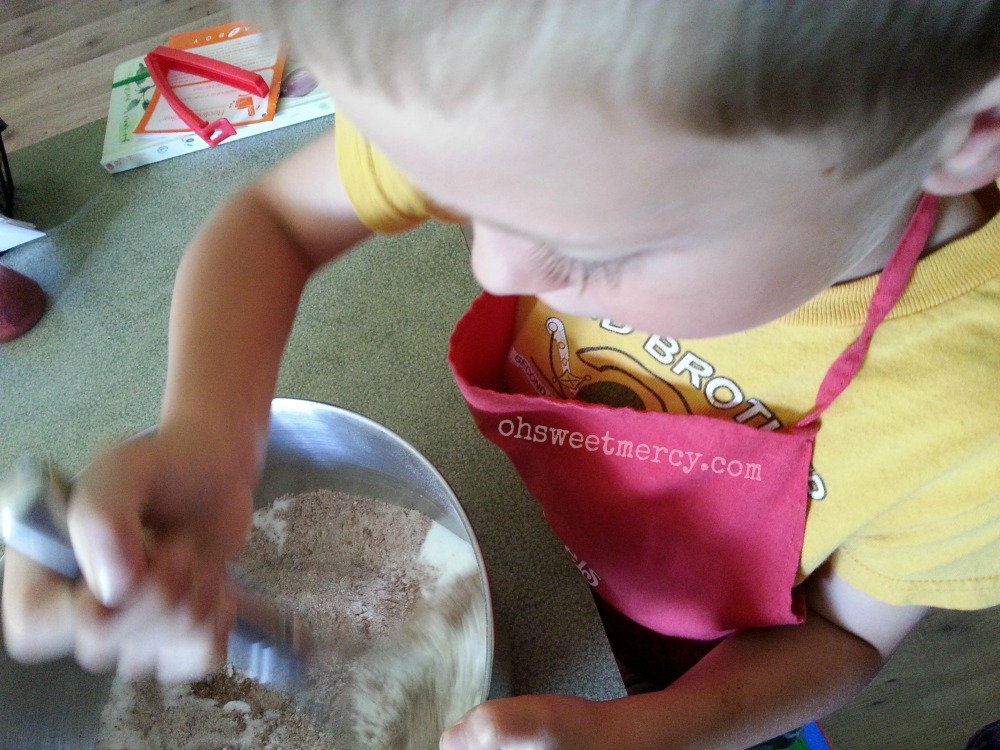 Melt together the butter and coffee over medium heat. You don't want it to boil, just melt the butter.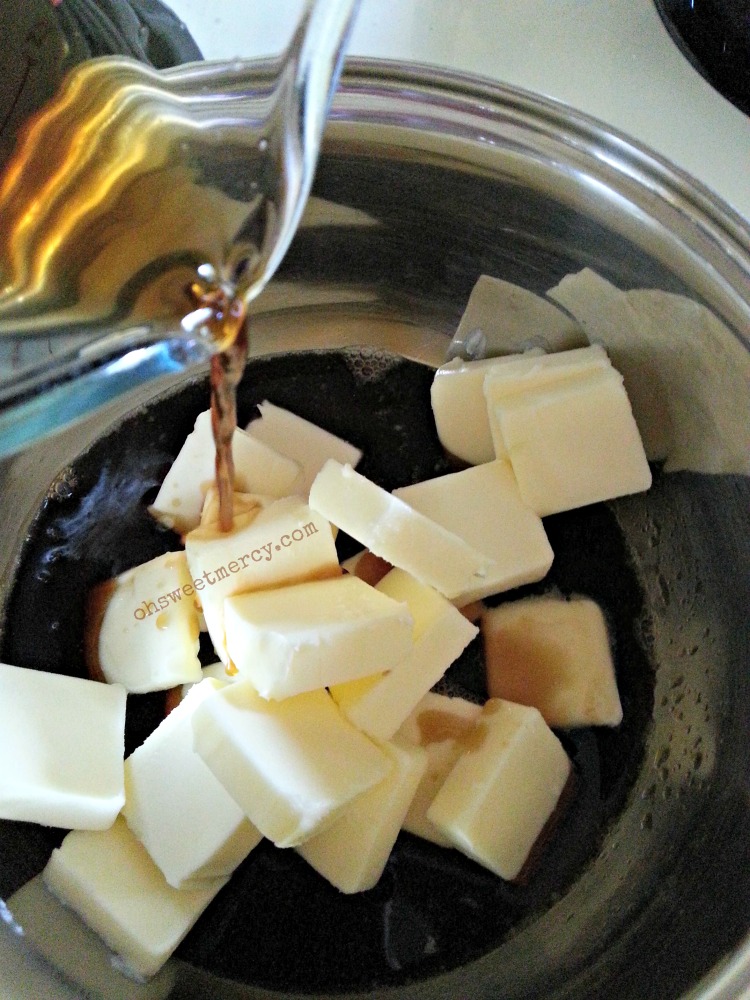 Add the buttery coffee mixture to the dry ingredients and mix well, but don't over mix. You want all the dry ingredients incorporated into the wet.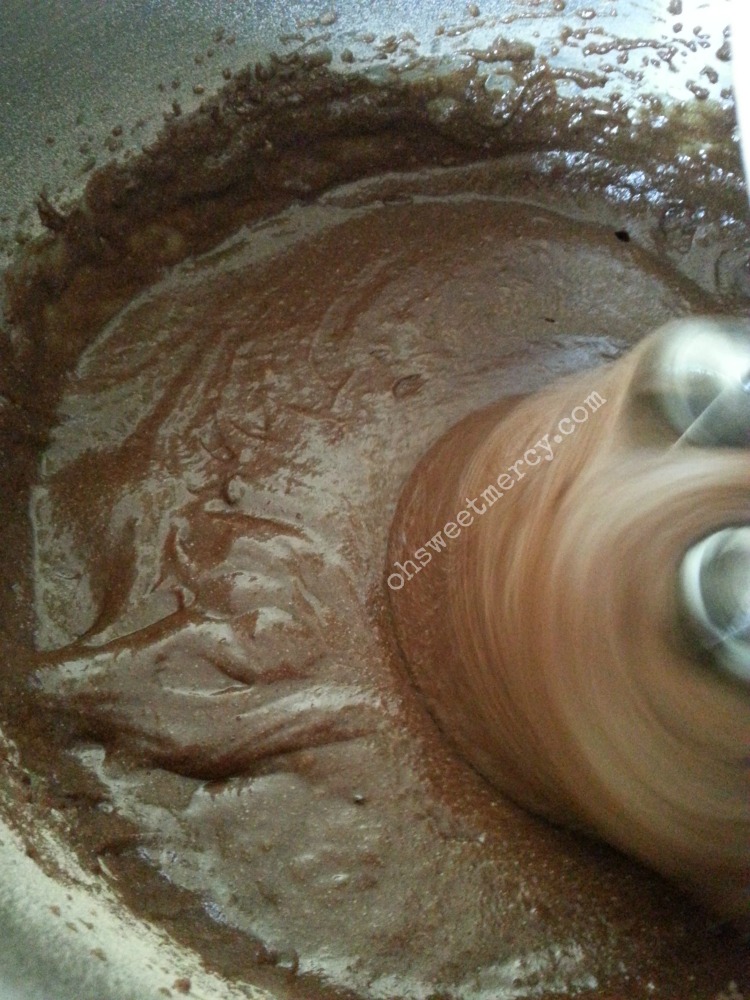 Add the sour cream, egg yolks and vanilla and mix well.
Beat the egg whites until stiff peaks form. I do this just before adding them to a batter otherwise they will sometimes start to separate if they sit too long.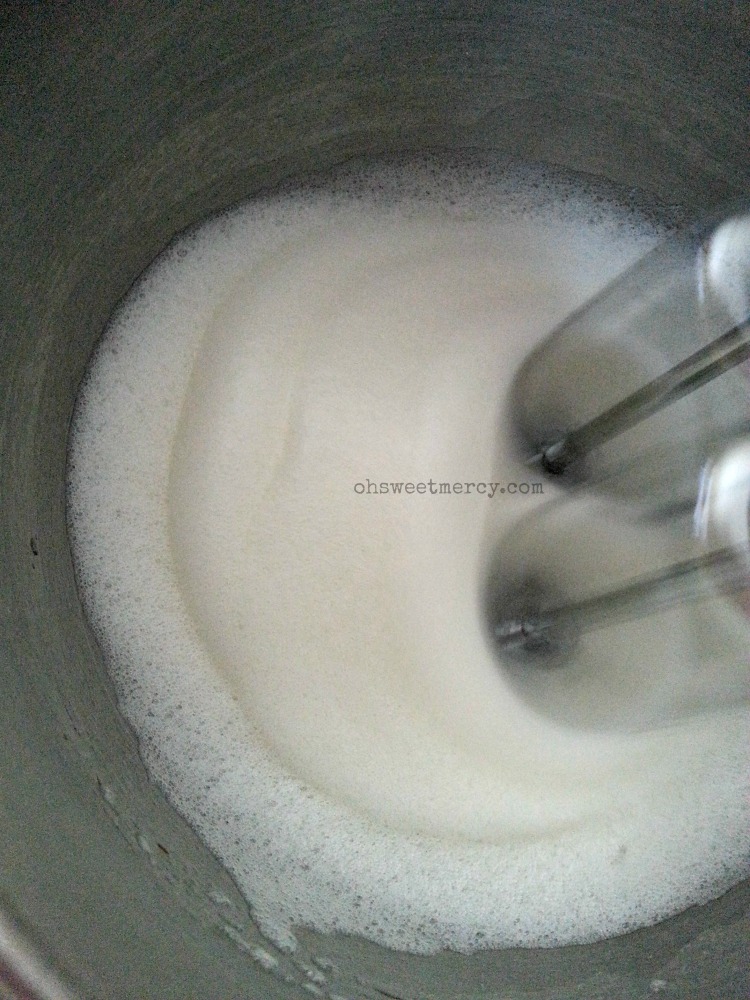 Gently fold the egg whites into the batter. If you don't know how to fold egg whites into batter, stop right now and go watch this short video (plus get a yummy recipe for lemon pancakes, while you're at it!). I'm glad I watched it, I learned that I wasn't quite doing it right and can't wait to try the folding technique again.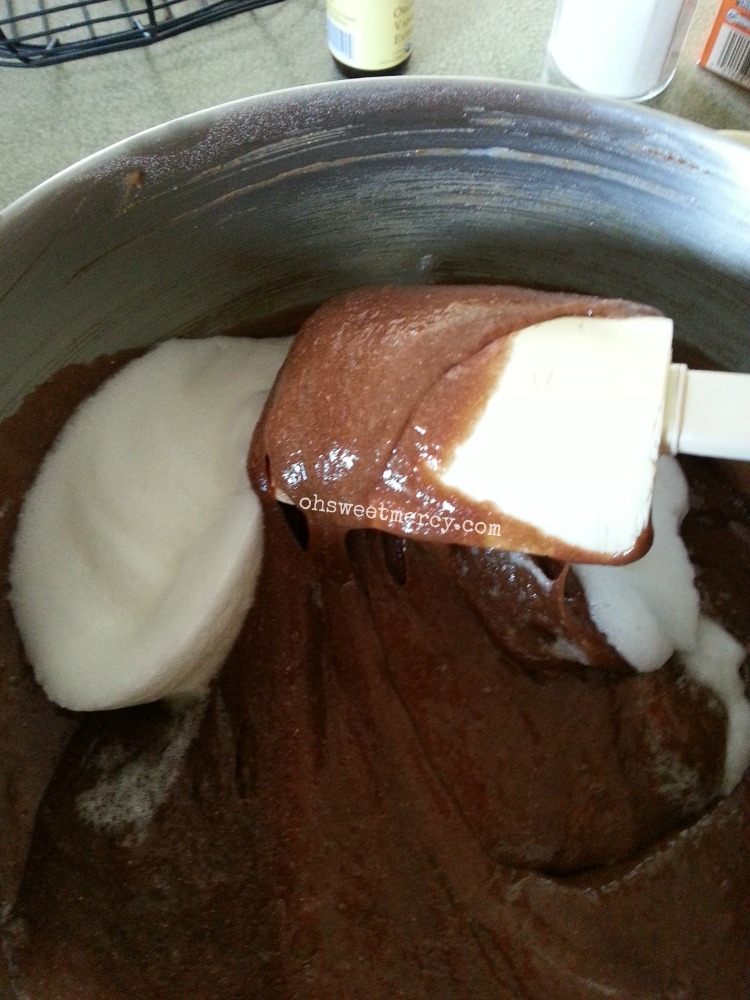 Pour and spread the batter into a prepared 9 x 13 baking sheet (the batter will be somewhat thick). I used a Pampered Chef Large Stoneware Bar Pan that I put in the oven while it was preheating. I've found that when using stoneware – especially for baked goods like cakes and quick breads – it works best to have that stoneware hot before putting the batter into it. You don't want to do that for yeast doughs, of course!
Bake in a preheated 325 degree oven for 20-30 minutes. My oven has a convection setting, and usually you need to set the temperature to 25 degrees less than what the recipe states (I set it for 300 degrees). I also found it took about ten minutes longer to bake than the recipe stated using the convection oven.
Bake until it passes the Toothpick Test – a toothpick inserted near the center comes out clean.
If you're smart, you'll start making the frosting for this Buckwheat Texas Sheet Cake about ten minutes before the cake is done. I actually forgot I needed to make it right away (it needs to go on the cake when it's still hot) and started making it right after I pulled the cake out of the oven with no problems.
For the icing, mix together the dry ingredients while you bring the butter and milk just to a boil. Pour the hot mixture into the dry and whisk until smooth. Pour over the hot cake immediately and quickly smooth the icing over that gorgeous Buckwheat Texas Sheet Cake.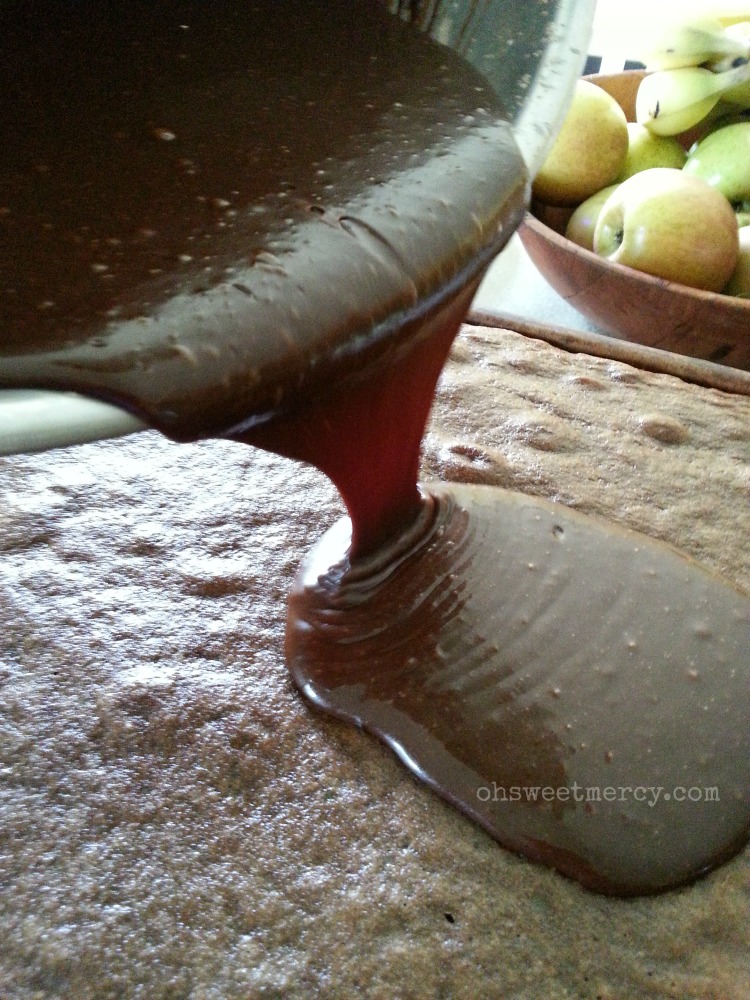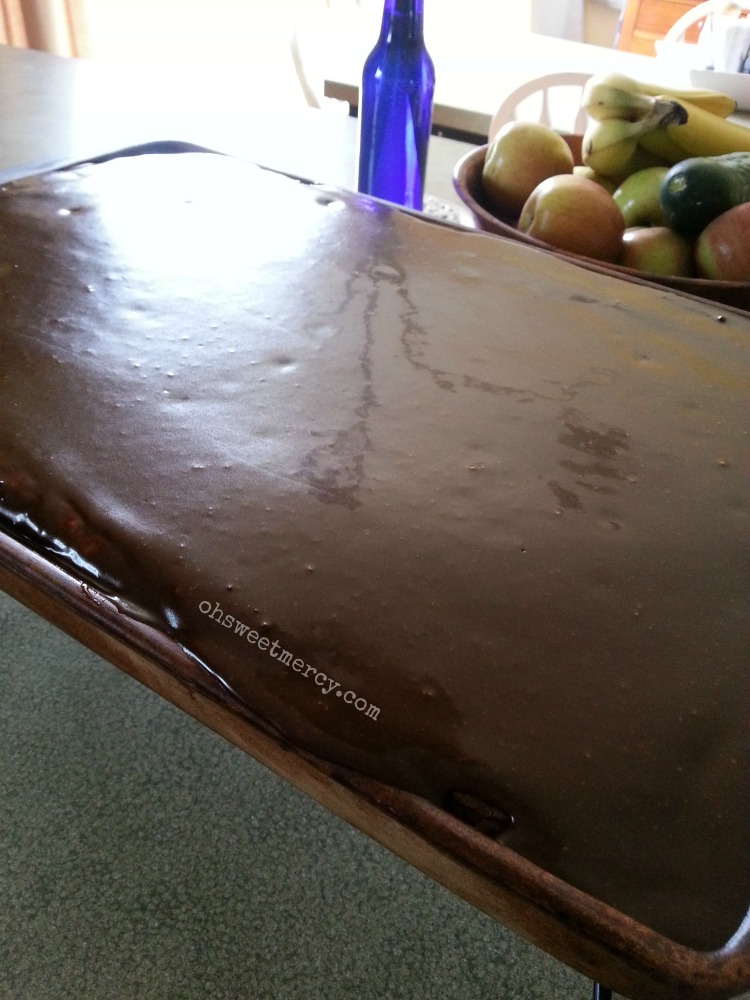 Let the cake cool. Whatever you do, however, do NOT leave it on the counter and then go take a long, relaxing lavender epsom salts bath and watch an episode of Downtown Abbey. You may come back to find that little fingers have been in it.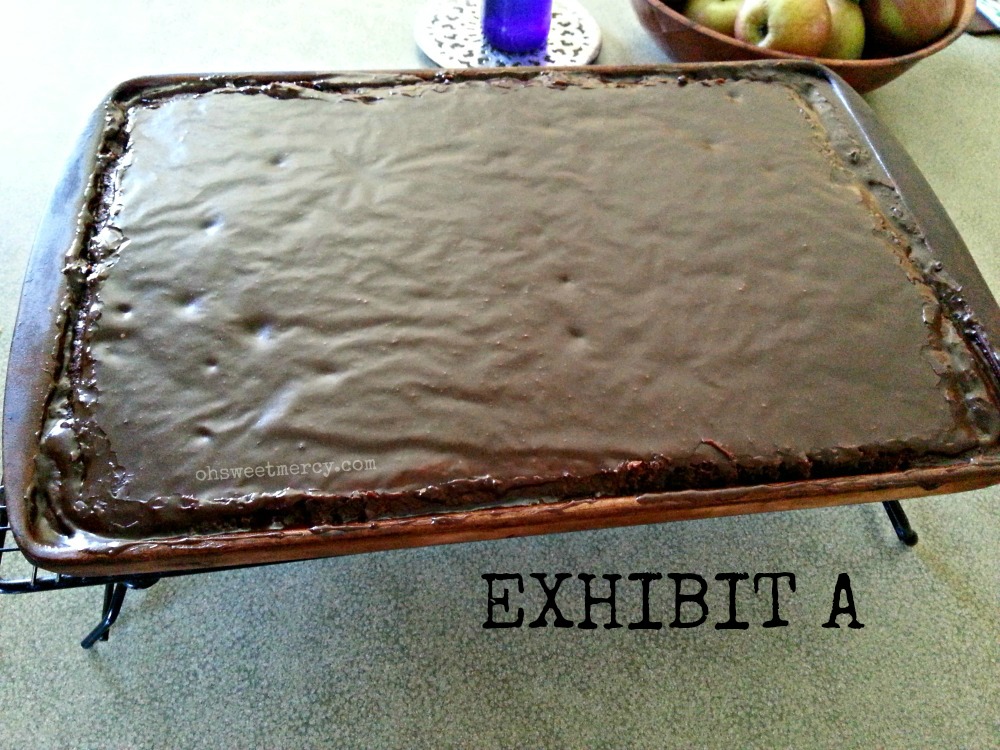 Then you might be met with this face when questioning a Person of Interest.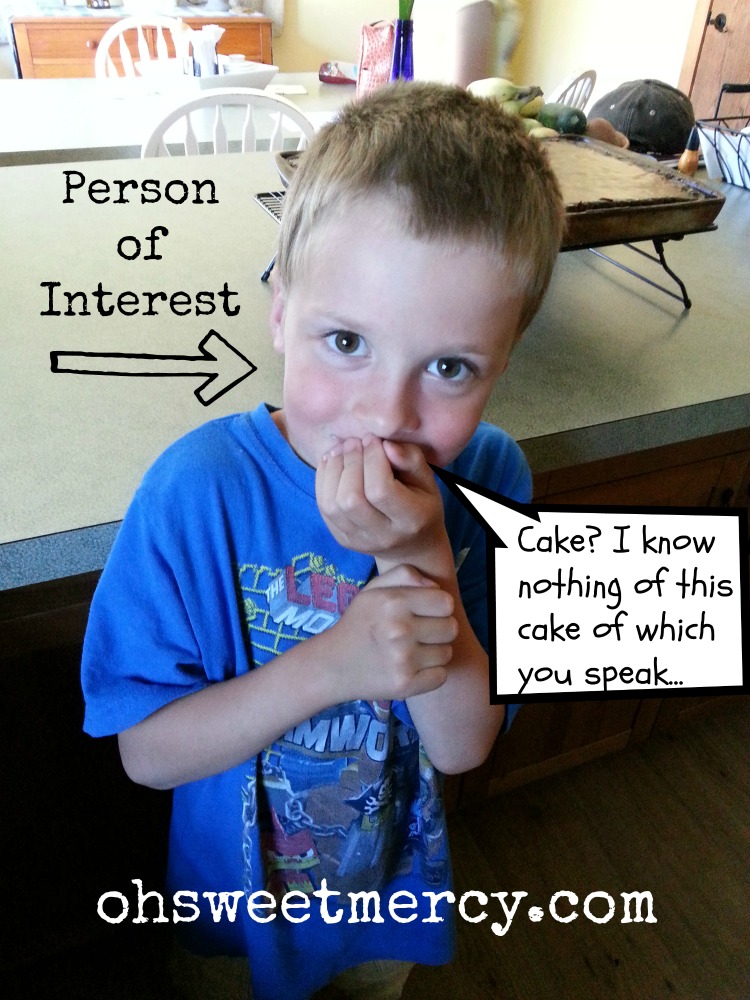 This Gluten Free Buckwheat Texas Sheet Cake turned out moist, light and cakey. I used organic hulled buckwheat flour that I ground in my WonderMill and while you can taste the buckwheat a bit, it was absolutely delicious. I got many compliments at the family get-together and no one could believe it was gluten free.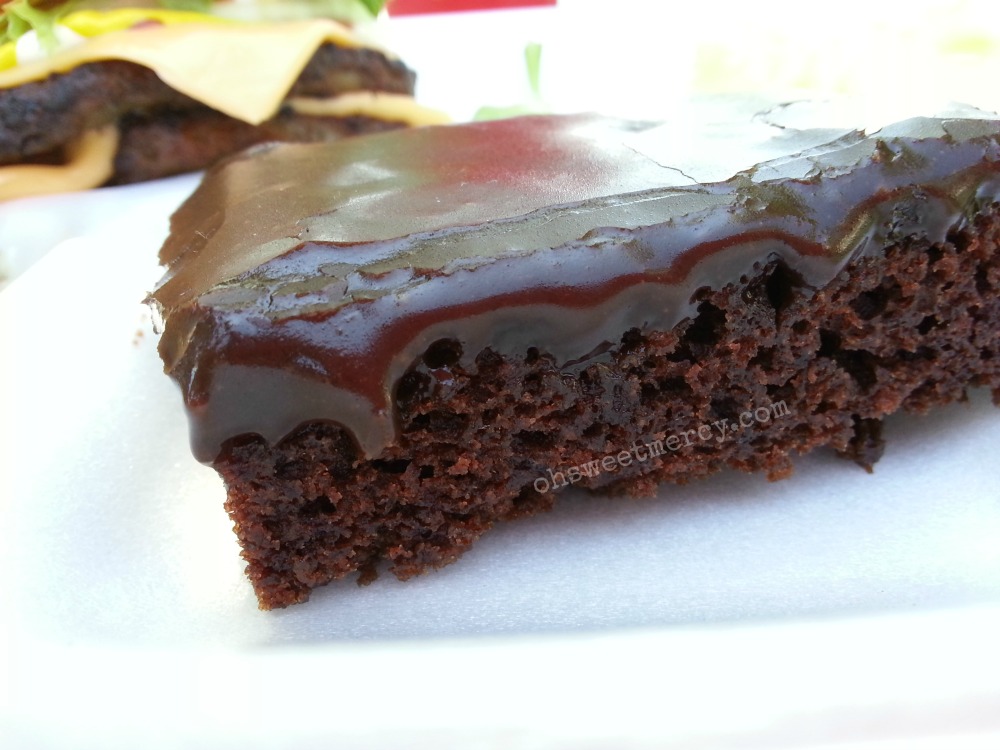 So, there you have it. Buckwheat Texas Sheet Cake – gluten free cake that's big on flavor and texture without being a big hit on your budget.
That's my kind of cake!
***UPDATED recipe…I originally had 2 sticks of butter for the cake and none for the frosting! I actually made it with 2 sticks of butter in the cake and oh sweet mercy, it was even better! But, use your own judgement there of course!***
Gluten Free Buckwheat Texas Sheet Cake (NOT THM)
A delicious, gluten free cake made with 100% buckwheat flour. My adaptation of a Gluten Free Texas Sheet Cake recipe on Gluten Free on a Shoestring.
Ingredients
CAKE:
2 cups buckwheat flour
1 tsp xanthan or guar gum
7 Tbs cocoa
2 c sucanat, or 2 scant cups regular sugar
1 tsp baking soda
1/4 tsp sea salt
1 stick butter
1 c coffee
1 c sour cream
2 eggs, separated into yolks and whites
1 tsp pure vanilla extract
FROSTING
1 stick butter
1 pound powdered sugar
7 Tbs cocoa
1/4 tsp sea salt
6 Tbs milk
1 tsp pure vanilla extract
Instructions
Preheat your oven to 325 (300 if using a convection oven) and prepare a 9 x 13" baking pan by greasing, lining with parchment paper OR if using a well-seasoned stoneware bar pan, place in the oven while preheating
In a large bowl, whisk together the first 6 ingredients
In a small sauce pan, melt together the butter and coffee (don't boil, just melt)
Pour the buttery coffee mixture into the dry ingredients and mix well to thoroughly combine
Add egg yolks, sour cream and vanilla and mix well
In a separate mixing bowl, beat egg whites until they are stiff
Gently fold egg whites into batter
Pour and spread cake batter into prepared baking sheet
Bake until cake passes the toothpick test, 20-30 minutes
Meanwhile, make frosting:
Whisk together dry ingredients
In the same small sauce pan, melt butter and milk together and bring to just a boil
Pour into dry ingredients and whisk until smooth
Add vanilla and combine well
Pour immediately over hot cake and spread evenly
Gluten Free Buckwheat Texas Sheet Cake (NOT THM)
A delicious, gluten free cake made with 100% buckwheat flour. My adaptation of a Gluten Free Texas Sheet Cake recipe on Gluten Free on a Shoestring.
Ingredients
CAKE:
2 cups buckwheat flour
1 tsp xanthan or guar gum
7 Tbs cocoa
2 c sucanat, or 2 scant cups regular sugar
1 tsp baking soda
1/4 tsp sea salt
1 stick butter
1 c coffee
1 c sour cream
2 eggs, separated into yolks and whites
1 tsp pure vanilla extract
FROSTING
1 stick butter
1 pound powdered sugar
7 Tbs cocoa
1/4 tsp sea salt
6 Tbs milk
1 tsp pure vanilla extract
Instructions
Preheat your oven to 325 (300 if using a convection oven) and prepare a 9 x 13" baking pan by greasing, lining with parchment paper OR if using a well-seasoned stoneware bar pan, place in the oven while preheating
In a large bowl, whisk together the first 6 ingredients
In a small sauce pan, melt together the butter and coffee (don't boil, just melt)
Pour the buttery coffee mixture into the dry ingredients and mix well to thoroughly combine
Add egg yolks, sour cream and vanilla and mix well
In a separate mixing bowl, beat egg whites until they are stiff
Gently fold egg whites into batter
Pour and spread cake batter into prepared baking sheet
Bake until cake passes the toothpick test, 20-30 minutes
Meanwhile, make frosting:
Whisk together dry ingredients
In the same small sauce pan, melt butter and milk together and bring to just a boil
Pour into dry ingredients and whisk until smooth
Add vanilla and combine well
Pour immediately over hot cake and spread evenly