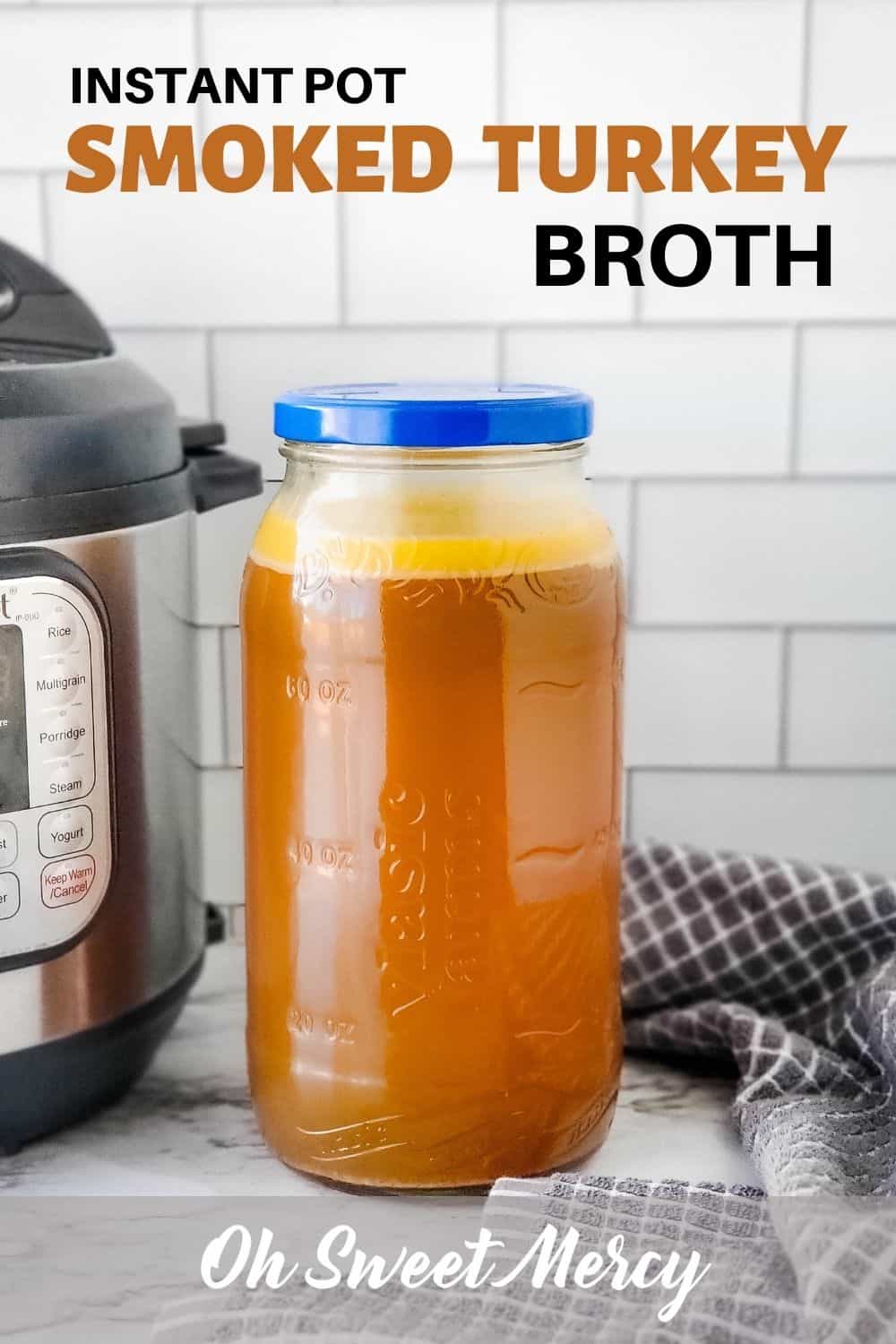 ---
There is nothing so delicious as homemade turkey bone broth, except maybe smoked turkey broth! Making it in a pressure cooker means perfect broth, every time, with hardly any effort. It's magical for making soups, stews, casseroles, gravies, and more.
---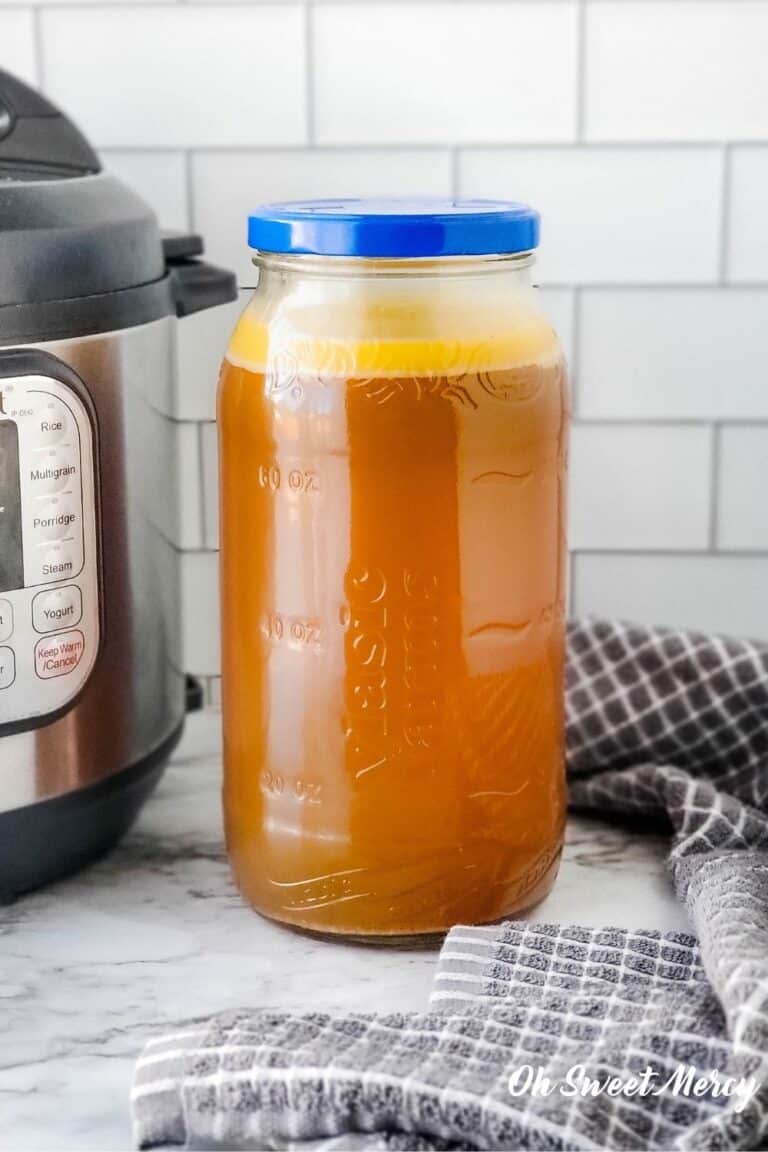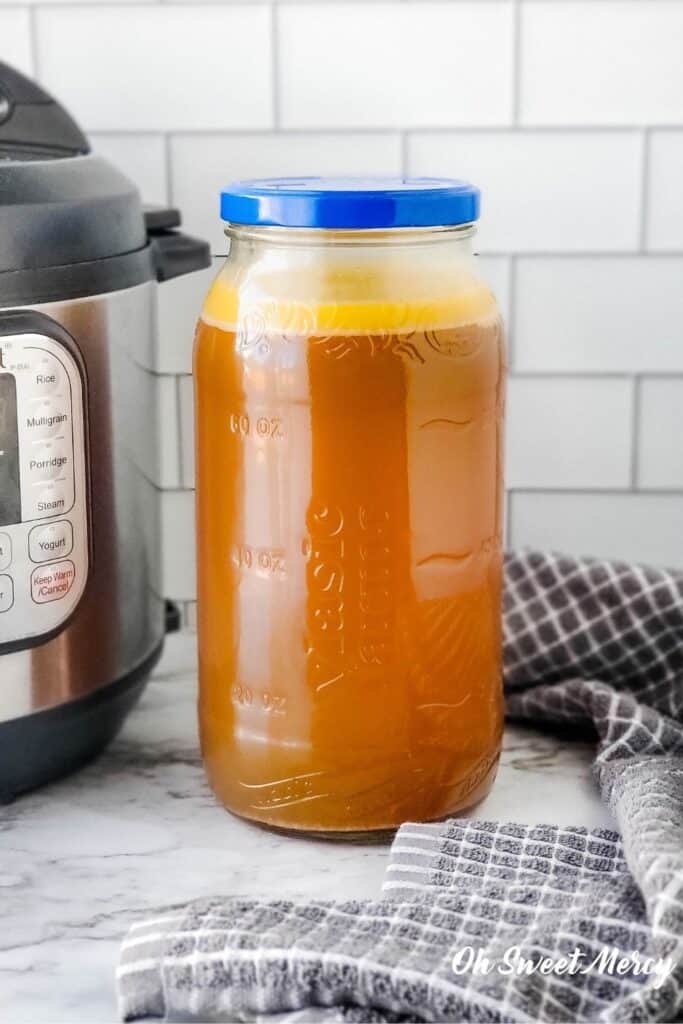 If your holidays include smoking a turkey, you absolutely must make smoked turkey broth! It's so easy, especially in an Instant Pot, Ninja Foodi, or other pressure cooker.
Once I started making bone broth in my Instant Pot, I never went back to stove top or slow cooker broth.
It would inevitably burn, and I'd waste all that good nourishment that comes from homemade bone broth.
Using my pressure cooker I never worry about it burning. It turns out perfectly every time, with rich, thick gelling too.
That used to gross me out, years ago. Then, I learned that thick gel that develops when the broth is cold is full of gelatin. That's part of why the chicken soup our great-great-grandmothers made was so good for healing.
Gelatin is wonderful for supporting our immune systems! Plus, homemade bone broth is also rich in collagen, another thing excellent for immune health.
What Do I Need To Make This Recipe?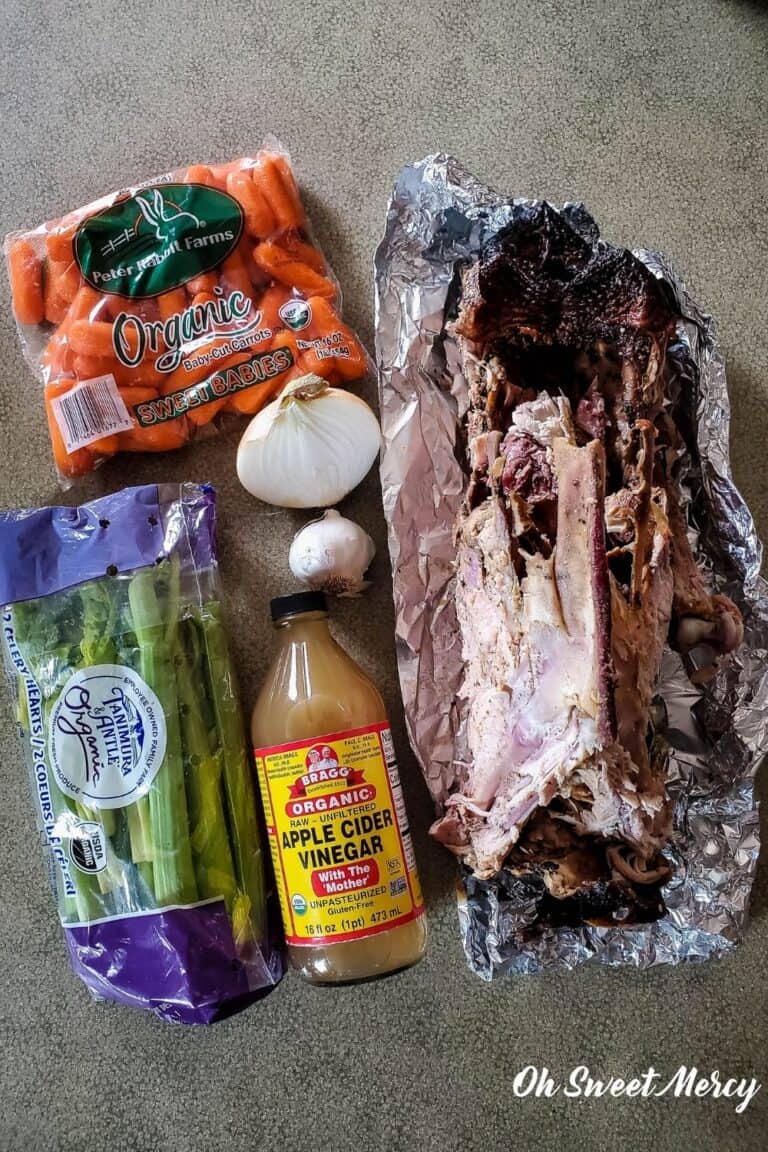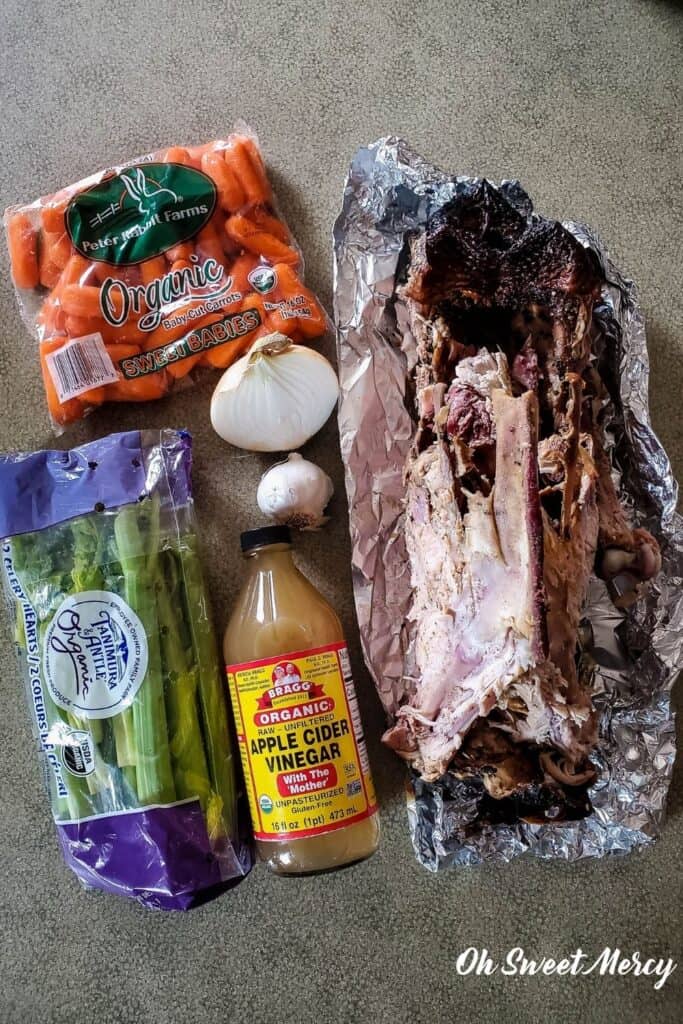 Making homemade bone broth isn't an exact recipe, really. I rarely measure things, just throw them in the pot, cover with water, then let the Instant Pot (or Ninja Foodi, depending on the day) work its magic.
I make my smoked turkey broth, just like any poultry bone broth, with just a few simple, wholesome ingredients:
Smoked turkey frame
Carrots
Celery (either stalks or leaves)
Onions
Garlic
ACV (apple cider vinegar) – optional
Filtered water
Salt and pepper
Bay leaves
Sometimes I don't have all those ingredients at the same time and that's ok. It still turns out wonderfully! Of course, the smoked turkey frame is a must, but if you don't have carrots or bay leaves, it's not a deal breaker.
Sister loves anything I make with smoked turkey broth. It just gives such a tasty dimension of flavor to soups, stews, and especially gravies.
WHY USE ACV? Apple cider vinegar is used to help draw minerals out of the bones and into the broth. Just a bit is all you need, but if you don't want to use it feel free to omit it.
How To Make It.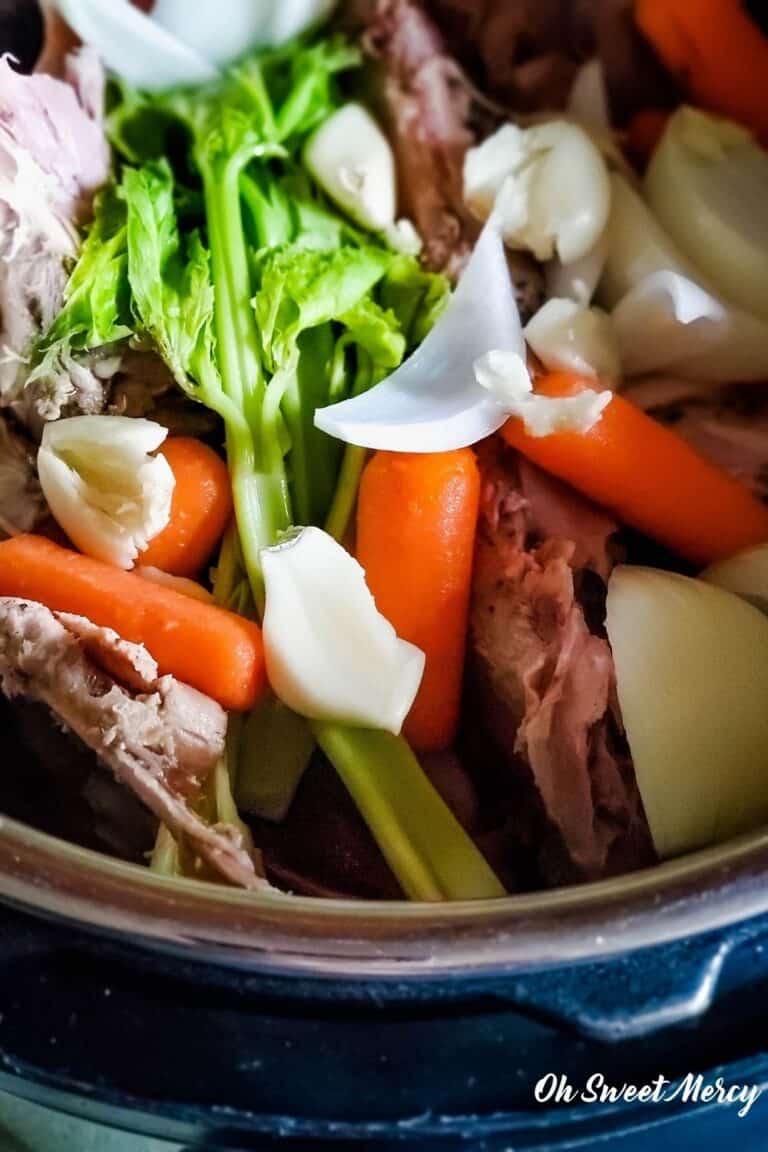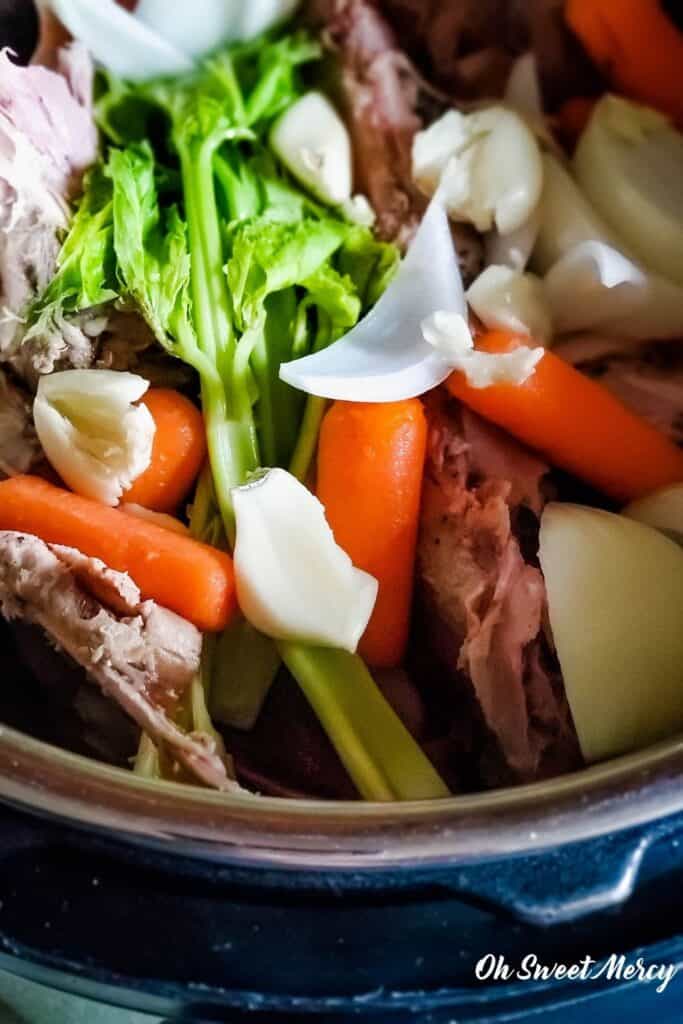 First, check the manual of your pressure cooker to see how full you should fill it. Overfilling your Instant Pot or other pressure cooker is not a good idea.
In general, don't fill your inner cooking pot more than 2/3 full. If you're cooking beans or grains (or something else that gets foamy) then no more than half full.
If your turkey frame is very large, you might need to take it apart or also cook your broth in batches.
How To Make Bone Broth That Gels.
In my experience, using too much water often results in broth that won't gel.
However, the quality of the turkey also makes a difference. Use the healthiest, most humanely-raised turkey you can find or afford.
I only just cover the ingredients in the pot with water. That first batch of broth is always the most flavorful and has the most gelatin.
You read that right! The first batch is best.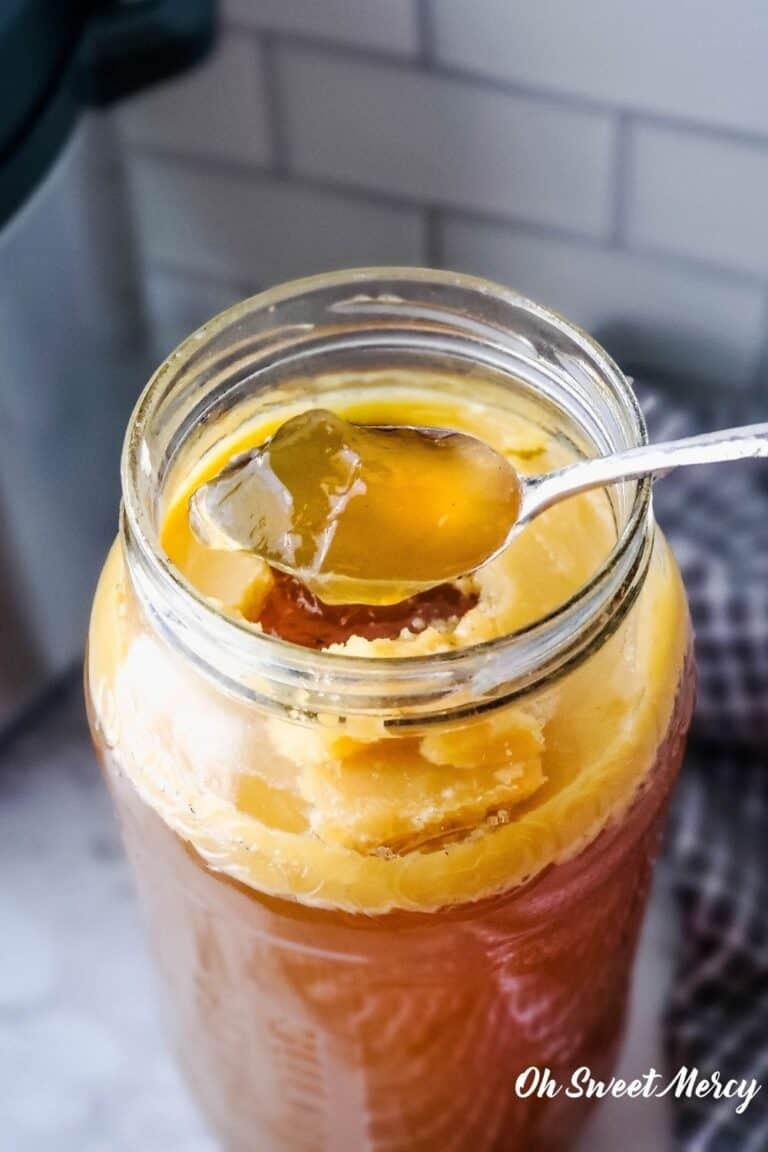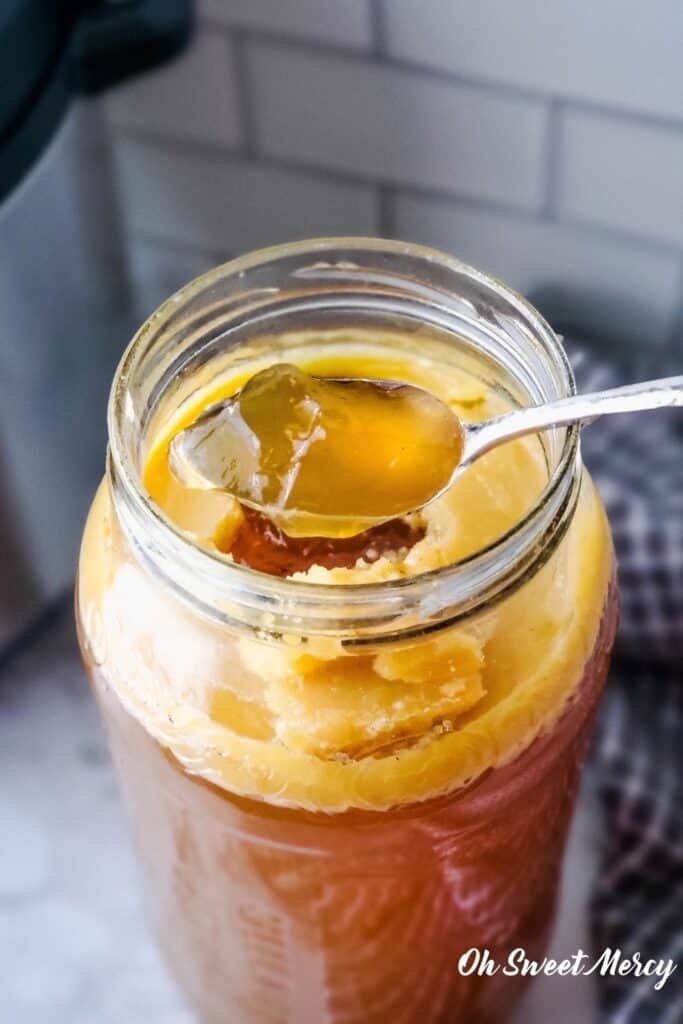 Can You Make More Than One Batch Of Broth With One Turkey Frame?
Absolutely! While subsequent batches won't be quite as flavorful and gel less, they're still delicious.
I often get 3 decent batches of smoked turkey broth from a good-sized turkey. So, I highly recommend doing 2 batches, at least.
Feel free to add more carrots, garlic, onions, etc. in following batches. I usually salt it after I've strained the broth out, but you can add salt before if you like.
How To Make Fat Free Smoked Turkey Broth.
Making fat free smoked turkey broth is super easy. It just takes some time. Allow the broth to cool a bit before putting it into a jar (or jars). I have 2 quart mason jars, and a big pickle jar, that I use for this purpose.
Put the cooled broth into the fridge overnight, or at least 8 hours. This allows the fat to separate and rise to the top of the jar.
Then, simply scrape the fat off the top.
I usually keep some broth with the fat in it for THM S meals and make some fat free for THM E and FP meals.
How To Store Smoked Turkey Broth.
Freezing or canning the finished broth means you'll have healthy, marvelously delicious smoked turkey broth on hand when you need it.
Confession: I'm not much of a canner these days. I can't seem to get my electric stove to cooperate with a pressure canner. So, I freeze the broth in quart freezer bags instead.
It should keep for a week in the fridge, so keep a jar unfrozen for easy use.
Still, frozen broth melts easily in a hot pan, so it's still a convenient way to store your smoked turkey broth.
How To Use This Marvelously Magical Broth In Your THM Meals.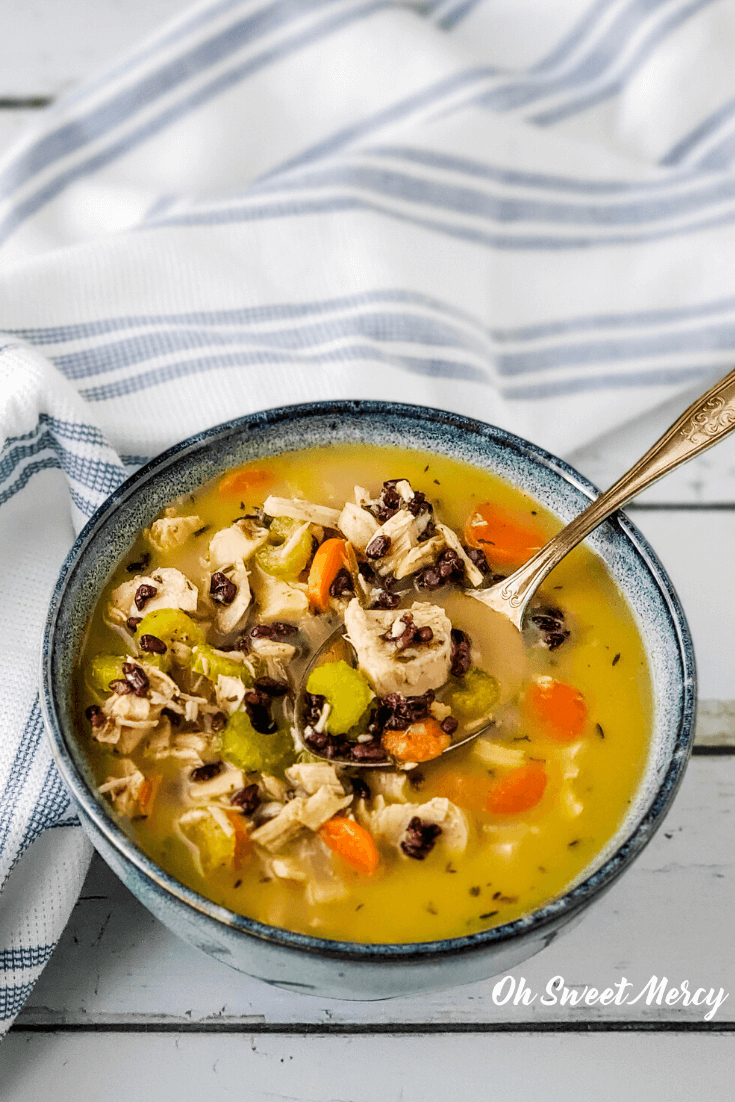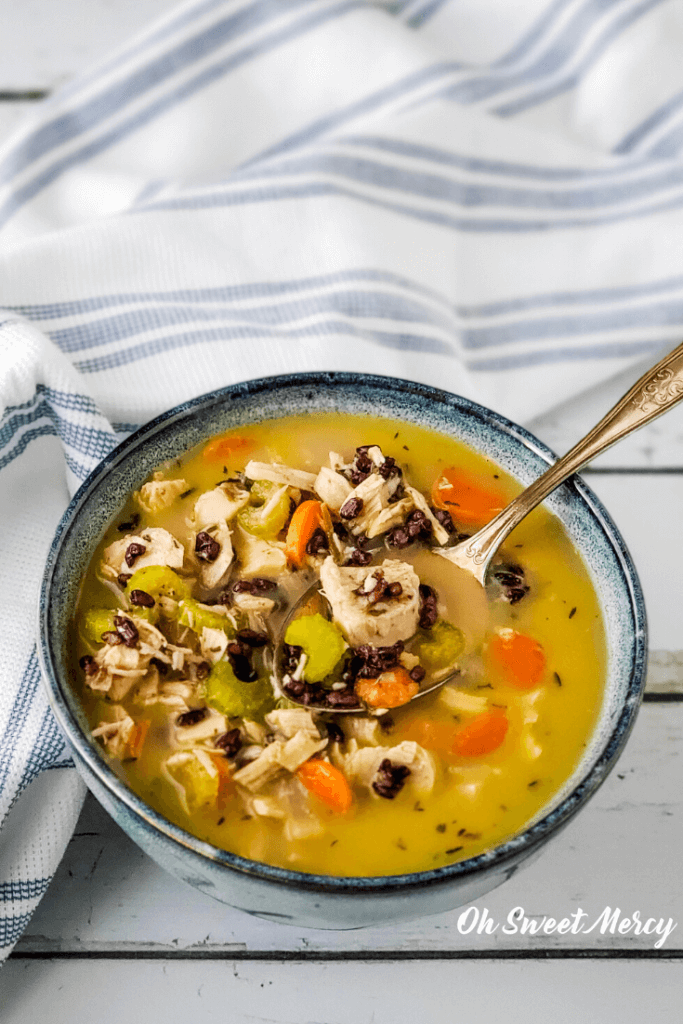 Making this healthy homemade bone broth fat free makes it most versatile. But, leaving the fat in makes a rich, luxurious broth perfect for all types of THM S meals.
Here's a few of my favorite ways to use this magical broth.
Creamy Dairy Free Turkey And Rice Soup (THM E, use fat free broth)
Garlic and Rosemary Tomato Soup (THM S)
Easy Herbed Quinoa or Rice (THM E, use fat free broth)
Gravy (I'll post a THM friendly recipe soon!)
Simple vegetable soup – add your favorite soup veggies, season, and simmer until veggies are tender.
Simply warm up a mug of broth and sip. Especially wonderful if you're feeling under the weather.
Basically, almost anywhere you use regular broth this delicious smoked turkey broth works. It's a magical substance!
Once you make this delicious smoked turkey broth you'll never want to make regular broth again.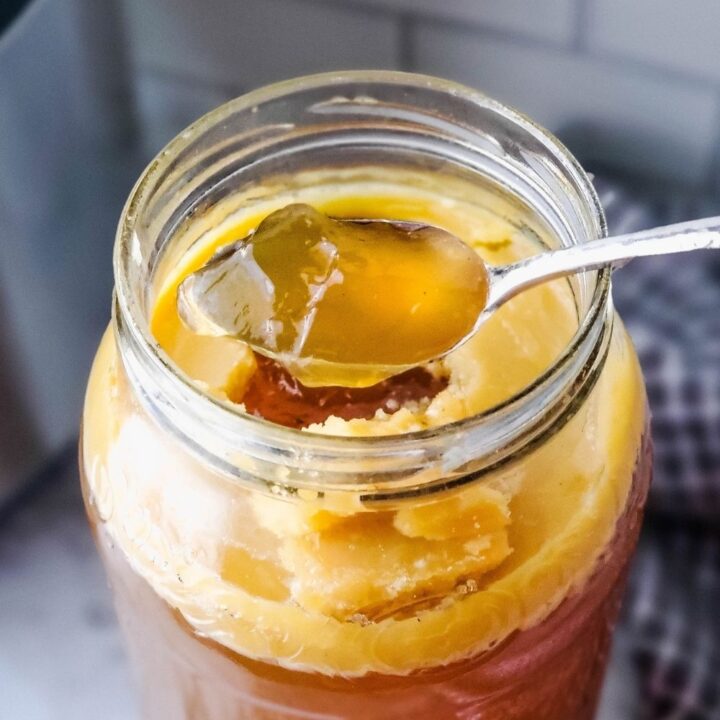 Smoked Turkey Broth In The Instant Pot
Yield: Varies
Prep Time: 10 minutes
Cook Time: 1 hour 30 minutes
Depressure Time: 15 minutes
Total Time: 1 hour 55 minutes
Use the frame of your smoked turkey to make the best ever turkey broth! Trim Healthy Mamas, refrigerate and scrape off the solidified fat for a FP broth.
Ingredients
Smoked turkey frame with meat removed
Carrots, handful or 2 of baby carrots or 1 or 2 full size carrots, cut in chunks
Celery - tops or stalks or both
Onion, quartered
Garlic cloves, up to a full head
Bay leaves, 7 or 8
1 tablespoon ACV (apple cider vinegar) optional
Salt and pepper to taste
Water, to cover ingredients
Instructions
If necessary, break the turkey frame down so it fits into your pressure cooker. If your turkey was large, you might need to do this in batches.
Add remaining ingredients, then just cover with water making sure not to overfill your cooker.
Close the lid, set vent to SEAL, then manual pressure fr 90 to 120 minutes or as desired.
After cooking is done, allow to naturally depressurize for 15 minutes then release remaining pressure.
Strain broth in a mesh strainer.
Make another batch of broth by adding more water and cooking again, if desired. Repeat as desired.
Cool and store in jars or freeze in freezer bags.
For fat free broth, refrigerate overnight and scrape off hardened fat from the top.
Notes
This recipe is very forgiving! I literally just throw some stuff in my IP and it's amazing every time. Use as much carrots, celery, and onion as you like. Lots of garlic is healthy and delcious so I add quite a bit.
You can make at least one more batch of broth with the turkey frame, though each batch will be less robust.
Use in soups, casseroles, gravies, or wherever smokey turkey broth sounds good.
Recommended Products
As an Amazon Associate and member of other affiliate programs, I earn from qualifying purchases.