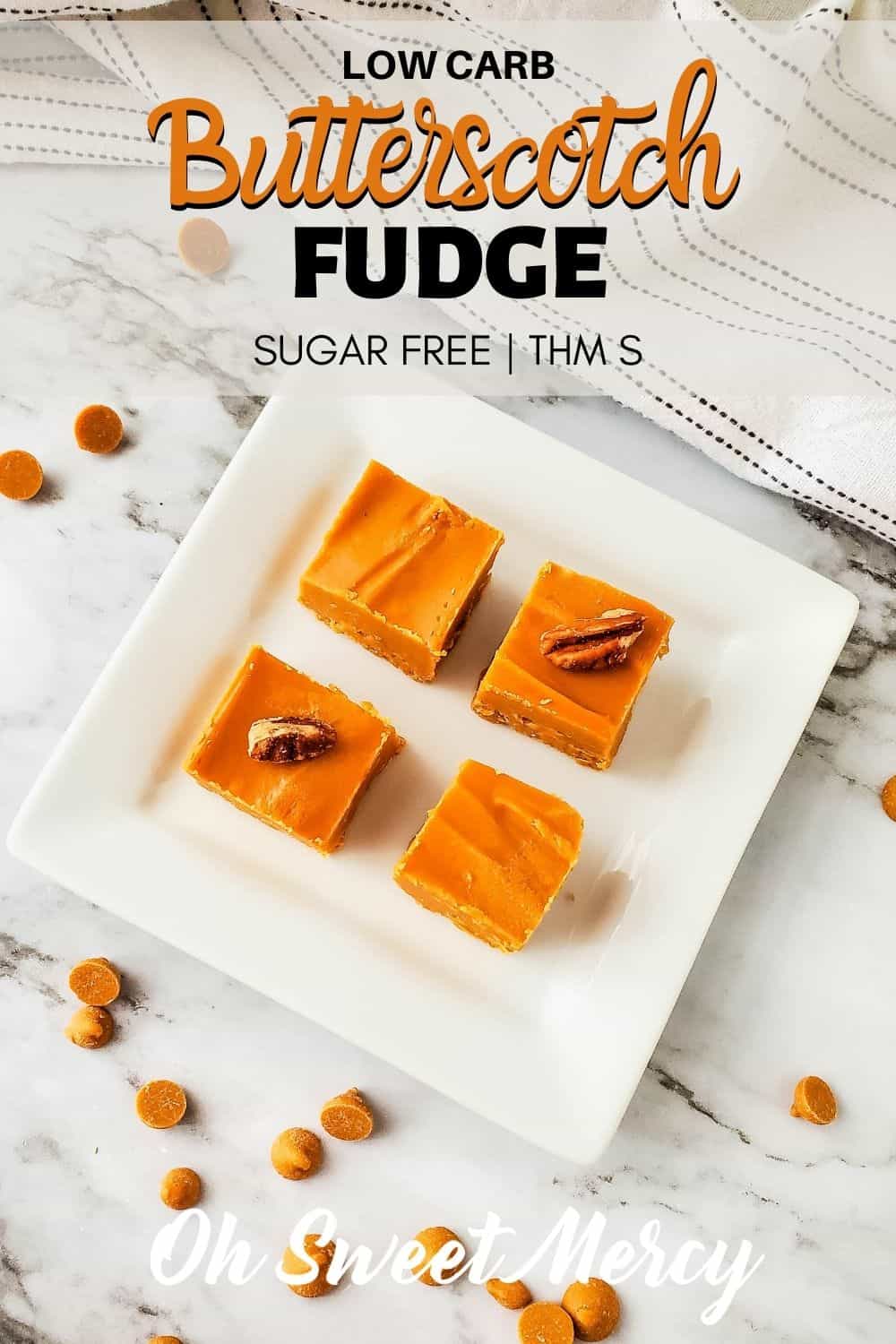 ---
This easy low carb butterscotch fudge is creamy and delicious (or a little nutty, too, if you prefer)! Just 4 (or 5 if you like nutty fudge) ingredients are all you need. No need to give in to temptation when you plan ahead and have on-plan treats on hand, Trim Healthy Mamas!
---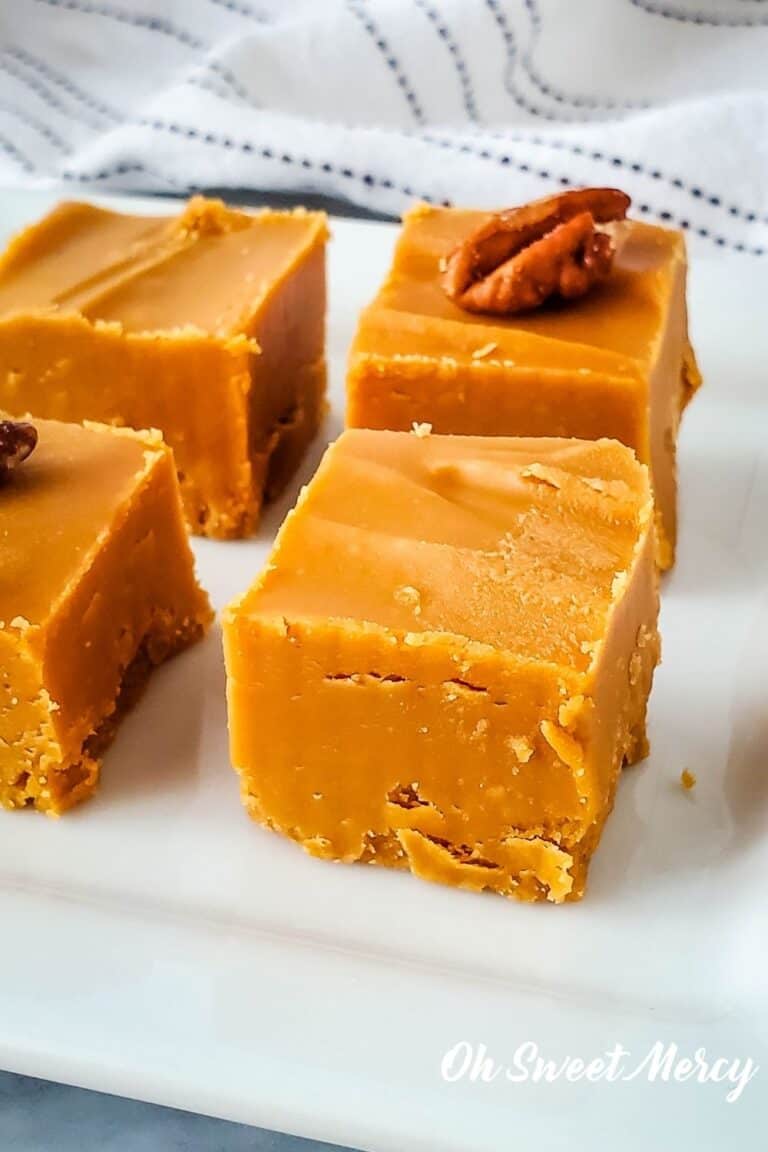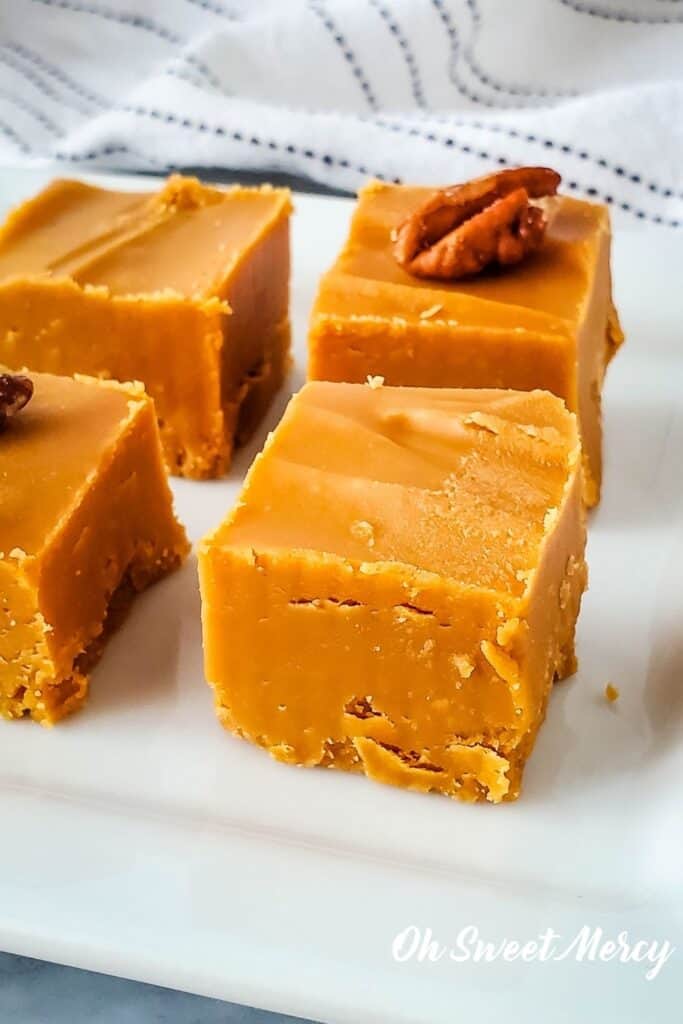 Sister brought home a piece of peanut butter fudge from work the other day. I had a taste…it's been ages since I've had fudge! This was not even remotely THM friendly, though.
It was delicious, of course. Which got my brain working on how to make a THM friendly, low carb fudge myself.
Since I'm a big fan of butterscotch anything, and I had a bag of Lily's butterscotch chips on hand, whipping up a sugar free butterscotch fudge recipe just made sense.
And, since it's that time of year when Aunt Gertrude's famous fudge appears, I thought you'd like a THM friendly fudge to help you pass on that.
I hope Aunt Gertrude understands you're just doing what's best for your body and it's no slight on her delicious, famous (but sugar-laden) fudge.
What Do I Need To Make This Recipe?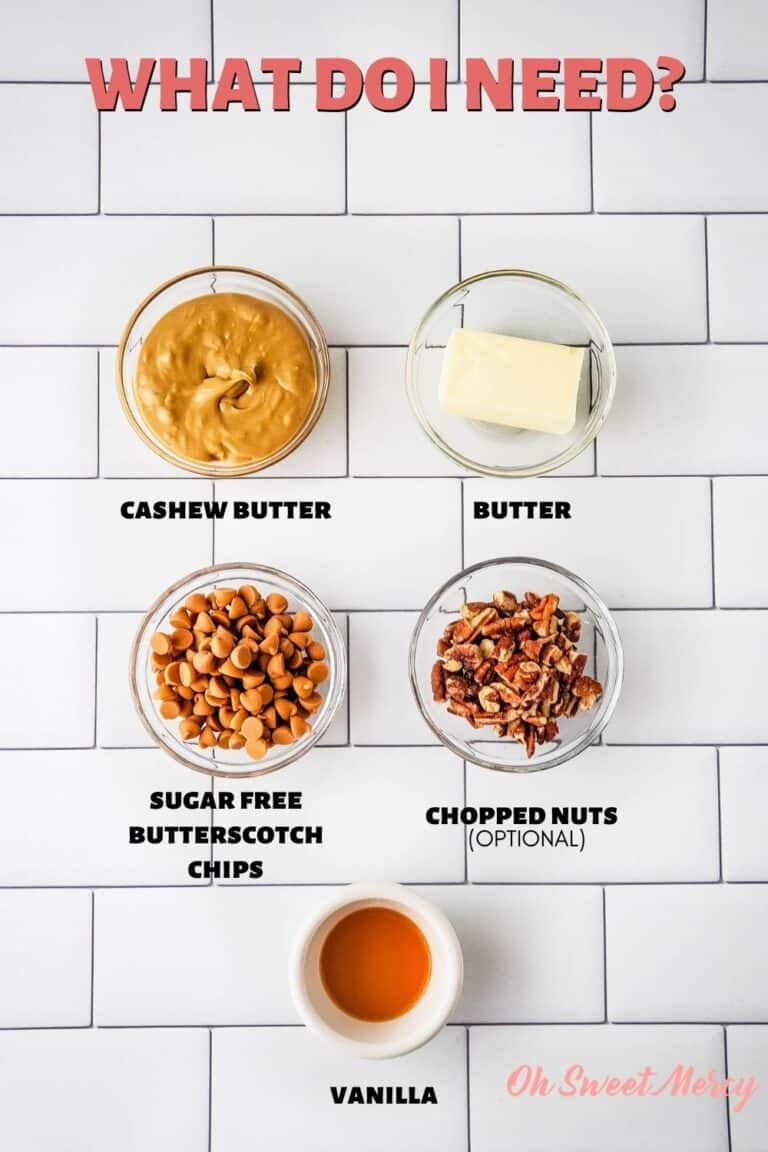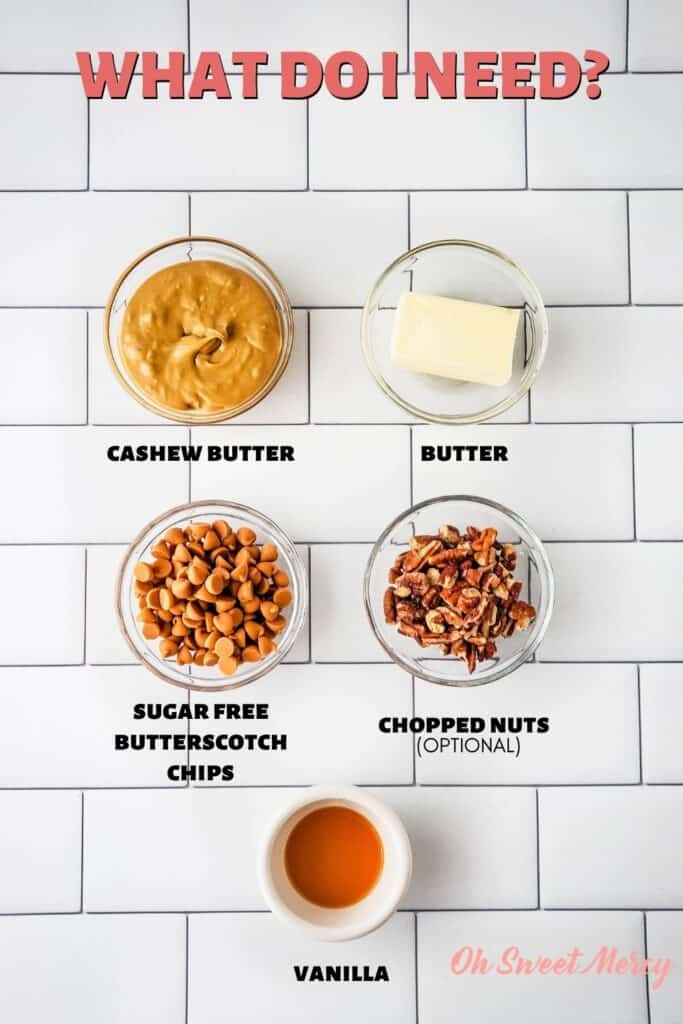 You just need a few ingredients for this delicious, low carb butterscotch fudge.
Lily's butterscotch chips
Butter
Cashew butter
Vanilla
Chopped nuts (optional)
If you can't find butterscotch chips, any type of sugar free chips will work. You just won't have butterscotch fudge, of course.
You can also use any kind of nut butter. Cashew butter is super creamy and mild flavored, so I like it in things like this.
If you can't have cashews or don't have cashew butter on hand, feel free to use peanut butter, almond butter, or your preferred kind of nut or seed butter.
These nut or seed butters all have different flavor profiles and will, of course, affect the end result a bit.
How To Make It.
Fudge may seem complicated, but this recipe is super easy.
Simply melt everything together in a double boiler or something that functions like one. I don't have one so I use a heat safe glass bowl that fits on one of my sauce pans.
DOUBLE BOILER TIP: You don't need boiling water, just a simmer or even just really hot with a good amount of steam works just fine. If the water is too hot, you run the risk of over melting the baking chips, which makes them dry and grainy.
Then, pour into a parchment paper lined baking dish and spread the mixture evenly in the dish.
Finally, pop in the freezer or refrigerator to set.
The freezer is the quickest option. If you're not in a hurry, pop it in the fridge for several hours or overnight.
Once it's set simply cut into squares. I got 40 small pieces out of a batch, with each piece having 2.9 grams of net carbs and 6.7g of fat.
How To Fit This Easy Low Carb Butterscotch Fudge Into Your THM Meal Planning.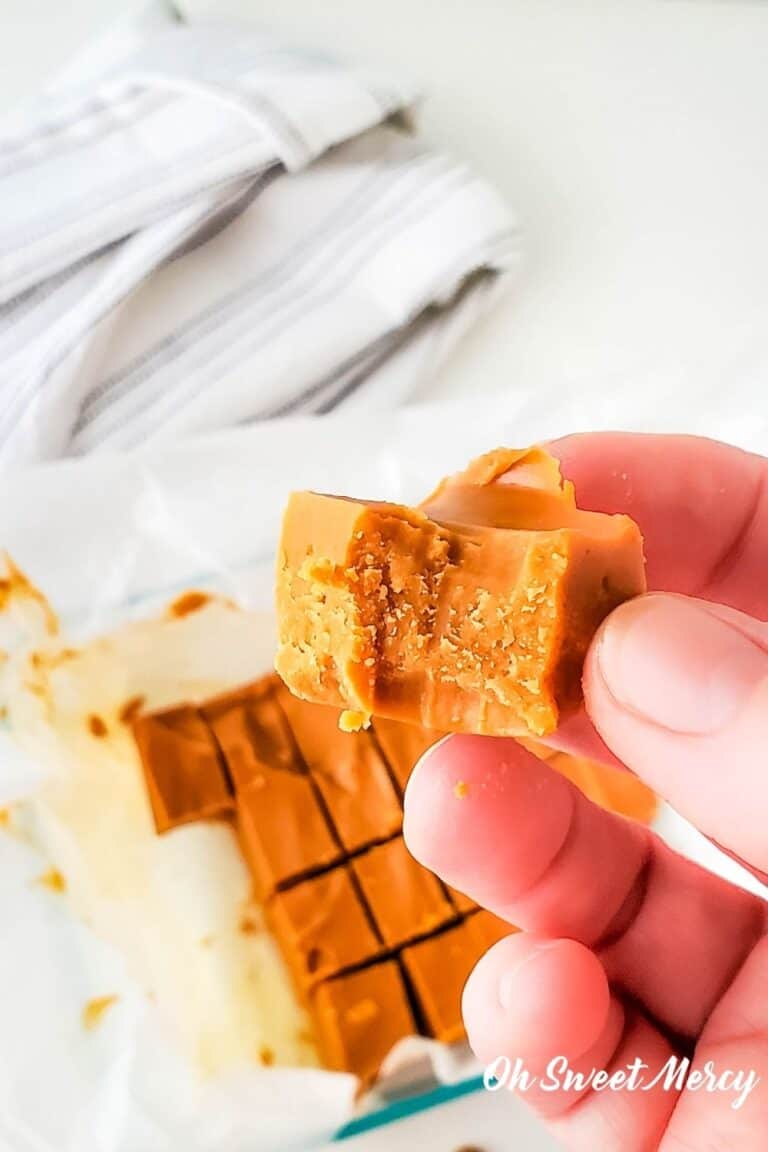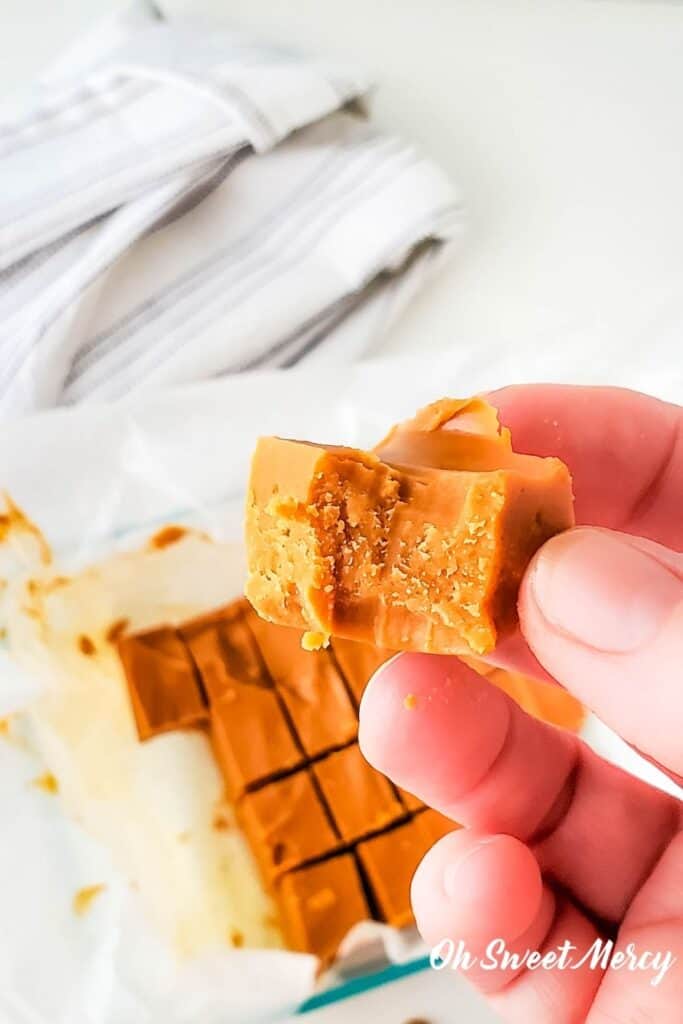 This is definitely a THM S recipe! It's an indulgent treat best saved for special occasions.
It's absolutely perfect for taking along to holiday gatherings, either to share with everyone or just for yourself.
Sometimes, you're the only person at the party who follows a carb-conscious way of eating and having your own, on-plan treats helps you stick to your healthy eating plan.
But, if there are others who follow a low glycemic lifestyle there they will certainly appreciate your thoughtfulness!
Just like with real fudge, it's a rich treat. Enjoy a small piece or two in a low carb setting. Preferably, keep your low carb meal lighter in the fat category.
But, sometimes you just want to indulge and that's ok now and then. Just be wise with the rest of your meals throughout the day.
The problem comes when we overindulge too frequently. THM works best with balance – some meals may be heavy on fats, other meals are very light. Some meals are higher in healthy carbs, other meals very low.
Remember to "juggle" your fuels and you'll be just fine.
More Tasty Low Carb Treats For You…
Looking for more delicious, low carb treats to make in December? Give these a try:
White Chocolate Peppermint Bark
Chocolate Covered Cheesecake Bites
Chocolate Chip Cookie Dough Bites
Trim Me Candy Cups from Wonderfully Made and Dearly Loved
Keto Peppermint Patties from Joy Filled Eats
Low Carb Poodle Doodles from My Montana Kitchen
Turtle Cheesecake Bites from Nana's Little Kitchen
Pin It!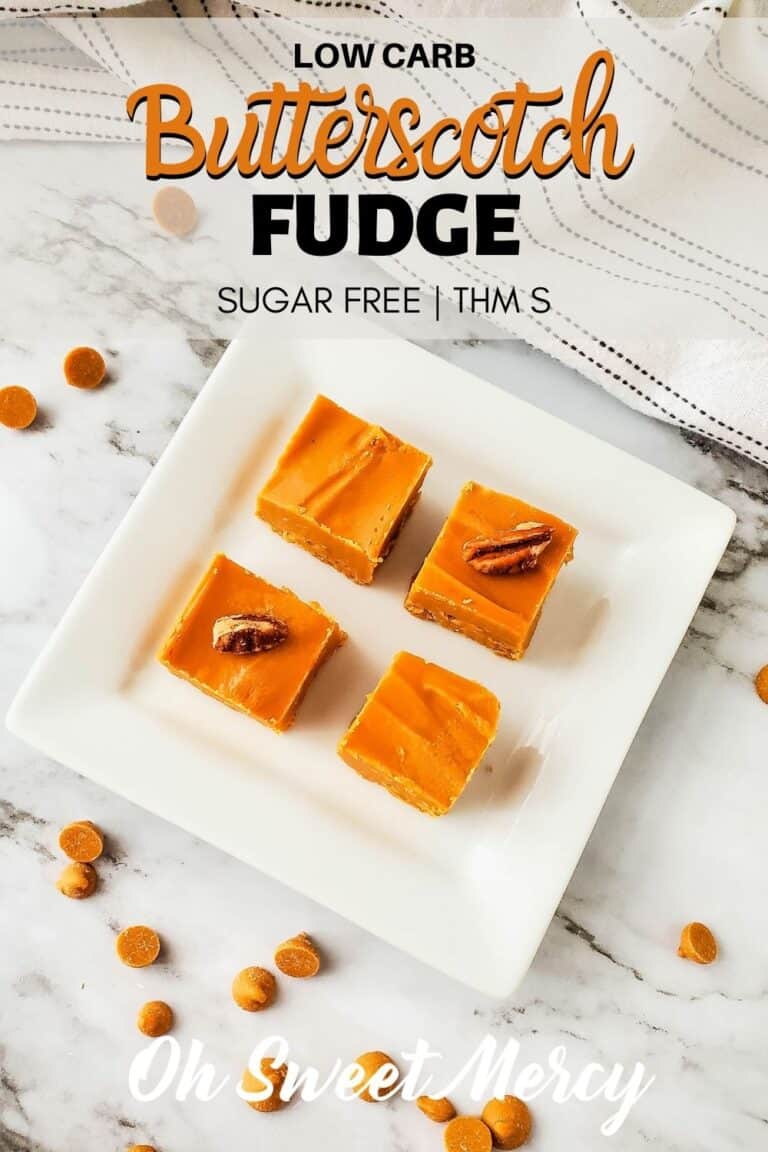 Low Carb Butterscotch Fudge | THM S
Yield: 40 pieces
Prep Time: 15 minutes
Chill Time: 45 minutes
Total Time: 1 hour
Creamy, rich butterscotch fudge that's sugar free means you'll want to keep this on hand to ward off temptation. Just 4 (or 5, if you like nutty fudge) ingredients and about an hour and you've got a delicious, low carb, homemade fudge everyone will love.
Ingredients
2 1/2 cups Lily's butterscotch chips (or 2 7-ounce packages)
1/2 cup butter
1/2 cup cashew butter
1 teaspoon pure vanilla extract
1/2 cup chopped nuts (more or less to taste, OPTIONAL)
Instructions
Line a small baking dish (8 x 6, 8 x8, etc.) with parchment paper.
In the top pan of a double boiler (or heat safe bowl over a sauce pan with simmering water), combine the butterscotch chips, butter, cashew butter, and vanilla.
Stir while the chips and butter melt until everything is well combined.
Stir in nuts, if desired.
Pour into prepared baking dish and smooth evenly.
Freeze for around 45 minutes or until the fudge is set. Or, refrigerate for a few hours or overnight.
Cut into pieces and store in a tightly covered container in the fridge or freezer.
Notes
Be sure to keep the water from boiling at a rolling boil, just a good hot steam is all that's needed. If the water is too hot you might overmelt the chips which will make them dry and grainy.
Any flavor of sugar free baking chips will work if you can't find butterscotch, and any kind of nut butter. The flavor will just be different.
NUTRITION NOTES:
Nutrition information below is calculated without nuts.
Recommended Products
As an Amazon Associate and member of other affiliate programs, I earn from qualifying purchases.
Nutrition Information:
Yield: 40
Serving Size: 1 piece
Amount Per Serving:
Calories: 78.1
Total Fat: 6.7g
Saturated Fat: 3.5g
Trans Fat: 0g
Unsaturated Fat: 1.8g
Cholesterol: 6.2mg
Sodium: 23.0mg
Carbohydrates: 5.1g
Net Carbohydrates: 2.9g
Fiber: 2.2g
Protein: 0.6g
Nutrition information is approximate and based on the best knowledge available at the time of recipe publication. Your results may vary due to differences in ingredients. You can make your own calculations if this recipe does not include nutrition info by using an online calculator such as https://recipes.sparkpeople.com/recipe-calculator.asp