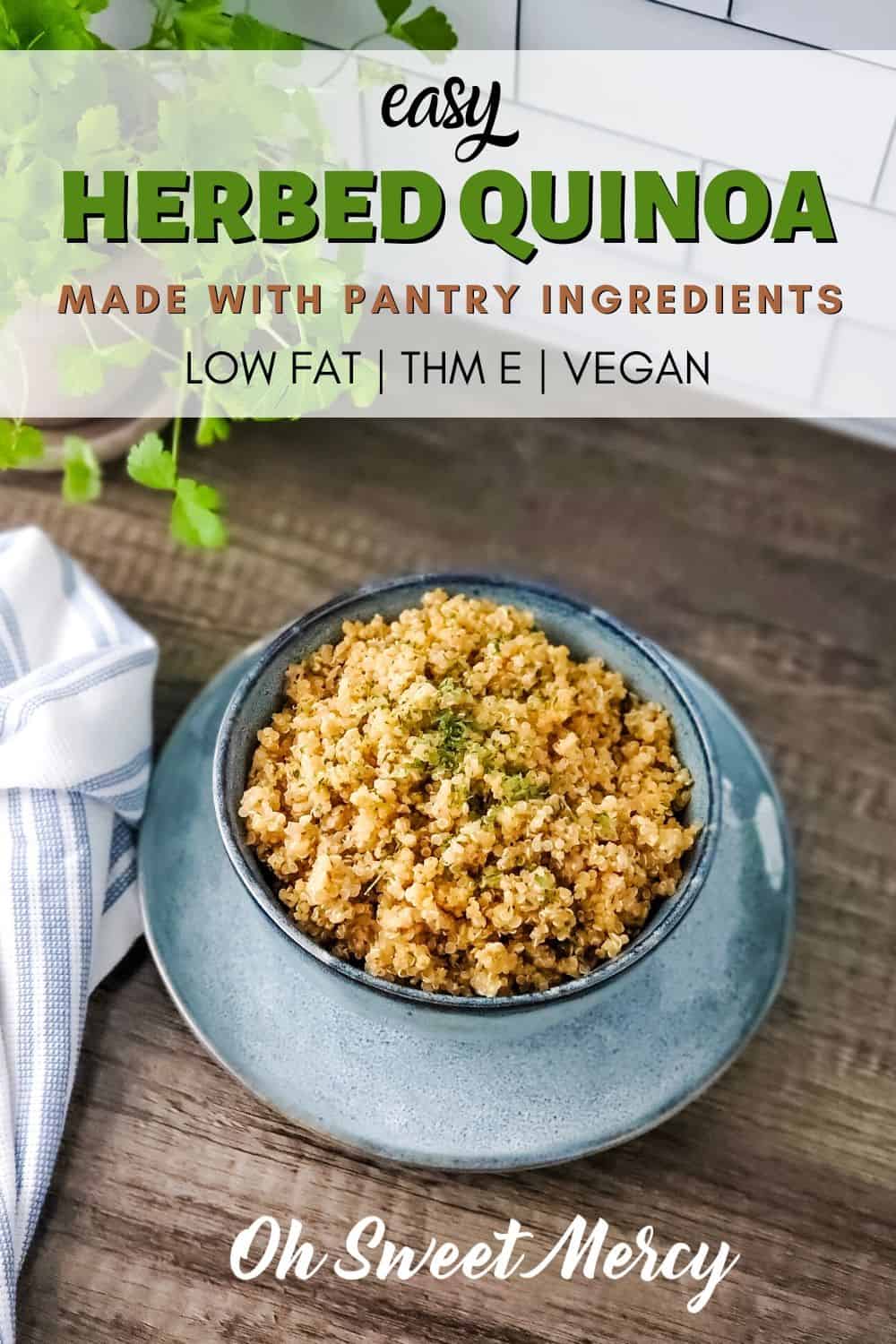 ---
This simple side dish is made with wholesome items right from your pantry. My easy herbed quinoa (or rice) is the perfect side dish for lean baked chicken or fish for a healthy THM E meal.
---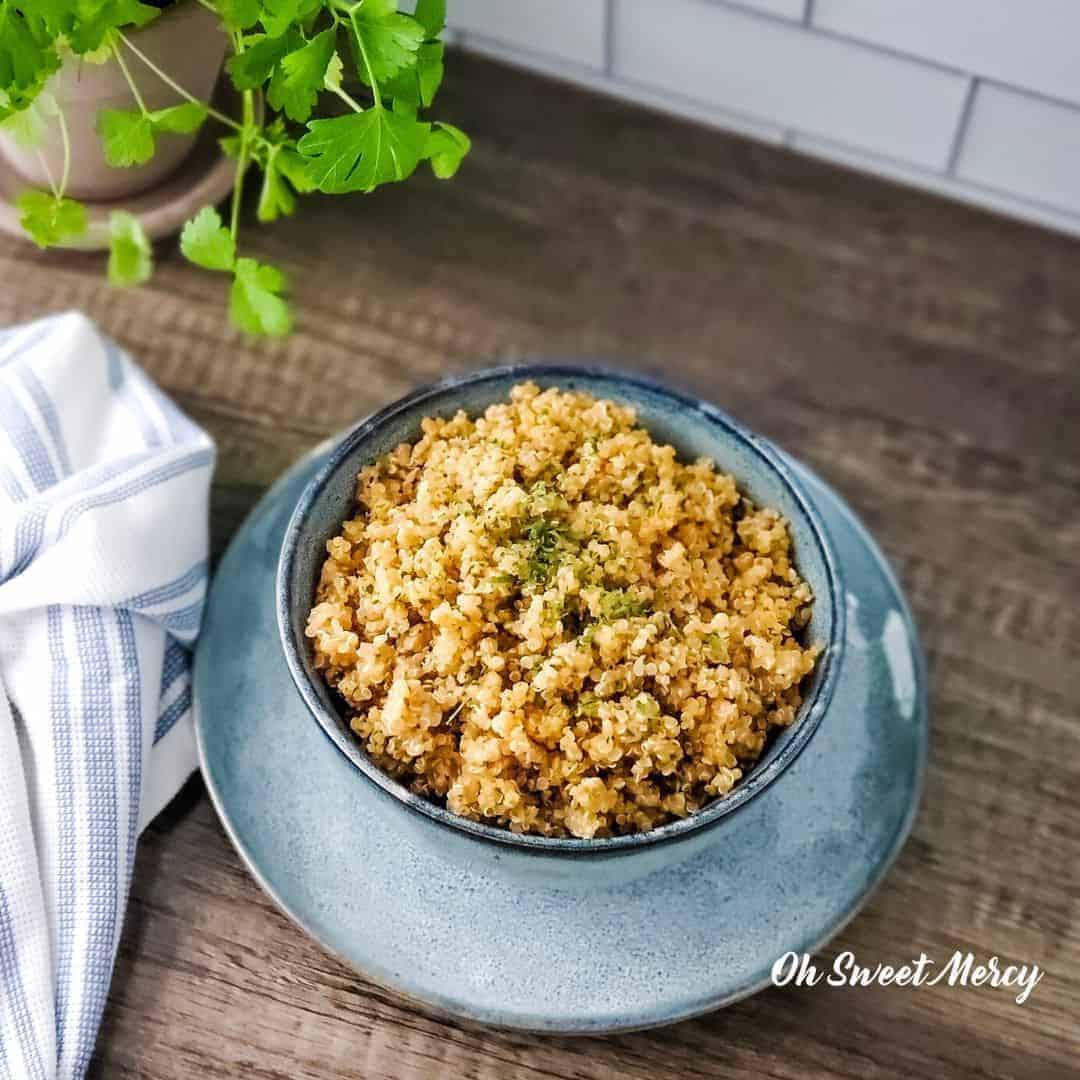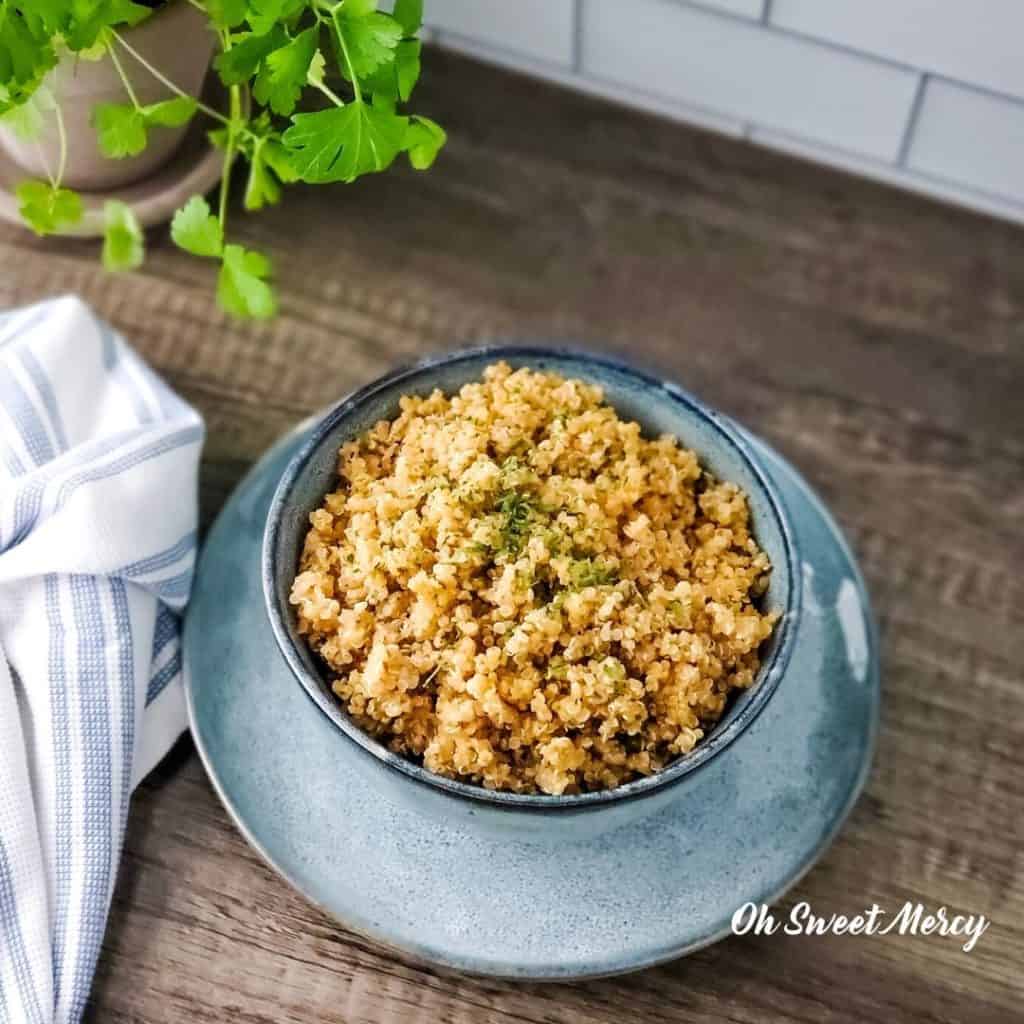 Quinoa is super healthy! It's a complete protein, which means it has the essential amino acids you need. It's also a terrific THM E fuel source.
It's slower-burning than rice or oats and, for me, a much better choice to keep my blood sugar stable.
Quinoa is also very versatile. You can flavor it so many ways! The recipe below is just one of the ways we enjoy this healthy carb source.
Don't like quinoa? This recipe works just as well with your favorite rice. You may need to adjust the amount of water. Be sure to look at the package to make sure you're using the recommended amount of water.
Always Rinse Your Quinoa!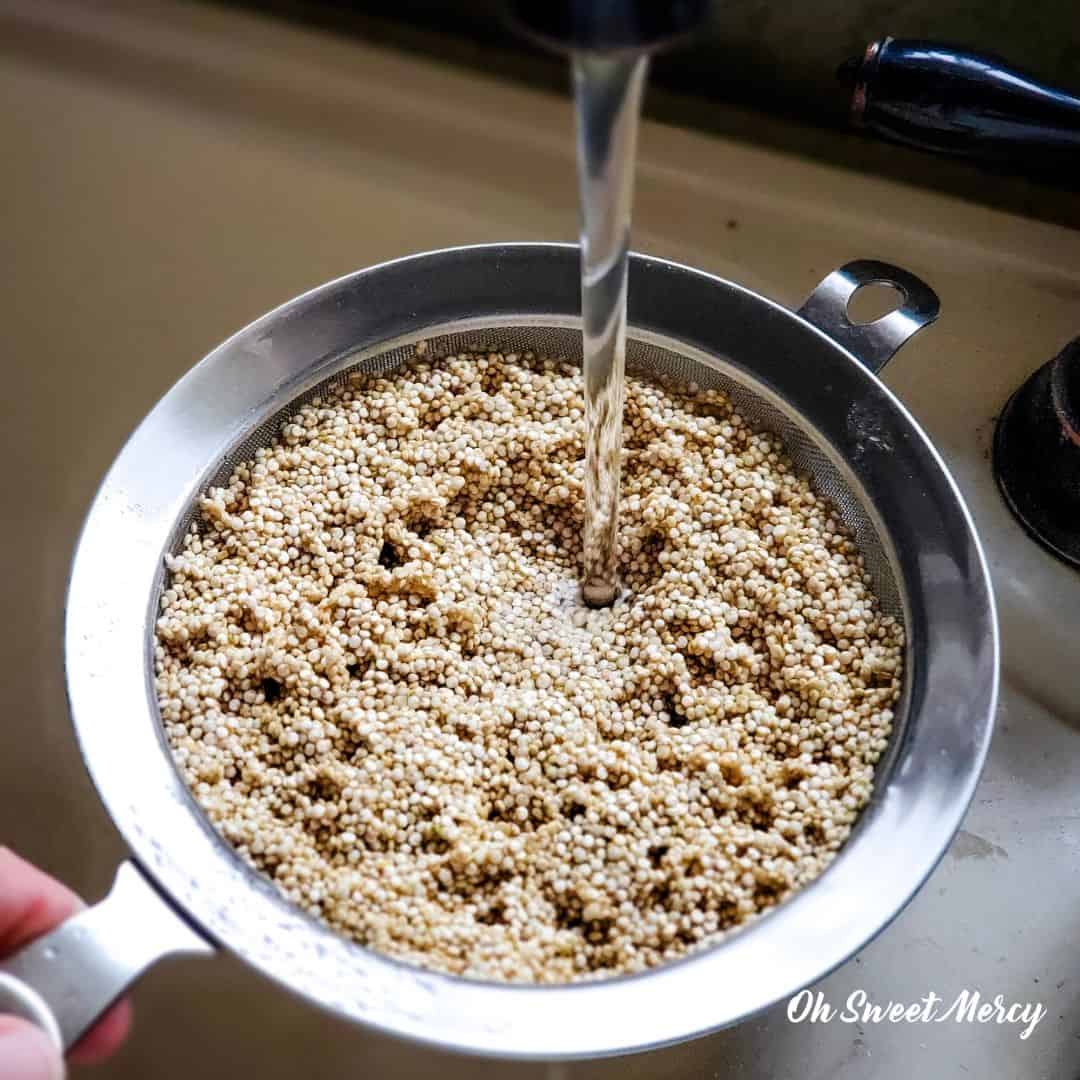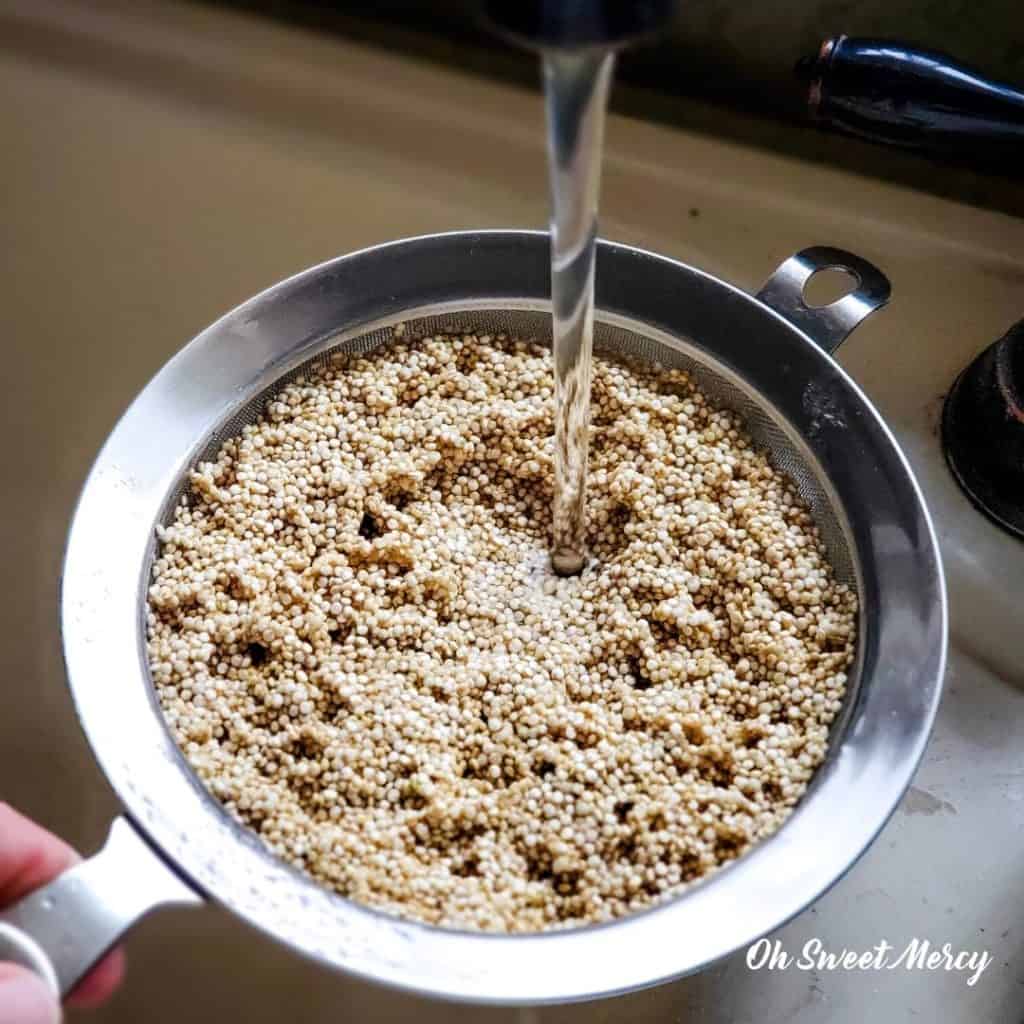 If your package of quinoa does not say pre-rinsed, you must rinse it before cooking with it. If you don't it will be very bitter.
Quinoa has a natural coating of saponin, which gives it that bitter taste. A good rinse with cool water takes care of that. I use a fine mesh sieve and just rinse it under the faucet.
If you forget and end up with bitter quinoa, chickens don't mind it at all. In fact, they get pretty excited about it. #askmehowiknow 😉
How To Make Easy Herbed Quinoa (or Rice).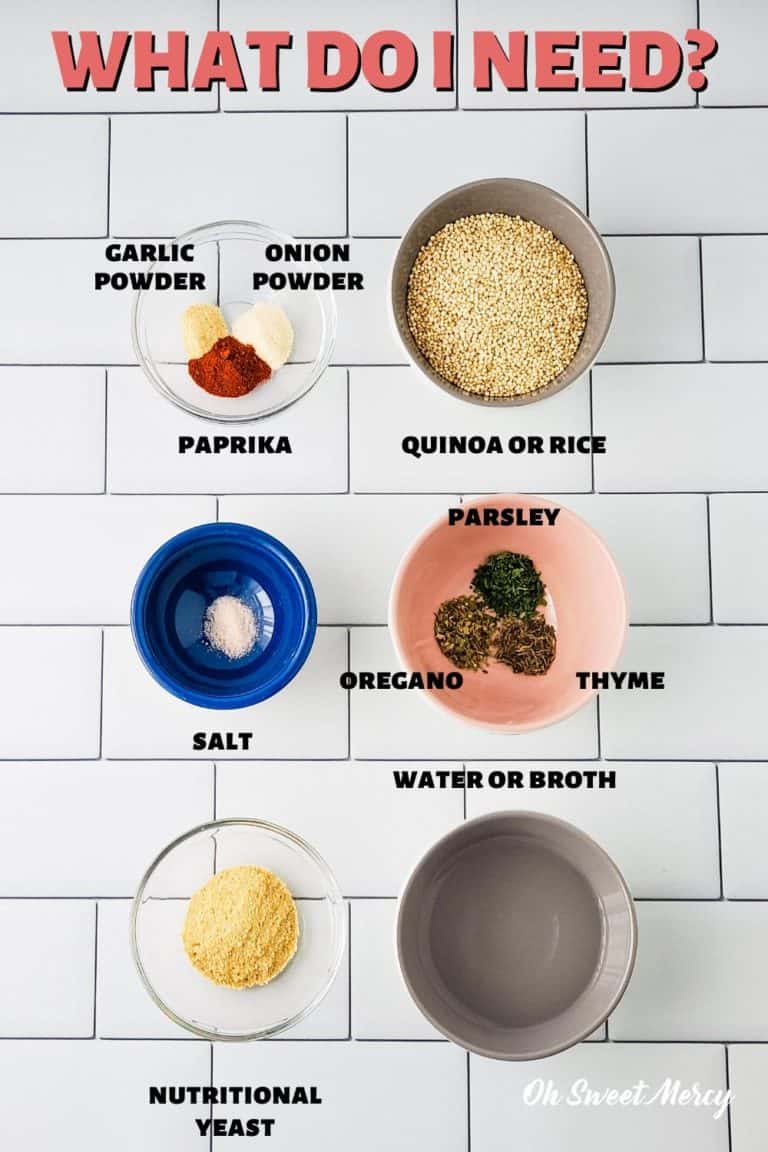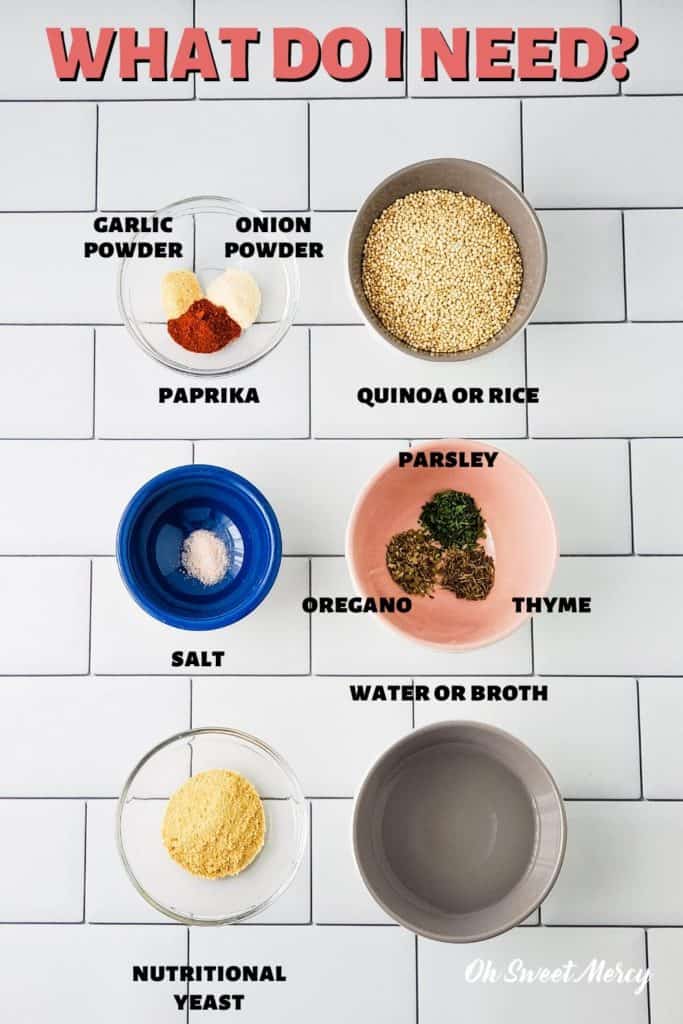 It seriously is as easy as 1-2-3:
Mix all the ingredients in a sauce pan with a tight fitting lid.
Bring to a boil then cover and simmer for 15 minutes.
Let it sit for 5 minutes then fluff with a fork.
Does it get any easier? Ok, maybe opening a boxed, seasoned quinoa mix is slightly easier. However, they often contain ingredients you may not want to eat.
Using simple, wholesome ingredients right from your pantry ensures no unwanted, unhealthy preservatives, added sugars or other things are in your healthy side dish.
Don't like quinoa? Use brown or black rice instead! Just be sure to check the package and use the recommended amount of water for the rice you're using. Some varieties of rice need different amounts of water to cook properly.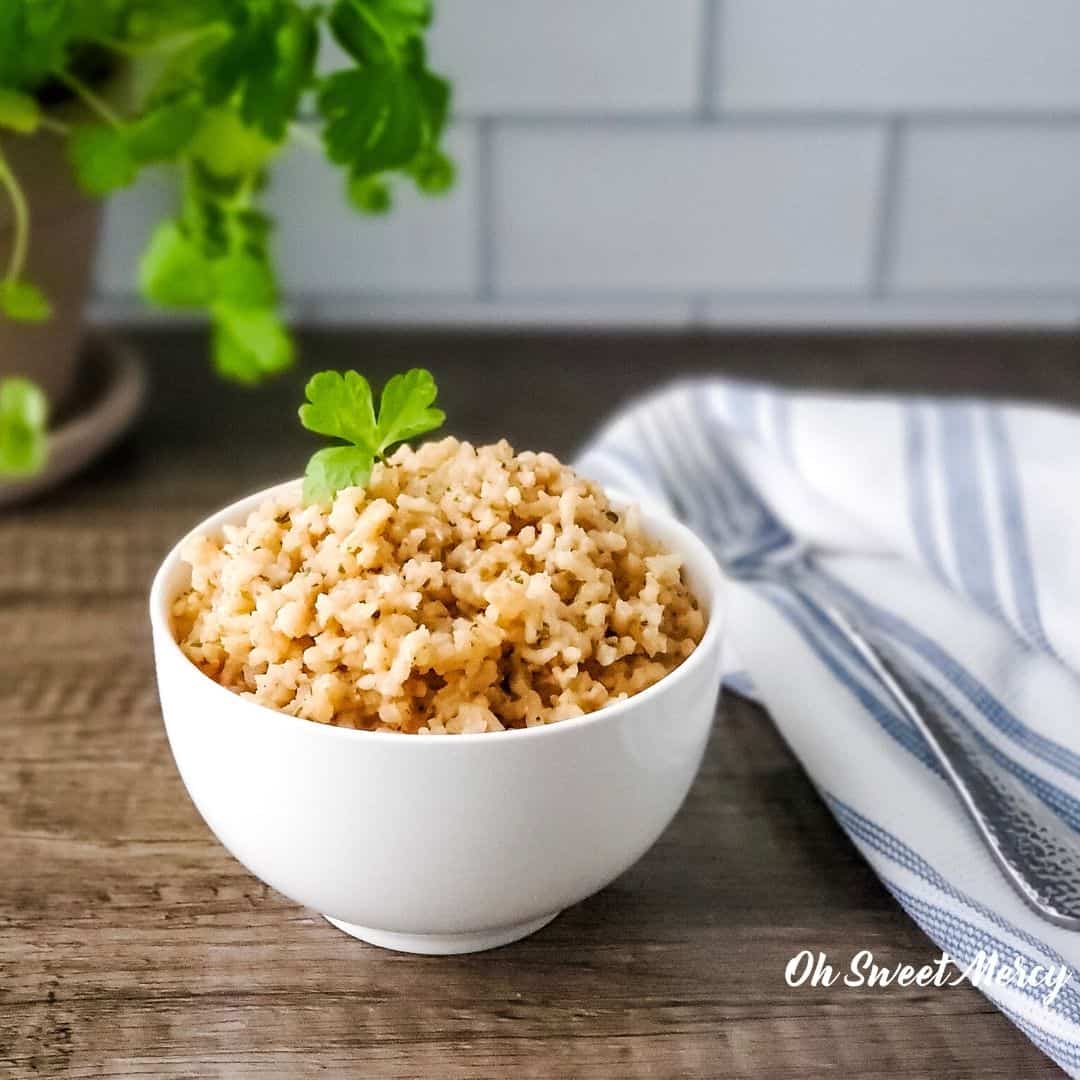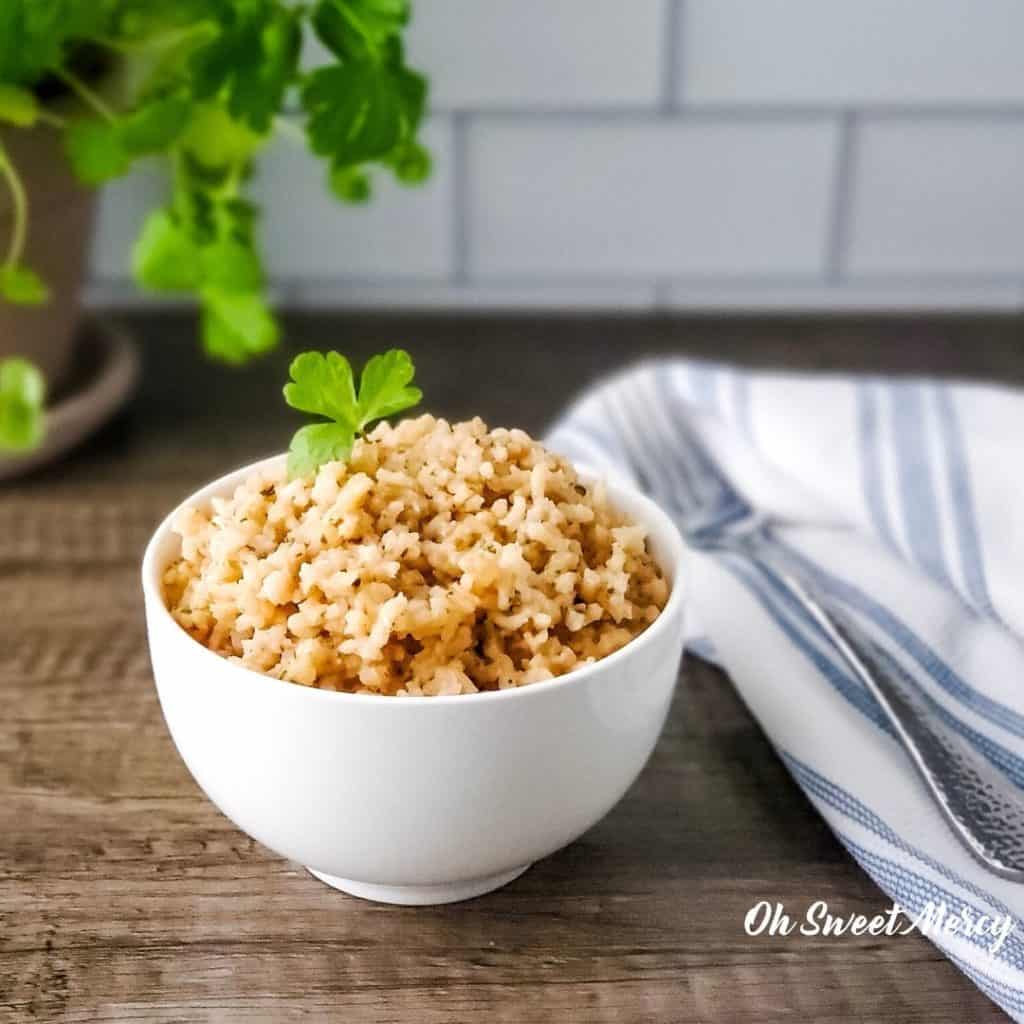 Should I Use Water Or Broth To Make Herbed Quinoa?
I make this with just water but broth is also a great, flavorful alternative. During times when your immune system needs support, try cooking this herbed quinoa with bone broth.
TIP: Since this is a THM E recipe, use fat free broth. If you make your own bone broth, the easiest way to get broth suitable for E recipes is to let it cool in the fridge overnight then scrape off the hardened fat that rises to the top.
I use water usually because it's frugal and always available. Adding nutritional yeast helps give it delicious flavor as well as B vitamins. If you're having a meatless meal, the nutritional yeast is a great option for more nutrition.
However, if you don't have nutritional yeast or don't want to use it feel free to leave it out.
PIN IT!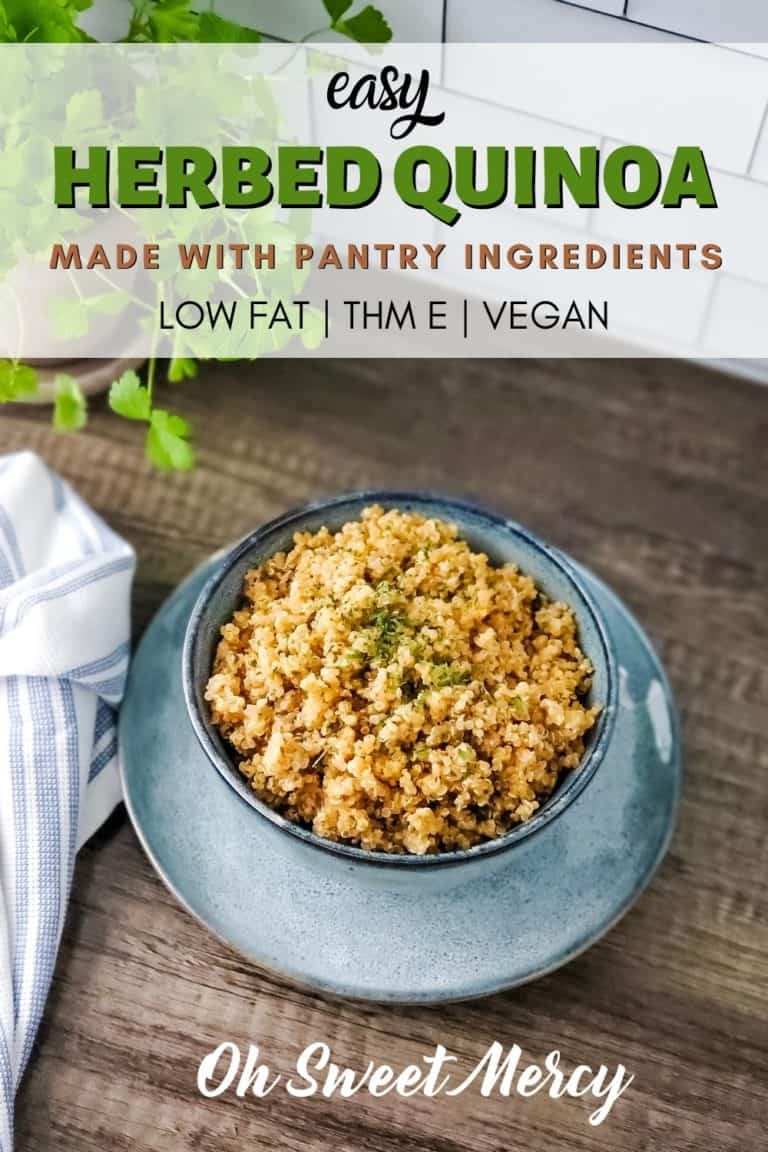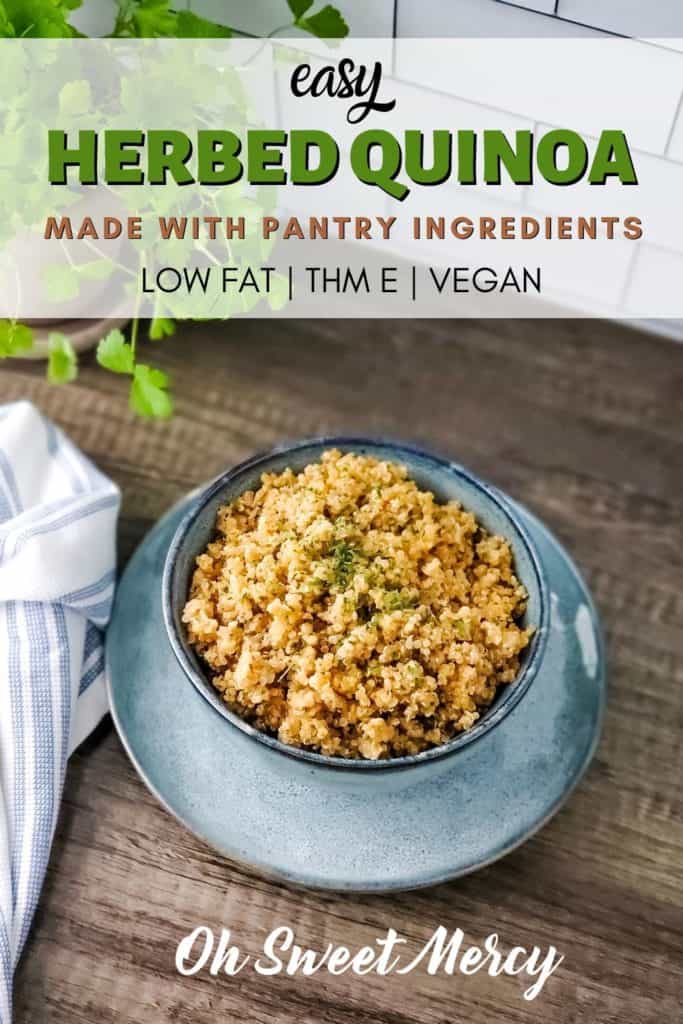 Can I Use Soaked Quinoa Or Rice?
Absolutely! It's actually much better for you if you do. While quinoa is not an actual grain, it does contain phytic acid just like other grains, nuts, and seeds.
Soaking in an acidic medium (water + ACV, for example) neutralizes the phytic acid. This makes it easier to digest and for your body to utilize the nutrients.
If you're already used to cooking soaked quinoa or rice, follow your method for soaking and adding cooking water. Just add the seasonings and cook as directed below.
How To Soak Quinoa Or Rice.
If you're not sure how to soak quinoa or rice, it's very easy!
Rinse your quinoa, unless it is pre-rinsed.
Add your quinoa to a glass mixing bowl (do not use a reactive metal bowl, stainless is OK).
For each cup of quinoa (or rice) add 2 cups of water.
For each cup of water, add 1 tablespoon of something acidic such as ACV, lemon juice, or whey.
Cover and allow to soak at least 7 hours.
If you want quinoa for lunch, start the soaking before you go to bed. Or if you want it for supper, start it in the morning.
How To Cook Soaked Quinoa Or Rice.
You can then just go ahead and cook the quinoa or rice in the soaking liquid if you like. However, for a less sour taste it's best to rinse with fresh water.
You'll need to measure the amount of water left to see how much was absorbed by the quinoa or rice. Strain over a bowl then pour into a glass measure.
Subtract the amount of water remaining from the amount you started with. This gives you how much water your quinoa or rice absorbed. Subtract that amount from the total amount of cooking liquid called for.
Here's an example:
1 cup of quinoa, 2 cups water, 2 tablespoons ACV
After soaking, there is 1 1/2 cups water remaining. The quinoa absorbed 1/2 cup water.
2 cups of water is recommended to cook 1 cup of quinoa. So, we'll need 1 1/2 cups of water to cook the quinoa.
For a helpful chart showing how much liquid to soak and cook in, visit Traditional Cooking School.
How To Fit This Easy Herbed Quinoa Recipe Into Your THM Meal Plan.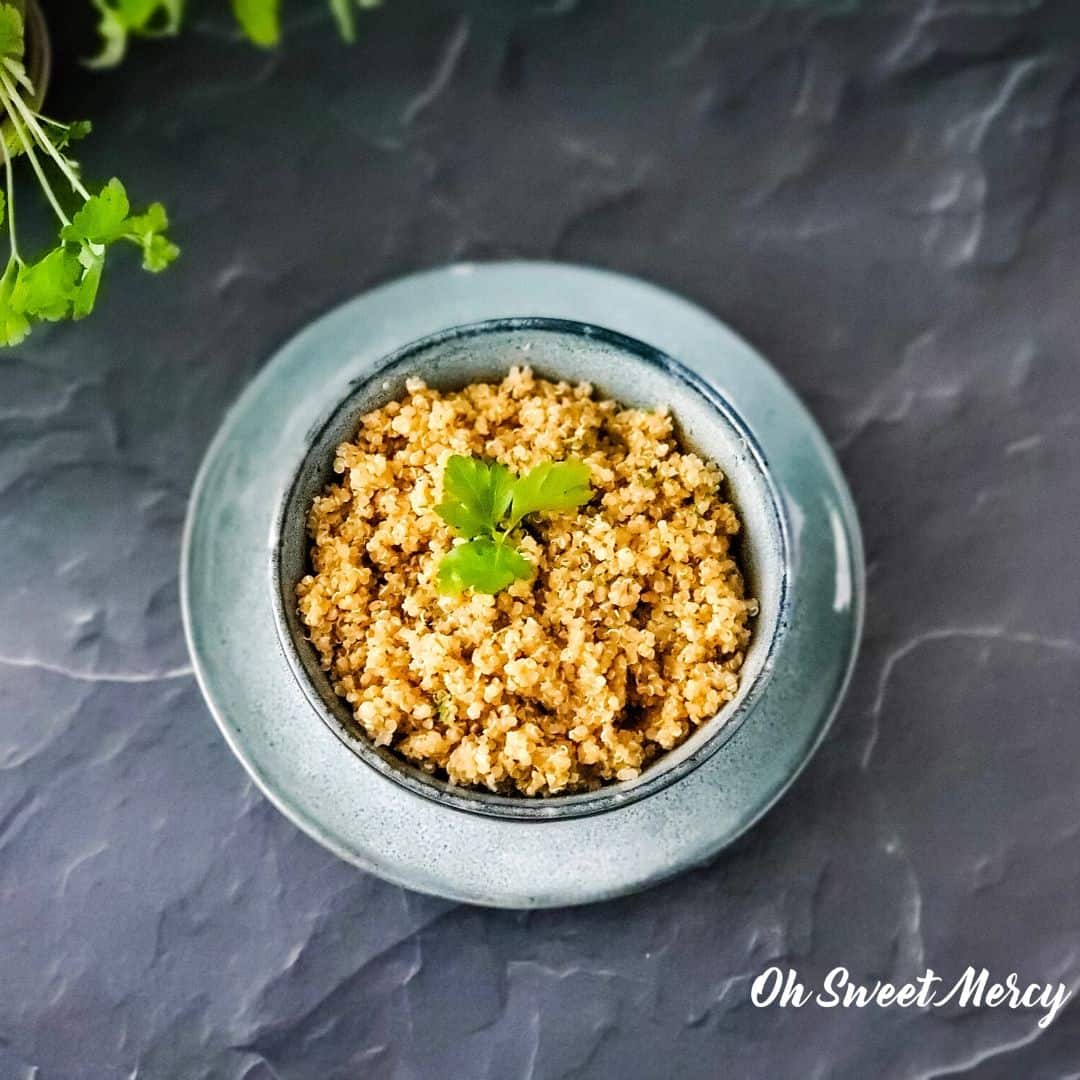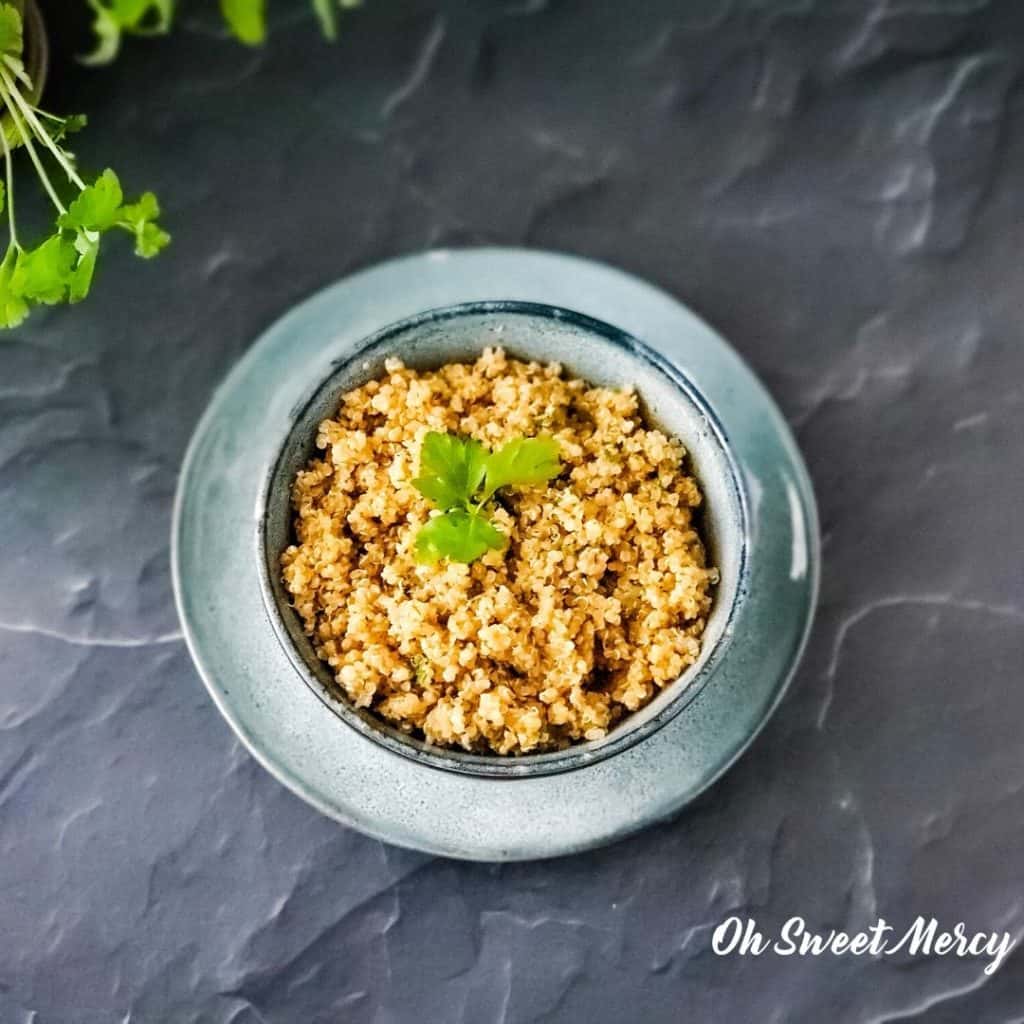 Since this is a recipe using a healthy, complex carb source, it's a THM E. We keep our added fat very low (5g or less) for the entire meal. We choose very lean protein, too, such as chicken breast or lean fish.
Don't forget your non-starchies! Those are even more important for E meals as they help fill us up and keep us satisfied longer. Here's what I had for supper tonight:
Chicken breast seasoned and cooked with no added fat.
A 3/4 cup serving of my Easy Herbed Quinoa.
Steamed green beans.
I actually forgot to add any extra fat to this, the quinoa is so flavorful I didn't even miss it!
I could have added a teaspoon of butter to my green beans. Or, a teaspoon of my Herbed Butter to melt over my chicken breast. So succulently delicious!
Or, save that teaspoon of fat for a Fuel Pull dessert such as a smoothie.
If you need a Crossover or S Helper, just increase the amount of fat in your meal.
Always consult the Trim Healthy Mama Plan Book for complete information on how to put together your meals.
This easy herbed quinoa recipe is a tasty side dish for any THM E meal. This will keep several days too, so making a big batch to reheat throughout the week saves time and energy.
Do You Like Quinoa? Will You Try This Herbed Quinoa Or Use Rice Instead?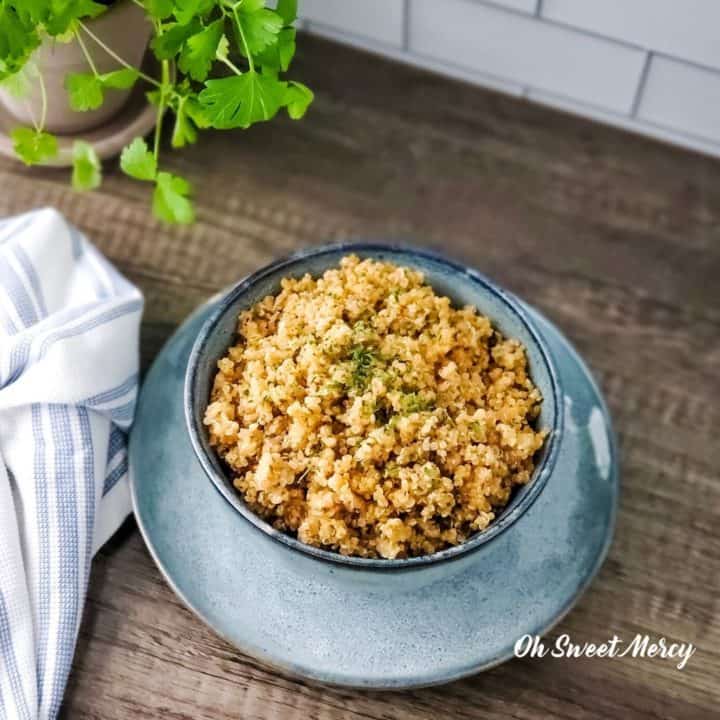 Easy Herbed Quinoa | THM E, Low Fat
Yield: 4 servings
Prep Time: 10 minutes
Cook Time: 15 minutes
Additional Time: 5 minutes
Total Time: 30 minutes
This easy, healthy, and flavorful herbed quinoa is made with wholesome pantry items. Perfect side dish for THM E meals or a delicious meatless option.
Ingredients
2 cups water or fat free broth
1 teaspoon dried parsley
1/2 teaspoon onion powder
1/2 teaspoon dried oregano
1/4 teaspoon dried thyme
1/4 teaspoon garlic powder
1/4 teaspoon paprika
Instructions
Combine all ingredients in a sauce pan with a tight-fitting lid.
Bring to a boil over medium high heat, then reduce to low, cover, and simmer for 15 minutes.
Turn off the heat and allow to sit for 5 minutes.
Fluff with a fork, stirring to evenly distribute the herbs.
Notes
For Rice:
Use the same seasonings and cook the rice as directed on the package.
For Soaked Quinoa or Rice:
Cook in the soaking liquid if desired.
For a less sour flavor, strain and measure the soaking liquid before rinsing the quinoa or rice.
Subtract the amount of soaking liquid absorbed by the quinoa from the total amount of cooking liquid needed.
Add that amount of water or broth to the soaked quinoa or rice and follow the remaining instructions.
Recommended Products
As an Amazon Associate and member of other affiliate programs, I earn from qualifying purchases.
Nutrition Information:
Yield: 4
Serving Size: 3/4 cup
Amount Per Serving:
Calories: 85
Total Fat: 2g
Saturated Fat: 0g
Trans Fat: 0g
Unsaturated Fat: 1g
Cholesterol: 2mg
Sodium: 624mg
Carbohydrates: 13g
Fiber: 2g
Sugar: 1g
Protein: 4g
Nutrition information is approximate and based on the best knowledge available at the time of recipe publication. Your results may vary due to differences in ingredients. You can make your own calculations if this recipe does not include nutrition info by using an online calculator such as https://recipes.sparkpeople.com/recipe-calculator.asp