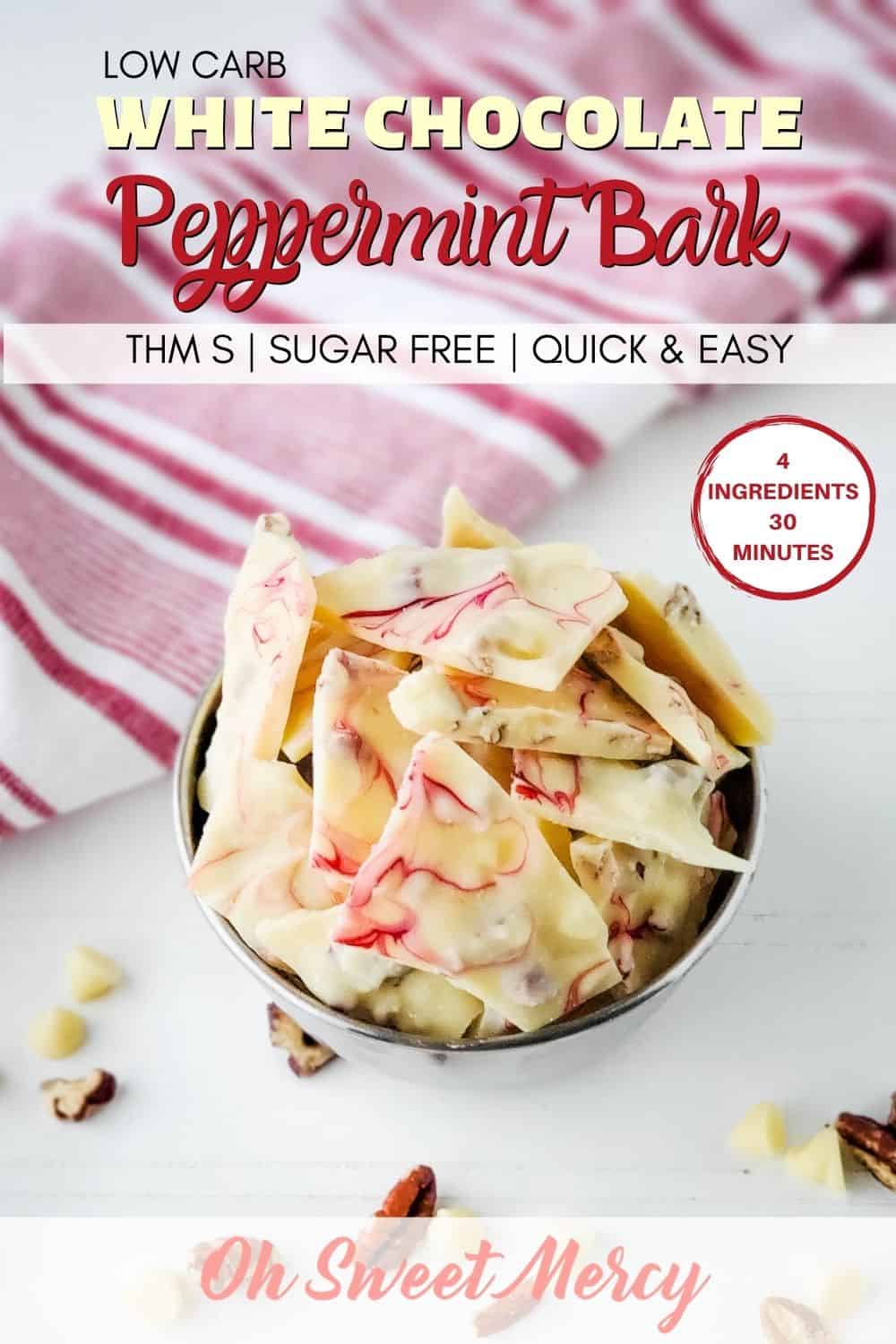 ---
Creamy, sugar free, pepperminty white chocolate with festive red swirls and crunchy pecans. It's my twist on a childhood favorite! This easy Low Carb White Chocolate Peppermint Bark helps you enjoy sweet treats without blowing your carb-conscious eating style. THMs, keep this on hand and avoid temptation this season.
---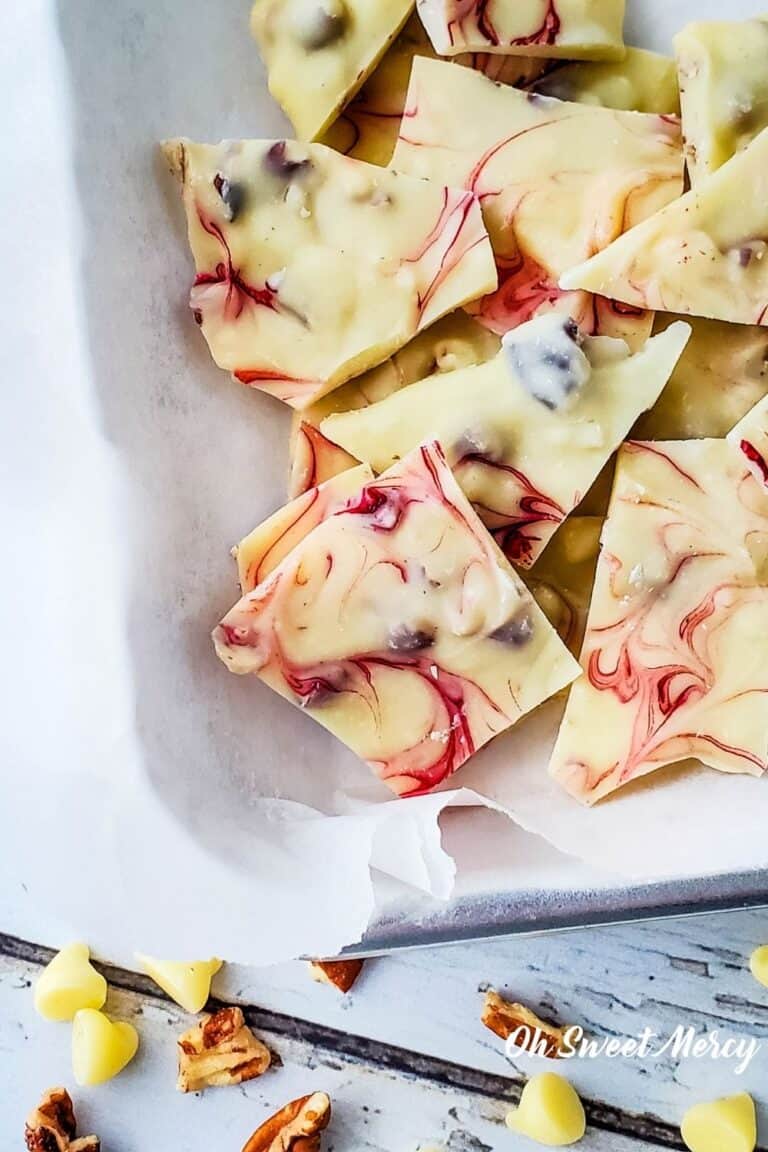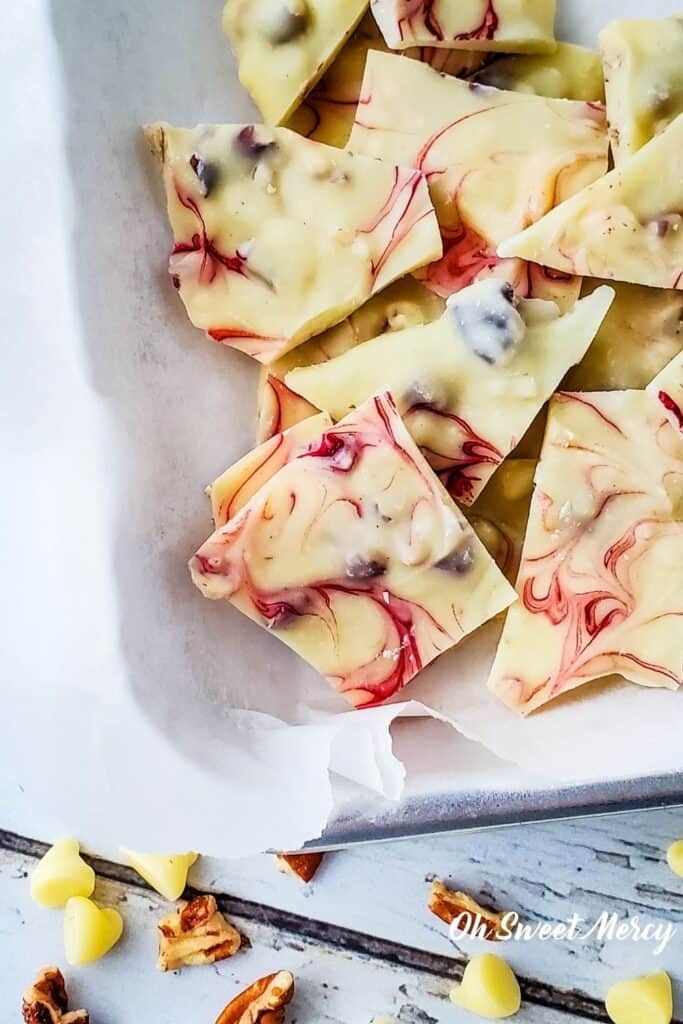 This time of year it's all things peppermint! There's a serious lack of candy recipes here on the blog and I plan to remedy that.
So, here's a super easy, seasonal candy recipe for you!
My low carb peppermint bark only takes 4 ingredients (or 3, if you prefer). I opted for crunchy pecans instead of using sugar free peppermints. Although you can use those if you like (or need) a nut free recipe.
This delicious peppermint bark is super quick and easy to make, too! It only takes around half an hour from start to finish.
Candy making seriously doesn't get much easier than that!
What Do I Need To Make This Recipe?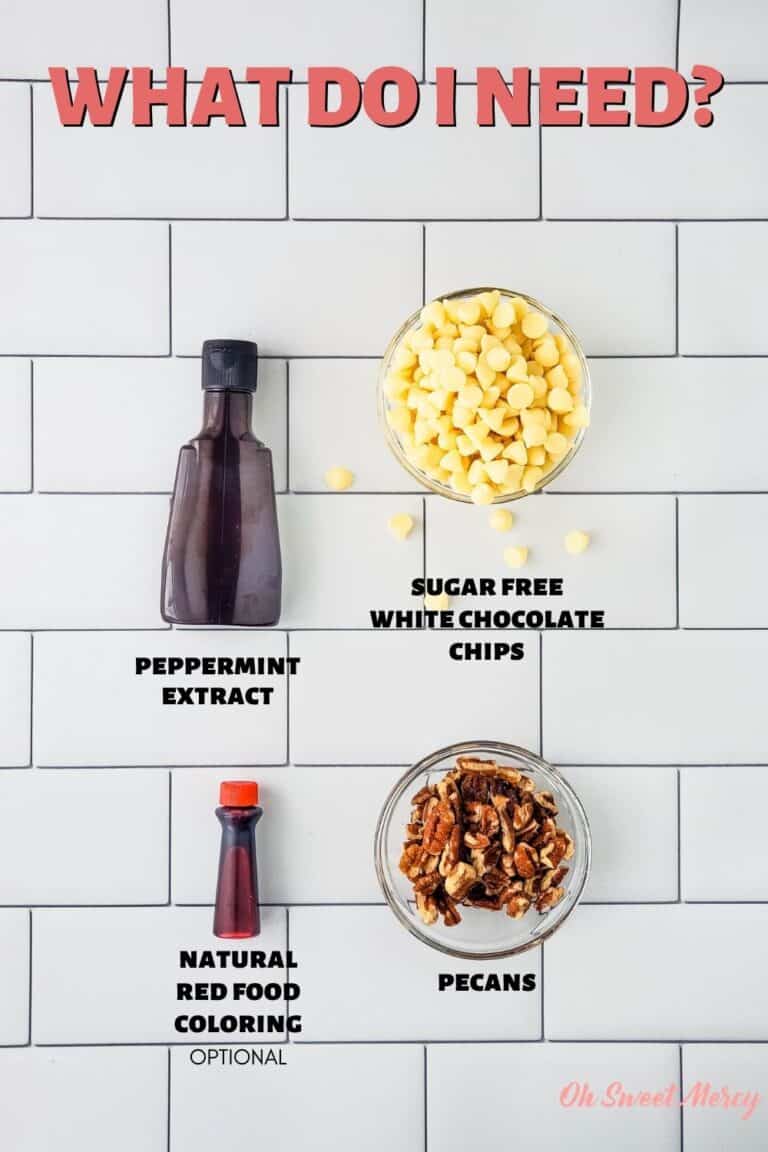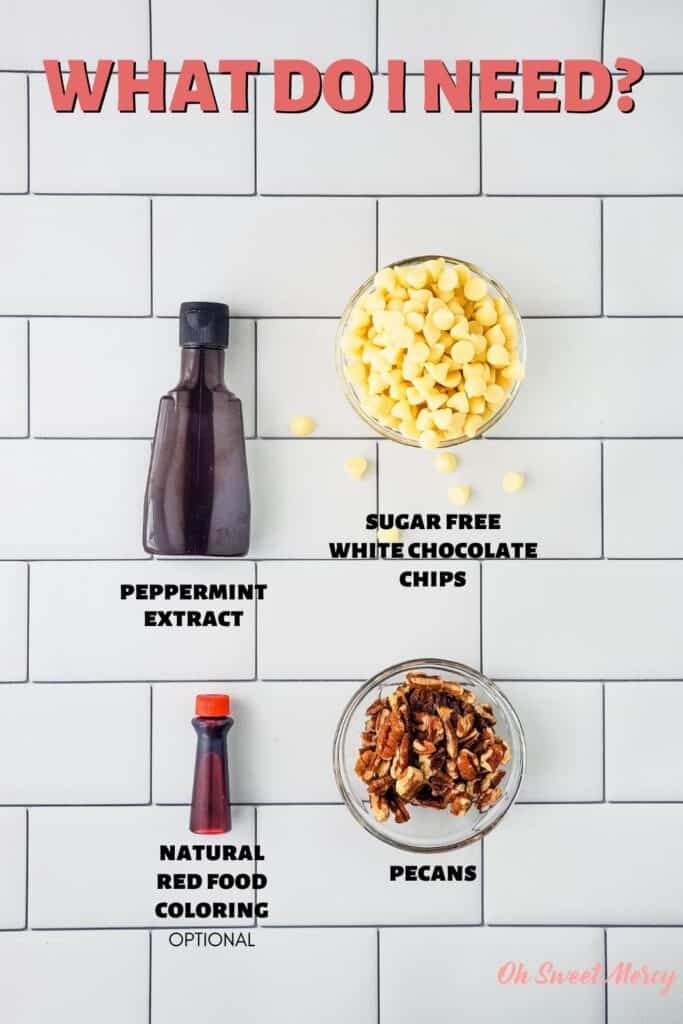 The shopping list for this recipe is super short!
I prefer the Lily's white chocolate baking chips, but was unable to get them locally so used the Bake Believe chips. Still delicious!
If you can't find them easily, try making your own with this Vanilla Baking Chips recipe from Wonderfully Made and Dearly Loved.
While I typically don't use food colorings, I did pick up some natural colors to use occasionally. This seemed like a great time to try them, and I just used a couple drops to make the swirls.
You can also just mix it into the chocolate for pink peppermint bark.
How To Make It.
First, you'll need a double boiler (or something that functions like one). I found this little chocolate melting pot on Amazon instead of buying an entire double boiler, though. It just sits on a sauce pan.
I don't have either one of those, so I put a glass that fits onto my stainless steel sauce pan.
Bring some water almost to a boil, set your double boiler/melting pot/bowl on the sauce pan (make sure the bottom doesn't touch the water). Add your baking chips and peppermint extract to that and stir until melted.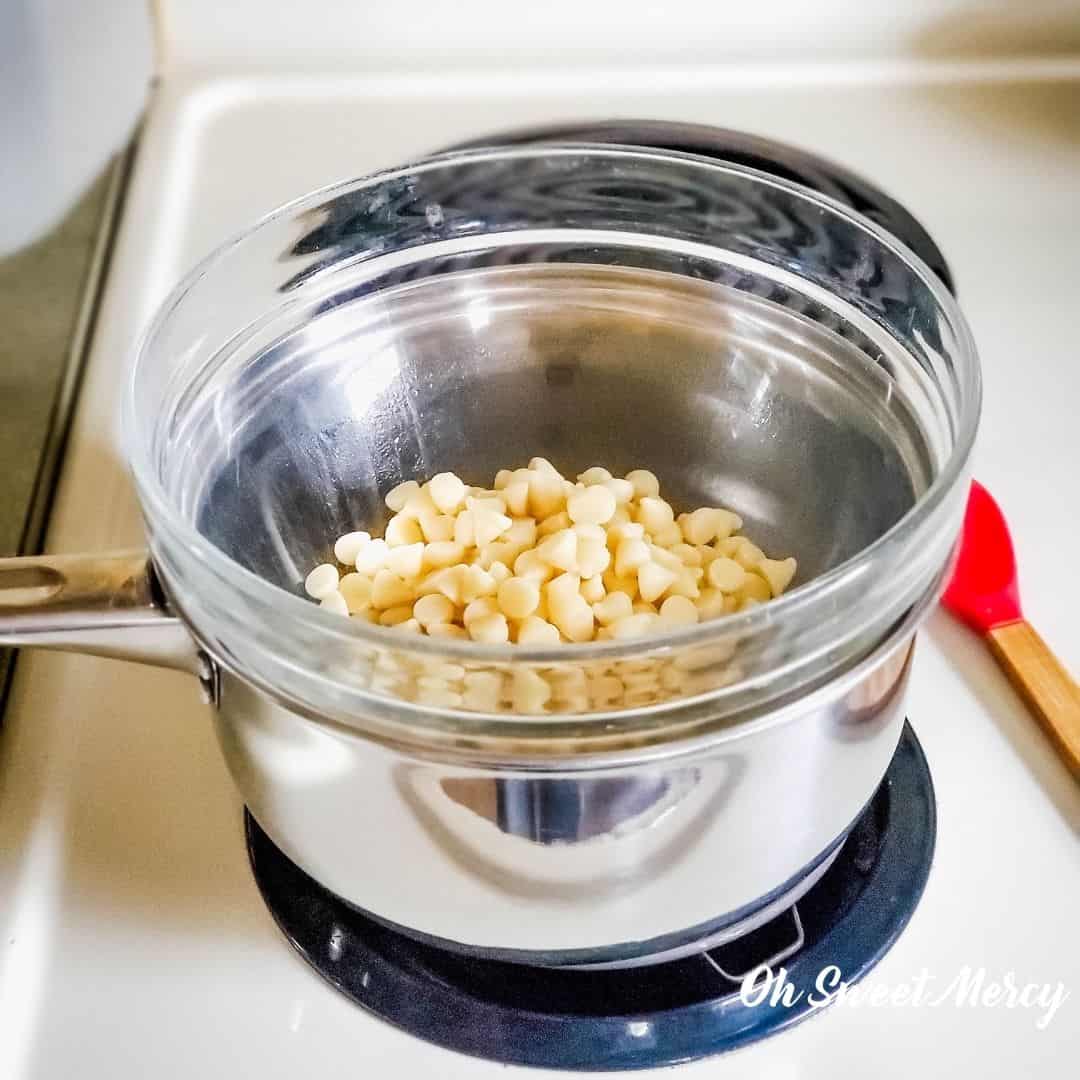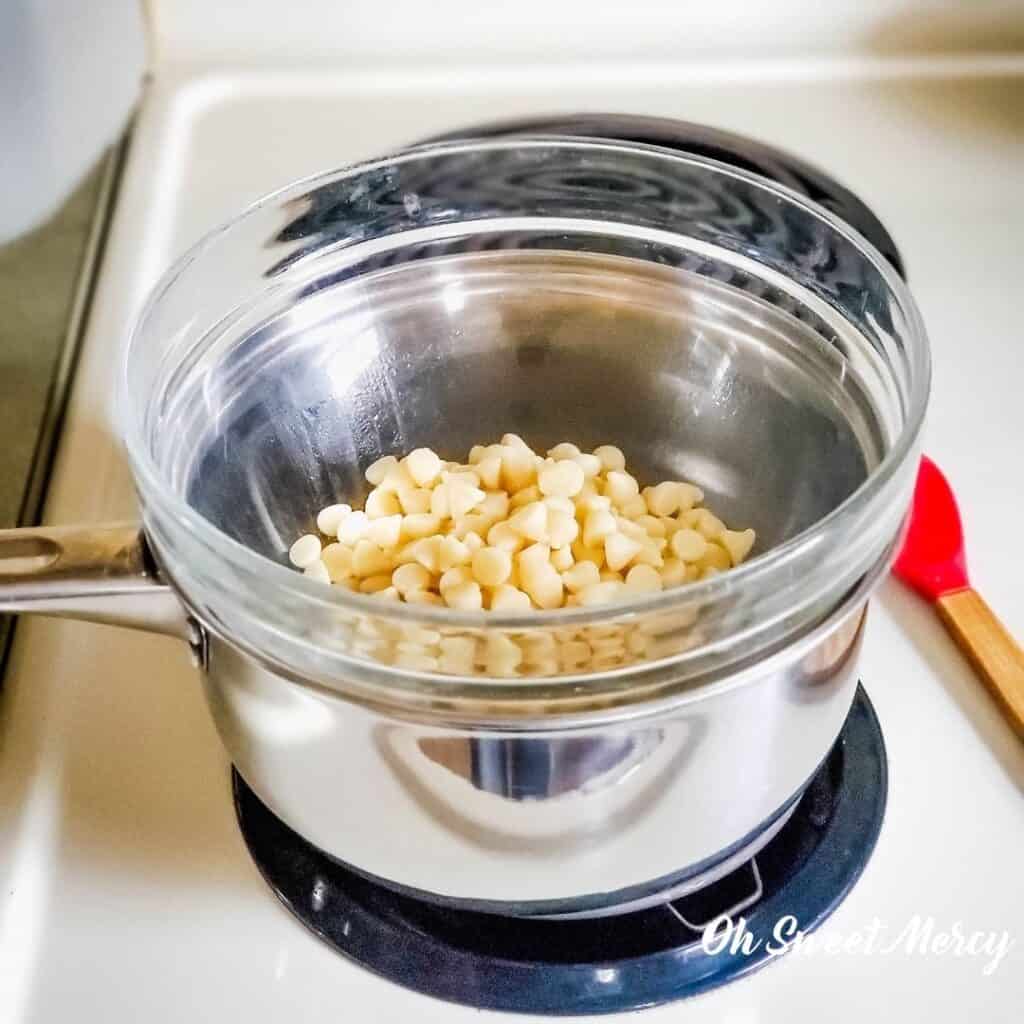 You don't need the water at a rolling boil, or even boiling. It's still possible to over melt your baking chips if you do. This causes the melted mixture to become grainy and dry.
A good, steaming hot bit of water is sufficient to melt these baking chips. In fact, they should melt in just a minute or two.
Once the chips melt remove the top from the sauce pan and stir the pecans into the melted chips. If you'd like pink peppermint bark, stir in a drop or two of natural food coloring as well.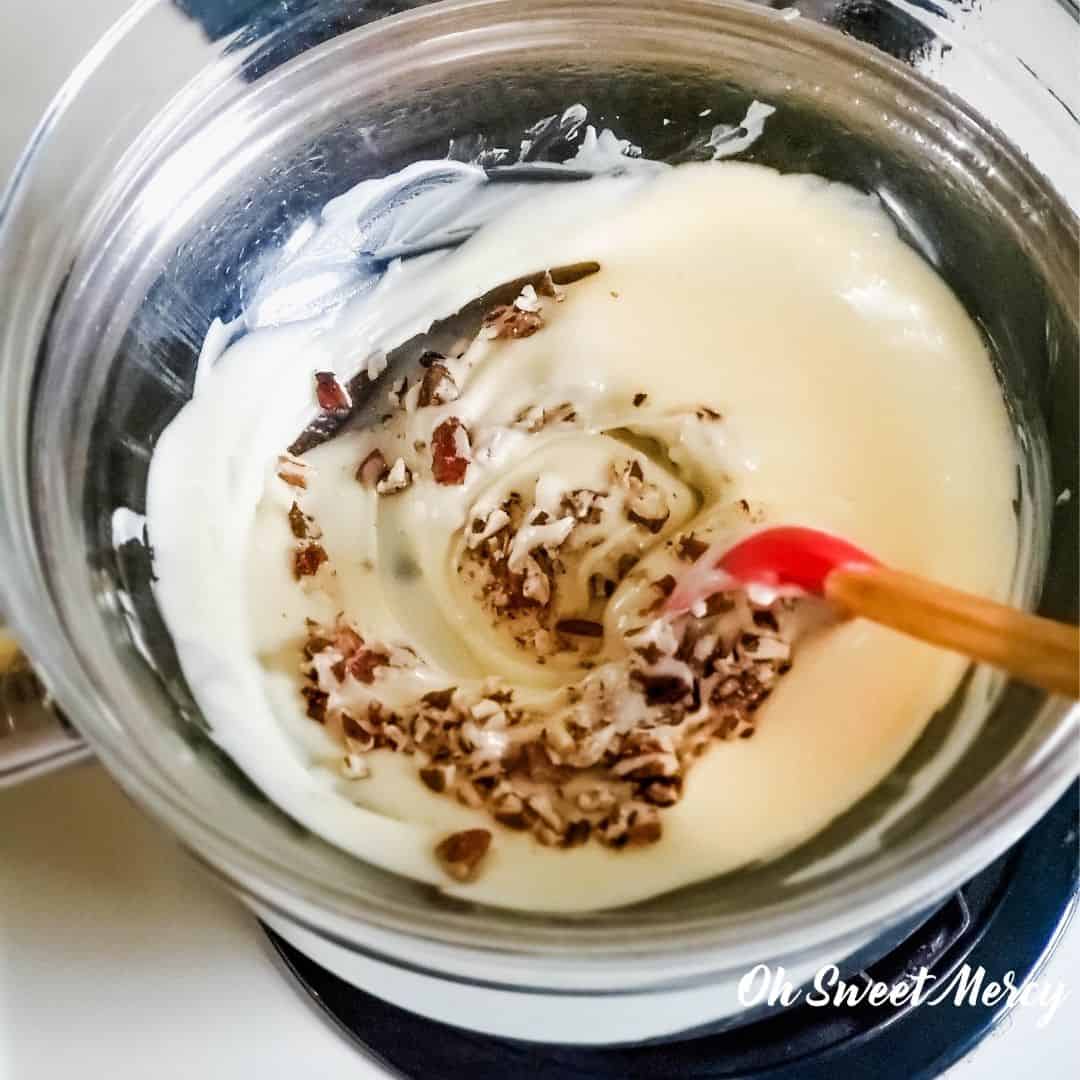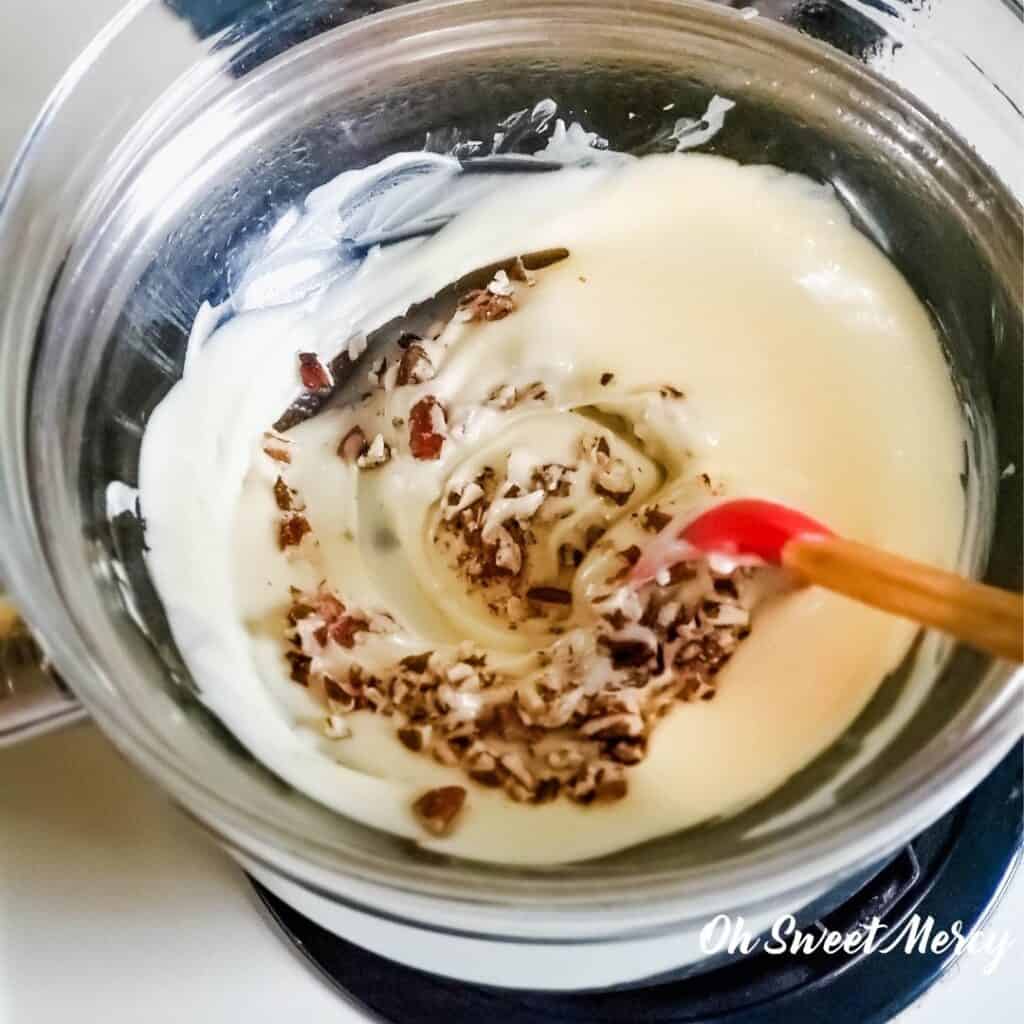 Carefully pour out onto a parchment paper lined baking tray and spread as thin as you'd like.
The photo below is of half a recipe. I didn't have enough chips left to make the recipe AND take the ingredients photo.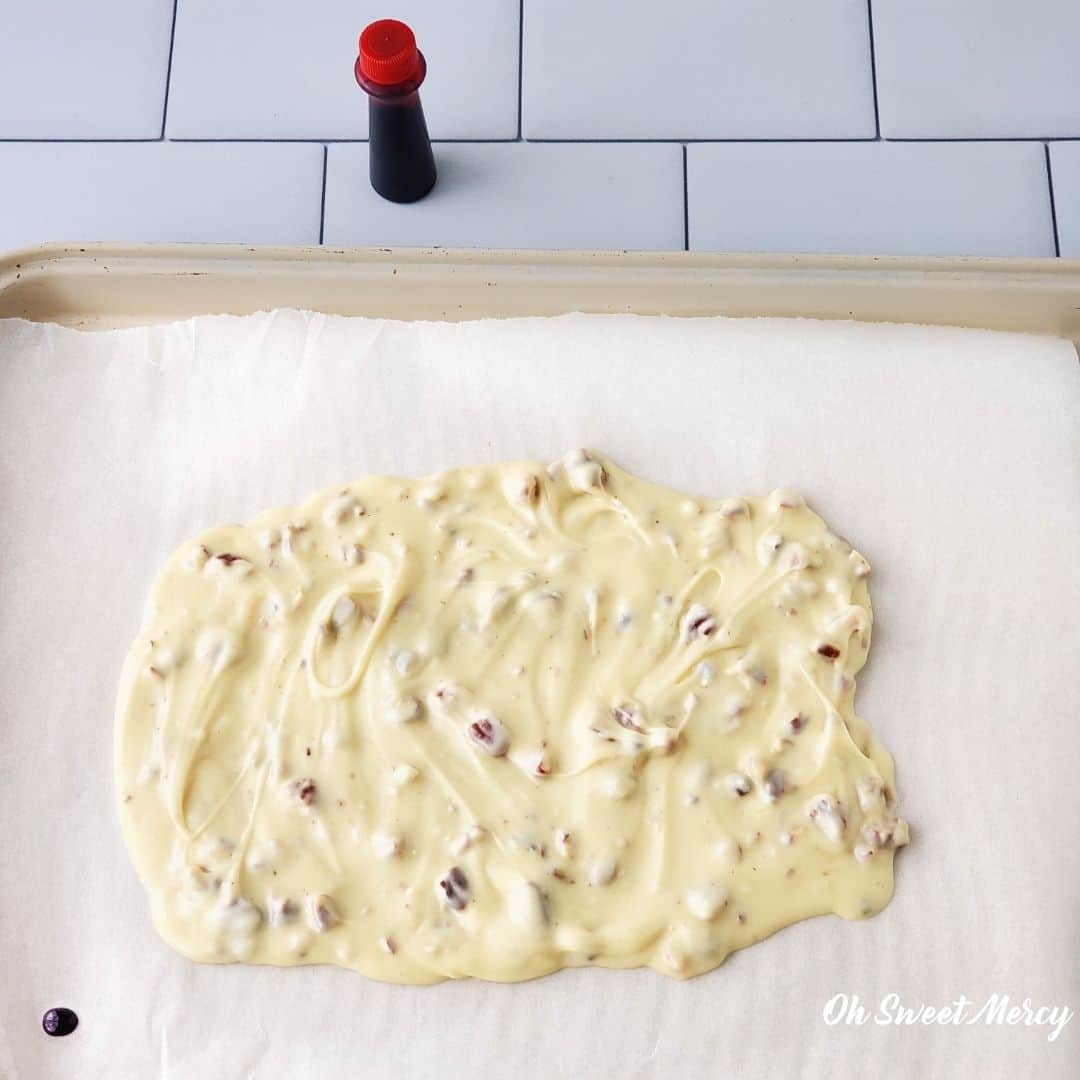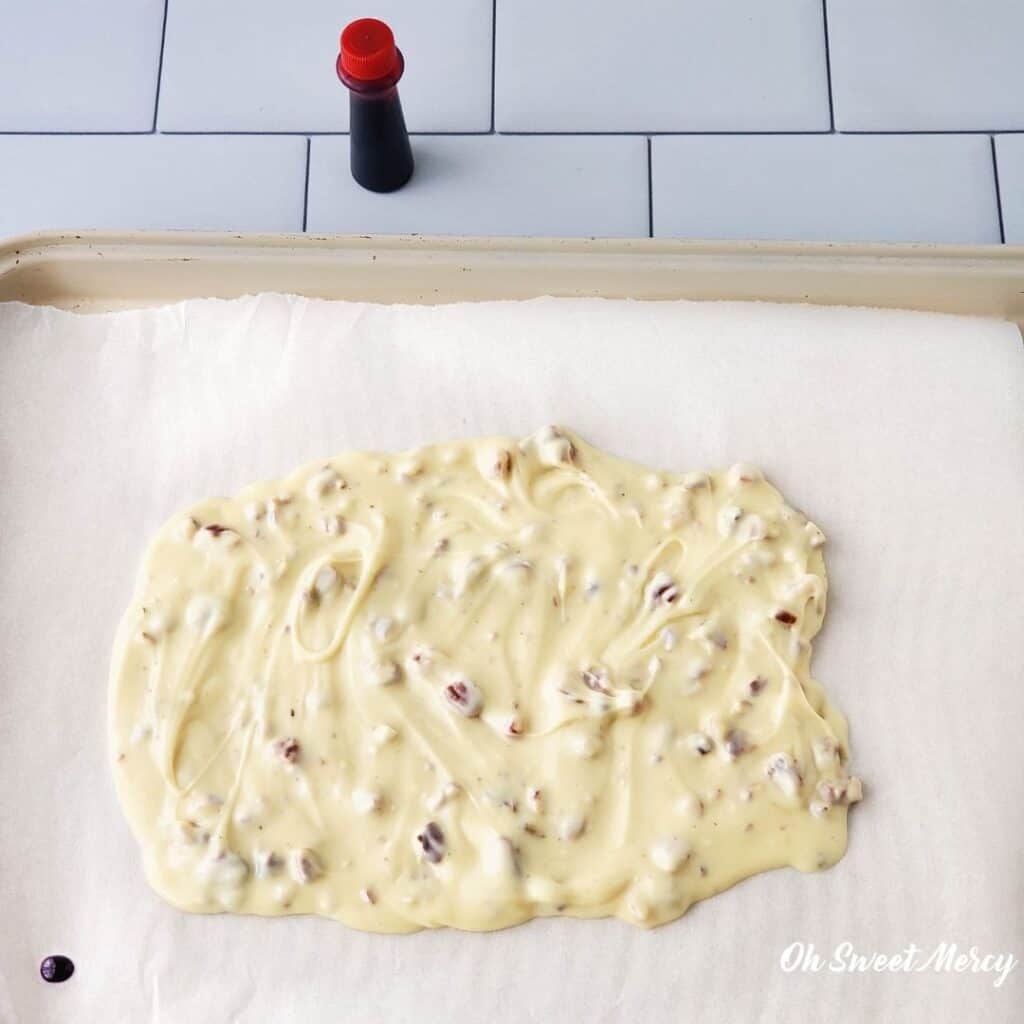 Finally, if you'd like a white bark with swirls put a drop or two of natural food coloring on the parchment paper. Using a toothpick, dip it in the red coloring then swirl through the melted chocolate mixture.
Repeat until all the coloring is used or you're satisfied with the results.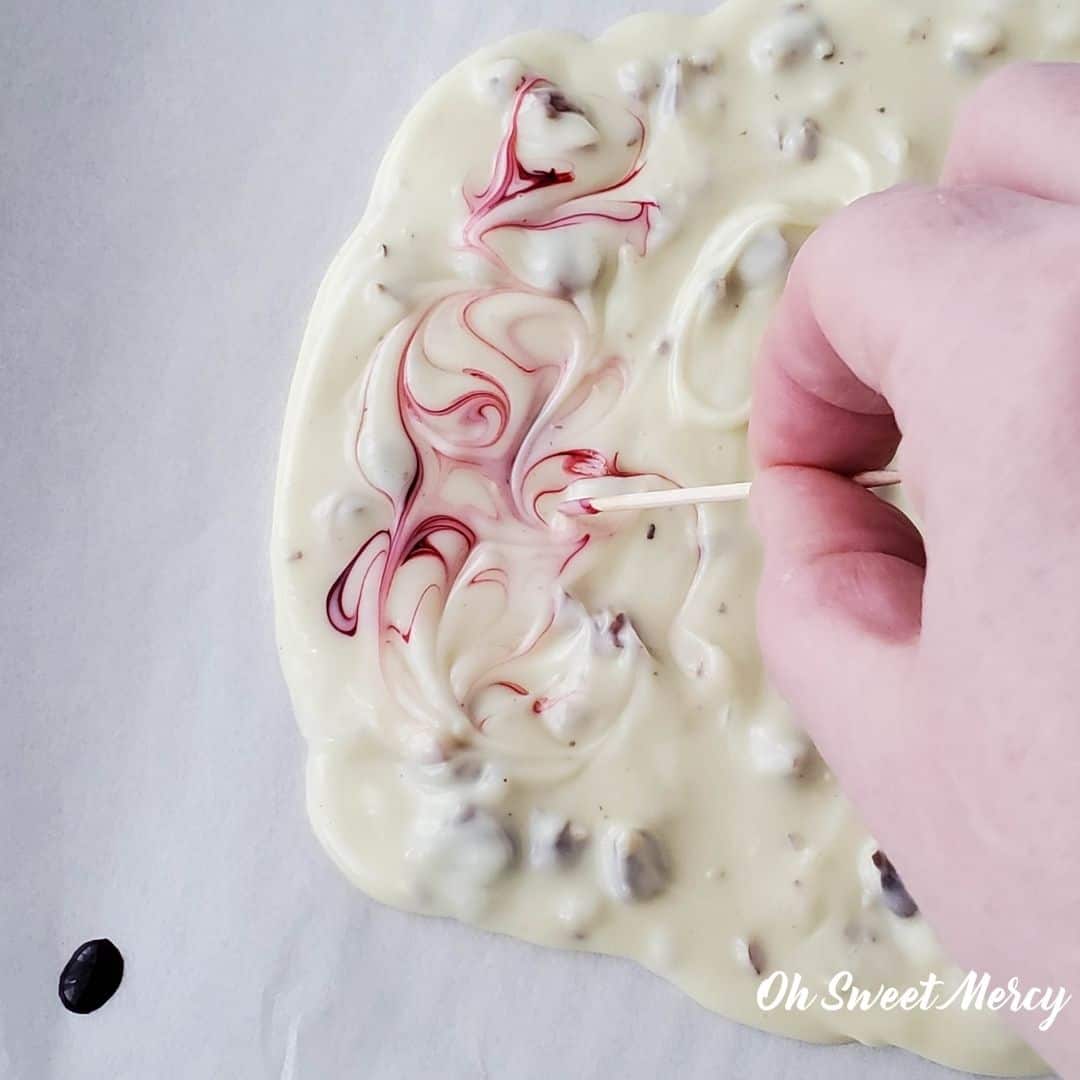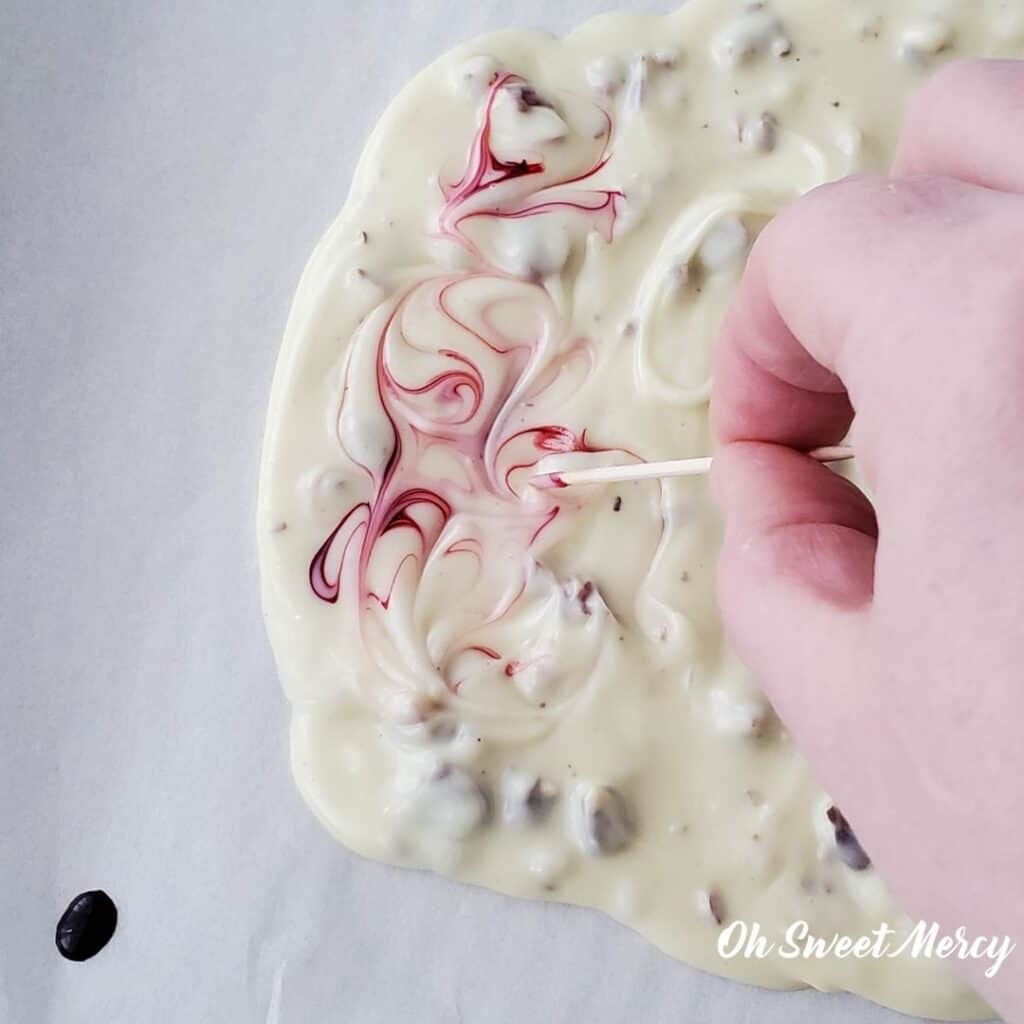 Now, pop it in the fridge for about 15 to 20 minutes to let it harden. Then, break into pieces.
How To Store Sugar Free Peppermint Bark.
Unlike coconut oil based chocolate, this won't melt at room temperature. However, if you like that crisp snap it's best to keep this in the fridge.
It tends to get a bit softer at room temperature but is still perfectly edible and delicious.
Just be sure to store in an air tight container or zipper bag.
How Long Will This Keep?
It should keep for several weeks in the fridge, even longer in the freezer.
Since it's so tasty and delicious, though, it probably won't last that long!
How To Fit This Tasty Treat Into Your Seasonal Meal Plans.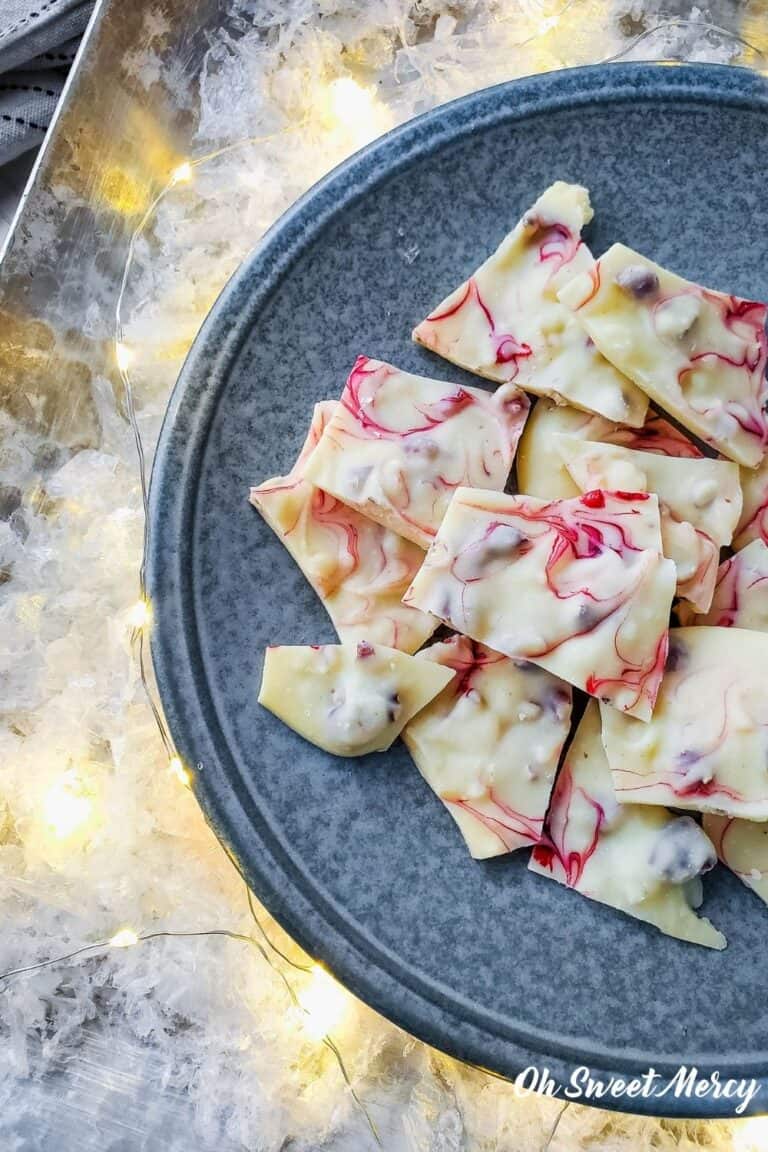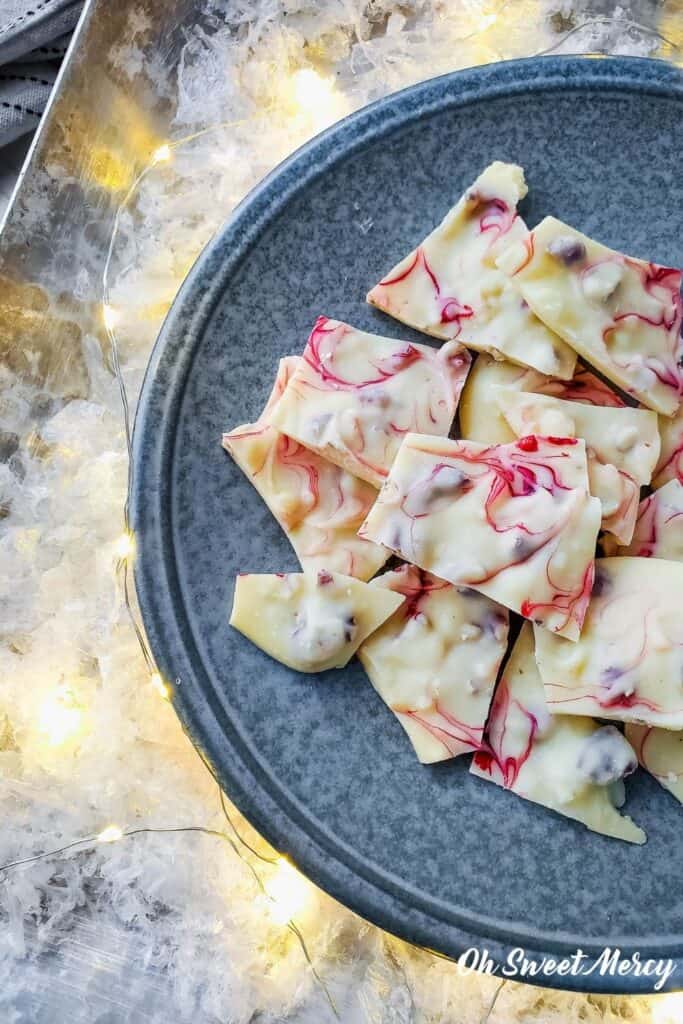 This tasty treat is a THM S recipe, so best to enjoy in low carb settings.
They're perfect for a holiday table or even gift giving. Just be sure to let people know they contain sugar alcohols. Some people's tummies get upset by them, or by consuming too much.
If holiday candies are your weakness, plan ahead and keep some of this in the freezer. Take it along to parties and get togethers to help avoid the temptation of sugary candies.
Know a local THM who could use a special gift this year? Make her a collection of THM friendly treats, including this one.
Other treats to include in your special gift:
However you choose to enjoy this delicious low carb white chocolate peppermint bark, I hope it helps you stay on plan during the coming weeks!
PIN IT!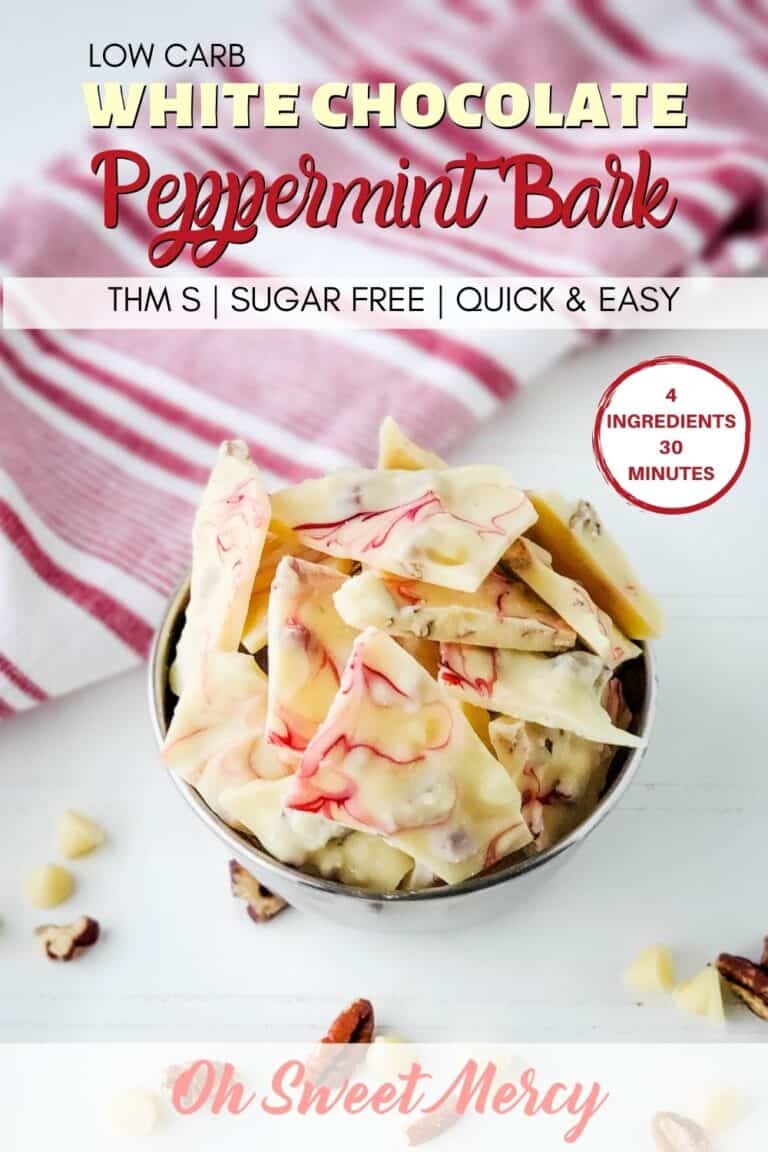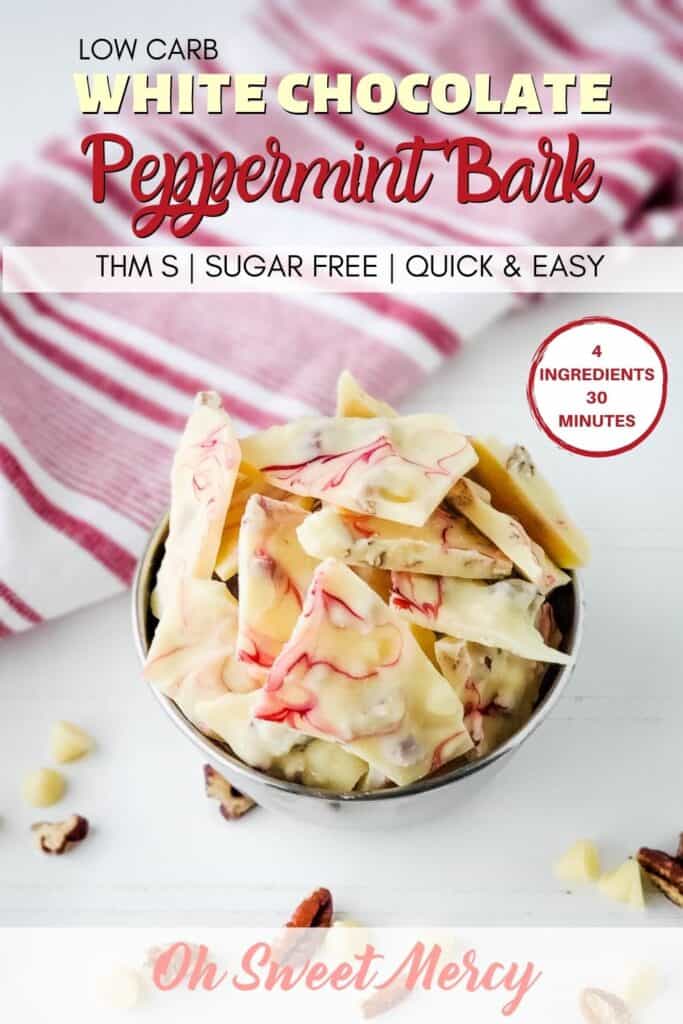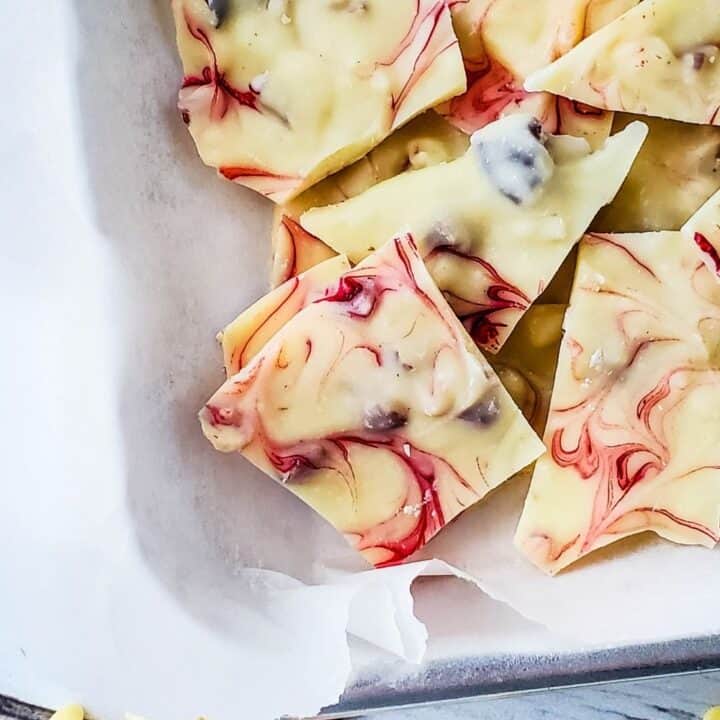 Low Carb White Chocolate Peppermint Bark | THM S, Sugar Free
Yield: Approximately 40 pieces
Prep Time: 15 minutes
Cooling Time: 15 minutes
Total Time: 30 minutes
Creamy peppermint white chocolate studded with crunchy pecans, this low carb peppermint bark is perfect to help you say no to sugar-loaded treats this season. With just 4 (or 3) ingredients and about a half an hour, it's the easiest candy you'll ever make! THM S, keto friendly.
Ingredients
2 tablespoons finely chopped pecans (optional)
Instructions
Prepare a double boiler, or similar set up, by heating water in the lower pan (doesn't need to be boiling, just good, steaming, hot water).
Line a baking sheet with parchment paper and set aside.
Melt white chocolate chips and peppermint in the top of the double boiler, or similar set up. This should only take 1 or 2 minutes, too long can overcook it making the chocolate grainy and dry.
When melted, remove the top pan from the double boiler and place on a heat safe surface. Stir in the pecans, if using.
Pour mixture onto the parchment paper and spread as thin as you like.
If using food coloring, place a drop or two on the parchment paper. Dip a toothpick into the food coloring and swirl it through the melted chocolate.
Repeat until you get the desired look.
Notes
Nutrition Notes
Nutrition information is calculated to the best of my ability. I got 40 pieces out of this recipe, so it's figured on that. You may get more or less pieces depending on how thick you spread the mixture and how many pieces you break off. Use the per serving numbers as a guide.
Recommended Products
As an Amazon Associate and member of other affiliate programs, I earn from qualifying purchases.
Nutrition Information:
Yield: 40
Serving Size: 1 piece
Amount Per Serving:
Calories: 23.8
Total Fat: 2.2g
Saturated Fat: 1.1g
Trans Fat: 0g
Unsaturated Fat: 0.3g
Cholesterol: 0mg
Sodium: 0mg
Carbohydrates: 1.3g
Net Carbohydrates: 0g
Fiber: 1.3g
Sugar: 0g
Sugar Alcohols: 3g
Protein: 0g
Nutrition information is approximate and based on the best knowledge available at the time of recipe publication. Your results may vary due to differences in ingredients. You can make your own calculations if this recipe does not include nutrition info by using an online calculator such as https://recipes.sparkpeople.com/recipe-calculator.asp