---
Now that Thanksgiving is behind us and we're back on track with THM, let's not forget our healthy, slimming E meals! My Creamy Turkey and Rice Soup recipe is the perfect place to use up that leftover holiday turkey, too. And guess what? This soup is also dairy free!
---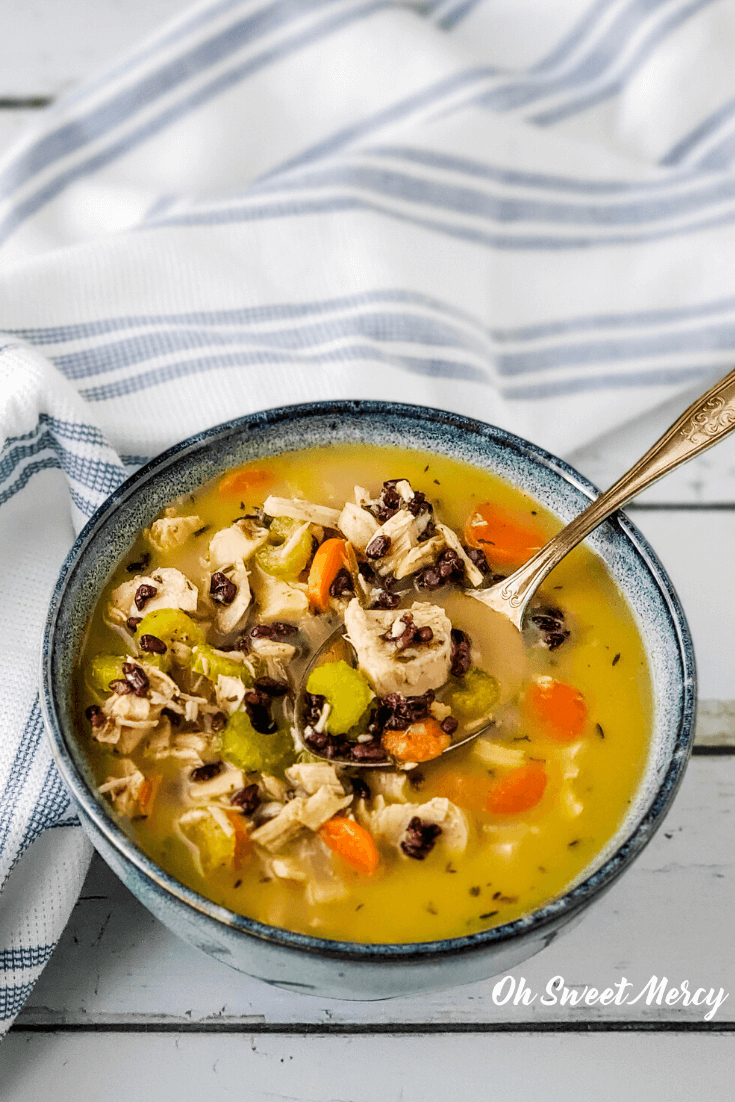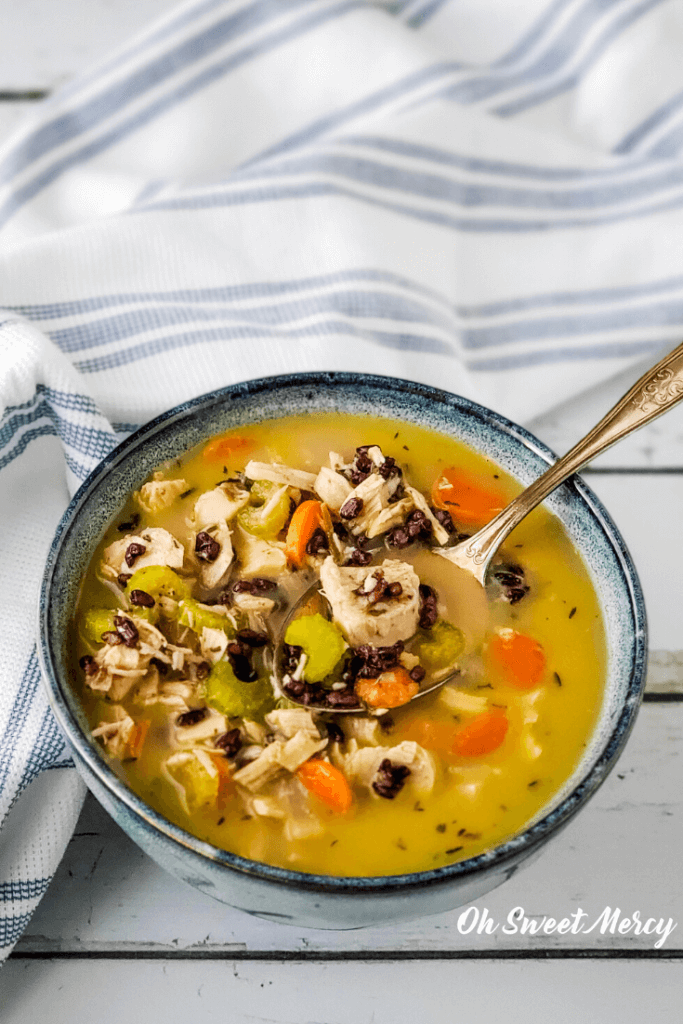 Wait, did you just read Creamy Turkey and Rice Soup and dairy free in the same sentence?
Why yes you sure did! While you certainly can add some low-fat dairy to this recipe to make it creamy it's also delicious made without it.
How To Make A Dairy Free Soup Creamy (My Secret Weapon).
I have a secret ingredient that I love using. That's THM Simply Sunflower Lecithin!
Why lecithin? It acts as an emulsifier and creamy-fier.
I've been cutting out a lot of dairy lately and adding a bit of lecithin to my morning Dandy Blend (I also quit coffee earlier this year…) gives it more of a creaminess that almond milk alone can not.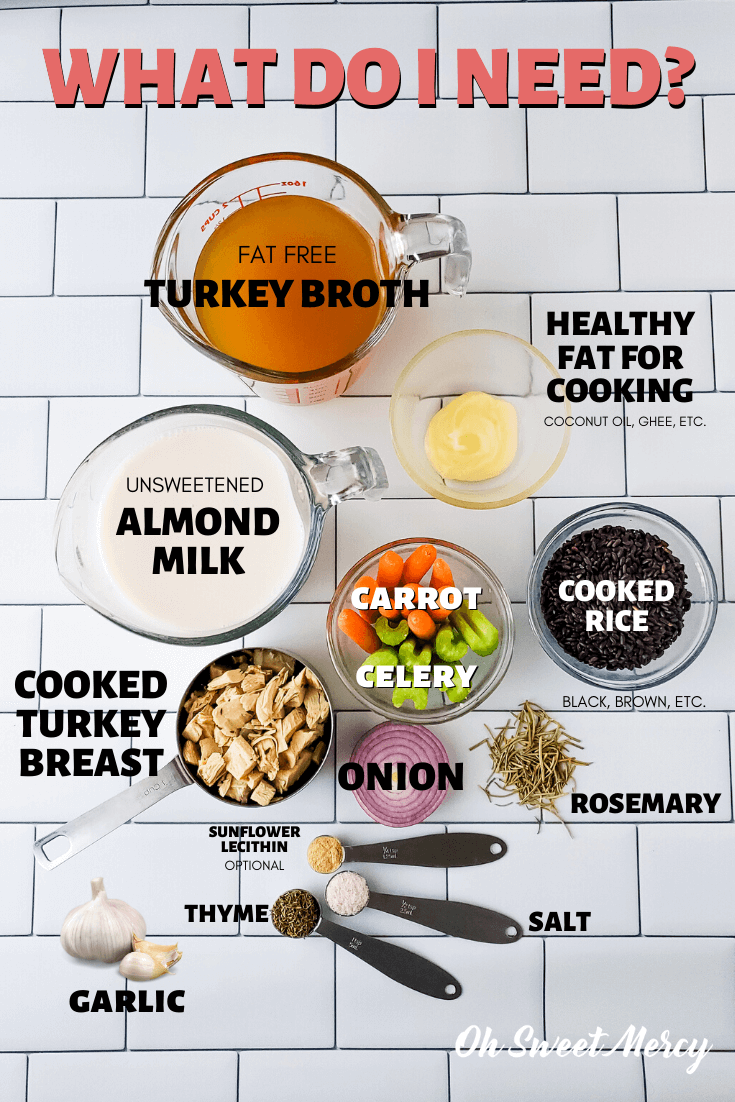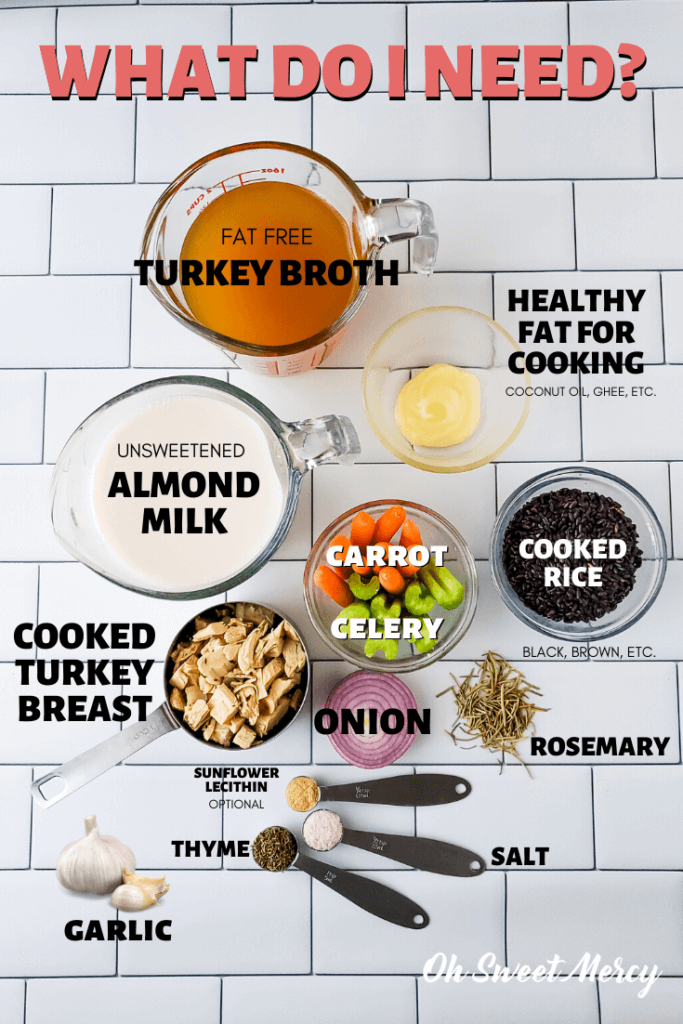 Is Lecithin Necessary? Are There Alternatives?
No, you certainly don't have to use lecithin if you don't have it or prefer not to use it at all. It won't have quite as creamy of a mouthfeel but it's still delicious and nutritious.
Another alternative is to add some grassfed beef gelatin. In addition to adding a richness to the soup it also boosts the nutrition.
HOW TO: Simply save a half cup or so of your broth out and bloom 1 to 2 tablespoons of gelatin in it. To bloom gelatin you sprinkle the dry gelatin powder over the cold liquid and allow it to absorb and hydrate.

Bloomed gelatin looks like the consistency of applesauce when it's ready. It also often looks wrinkly and pretty weird.

Then, add the bloomed gelatin to your hot soup and stir well until it's dissolved.
You can also add half a cup or so of 0% Greek Yogurt if dairy isn't something you avoid. Stir or whisk the yogurt into the soup a few minutes before serving.
Finally, you can also add silken tofu to thicken and creamy-fy your soup. Blend the silken tofu with the almond milk before stirring in with the broth. A stick blender in a mason jar is a super easy way to do it.
What Kind Of Rice Is Best For Creamy Turkey And Rice Soup?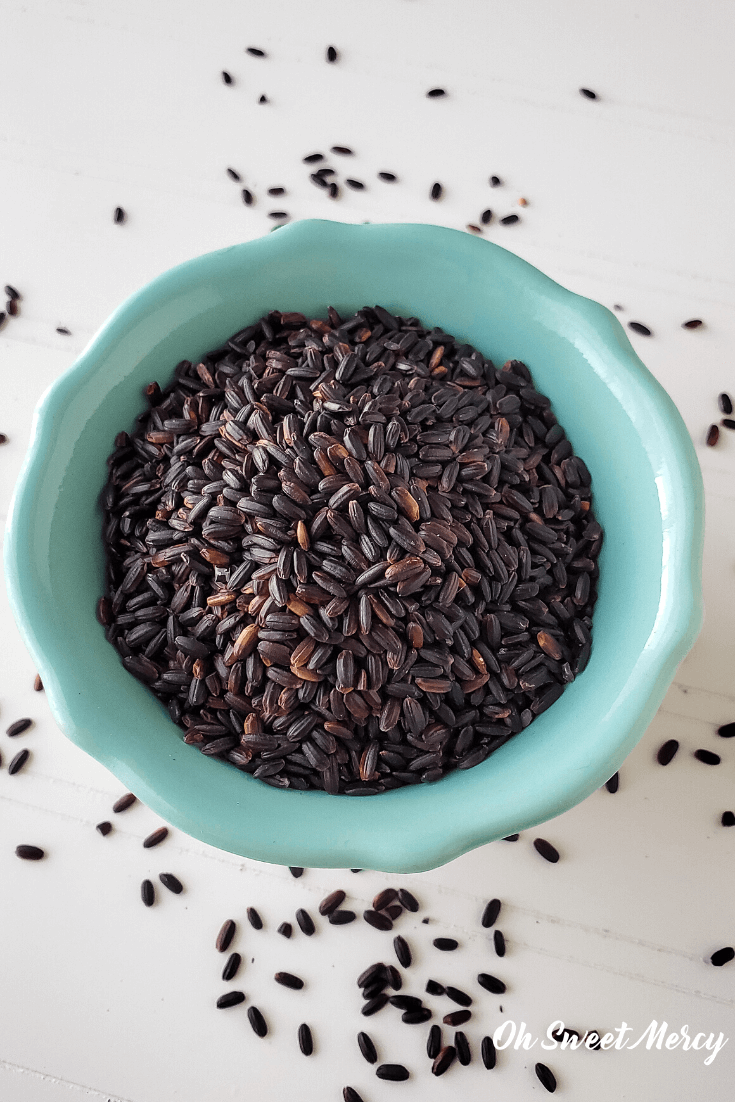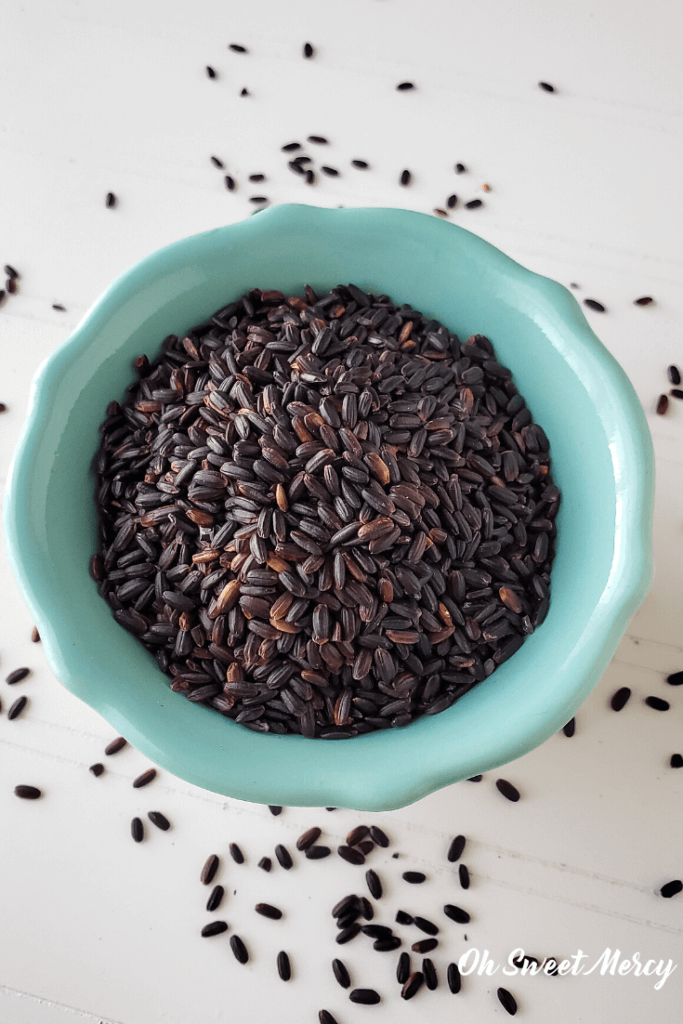 Nutritionally, any rice (that's on-plan for THM) is best soaked overnight in a solution of water and something acidic such as ACV or lemon juice.
This reduces phytic acid naturally present in the rice, making it more digestible and nutritious. However feel free to use rice cooked as you prefer.
HOW TO: To soak your rice to reduce phytic acid, combine 1 cup of rice with 2 cups of water and 2 tablespoons of something acidic, such as apple cider vinegar, lemon juice, or even yogurt or whey. Cover and leave on the counter for at least 7 to 8 hours.

To reduce sourness, strain your rice over a bowl (save the soaking liquid) then rinse well under cool running water. Measure the amount of liquid you strained off and subtract that from the amount you started with. That shows you how much liquid the rice absorbed.

When cooking your rice, subtract the amount of liquid absorbed from the amount of water recommended for cooking your rice.
Since I recently went on a black rice cooking marathon, I chose soaked, cooked black rice. Any rice that is on-plan for THM is acceptable.
If you enjoy black rice, this turkey and rice soup recipe is a great place to use it. However, be sure to cook the rice separately and add right before serving.
You might want to also rinse the cooked rice a bit first. The dark, purple hue of the rice can color your creamy broth!
I had quite a lot of cooked black rice in my freezer. The night before I got a package out to thaw in the fridge. The next day, it was very simple to add to the soup.
Tasty Ways To Use Leftover Turkey
Crunchy cabbage and veggies mixed with chicken, turkey pepperoni, cheese, and a creamy mayo-based dressing makes a quick and easy low carb lunch. Perfect for THM!
This low carb Creamy Chicken and Bacon Casserole is a winner for Trim Healthy Mama followers, low carbers, and keto dieters. Flavorful chicken thighs combined with turkey bacon and riced cauliflower - then covered in a creamy, cheesy, sauce - it's total comfort food.
A Note On Seasoning…
While I'm cutting out some foods, including seasonings, for a…well, season, you don't have to. Feel free to add black pepper or paprika if you like! If you like spicy, add your favorite hot and spicy seasonings. Give my Creole Seasoning a try!
How To Fit This Creamy Turkey And Rice Soup Into Your THM Meal Plan.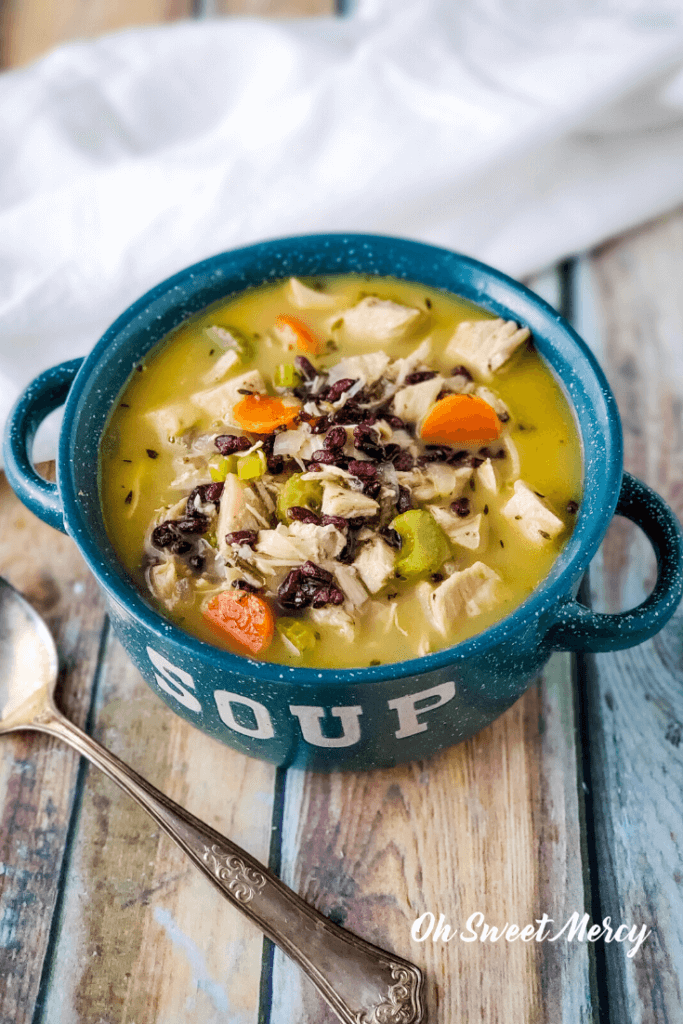 Since we use a THM E fuel source (rice) for this low fat turkey soup recipe, it's also an E meal.
When eating E meals be sure to keep your added fats very low. Each cup of this soup has 2.5 grams of ADDED fat. Remember we don't count the fat present in our lean turkey breast in an E meal.
Read the THM Plan Book for all the deets.
NUTRITION INFORMATION TIP: You'll see in the recipe card below it shows 4.8 grams of fat per cup of soup. The nutrition calculator includes the fat in the lean protein source – the turkey breast – even it's not necessary to do on THM.

The added fat in the recipe is 2.5 grams. This comes from ghee (or other healthy fat) and you can cut back or eliminate it entirely if you prefer. Saute the veggies in a bit of broth instead for an added-fat-free soup.
This soup is lighter on the E carbs with only one cup of rice for the whole recipe. Feel free to add another cup of rice if you want more carbs in the soup.
Why did I do that? Well because I enjoy eating bread with soup. If I have many carbs in my soup, no room for bread! I tend to need more pulled-back E meals, too.
Make Your Creamy Turkey and Rice Soup A Well Balanced Meal.
Enjoy a hearty bowl of creamy turkey and rice soup with a small sprouted roll or slice of sprouted bread (or sourdough). A small amount of butter, ghee, or even MCT oil is also delicious on bread.
In addition, a salad dressed with a fat-free dressing (or simply with fresh lemon juice) gets more non-starchies in your meal.
Finally, choose a fresh fruit for dessert to round out your E meal.
So delicious and satisfying, even without a bunch of fat. And, getting those healthy, slower-burning carbs to nourish your thyroid is a big win!
Do You Have Leftover Turkey? Will You Make This Soup?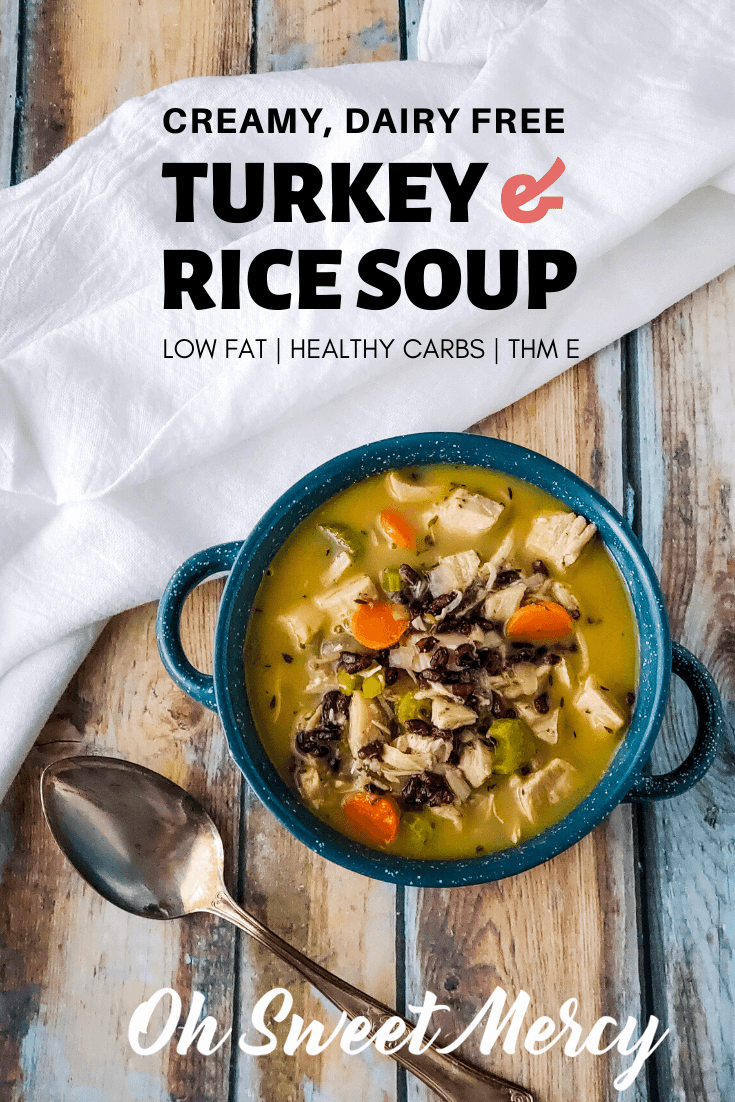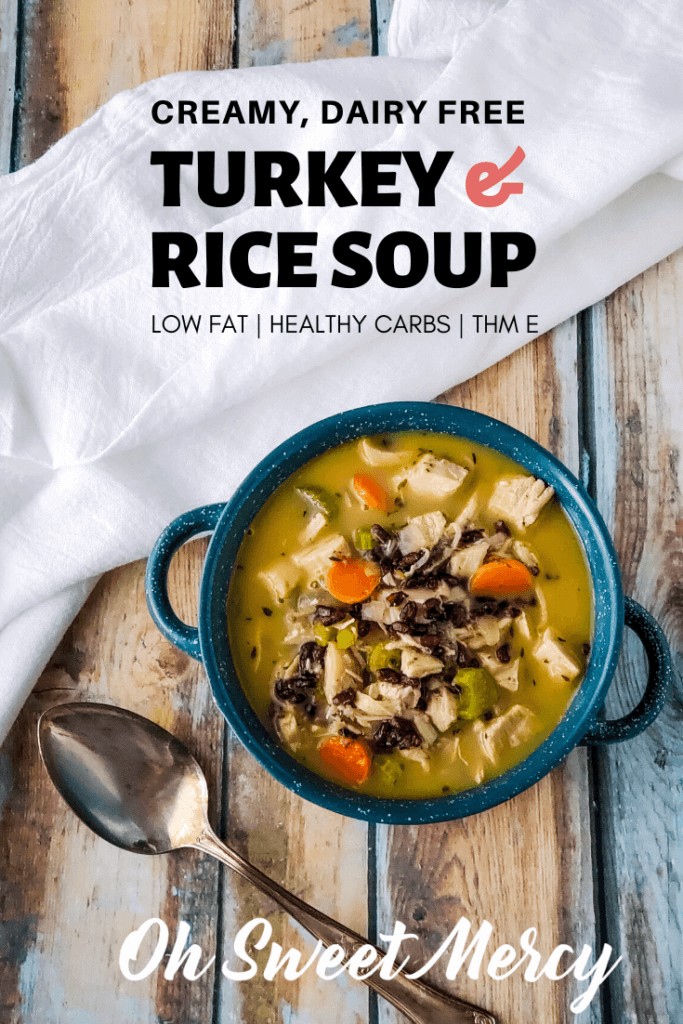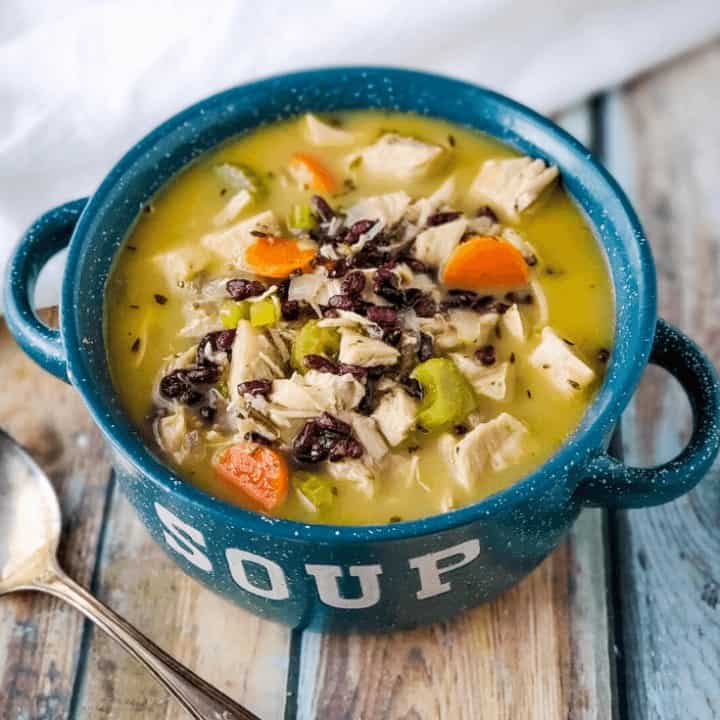 Creamy Turkey And Rice Soup | Low Fat, Healthy Carbs, Dairy Free
Yield: 4 cups
Prep Time: 10 minutes
Cook Time: 20 minutes
Total Time: 30 minutes
A creamy, dairy free turkey and rice soup? Yes, you can make that! I use a secret ingredient but you can substitute for it if needed (see the notes). This soup warms your soul with flavors reminiscent of holiday dinners and nourishes your body with healthy carbs. Perfect for leftover holiday turkey or any time of year!
Ingredients
2 teaspoons ghee, coconut oil, or other healthy fat for cooking (optional, see notes)
1/3 cup diced onion
1/3 cup sliced or diced carrots
1/3 cup sliced celery
3 cloves fresh garlic, pressed or minced
3 cups fat free turkey broth 
1 cup unsweetened almond milk or low fat non-dairy milk of choice
1/2 teaspoon dried thyme
1/4 teaspoon dried rosemary
2 cups diced, cooked turkey breast
1 to 2 cups cooked black rice (or brown or other THM compliant rice)
Black pepper to taste, optional
Instructions
Saute onion, carrots, and celery in melted ghee (or 1/4 cup broth) for 3-5 minutes.
Add garlic and saute for 1 minute longer.
Add the broth (if using gelatin instead of lecithin, reserve 1/4 cup or so for blooming the gelatin), almond milk, herbs, and salt and bring to a simmer. You'll want to simmer the soup for 20 minutes.
If using lecithin, ladle out about 1/4 cup of the hot soup liquid into a small bowl. Whisk in the lecithin until well incorporated and no clumps remain.
Pour lecithin mixture back into the soup pot and stir well.
In the last 5 minutes of simmer time add the cooked turkey breast and rice and heat through.
Serve immediately and refrigerate leftovers.
Notes
SUBSTITUTIONS FOR LECITHIN

GELATIN: Substitute 1 or 2 tablespoons of grassfed beef gelatin, bloomed in 1/4 cup cold broth reserved from the 2 cups listed.
Sprinkle gelatin powder over cold broth and allow it to hydrate. When it looks like applesauce, stir it into the hot soup.
FAT FREE GREEK YOGURT: Substitute 1/2 cup or so of fat free Greek yogurt for the lecithin if you are not eliminating dairy. Stir or whisk the yogurt in a few minutes before serving.
SILKEN TOFU: Blend 1/4 cup silken tofu with the almond milk before adding to the soup.
NUTRITION NOTES (FOR THM's)

The fat grams shown include the fat naturally present in the turkey breast. As written, 1 cup of soup has 2.5 grams of ADDED FAT.
Reduce or eliminate the added fat in the soup by cutting back on the fat for sauteing the veggies OR sauteing in some fat free broth instead.
Recommended Products
As an Amazon Associate and member of other affiliate programs, I earn from qualifying purchases.
Nutrition Information:
Yield: 4
Serving Size: 1 cup
Amount Per Serving:
Calories: 332
Total Fat: 4.8g
Saturated Fat: 1.6g
Trans Fat: 0g
Unsaturated Fat: .6g
Cholesterol: 68mg
Sodium: 781mg
Carbohydrates: 15g
Net Carbohydrates: 13 gg
Fiber: 2g
Sugar: 1g
Sugar Alcohols: 0g
Protein: 23.5g
Nutrition information is approximate and based on the best knowledge available at the time of recipe publication. Your results may vary due to differences in ingredients. You can make your own calculations if this recipe does not include nutrition info by using an online calculator such as https://recipes.sparkpeople.com/recipe-calculator.asp