---
Pair omega-3 rich salmon with the antioxidant goodness of blueberries for a thoroughly nourishing meal! The slightly sweet blueberry sauce balances out the savory salmon. Try it spicy for even more deliciousness! A deeply satisfying, low carb S meal for the Trim Healthy Mama that low-carbers will enjoy as well.
---
Have you ever been struck by a totally weird thought?
One night for supper, I was eating salmon. Out of nowhere, this crazy thought popped in my head – "Man, this salmon would be good with blueberries." Salmon with blueberry sauce.
Wait. What??
Salmon with blueberry sauce? Fish…with blueberries? Certainly I had lost my mind. But the more I pondered it, the better it sounded. And I wished I had blueberries at that moment because I was making myself crave this strange combination.
A quick internet search revealed that I did not just come up with something new and amazing. But it's been done before so it must be good, right?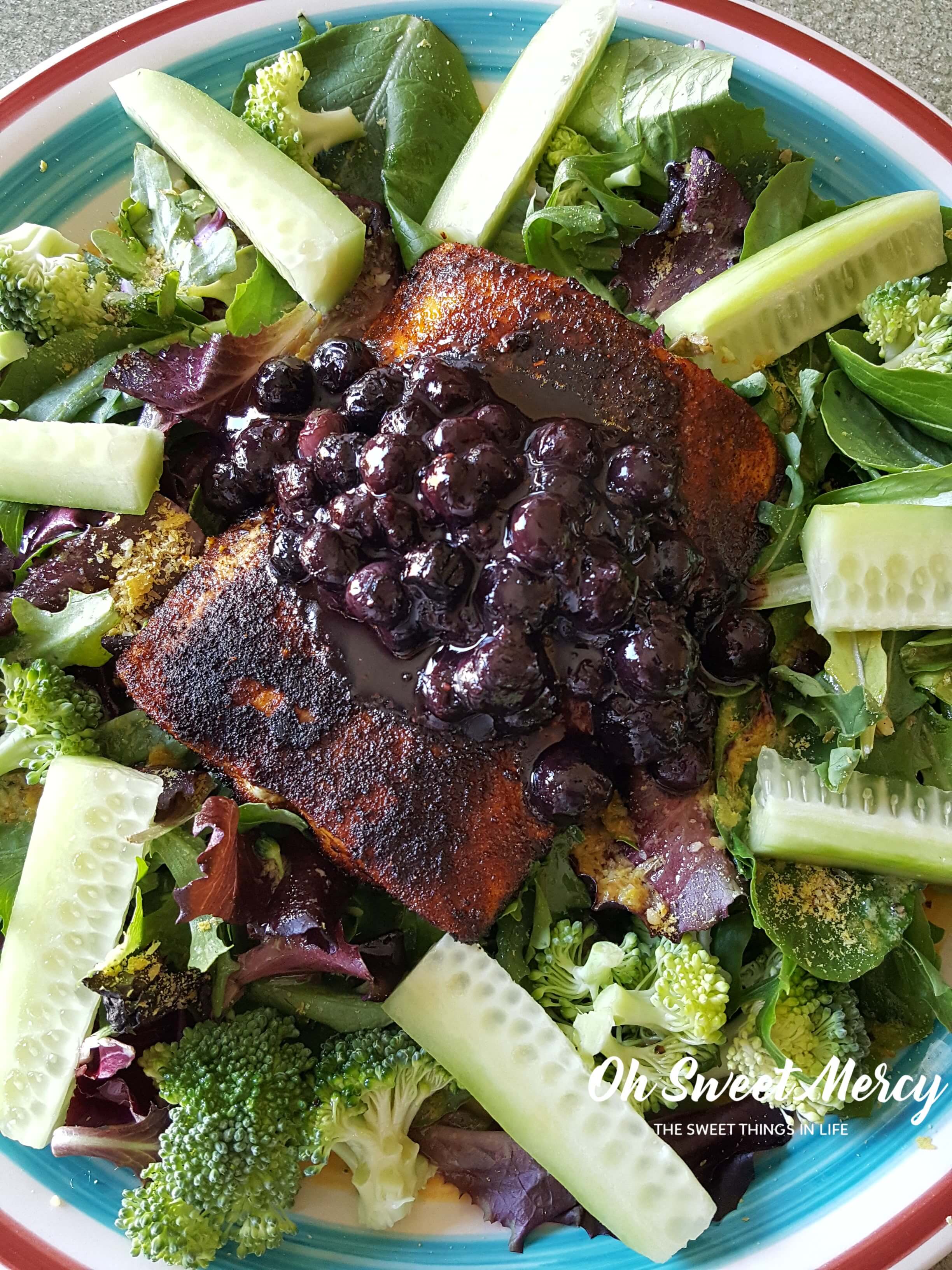 There's lots of different recipes out there, but I like to keep things simple. And THM friendly, of course.
Berries are highly encouraged on the Trim Healthy Mama plan. They are lower in sugar than most fruits and packed full of good nutrition. Blueberries contain antioxidants and are excellent for your brain…and thanks to those healthy omega 3's, so is salmon.
Maybe my brain was crying out for nutrients?
After perusing several salmon with blueberry sauce recipes, I threw together my own version. It's quick, easy and requires NSI (No Special Ingredients).
This blueberry sauce can be made to suit any style of Trim Healthy Mama meal…S, E or Fuel Pull. If you're not following THM, feel free to substitute as needed to suit your tastes.
This blueberry sauce is seriously delightful over a gorgeous salmon filet, all bursting with slightly tart blueberryness and brain-goody-ness.
Oh sweet mercy…
How to eat Salmon with Blueberry Sauce the Trim Healthy Mama way.
If you're following the Trim Healthy Mama plan, you can eat this salmon with blueberry sauce for any style meal. Here's some examples of how I like to eat this fabulous fish dish…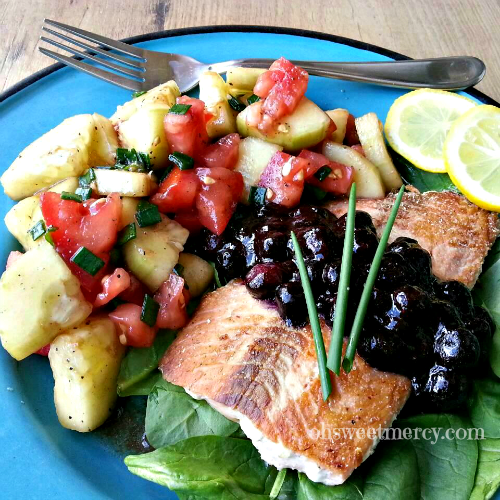 E – style: Make sure you are using wild-caught salmon – farm raised has too much fat. Bake your salmon on parchment paper or a silicone baking mat or use non-stick spray and cook in a skillet. Liberally cover your salmon, if you want, with this blueberry sauce. Serve with a dark, leafy green salad lightly dressed with lemon juice and a baked sweet potato with a teaspoon of butter or a tablespoon of sour cream. If you want to save your added fat grams for an on-plan E friendly salad dressing, substitute fat free Greek yogurt for sour cream, omit the butter of course.
S – Style: Cook your salmon in coconut oil or butter in a cast iron skillet, grill or bake if desired. Top your salmon with 1/4 cup of blueberry sauce, serve with sauteed asparagus, a dark, leafy green salad liberally dressed with olive oil and lemon juice and a side of Mashed Fotatoes from the new THM Cookbook.
Fuel Pull – Style: This is a little more tricky, as Fuel Pulls have S carbs and E fats (low in both). Wild-caught salmon, in a 3-4 ounce portion is perfect for a FP. Bake or cook with non-stick spray (like the E style), serve with 1/4 cup blueberry sauce (like S style), and plenty of non-starchy veggies, such as steamed cauliflower and a big serving of Zoodles, made with this handy Troodle from the THM Store. You can still have 1 teaspoon of added fat, so choose wisely how you'd like to use it…a small pat of butter on your Zoodles maybe?
If you like things spicy, be sure to try my Spicy Dry Rub to season your salmon.
Have You Ever Tried Salmon With Blueberry Sauce? Will You Now?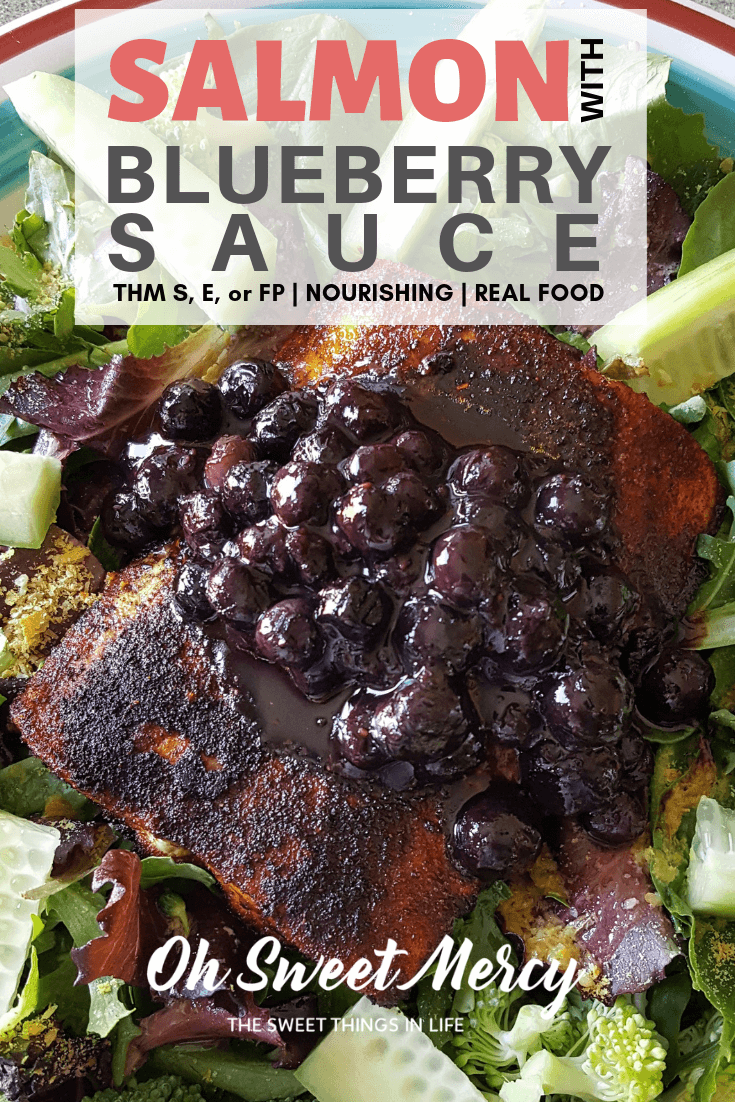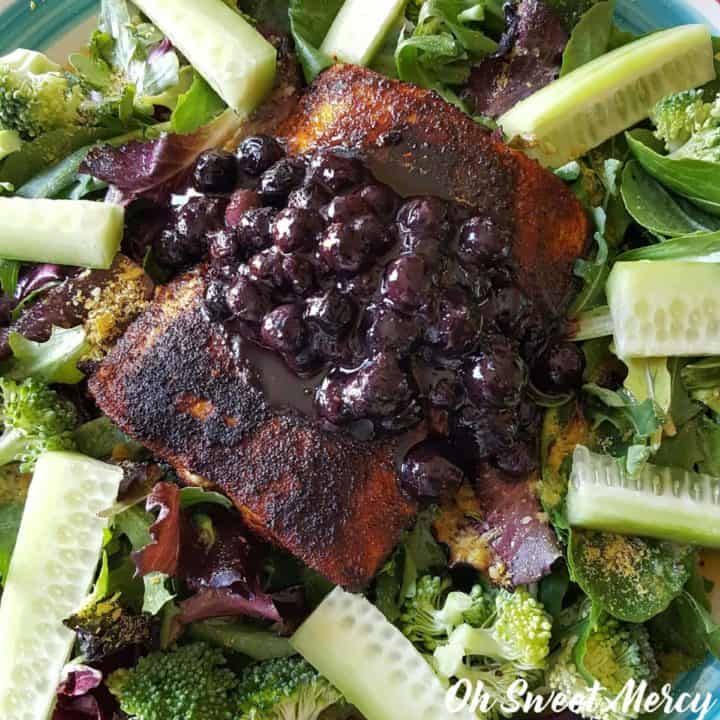 Salmon with Blueberry Sauce | THM S, E, or FP
Yield: 1 serving
Prep Time: 20 minutes
Cook Time: 18 minutes
Total Time: 38 minutes
Make this flavorful and nourishing Salmon with Blueberry Sauce to suit any THM fuel style. Make your brain and body happy!
Ingredients
Blueberry Sauce (one serving)
1/4 cup blueberries, frozen or fresh
1/4 - 1/2 cup fat free chicken broth
splash of lemon juice, optional
Salmon
Ideally, choose wild-caught salmon. If you must use farm-raised salmon, and you're following the Trim Healthy Mama plan, remember that farm-raised is only suitable for S style meals.
For a Fuel Pull style meal, you want a 3-4 ounce portion only.
For an E style meal, use only wild-caught salmon.
1/4 teaspoon garlic powder
1/4 teaspoon onion powder
1/4 teaspoon paprika
Mineral salt, to taste
Black pepper, to taste
Instructions
Prepare the Blueberry Sauce first:
Place blueberries, broth and salt in a small saucepan over medium heat
Cook until reduced and thickened
OR if using gluccie, bring to a boil and then sprinkle about 1/8-1/4 tsp of gluccie over liquid, whisk vigorously until thickened
Add lemon juice and stevia if desired, to taste
Prepare the Salmon:
Preheat oven to 375 if baking your salmon.
Season to your taste preferences. I typically use Spicy All Purpose Seasoning from FreshJax (use my referral link for 15% off).
Try shaking on a bit of mineral salt, black pepper, onion powder, garlic powder, and paprika for a non-spicy seasoning.
THM E & FP style:
Bake your salmon on parchment paper or silicone mat for 18-20 minutes, or cook in a skillet sprayed with non-stick spray, until cooked through or to your desired level of doneness.
THM S style:
Bake or pan-cook your salmon in coconut oil or butter, if desired, until cooked through or to your desired level of doneness.
To Serve:
For S and FP styles, use 1/4 c sauce on your salmon
For E style, you can use more sauce or add an E fuel source such as baked sweet potato, soaked brown rice or quinoa.
Pour sauce over filet and dig in!
Notes
For low fat, THM E or FP styles use non stick spray to cook the salmon
For S, feel free to use a healthy dollop of coconut oil or butter to cook the salmon
Recommended Products
As an Amazon Associate and member of other affiliate programs, I earn from qualifying purchases.