One thing my recent dietary changes has brought about is Learning To Like Foods I Always Thought I Hated.
I'm broadening my food horizons these days. I've never been a big fan of squash necessarily, but this Savory Roasted Butternut Squash has me rethinking the I Don't Like Squash thing I've claimed for so long.
Because it's really very good.
And it's good for you.
If you are following the Trim Healthy Mama plan, you can even have this Roasted Butternut Squash in an S setting!
You just need to keep the serving size to one-half cup. As prepared, this recipe is an S. To make it an E, you need to reduce the amount of coconut oil.
To learn more about Trim Healthy Mama, check out my review here.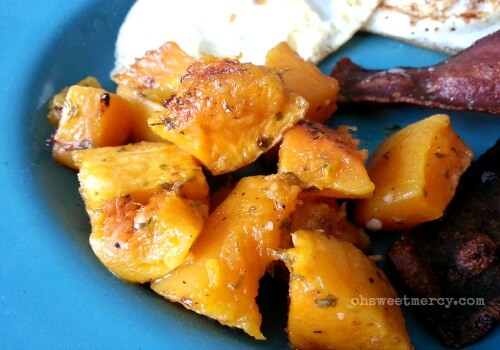 This was an easy side dish to make, and a hit at our Sabbath Fellowship. The next day, I enjoyed leftovers with my S breakfast of fried, fresh eggs and turkey bacon. It was absolutely fabulous!
Eat Savory Roasted Butternut Squash to Enjoy These Health Benefits
Butternut squash contains many important nutrients to keep you healthy, especially during the winter months:
High in Vitamin A
15% RDA of Folate per cup
High in Beta-carotene
Healthy complex carbohydrates
Great source of antioxidants and Vitamin C
Potassium, magnesium and calcium
They also keep well in storage, make delicious soups and make wonderful additions to stews and roasts.
How to Make This Savory Roasted Butternut Squash
To make roasted butternut squash, you must first peel the tough outer skin from the squash. You can use a vegetable peeler or paring knife. I found it easiest to cut the round bottom part of the squash from the longer neck and peel each part separately.
Unfortunately, I was in a hurry when I prepared this dish and didn't take pictures of peeling the squash. This post is a great visual resource to help make peeling your butternut easier.
Once the squash is peeled, cut into approximately one-inch cubes.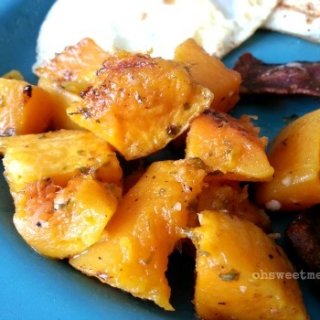 Savory Roasted Butternut Squash | THM S or E
Yield: 10-12 servings
Prep Time: 20 minutes
Bake Time: 30 minutes
Total Time: 50 minutes
This simple, savory roasted butternut squash is easy to make and packed with nourishing nutrients. Suitable for both THM E and THM S style meals, just follow recommendations in the notes.
Ingredients
Two butternut squashes, (about 5 pounds), peeled and cubed
1 or 2 Tbs virgin coconut oil
2 or 3 cloves fresh garlic OR 3/4 tsp dried, minced garlic
1 tsp dried, minced onion
1 Tbs dried parsley
1/2 to 1 tsp sea salt
1/2 tsp black pepper
Instructions
Preheat oven to 375.
In a small saucepan over low heat, gently melt coconut oil.
Stir in spices and mix well.
Put cubed squash into a large bowl, add melted coconut oil and spices and toss well to coat all the squash pieces.
Pour into a 9 x 13″ baking dish or casserole.
Bake for 35-45 minutes, stirring occasionally, or until tender and lightly browned.
Notes
THM NOTES
Be sure to keep your portion size to 1/2 cup for an S setting. For an E, make sure to just use 1 Tbs coconut oil and you can have a large serving if you like.
Recommended Products
As an Amazon Associate and member of other affiliate programs, I earn from qualifying purchases.
Nutrition Information:
Yield: 10
Serving Size: 1/2 cup
Amount Per Serving:
Calories: 44
Total Fat: 3g
Saturated Fat: 2g
Trans Fat: 0g
Unsaturated Fat: 0g
Cholesterol: 0mg
Sodium: 120mg
Carbohydrates: 5g
Fiber: 2g
Sugar: 1g
Protein: 1g
Nutrition information is approximate and based on the best knowledge available at the time of recipe publication. Your results may vary due to differences in ingredients.
Be Sure to Pin This Savory Roasted Butternut Squash Recipe to Your Favorite Recipe Boards!