Like this post and don't want to miss more like it? Be sure to sign up for my newsletter at the end!
These easy, baked stuffed jalapeno peppers make a great snack or party food.
One serving (two pepper halves) falls into the Fuel Pull category for you Trim Healthy Mamas out there. You could have more in an S setting.
I wanted to create something that would fit with FP, because I wasn't very hungry but was craving something spicy (again!) so I used a combination of light cream cheese and 0% Greek yogurt. It totally satisfied my craving! I'm planning on making these to take to our Sabbath fellowship this week.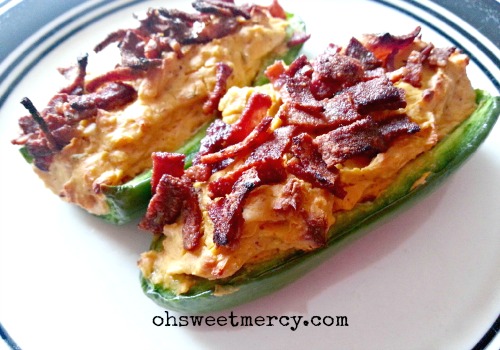 How to Make Baked Stuffed Jalapeno Peppers
ingredients (single serving)
1 good sized jalapeno pepper, split in half with seeds and membranes removed
1 Tbs light cream cheese
1 Tbs 0% Greek yogurt
1/2 -1 Tbs nutritional yeast (optional, but increases protein content)
1/2 tsp minced onion
1/2 – 1 tsp of My Favorite Creole Seasoning Blend (more or less to your taste preference and tolerance for heat)
pinch of Mineral Salt
1 slice turkey bacon, cut into small pieces and fried
method
Preheat oven to 400 degrees
In a small bowl, combine cream cheese, yogurt, nutritional yeast and seasonings. Mix well. Spoon half the mixture into each pepper half. You could also use more peppers if you have smaller sized jalapenos. Top with turkey bacon
Bake in preheated oven on a cookie sheet, pizza stone or in a small baking dish for 15-20 minutes or until peppers are cooked and inside is slightly bubbling or at least warmed through.
Baked Stuffed Jalapeno Peppers Make a Great Snack
These baked stuffed jalapeno peppers smelled like pizza while they were baking and were so delicous! I made them for supper one night and then again for lunch the next day.
One serving of two pepper halves stuffed with the cream cheese mixture contains:
4.5 grams of fat
approximately 2 grams of carbs
9 grams of protein
You could safely have five servings in an S setting…that would be ten of these spicy bad boys. I will admit that I would eat that many. And not feel one ounce of shame.
Don't Forget to Pin This Recipe for Baked Stuffed Jalapeno Peppers to Your Favorite Recipe Boards!