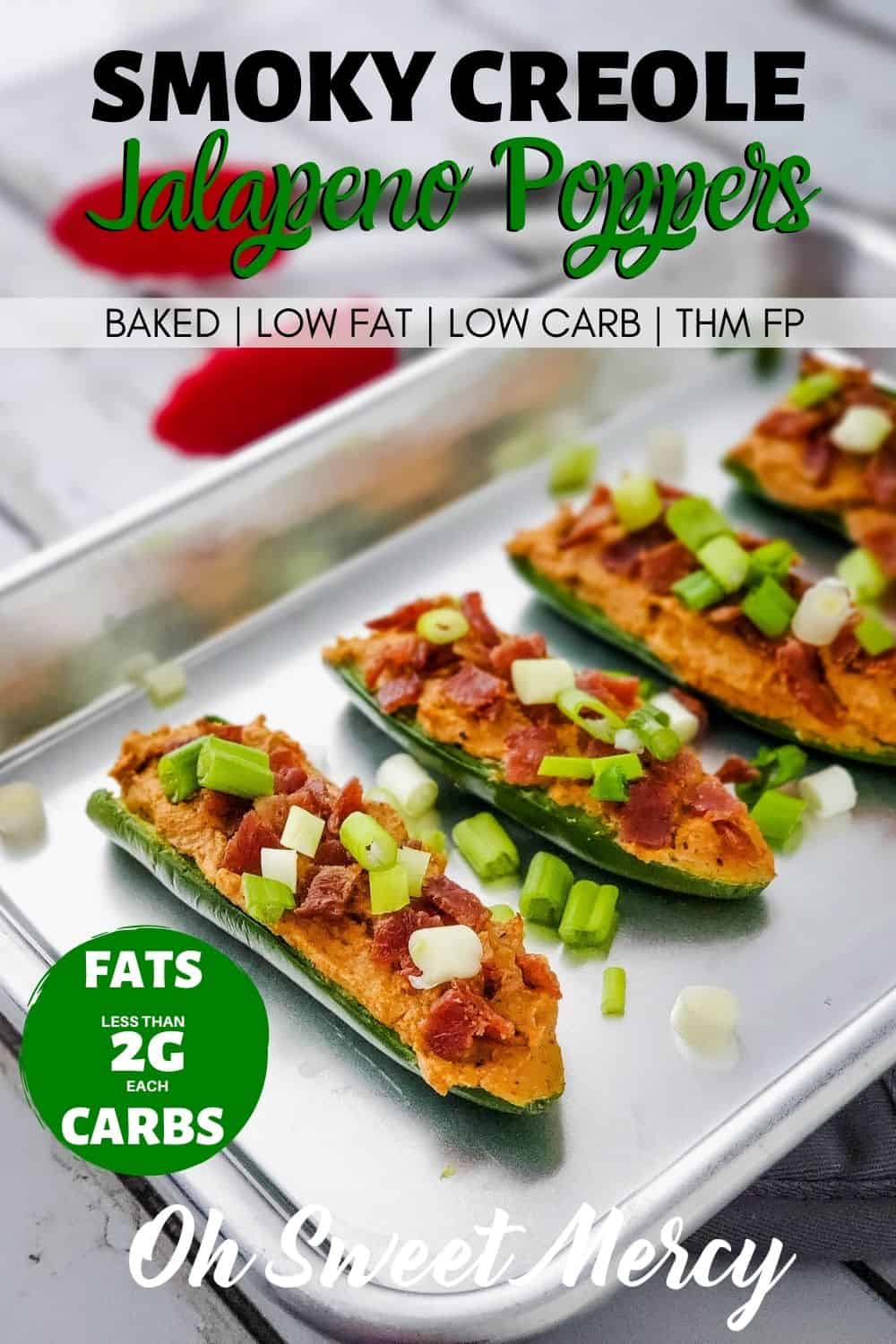 ---
Lighten up your jalapeño poppers with my Smoky Creole Stuffed Jalapeños! They're full of flavor and a kick of Creole spice, not fat (or carbs). Trim Healthy Mamas, this tasty poppers recipe is a THM FP! Great for snacks and appetizers. Or, have them for lunch. No judgment here.
---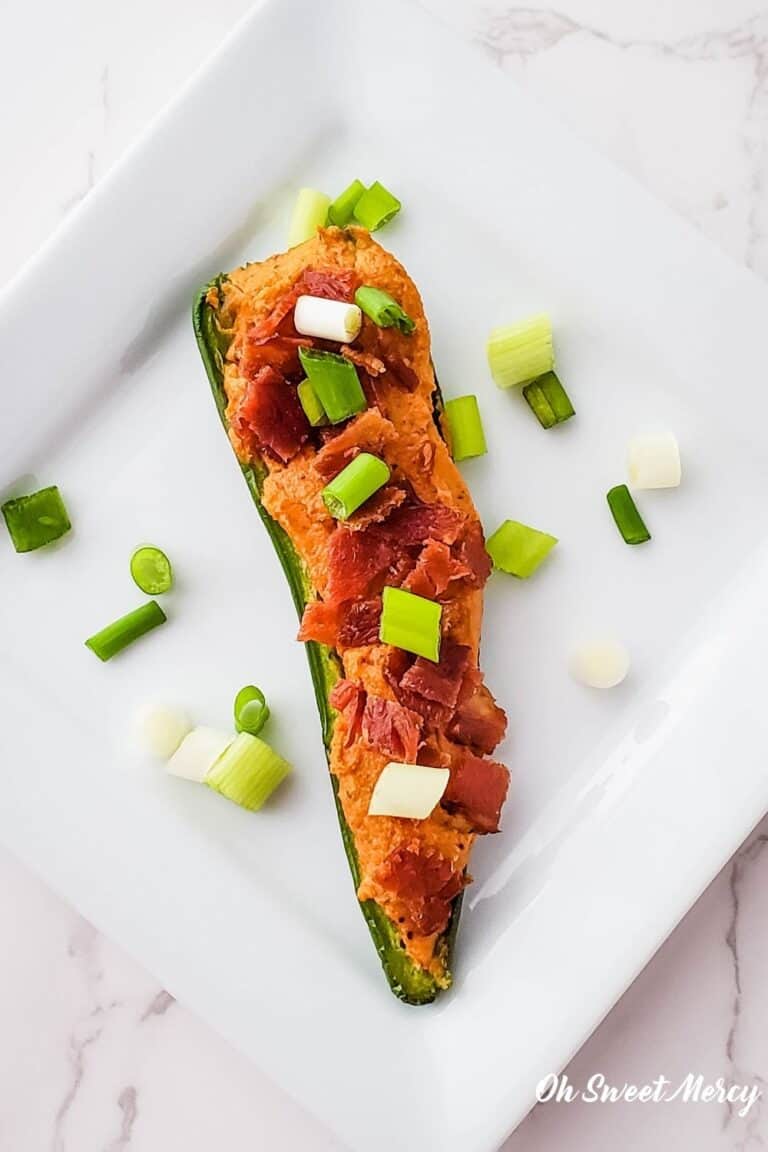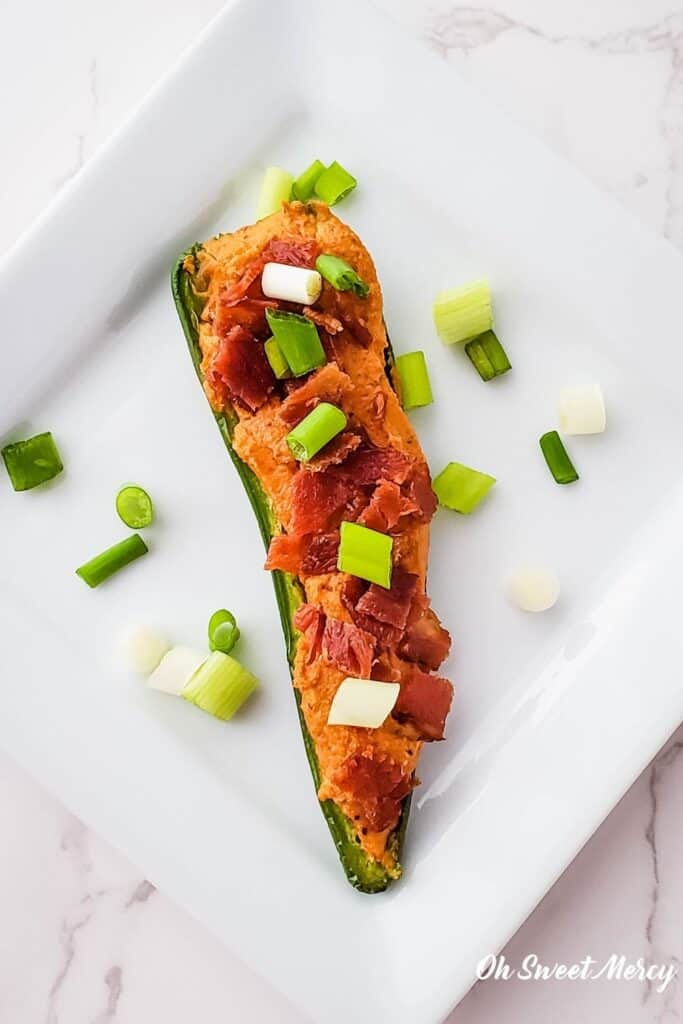 Many jalapeno popper recipes are loaded with fats and carbs. They may taste great, but that's rough on the waistline!
Keto or low carb stuffed jalapeno peppers are absolutely on-plan for Trim Healthy Mama (as an S – or likely a Heavy S). However, there are times where lightening things up a bit is just what your metabolism needs.
Now that I'm a bit older I'm finding I need less fat in my days. This easy baked stuffed jalapenos recipe is low in fat but packed with flavor. Loads of flavor really helps make lower fat foods more satisfying.
Also, spicy foods help light a fire under our metabolism!
These baked jalapeño poppers are a big hit at super bowl parties, Friday night pizza parties, or even just by yourself for lunch.
You might not want to share them. That's ok, I won't judge!
What Do I Need For This Recipe?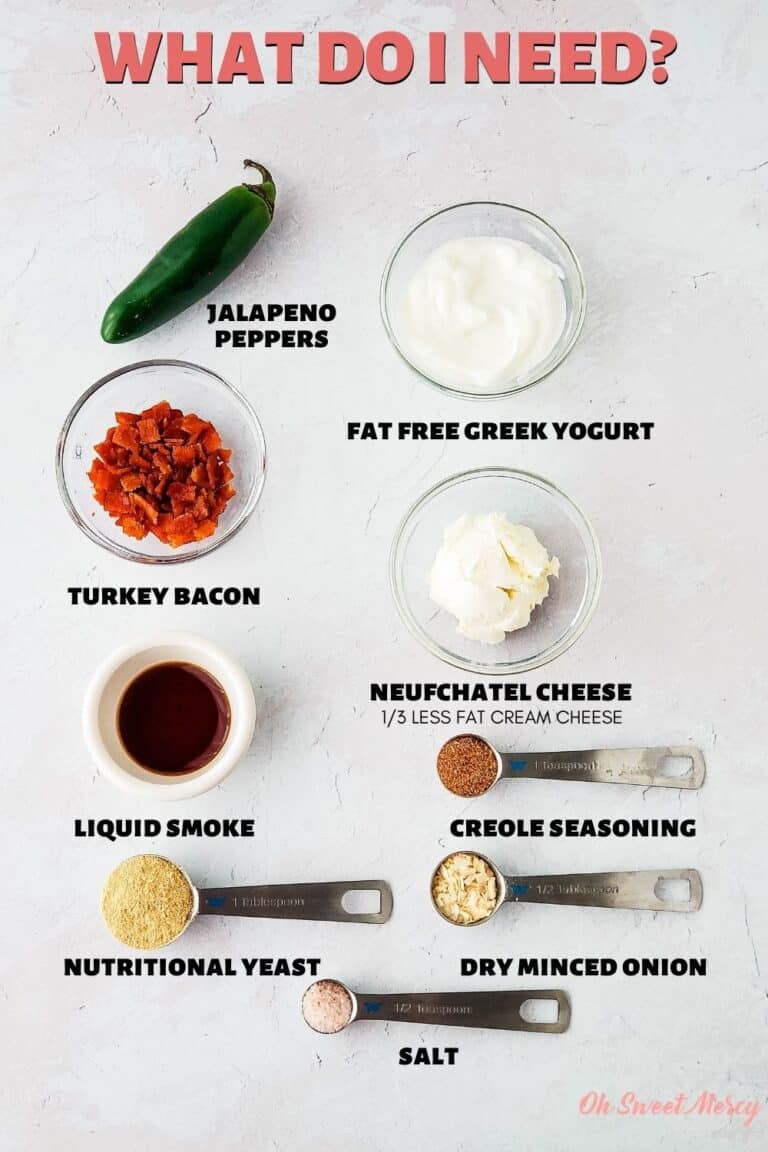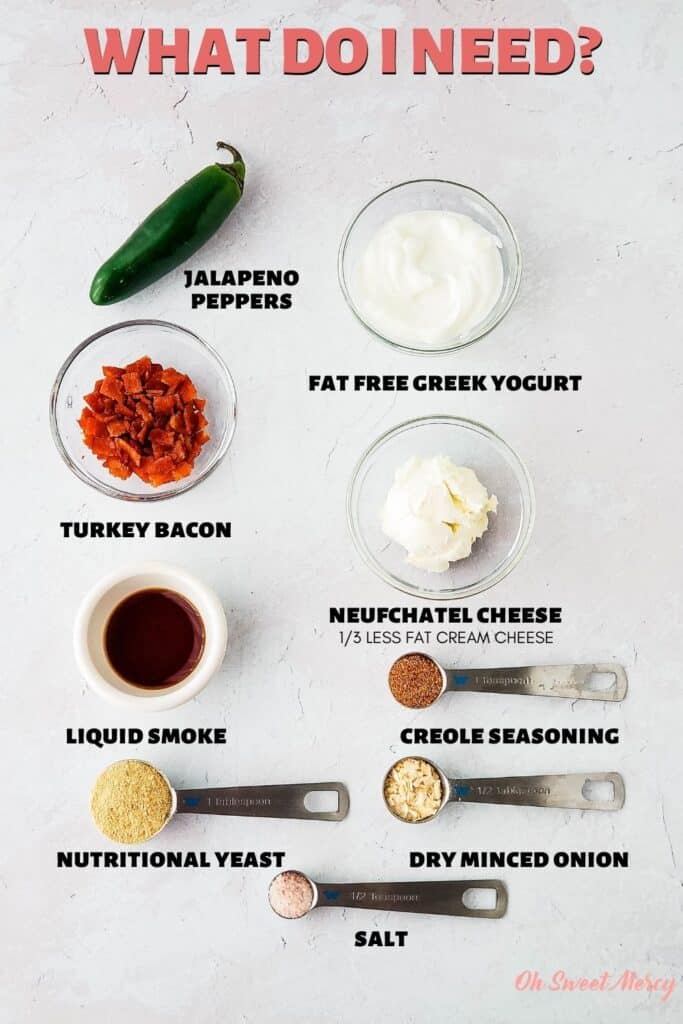 Using Neufchatel cheese (1/3 less fat cream cheese) and fat free Greek yogurt lightens up a traditionally heavy-on-the-fats recipe. Adding lots of flavor and spice means you won't miss that missing fat!
Jalapeno peppers
1/3 less fat cream cheese
Fat free Greek yogurt
Nutritional yeast
Dry minced onion or onion powder
Liquid smoke
Mineral salt
Chopped, cooked turkey bacon
Using nutritional yeast increases the protein, adds beneficial B vitamins, and helps give a cheesy flavor without using cheddar cheese.
In addition, if you'd like, top with chopped green onions or cilantro.
Best Tips For Making Baked Stuffed Peppers.
Making these yummy peppers is really easy, but here's a few tips I've learned from experience.
My number one tip? Wear gloves.
Jalapeño pepper juice in your eyes is very painful. #askmehowiknow
Also, it can make your hands burn. If this happens, grab your yellow mustard out of the fridge and slather it on your burning hands.
I know this because I made the mistake of cutting up a bunch of banana peppers (which aren't even really hot, for crying out loud) without wearing gloves. By the time I finished cutting all the peppers, my hands were on. fire.
I searched the interwebs for relief and tried several different things. But, the only thing that really worked was the yellow mustard. It contains turmeric and vinegar, both of which are anti-inflammatory.
Use a Strawberry Huller To Scrape Out The Seeds and Membranes.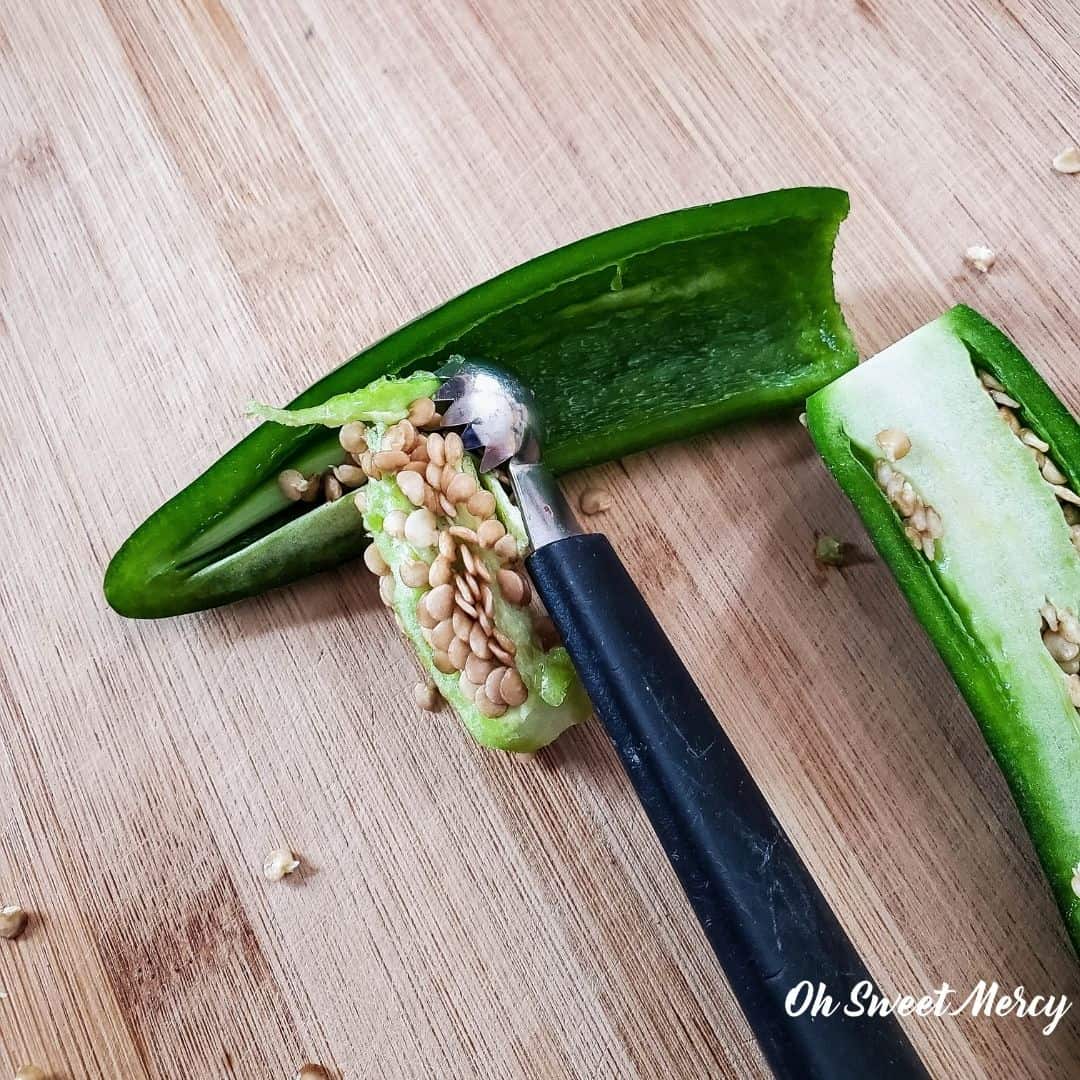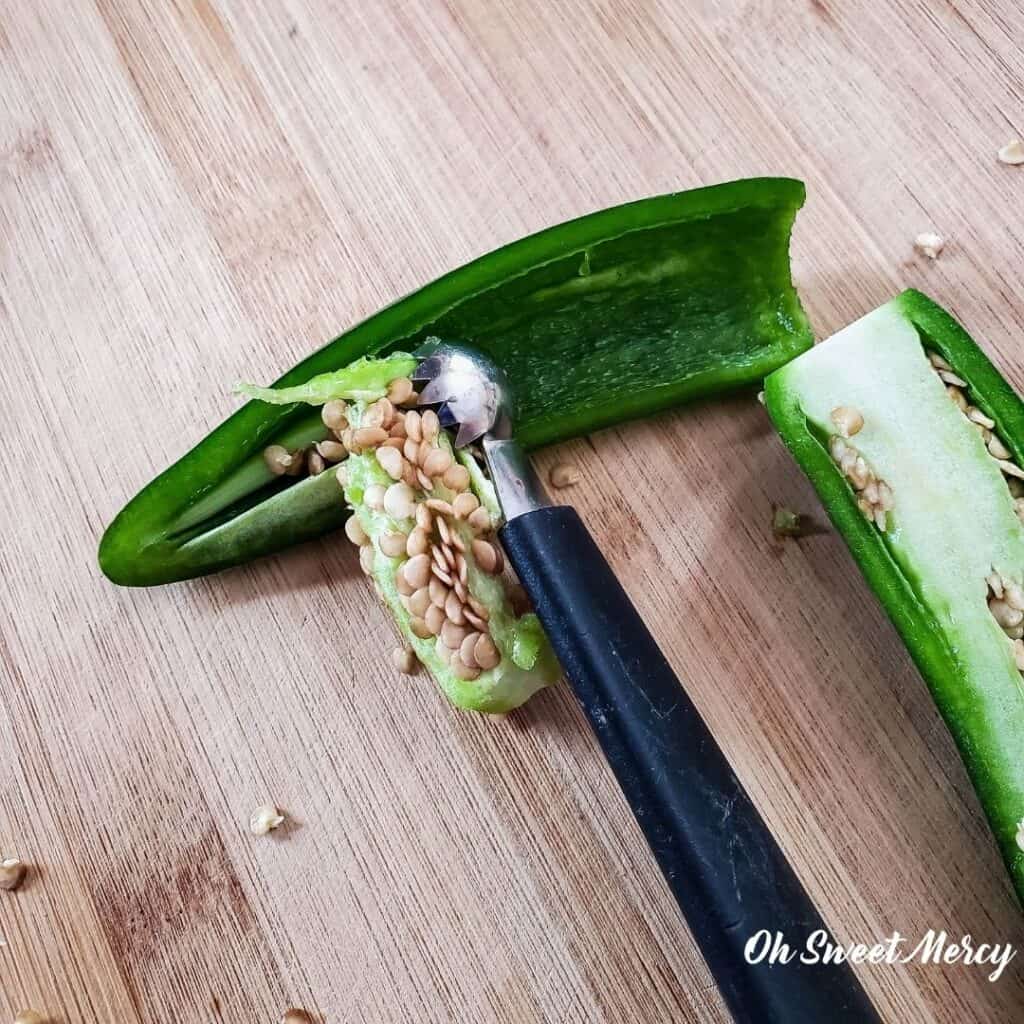 While you can use a paring knife to remove the seeds and membranes, I find a strawberry huller (or corer) works best.
The one I have is from Pampered Chef. It looks like a spiky spoon. This one on Amazon has great reviews and is inexpensive.
You can also use a regular spoon if you like, but huller does a great job of removing the seeds and membranes.
How To Fit These Yummy Low Fat Stuffed Jalapeno Peppers Into Your THM Plan This Week.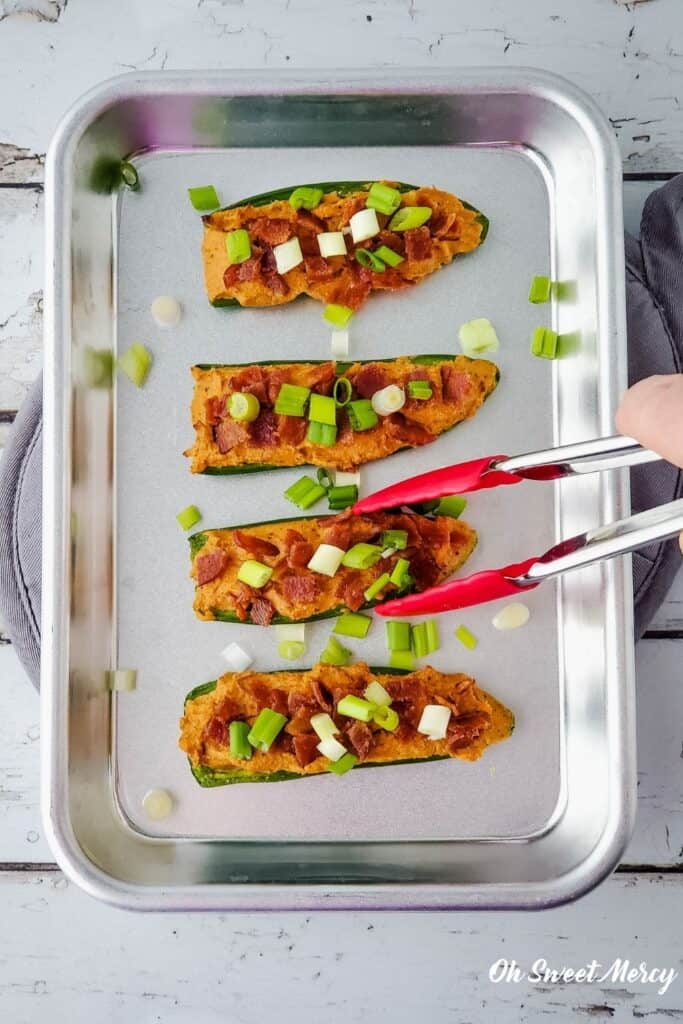 Since they're low in fat and carbs, they're a delicious THM FP snack or appetizer.
Each pepper half has 1.5 grams of net carbs and 1.9 grams of fat. In addition, each pepper half has just over 5 grams of protein!
You could have 3 pepper halves and still be in THM FP mode. Consider this as a snack or light meal idea:
3 Smoky Creole Jalapeno Poppers
Celery, bell pepper strips, cauliflower, broccoli and Creamy Cajun Ranch Dip
1 cup of fresh strawberries
If you want more than that, you've just moved into a THM S, but it's still on the lighter side.
In fact, the entire recipe only has 11.4 grams of fat and 8.9 grams of net carbs. So, enjoy them all with a big side salad covered in my cooling Easy Ranch Dressing for a fun and simple THM S meal.
Mister, my 13 year old, loves these poppers! He's requested I make them at the next family get together we have. It's simple to double or triple the recipe for a crowd, too.
They're terrific right out of the oven and also delicious cold!
I hope you enjoy these spicy little pepper poppers as much as Mister and I do!
More Snacks And Appetizers You'll Love.
Looking for more snack and appetizer ideas? Here's a few of my favorites:
Perfect Pinwheels THM FP (low fat, low carb)
Pumpkin Pie Yogurt with Chocolate Chips THM FP
Air Fryer Falafel with Creamy Tahini Sauce THM E (low fat)
Party Bean Dip THM E
Baked Sweet Potato Kale Tots THM E
Buffalo Celery Bites THM S or FP
Sun Dried Tomato & Basil Marinated Mozzarella THM S (low carb)
Mediterranean Grilling Cheese THM S
PIN IT!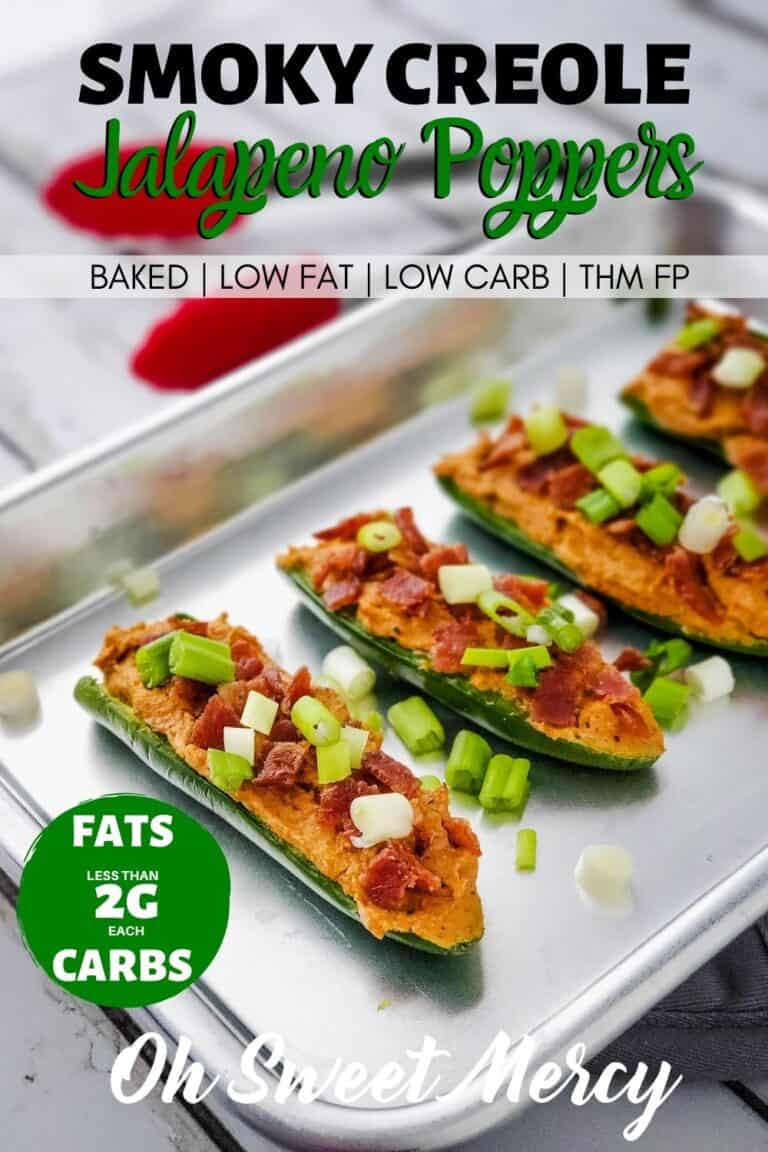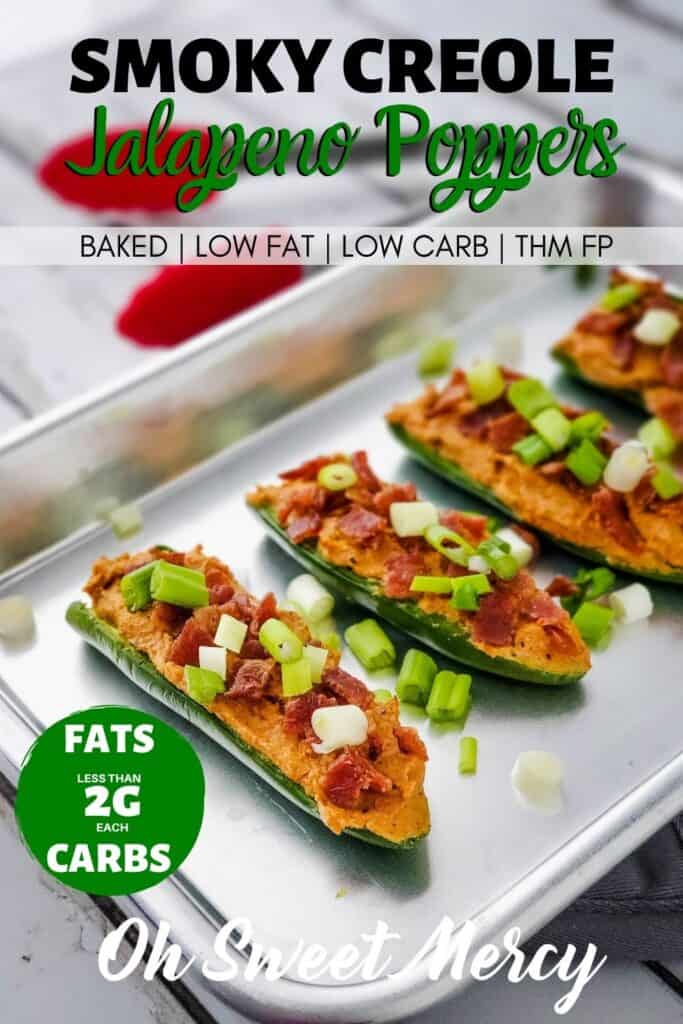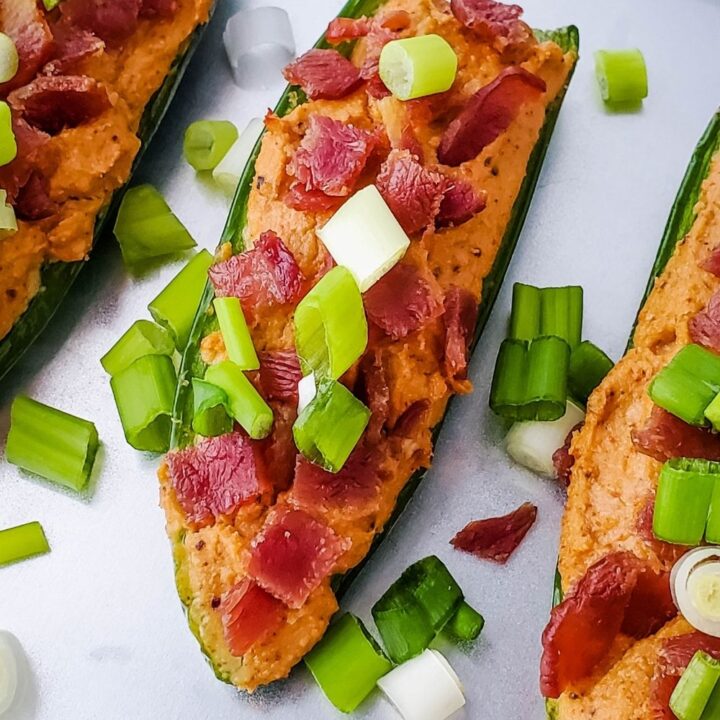 Smoky Creole Jalapeno Poppers | THM FP, Low Fat, Low Carb
Yield: 6 pepper halves
Prep Time: 15 minutes
Cook Time: 15 minutes
Total Time: 30 minutes
Lighten up your jalapeno poppers with my Smoky Creole Jalapeno Poppers! They're loaded with flavor and you'll never notice a little less fat.
Ingredients
6 large jalapeno peppers
3 tablespoons cooked, chopped turkey bacon
3 tablespoons fat free Greek yogurt
2 tablespoons 1/3 less fat cream cheese (neufchatel cheese)
1 1/2 teaspoons dry minced onion OR 1 teaspoon onion powder
1 1/3 teaspoons liquid smoke
OPTIONAL: chopped green onions or cilantro for topping after baked
Instructions
Preheat oven to 400 degrees.
Halve peppers and remove seeds and membranes (I cut off the ends but you can leave them on if you like that look better).
In a small bowl, combine cream cheese, yogurt, nutritional yeast, seasonings, and liquid smoke and mix until completely incorporated.
Divide mixture evenly among the pepper halves, about a heaping teaspoon or so for each one. Spread across the pepper half and place on a baking sheet.
Top each filled pepper with half a tablespoon of chopped, cooked bacon.
Bake for 15 minutes or until done to your liking.
Allow to cool briefly before eating.
If desired, top with chopped green onions or cilantro.
Notes
You can use regular cream cheese if you like, it will just have more fat per popper.
Recommended Products
As an Amazon Associate and member of other affiliate programs, I earn from qualifying purchases.
Nutrition Information:
Yield: 6
Serving Size: 1 popper
Amount Per Serving:
Calories: 42.7
Total Fat: 1.9g
Saturated Fat: .7g
Trans Fat: 0g
Unsaturated Fat: .4g
Cholesterol: 16mg
Sodium: 148.1mg
Carbohydrates: 2g
Net Carbohydrates: 1.5g
Fiber: .5g
Sugar: .6g
Protein: 5.4g
Nutrition information is approximate and based on the best knowledge available at the time of recipe publication. Your results may vary due to differences in ingredients. You can make your own calculations if this recipe does not include nutrition info by using an online calculator such as https://recipes.sparkpeople.com/recipe-calculator.asp