---
Just 3 ingredients means a super easy homemade chili garlic oil is just a few steps away. Use this spicy, garlic-infused chili oil on my Simple Low Carb Ramen, meats, vegetables, or anywhere you need a little garlicky kick in your life. Trim Healthy Mamas, it's an oil so the usual guidelines apply.
---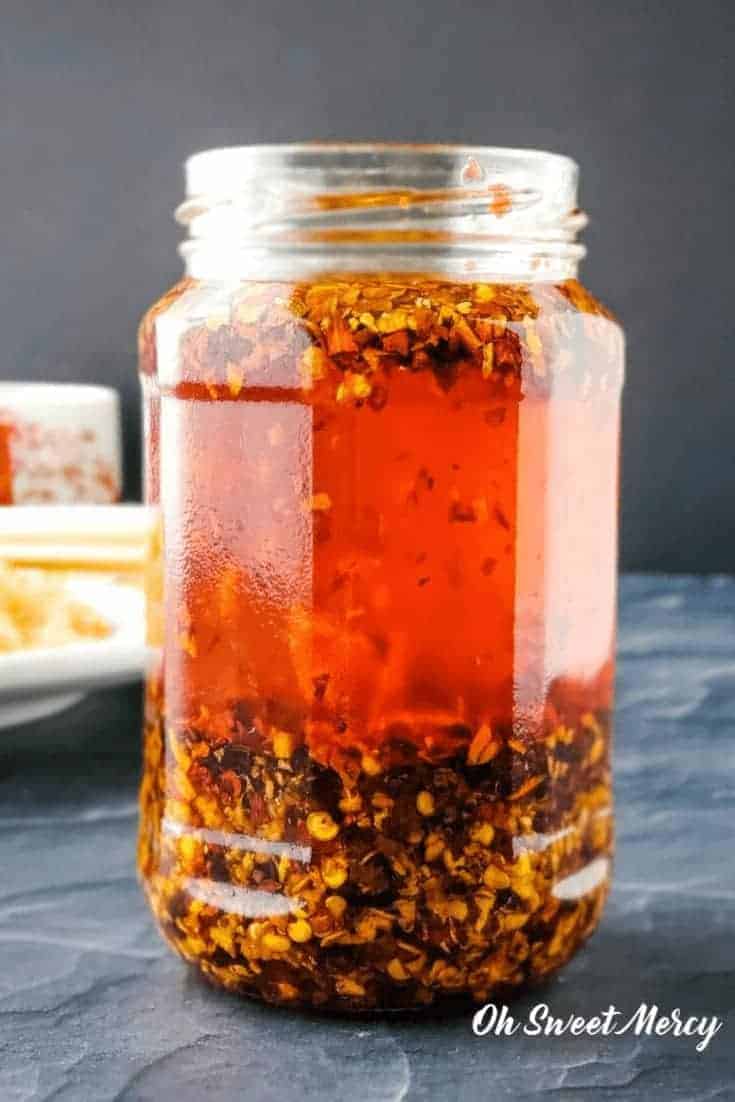 Warm (or hot) and spicy, with a touch of nutty, fried garlic. This easy garlic and chili oil is the perfect condiment for your low-carb, Asian-inspired dishes. Or, anywhere you want spicy, garlicky goodness, actually.
It's also pretty easy to make! I realized after enjoying some freshly-made chili oil that it reminds me of the old instant ramen I used to eat. It was imported from somewhere and contained a little packet of reddish colored oil.
So. Good.
What Oil Should You Use When Making Garlic Chili Oil?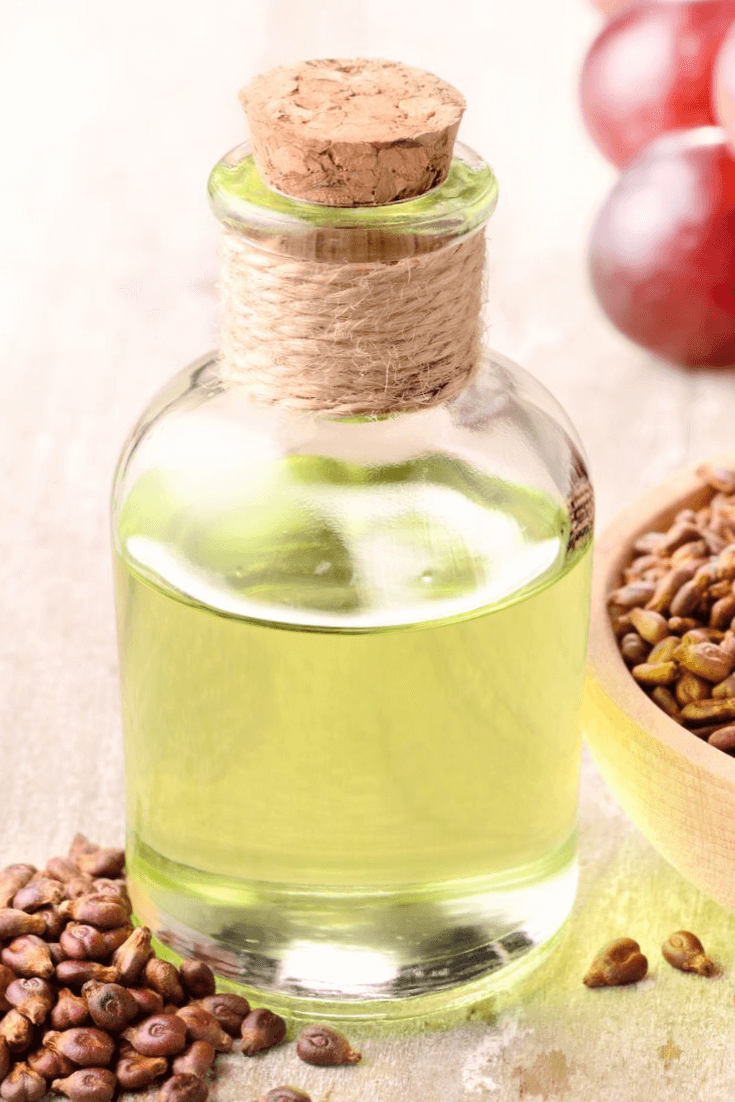 Ideally, you want a neutral-flavored oil with a high smoke point. An oil with a strong flavor will compete with the garlic and chili flavors.
I chose grapeseed oil for this easy chili garlic oil recipe. It is very neutral in flavor and has a smoke point of 421 degrees.
We won't heat our oil that hot though for this recipe. After about 5 minutes on medium-low the oil should swirl around very easily, like water. Drop a piece of pressed garlic into the oil and if it sizzles, it's ready.
One note on grapeseed oil — it does have a higher amount of omega-6's, which you need to balance out with omega-3's. The modern American diet is far to high in omega-6 oils, which is unhealthy. Try drizzling a bit over some grilled salmon.
Since this is a condiment I'll eat only occasionally I'm OK with using grapeseed oil. I'm going to try another oil and will update this post when I do.
What Chilies Should You Use?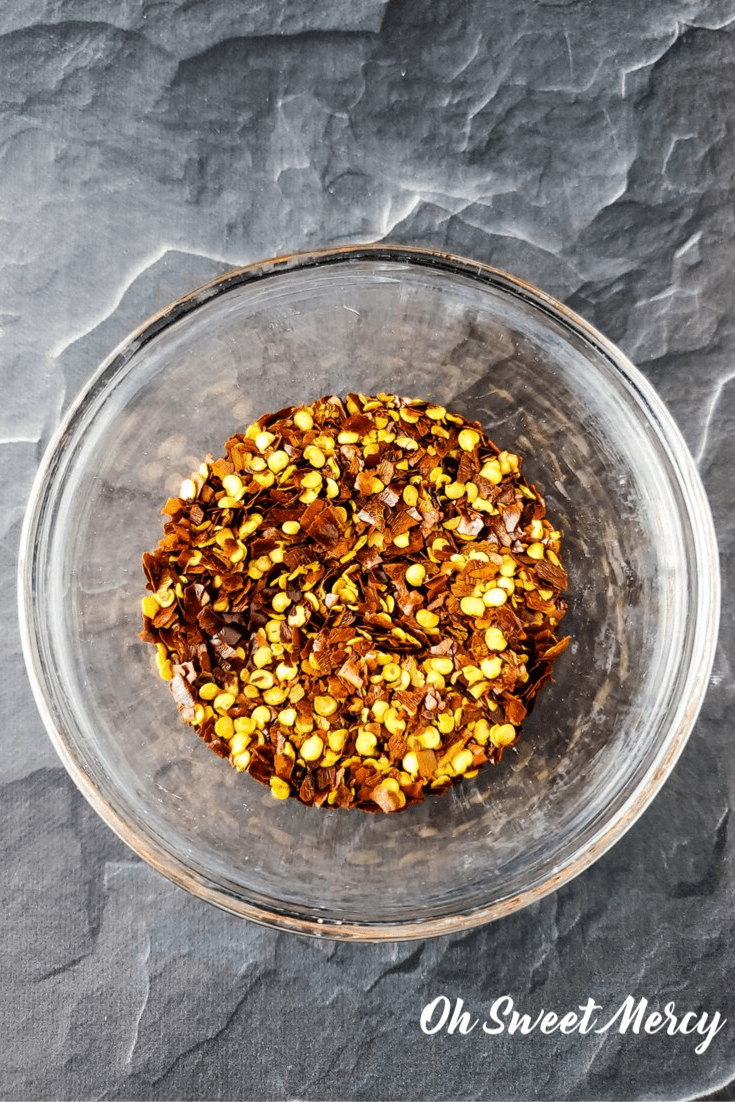 Garlic and chili oil is a staple in Asian cuisine. Ideally, choose Asian chili flakes such as gochugaru or Thai bird's eye chili pepper flakes.
I'm still trying to find a source for organic peppers that are not irradiated, something that is apparently common with Asian peppers. I did contact Mother In Law's Kimchi about their gochugaru on Amazon and it is not irradiated.
However, you can use any red chili flakes that you have on hand. Since I wasn't able to easily find authentic gochugaru, I just used some Anaheim chili flakes my local organic co-op carries in bulk.
While different chilies will lend differing flavor profiles, your regular old red pepper flakes still make a delicious hot and spicy oil. Since the hot and spicy is only half of it – fried garlic is an absolutely amazing flavor!
How To Make Chili Garlic Oil In 3 Easy Steps.
Just 3 simple steps and about 10 minutes are all you need to make this delicious Asian-style condiment.
Step 1:
Pour oil into a heavy-bottomed pan (I use a cast iron skillet) and heat on medium-low for about 5 minutes. Do not let it smoke! The oil should be very thin, drop a piece of pressed garlic in it and if it sizzles it's ready.
Step 2: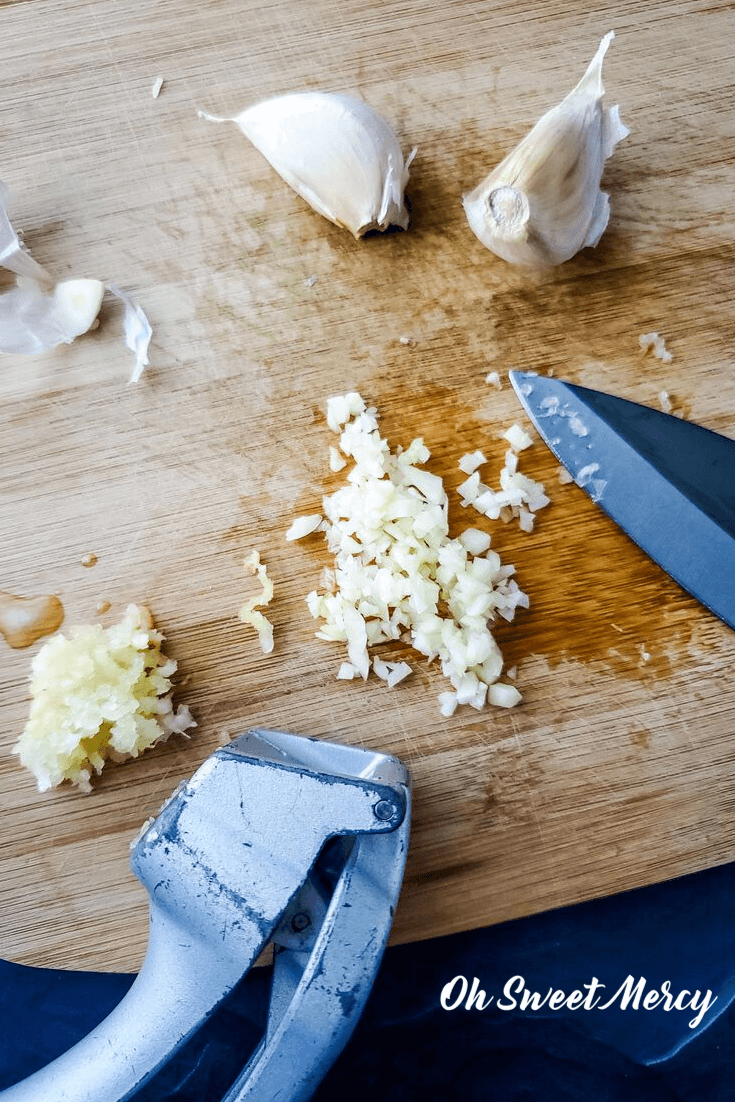 Prepare your garlic by pressing with a garlic press or finely mincing with a sharp knife.
Step 3:
Carefully add prepared garlic and chili flakes to the hot oil and stir constantly for 4 to 5 minutes. Garlic burns easily so keep stirring and pay attention to the aroma.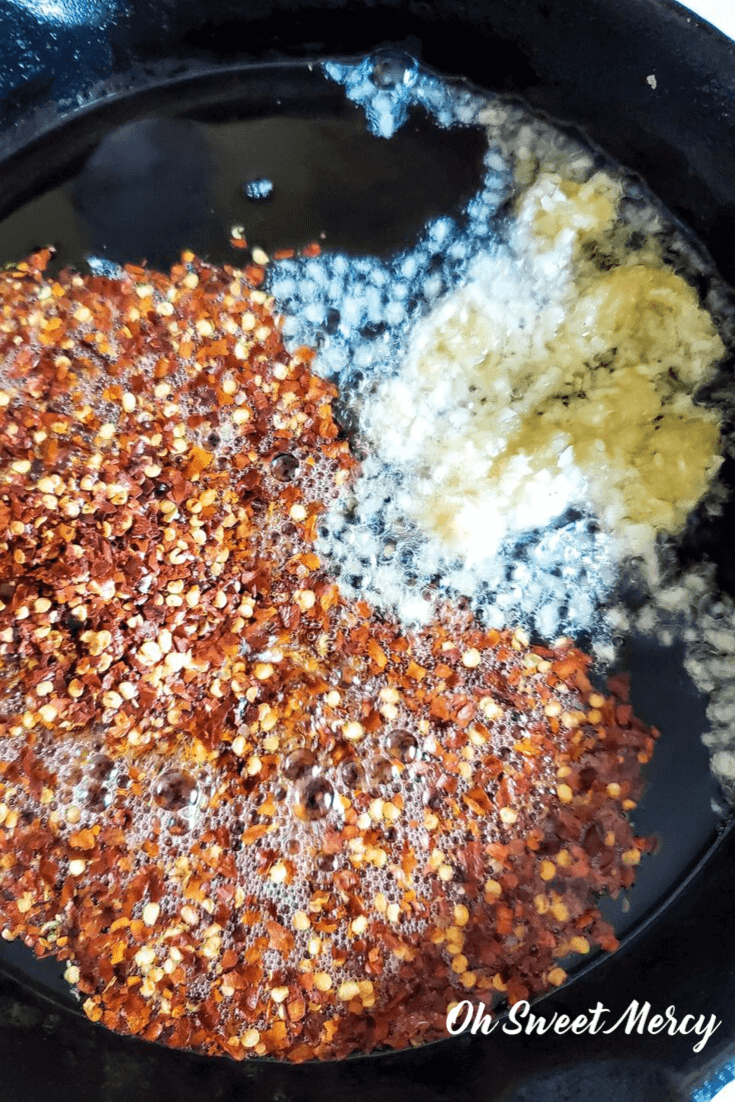 Remove from the heat and let cool before pouring into a glass jar or bottle for storage. In addition, you can strain the oil for storing.
NOTE:
The level of heat will intensify over time if you don't strain the oil.
How To Use My Simple Chili Garlic Oil In Your THM Meals.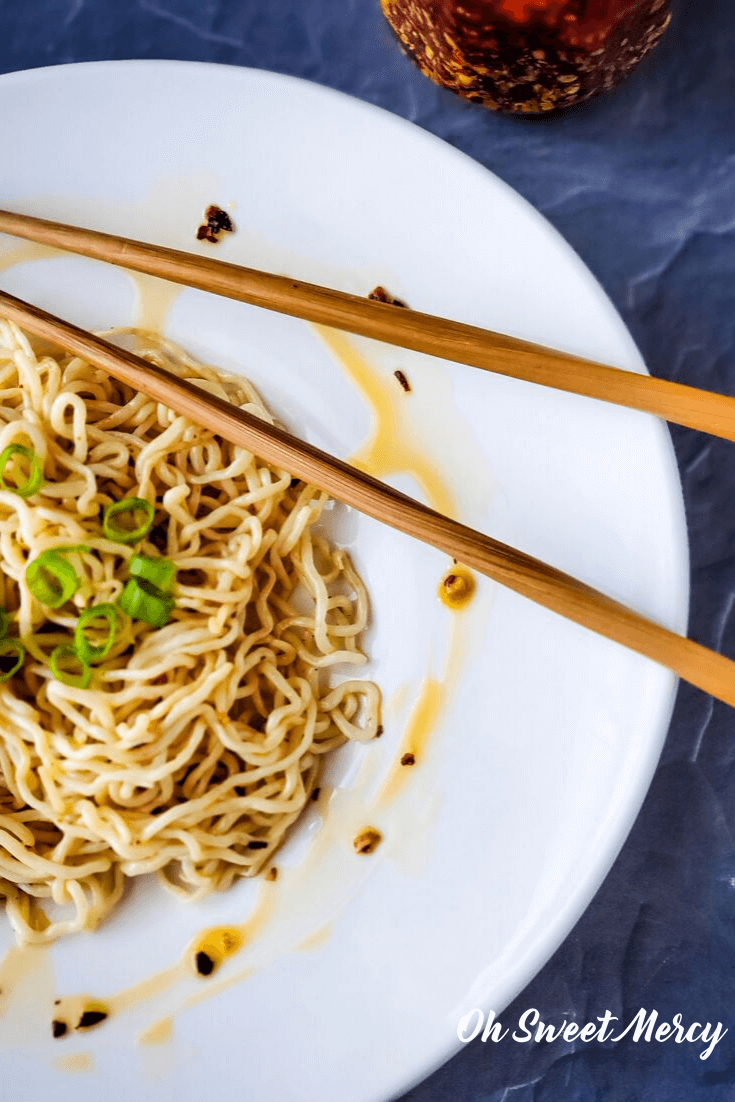 This wonderfully spicy, garlicky chili oil is delicious on anything! Try it on my Simple Low Carb Ramen, on meats, eggs, veggies, salads and more.
I recently made some Easy & Authentic Kimchi from Traditional Cooking School. I drizzled some of this yummy oil on my kimchi and oh. sweet. mercy. The combination of sour, spicy kimchi and the nutty garlic flavor of the chili oil was absolutely delish!
As this is an oil, the usual THM Plan guidelines apply. Use liberally (but wisely) in your THM S meals. Or, up to 1 teaspoon for an E or FP meal. Remember this is your added fat to the meal.
Finally, as I mentioned above, be sure to balance things out by consuming plenty of omega-3 fats. No matter what you eat it on, I'm sure you'll love it!
What Will You Eat This Yummy Chili Garlic Oil On?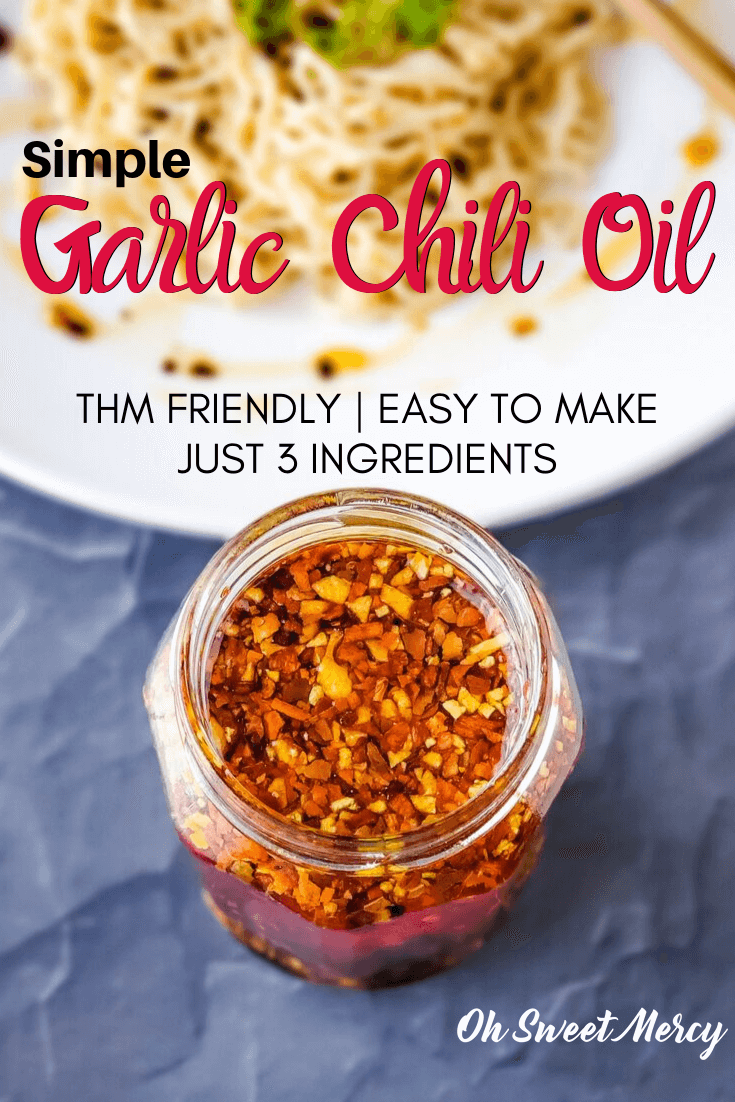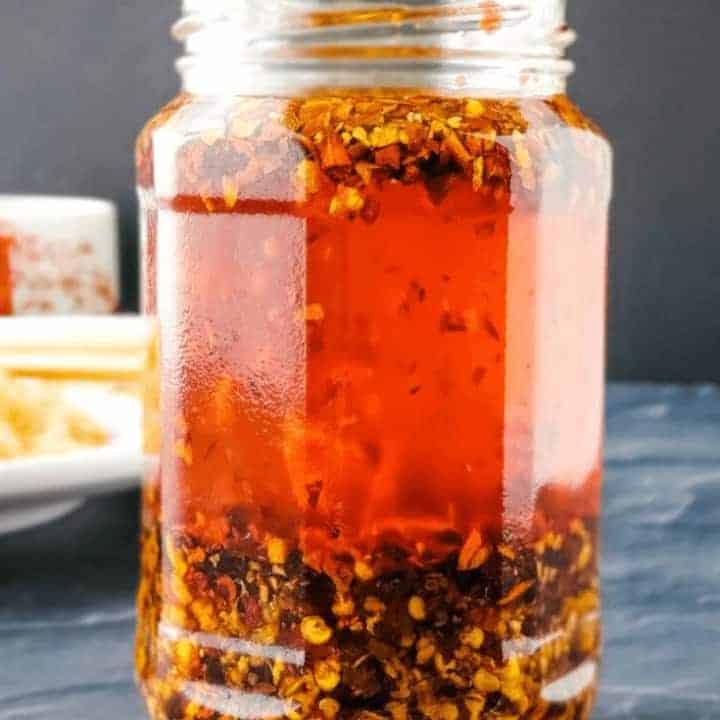 Simple Chili Garlic Oil | THM S, Low Carb
Yield: 1 cup
Prep Time: 5 minutes
Cook Time: 5 minutes
Cooling Time: 30 minutes
Total Time: 40 minutes
Hot and spicy chili garlic oil is an amazing topping for ramen, meats, and anywhere you need some heat. It's simple to make, too.
Ingredients
1 cup grapeseed oil, or other neutral, on-plan oil
4 large cloves fresh garlic
3 tablespoons red chili flakes
1 teaspoon high mineral salt (optional)
Instructions
Pour oil in a heavy skillet, such as a cast iron skillet, and heat on medium-low.
Press or mince garlic.
When oil is hot add garlic and chili flakes and stir well.
Continue stirring for about 4 to 5 minutes.
Remove pan from burner and allow to cool to room temperature.
Pour into a glass jar or bottle for storage.
If desired, strain oil first.
Notes
If you don't strain the oil, be aware that it the heat level will intensify as it sits.
Recommended Products
As an Amazon Associate and member of other affiliate programs, I earn from qualifying purchases.
Nutrition Information:
Yield: 16
Serving Size: 1 tablespoon
Amount Per Serving:
Calories: 133
Total Fat: 15g
Saturated Fat: 1g
Trans Fat: 0g
Unsaturated Fat: 13g
Cholesterol: 0mg
Sodium: 134mg
Carbohydrates: 1g
Fiber: 0g
Sugar: 0g
Protein: 0g
Nutrition information is approximate and based on the best knowledge available at the time of recipe publication. Your results may vary due to differences in ingredients. You can make your own calculations if this recipe does not include nutrition info by using an online calculator such as https://recipes.sparkpeople.com/recipe-calculator.asp