Like this post and don't want to miss more like it? Be sure to sign up for my newsletter at the end!
---
Since successfully making British-style clotted cream, I am now wanting all the scones. My Chocolate Chip Scones also have a simple, sweet glaze that dries to a nice, subtle crunch. Perfect on their own or topped with decadently rich clotted cream. Low carb, sugar, and gluten free it's perfect for an afternoon tea or coffee break or dessert for the Trim Healthy Mama.
---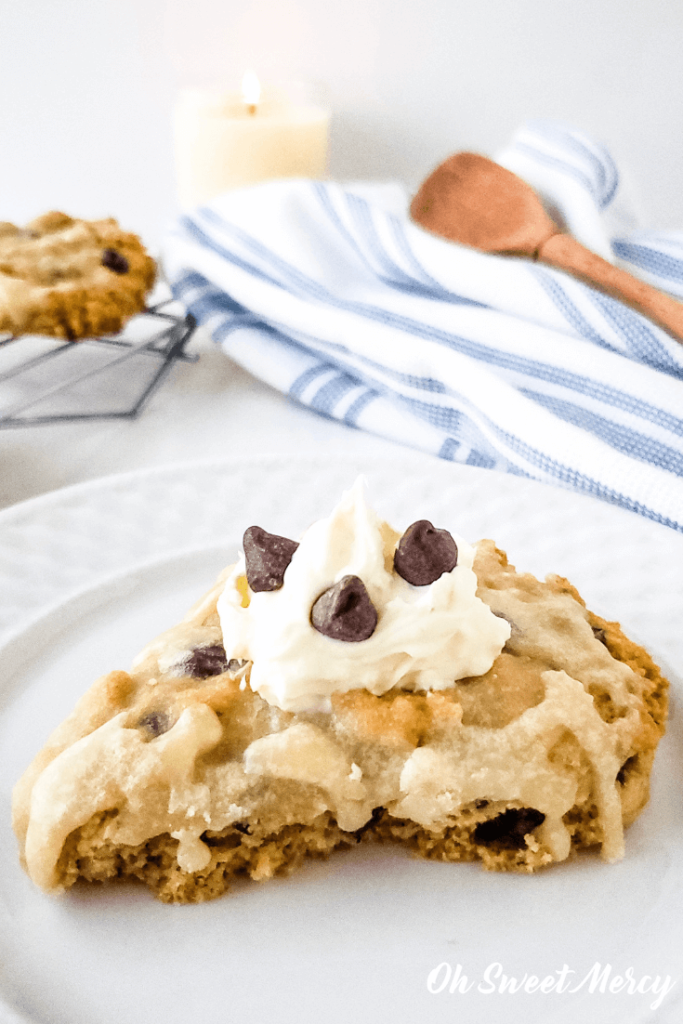 When those sugar free Bake Believe chocolate chips came out I'd asked on my Facebook Page what you'd like me to make with them. Someone said scones, and while my first scone recipe was pumpkin the next had to be chocolate chip.
Because I do try to give my readers what they're looking for! I love hearing from you so if you have mores suggestions for scone, or other, recipes please let me know!
This low carb chocolate chip scone recipe can be made either with THM Baking Blend, or a homemade version, OR almond flour.
The sweet glaze is the same one I used on my pumpkin scones, just vanilla instead of pecan brown butter.
They're very easy to make and we love them!
Where Do I Find Sugar Free Chocolate Chips? What If I Can't Get Them?
If you can't find the Bake Believe chips (or they bother your tummy), don't worry! You've got some great options.
There are other sugar-free chocolate chips on the market, such as the THM chocolate chips (which taste amazing and don't typically bother tummies) and Lily's brand.
Thankfully there are also some easy recipes for you to make your own! Check the list below for links to purchase or make your own. I even included some different flavored sugar-free baking chips recipes to try.
Sugar-Free Chocolate and Other Flavored Baking Chips To Try
How To Make Low Carb Chocolate Chip Scones.
The fastest and easiest way to make scone dough is in a food processor. I use an 8 cup Cuisinart.
Simply pulse your dry ingredients together, add butter and pulse until crumbly.
Add wet ingredients and pulse until the dough comes together.
Then pat your dough out into a circle, about 1/2″ thick, and cut into triangles.
Next, cut the dough circle in half. Then depending on how many scones you'd like to make cut each half into thirds or fourths.
Finally, carefully pick up each triangle and pat gently into shape. Replace the scones back into a circle with about 1/4″ or so space between each one.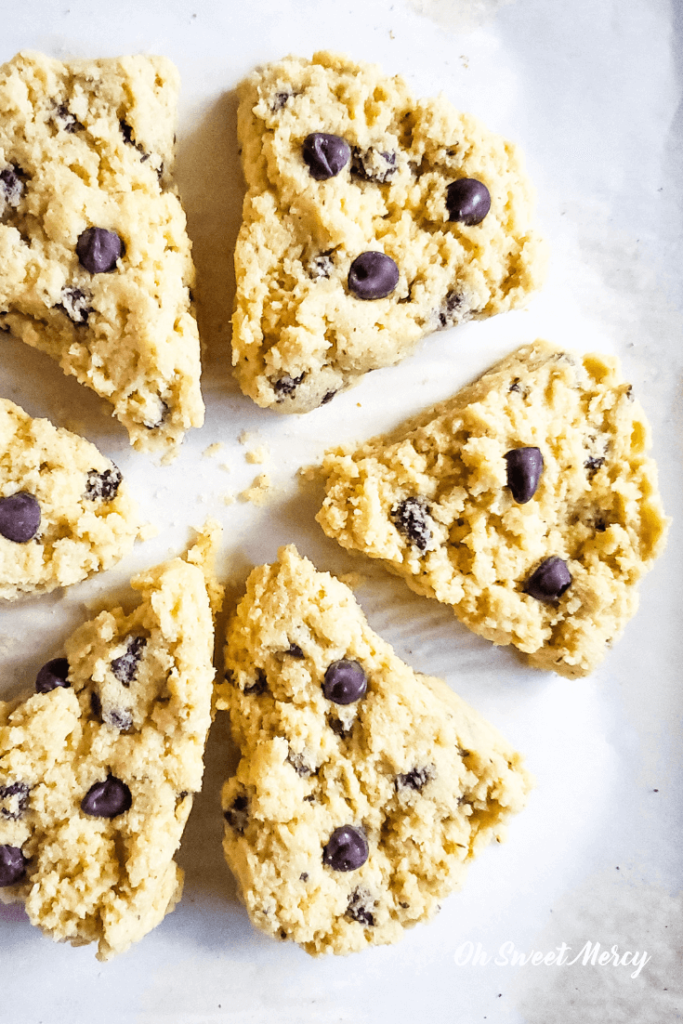 But if you don't have a food processor, all is not lost! It's a very simple procedure to mix by hand.
How To Mix Scone Dough By Hand.
Mix your dry ingredients together well. I like to use a whisk.
Cut in your butter (or coconut oil if making dairy free) until the mixture is crumbly.
Mix in your wet ingredients until the dough starts to form and stick together.
Follow the rest of the recipe instructions to form and bake the scones.
See, that's not hard, is it?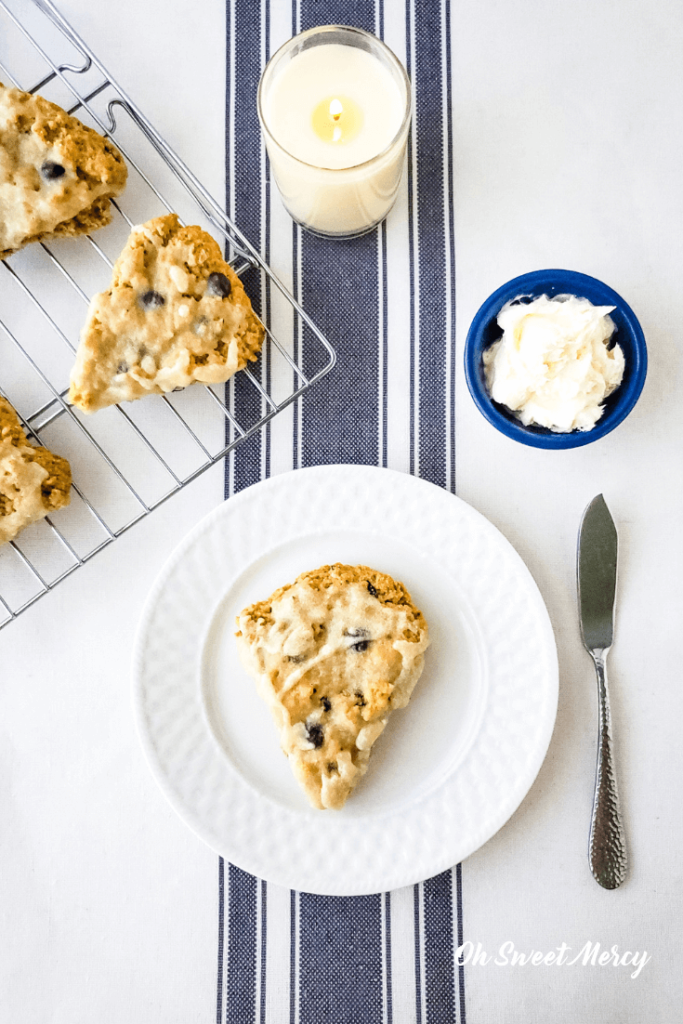 How To Glaze Your Freshly Baked Scones.
Make the glaze in the last 5 minutes or so of baking. It doesn't take long at all to make but does thicken as it cools and starts to dry fairly quickly.
You want the glaze to be hot and liquidy to pour over the scones.
When you pull the scones out of the oven, pour a bit of the glaze over each one, about 2 teaspoons or so. Use a pastry brush to quickly and evenly coat the scone. Then move on to the next one.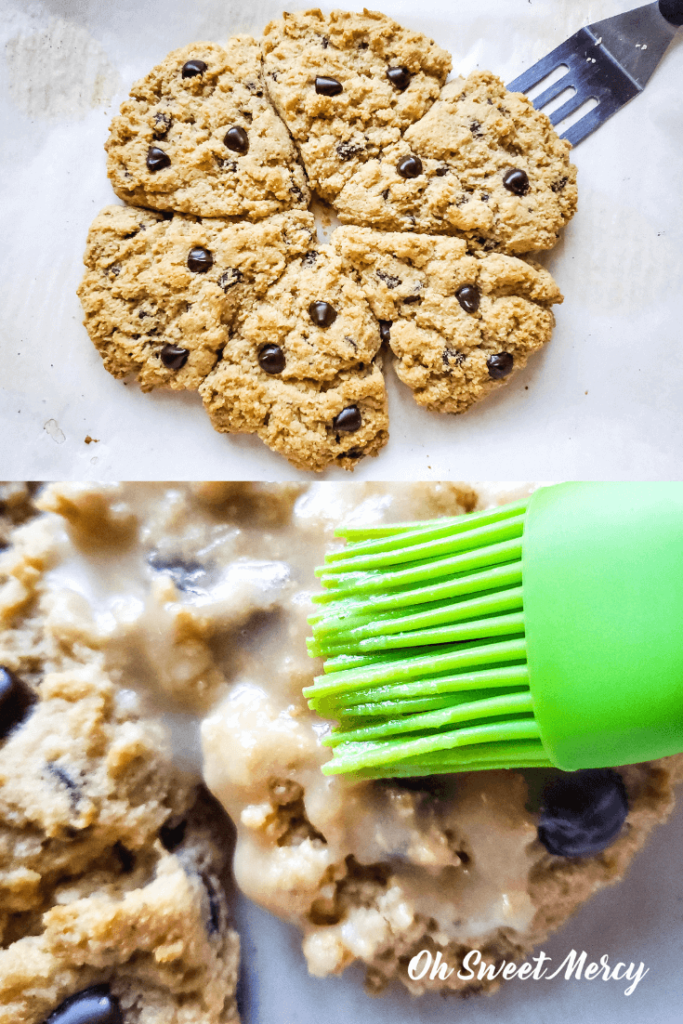 I don't like to pour all the glaze at once myself because it cools and thickens quickly, making it harder to spread nicely. But if that's your style you can certainly give it a try.
Let the scones cool for a while before moving them. Warm scones are delicious but if you move them too quickly they may fall part. Somewhat warm is OK just not fresh out of the oven hot 😉
How To Fit These Chocolate Chip Scones Into Your THM Meal Plan.
As these are an S you'll want to enjoy within a low-carb setting. Making them with Baking Blend lightens them up a bit, so keep that in mind.
Enjoy after a Light S or FP meal, just not after an E meal unless you want a Crossover. Remember, those are ok on occasion! But if you're not losing well it's best to not eat Crossovers regularly.
What Is THM Anyway?
I sometimes take it for granted that the majority of my readers know what THM is. In case you're new to this term or are just looking for low-carb or gluten free recipes here's a bit about this wonderful healthy eating lifestyle: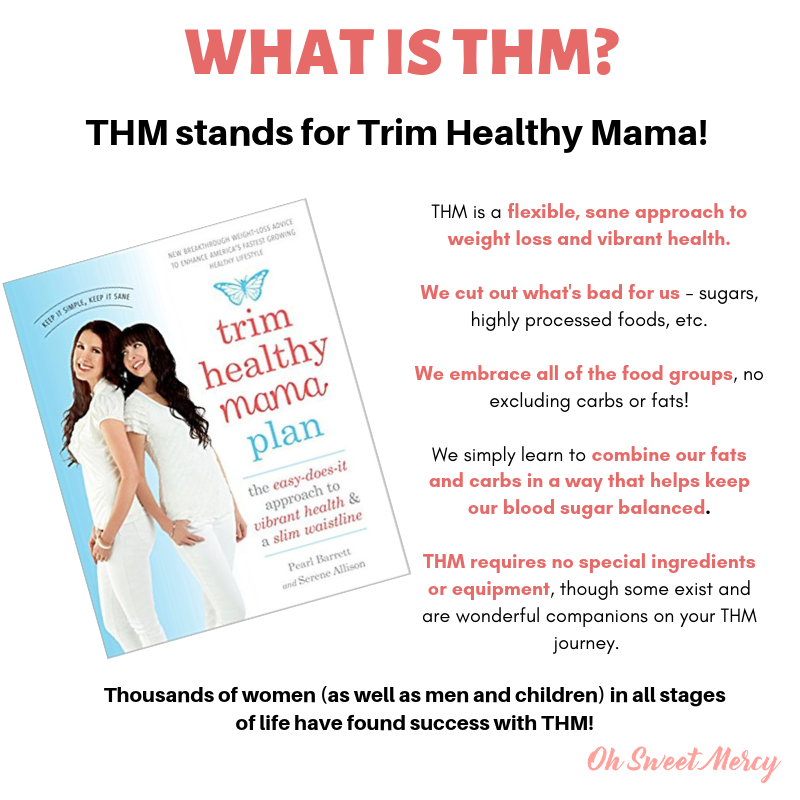 Let's Make Some Chocolate Chip Scones!
No matter how you choose to enjoy them they're a delicious, low-carb treat that helps you stay on-plan. Absolutely delightful with a hot cup of tea, coffee, or my personal favorite caffeine-free coffee alternative — Dandy Blend.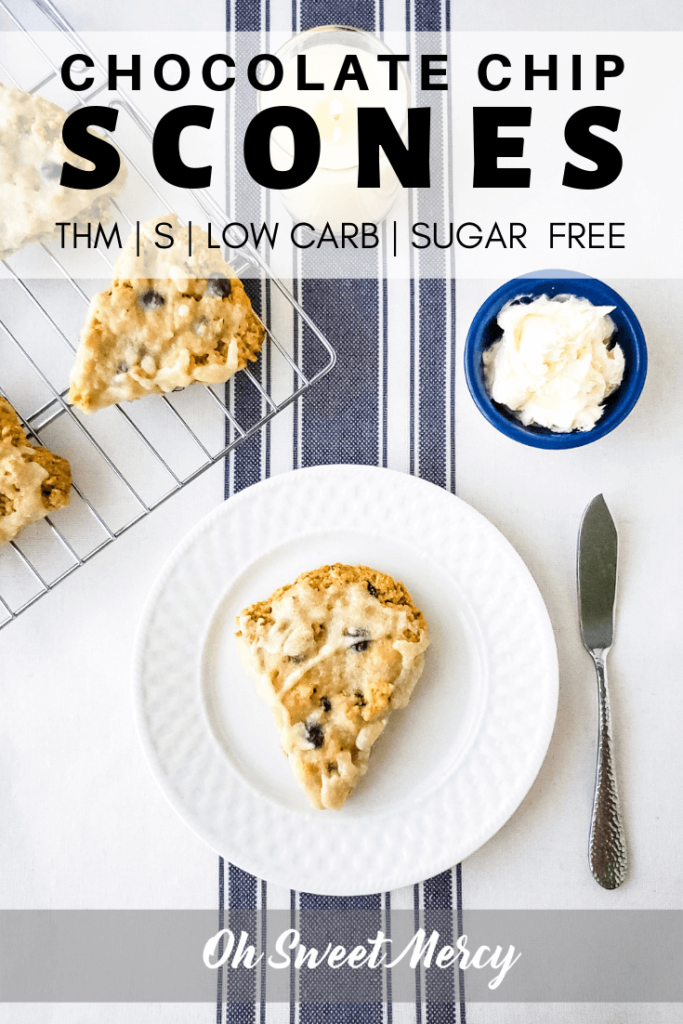 Low Carb Chocolate Chip Scones | THM S, Sugar Free
My Chocolate Chip Scones also have a simple, sweet glaze that dries to a nice, subtle crunch. Perfect on their own or topped with decadently rich clotted cream. Low carb, sugar, and gluten free it's perfect for an afternoon tea or coffee break or dessert for the Trim Healthy Mama.
Ingredients
Baking Blend Version
1 1/2 teaspoons baking powder
1/2 teaspoons baking soda
1/4 cup butter, cold
1 egg
1 teaspoon pure vanilla extract
Almond Flour Version
3 tablespoons Super Sweet 
1/2 teaspoon baking soda
1 1/2 teaspoons baking powder
1/4 cup butter, cold
1 egg
1 teaspoon pure vanilla extract
1/4 cup sugar free chocolate chips
Vanilla Glaze
2 tablespoons butter
1 teaspoon almond milk
1/2 teaspoon pure vanilla extract
Instructions
Make the Scones
Preheat oven to 350 degrees.
In a food processor add dry ingredients and pulse several times to mix well.
Cut cold butter into chunks and add to dry mix. Pulse several times until mixture appears crumbly.
Add egg, vanilla, and chocolate chips then pulse until dough sticks together in a ball.
Put dough onto a parchment paper lined baking sheet and pat into a circle about 1/2" thick.
Cut into 6 triangles.
Gently pick up each one and pat into shape then arrange in a circle with about 1/4" or so between each scone.
Bake for 18 to 20 minutes or until cooked through and lightly browned.
Make the Glaze
In the last 5 minutes or so of baking, melt butter in a small saucepan over medium heat.
Whisk in the powdered erythritol.
Add almond milk and vanilla and whisk until smooth.
If needed add more almond milk for a smooth, thin consistency.
Glaze The Scones
When the scones are done baking remove the baking sheet from the oven.
Pour a bit of glaze over one scone and use a pastry brush to spread it over the scone. Repeat with remaining glaze on remaining scones.
Allow scones to cool for several minutes before removing from the baking sheet.
Notes
Sweetener Notes
If you are using another granulated stevia product use the equivalent of 1 cup of real sugar.
You can purchase powdered erythritol (Swerve Confectioner's) or easily make your own powdered erythritol by whirring your erythritol in a blender until powdered.
If you use a stevia/erythritol blend or other non-glycemic sweetener product for the glaze you may need more or less depending on the product. Always start on the low end and add more as needed to achieve the level of sweetness you desire.
Baking Blend Notes
if using a homemade baking blend version be sure to read the recipe creator's notes on how it compares to THM Baking Blend and adjust accordingly.
For example, Briana Thomas' baking mix tends to be drier than THMs so you would need to use less (or possibly add almond milk to get the right consistency.
Nutrition Notes
Nutrition information calculated using THM Baking Blend and Bake Believe Semi-Sweet Chocolate Chips. The almond flour version will be slightly higher in fat and possibly carbs.
Recommended Products
As an Amazon Associate and member of other affiliate programs, I earn from qualifying purchases.
Nutrition Information:
Yield:

6
Serving Size:

1 scone
Amount Per Serving:
Calories:

194.5
Total Fat:

17g
Saturated Fat:

9.3g
Trans Fat:

0g
Unsaturated Fat:

3.9g
Cholesterol:

62mg
Sodium:

335.7mg
Carbohydrates:

15.1g
Net Carbohydrates:

1.8g
Fiber:

10.6g
Sugar:

1.4g
Sugar Alcohols:

3.4g
Protein:

5.8g
Nutrition information is approximate and based on the best knowledge available at the time of recipe publication. Your results may vary due to differences in ingredients. You can make your own calculations if this recipe does not include nutrition info by using an online calculator such as https://recipes.sparkpeople.com/recipe-calculator.asp