Like this post and don't want to miss more like it? Be sure to sign up for my newsletter at the end!
 Craving pesto but can't have cheese or nuts?
When you need a pesto with no nuts and not cheese, should you even bother? No pine nuts. No cheese. Who does such craziness?
Someone in the middle of a THM Challenge who needs a Deep S dish, that's who. That would be me.
The good news is, I whipped up this Easy Spinach Basil Pesto in just a few minutes and it was, indeed, delicious!
I put it on a chicken breast, fried in coconut oil.
I said Oh Sweet Mercy, this is good!
It is now post-worthy…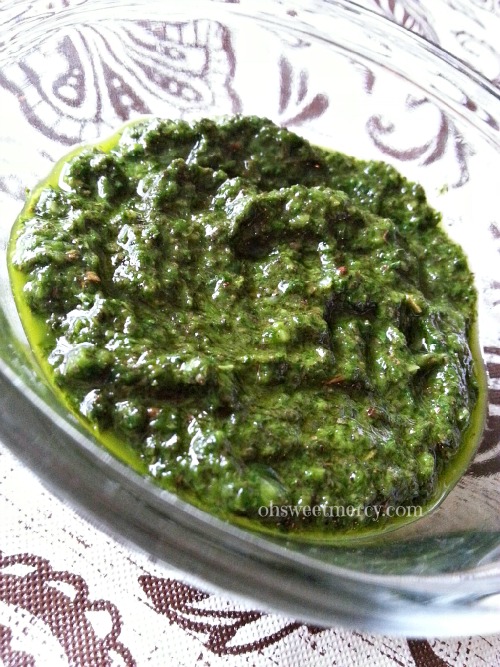 What IS pesto, anyway?
Since I wanted to make a pesto without nuts and cheese, I wasn't sure it would truly be pesto. A quick look around the interwebs and I discovered that there are many variations and it doesn't have to have nuts or cheese to be pesto. Apparently, it just needs to be pounded…
Pesto comes in a variety of recipes, some traditional and some modern, as the very noun pesto is a generic term for anything that is made by pounding.[13]
Pounding? Ain't nobody got time for that!
I needed pesto pronto, so I skipped the traditional pounding method and opted for my hand blender. Why on earth would I use a hand blender? Only because I don't own a food processor!
If you have one, I recommend that you use it for making large batches. The stick blender did the trick, but it took a little finesse to make sure the blade could reach the ingredients.
If I'd been making a larger batch, it probably would have been easier.
While I was working on pureeing the spinach mixture, I had some garlic cloves roasting in the oven. I just popped them in the mix when they were cool enough to handle and remove the papery skins.
Fresh is always best when it comes to making…anything.
Using fresh, whole food ingredients is always best. Sometimes you have to make do with what you have, and that's OK too.
In this case, I had fresh spinach, but no fresh basil. I used dry basil instead and it was still delicious. Next time, I will make this pesto with fresh basil. I can't wait to start growing some in my garden this year!
To substitute fresh herbs for dry (or vise versa), always remember:
3 portions of fresh herb = 1 portion of dried herb
Source
Does it taste…spinach-y?
No, it does not! I was a bit concerned because while I do enjoy fresh spinach, it's not my absolute favorite. It mostly tasted like basil, garlic and olive oil to me. This is a great way to get those dark, leafy greens into yourself if you don't like them. Or family members, too.
You could try adding it to eggs, spreading it on the crust of a homemade pizza before putting on traditional pizza sauce (or just skip the tomato based sauce all together!), add to spaghetti (or this easy Spaghetti Soup recipe, S style of course), or as a gluten-free alternative to a traditional way to eat pesto, toss roasted spaghetti squash strands in pesto and serve with your favorite Italian style meal.
If you don't know how to roast a spaghetti squash, I show you how here…it's super easy!
It's also delicious simply spread on top of a juicy chicken breast, and I plan to try it on salmon as well. Why not put it on all the meats?
Are you ready? Let's make some pesto!
Easy Spinach Basil Pesto - Dairy and Nut Free
Need a dairy and nut free pesto that's quick to prepare? This Easy Spinach Basil Pesto whips up in no time. Perfect for any THM S meal, and Deep S too!
Ingredients
1 c fresh spinach, packed, stems removed
4 cloves roasted garlic
1/8 tsp Mineral Salt
4 Tbs olive oil
1 Tbs dry basil
1 Tbs dry parsley
Directions
Roast garlic
Preheat oven to 400
Slightly pull apart 4 cloves (leave the papery peel intact)
Place in a baking dish or cast iron skillet and bake for about 5 minutes or until soft.
Let the cloves cool until you can handle them safely, then cut the ends off and remove the peel.
Make the pesto
Combine all ingredients and puree until as smooth as you prefer.
Adjust seasoning as desired.
While my recipes are not officially endorsed by Trim Healthy Mama, I do my best to ensure they meet plan guidelines. Always refer to the THM plan book for complete information.
Be Sure to Pin this Easy Spinach Basil Pesto to Your Favorite Pinterest Boards!