Like this post and don't want to miss more like it? Be sure to sign up for my newsletter at the end!
---
If you are a pasta lover and have embraced the low-glycemic lifestyle of Trim Healthy Mama this humble squash will be your very best friend! It's also a great sub for shredded potatoes, too. Here's how to cook spaghetti squash in your oven!
---
At only 4 grams of net carbs per half cup plus vitamin C, vitamin B6 and trace minerals such as potassium as well as calcium, phosphorus and magnesium, spaghetti squash is a carb-conscious eater's best friend.
All these nutrients are important to the body for good health, metabolism and muscle function. It also has a very mild flavor, which makes it a perfect addition to many recipes.
It is also ridiculously hard to cut when raw.
Since I value the use of all of my digits, I scoured the internet to see if it was really necessary to cut the thing open before roasting it in the oven.
How To Cut A Spaghetti Squash Without Losing A Finger.
Good news! You don't have to risk chopping off your fingers at all! If you cook it first, it's super easy to cut.
I found several methods on how to cook a whole spaghetti squash out there on the interwebs. They ranged from rubbing oil on the outside of the spaghetti squash to adding water to the baking dish.
Since I'm lazy, I like to keep it simple, I didn't do any of those things.
I'm not eating the outside so why waste the oil? Spaghetti squash contains around 92% water, and if it is not cut open, I highly doubt it will dry out so why add water?
Another method suggested putting the whole squash on a parchment-lined baking sheet, but I'm not sure why. Again, another step and another valuable kitchen item not needed so why bother? I'm calling up my Inner Minimalist, folks.
Let's see how simple this really can be, shall we?
How To Cook a Whole Spaghetti Squash in Your Oven
Preheat oven to 350
Wash and dry your squash
Pierce it a few times with a sharp knife or fork
Place it in a baking dish or on a baking sheet. A vintage 70s casserole dish is perfect! I used the one my mom made countless tuna casseroles in as a kid. Love that dish!
Bake for 60-90 minutes
The spaghetti squash is done when easily pierced by a fork
Let it cool a few minutes, then cut it in half
Scoop out the seeds and membranes (save the seeds to roast later!)
Using a fork, shred the spaghetti squash into strands by pulling the fork through the flesh horizontally (across the wide part of the squash, not the long way)
Season as desired and enjoy!
Since I'm following the Trim Healthy Mama plan (read my review and progress update posts for more information on this life-changing eating plan!) spaghetti squash has become my best friend!
Because I love potatoes, and those are not my friend. Spaghetti squash is a great fooler. Check out these great  spaghetti squash recipes, too!
How to make Squashbrowns
Mock Baked Spaghetti
Buttery Garlic, Mushroom, and Chive Spaghetti Squash
Italian Spinach Baked Spaghetti Squash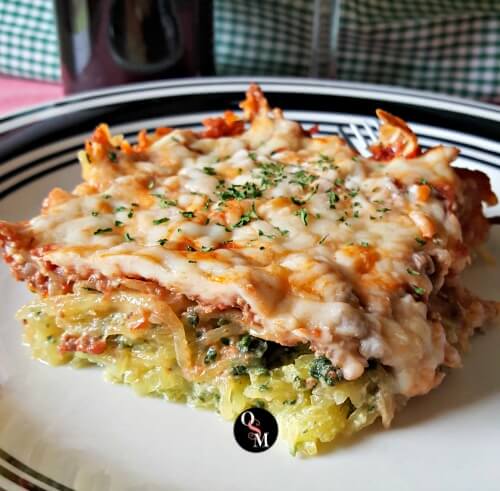 Dill Havarti Spaghetti Squash Casserole
Spicy Spaghetti Squash Latkes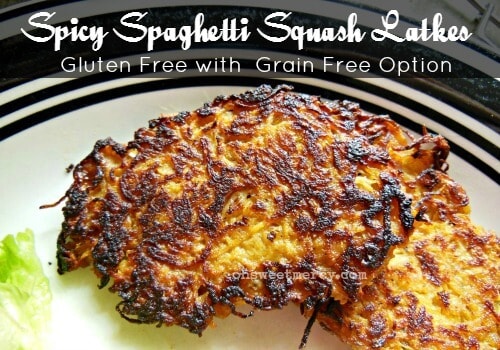 Don't forget to pin How To Cook A Spaghetti Squash to your favorite Pinterest boards!
This post was shared on the From the Farm Blog Hop and  Lou Lou Girl's Fabulous Linky Party!
---