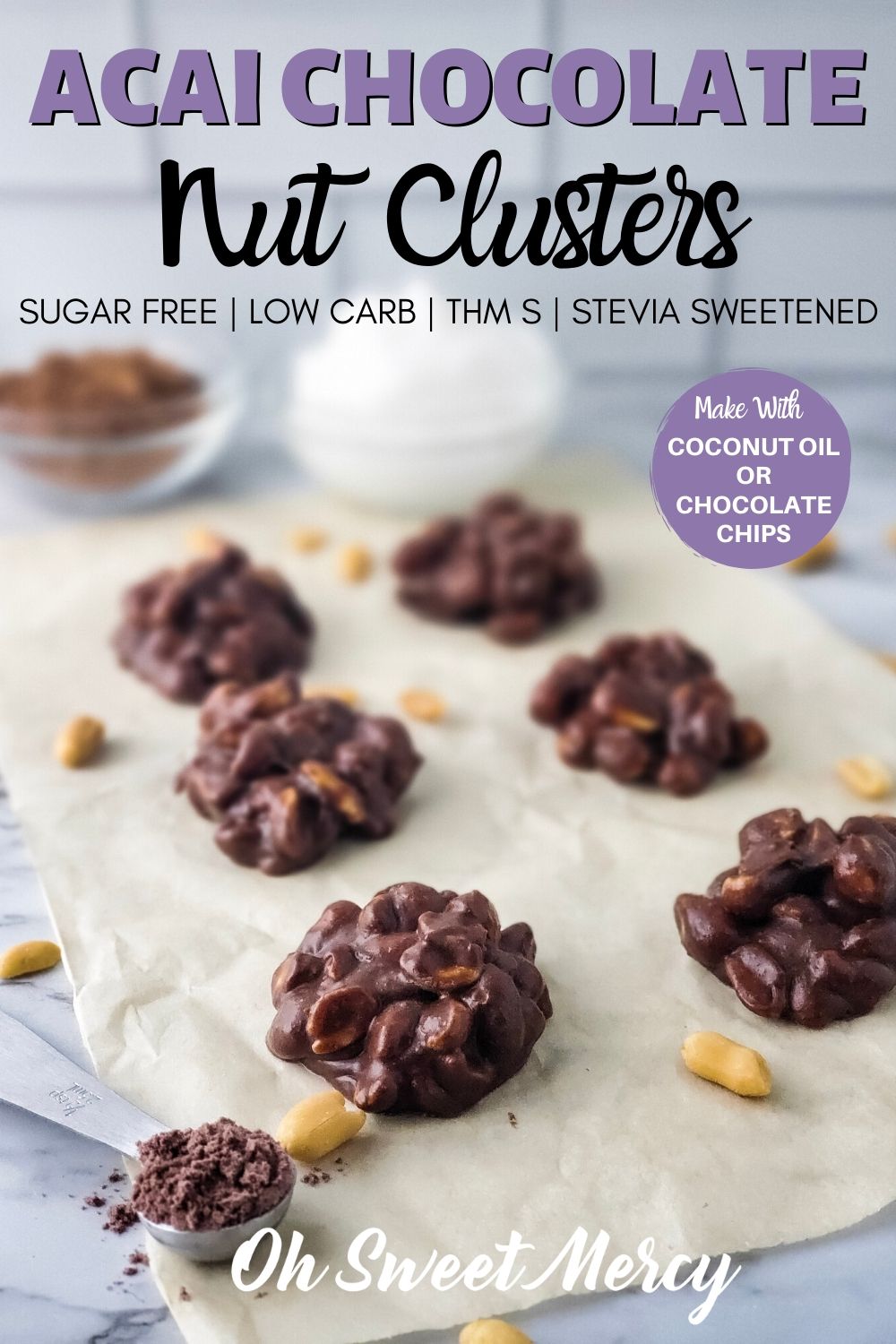 ---
Craving chocolate and nuts but want to stick to your healthy, sugar free lifestyle? Make these simple acai chocolate nut clusters in 30 minutes or less! To get the best superfood goodness make your own chocolate coating with metabolism-boosting coconut oil and raw cacao powder. But, store-bought, stevia sweetened chocolate chips work just fine.
---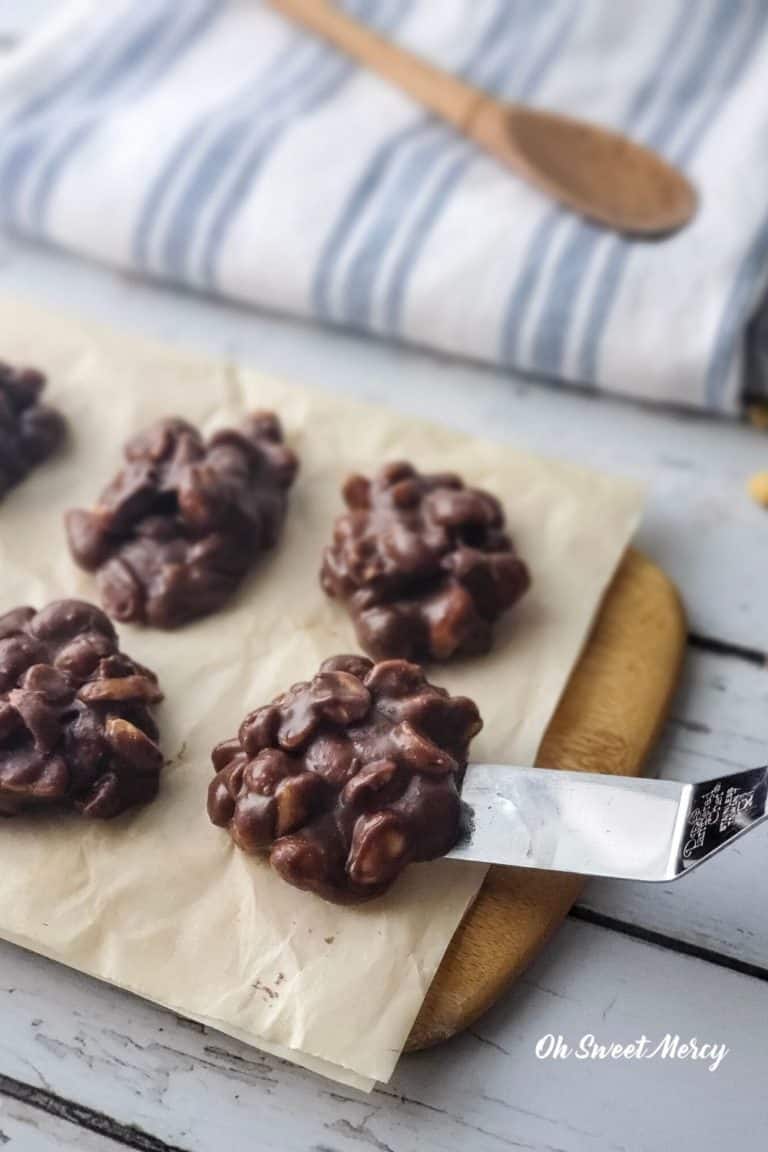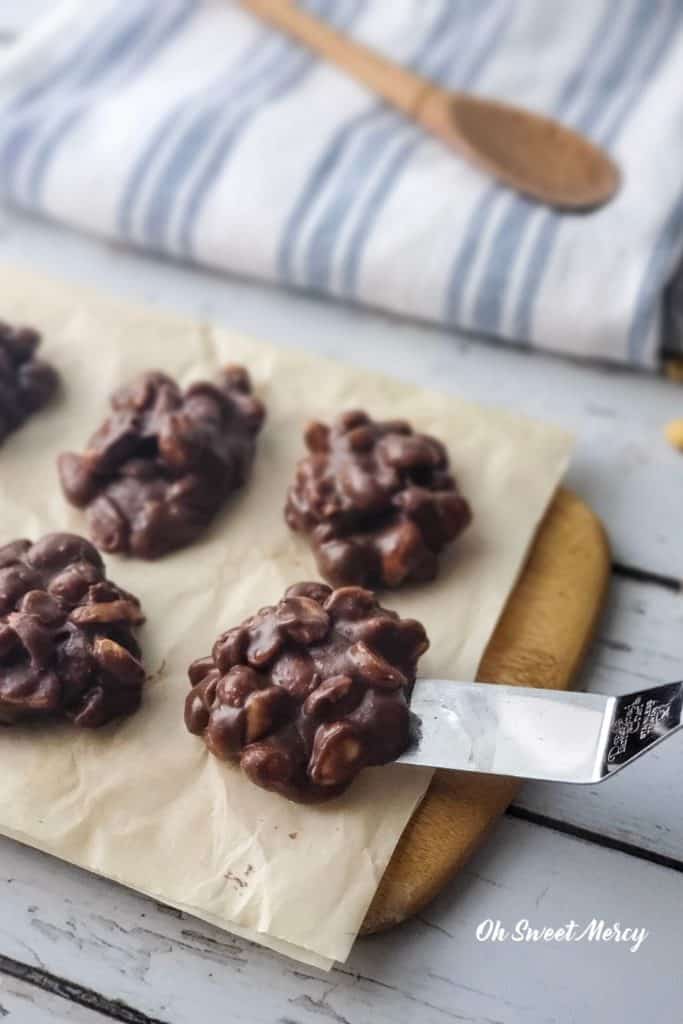 One of my favorite candies is chocolate covered peanuts. Especially when they're in the form of nut clusters.
But, when you're kicking sugar to the curb to trim down and health up, those store-bought chocolate nut clusters are not doing you any favors.
Just walk. on. by.
Your best bet is making your own healthy, sugar free chocolate nut clusters. They store well in the fridge or freezer so make them in big batches and always have a nutty chocolate treat on hand for when the craving strikes.
Boost The Nutrition In Sugar Free Chocolate Nut Clusters By Adding 1 Superfood Powder – Acai!
I'm also a big fan of chocolate and berries. This post was originally going to be Easy 2 Ingredient Chocolate Nut Clusters.
But, then I got this idea in my head to add acai powder to the chocolate. You know, because berries and chocolate.
It was a great idea! The acai powder gives a slight berry-sour flavor to the chocolate.
With the sweetness of stevia and a hint of salt, you've got all the taste centers firing in every bite – sweet, sour, bitter, and salty.
That, my friends, is a well-balanced sugar-free treat.
Even better, you also get the antioxidant benefits of acai berry powder.
Acai berries contain…
Anthocyanins – a flavonoid polyphenol nutrient found in blue, red, and purple fruits, berries, and veggies that shows promising results for preventing diabetes, improving cardiovascular health, cognitive function, vision, and metabolism.
Healthy fatty acids such as linoleic acid, omega-3, omega-6, and omega-9 fatty acids.
B vitamins
Mostly, it is their rich antioxidant content that makes them such a super nutritious food.
How To Make Sugar Free Acai Chocolate Nut Clusters – 2 Ways.
Both of these methods are quick and easy. One is a tiny bit faster, the other considerably more healthy.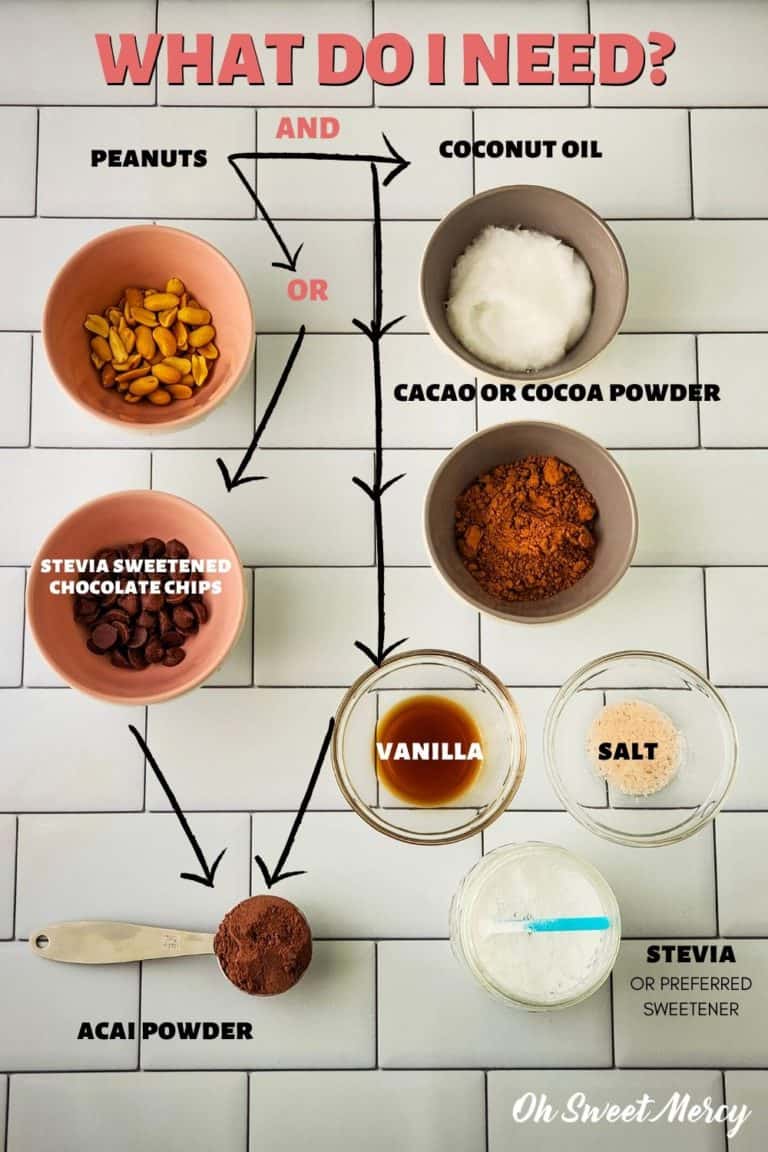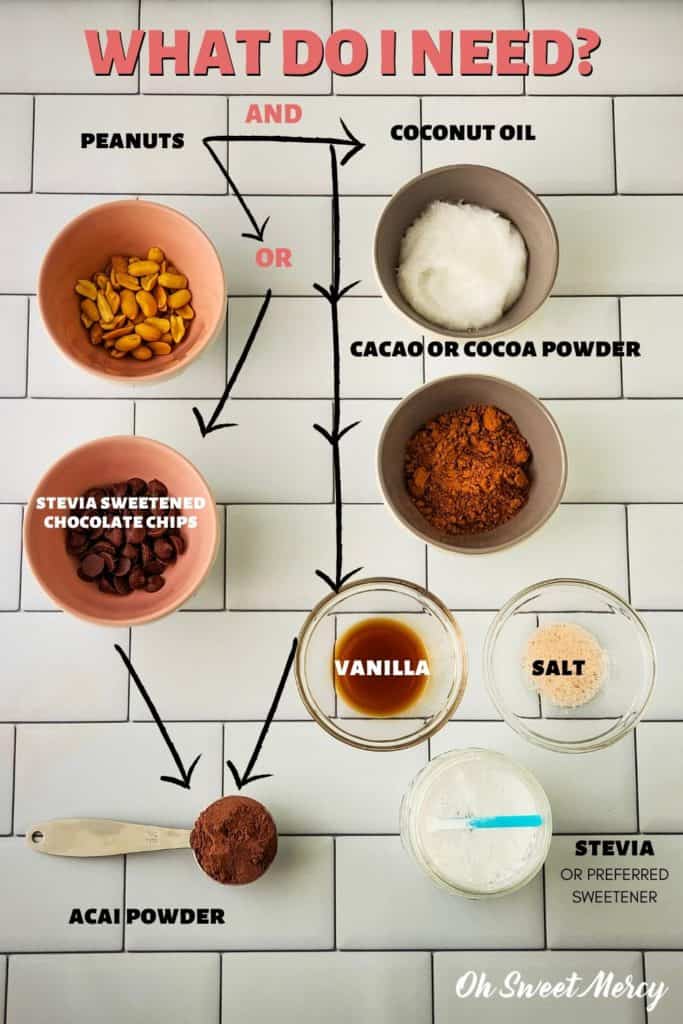 1. Make Stevia-Sweetened Chocolate Nut Clusters With Coconut Oil.
Your healthiest option is making your own chocolate using coconut oil. Unrefined, cold-pressed, virgin coconut oil is full of metabolism-boosting MCT oils.
If you don't like the flavor of coconut, refined coconut oil is perfectly acceptable.
Choose raw cacao powder if you can. If not, regular cocoa powder works just fine. Raw Cacao is higher in antioxidants and other important nutrients because it is less processed.
Use a finely powdered, on-plan sugar alternative. I used THM Pure Stevia Extract in these since it has the best, smoothest flavor of any pure stevia I've tried. And, a little goes a long way.
If you don't have pure stevia extract, use a sweetening blend like my new Mercy Sweet Sweetener Blend (similar to Pyure) or one of the fabulous THM Sweeteners like Super Sweet Blend or Gentle Sweet.
Just be sure to powder it first in a blender or coffee maker to avoid crunchiness in your chocolate.
I really don't mind it that much so sometimes I'll grab the granulated stevia blend instead of the pure stevia and just toss it in there without powdering it first.
Tips For Using Coconut Oil To Make Chocolate Nut Clusters.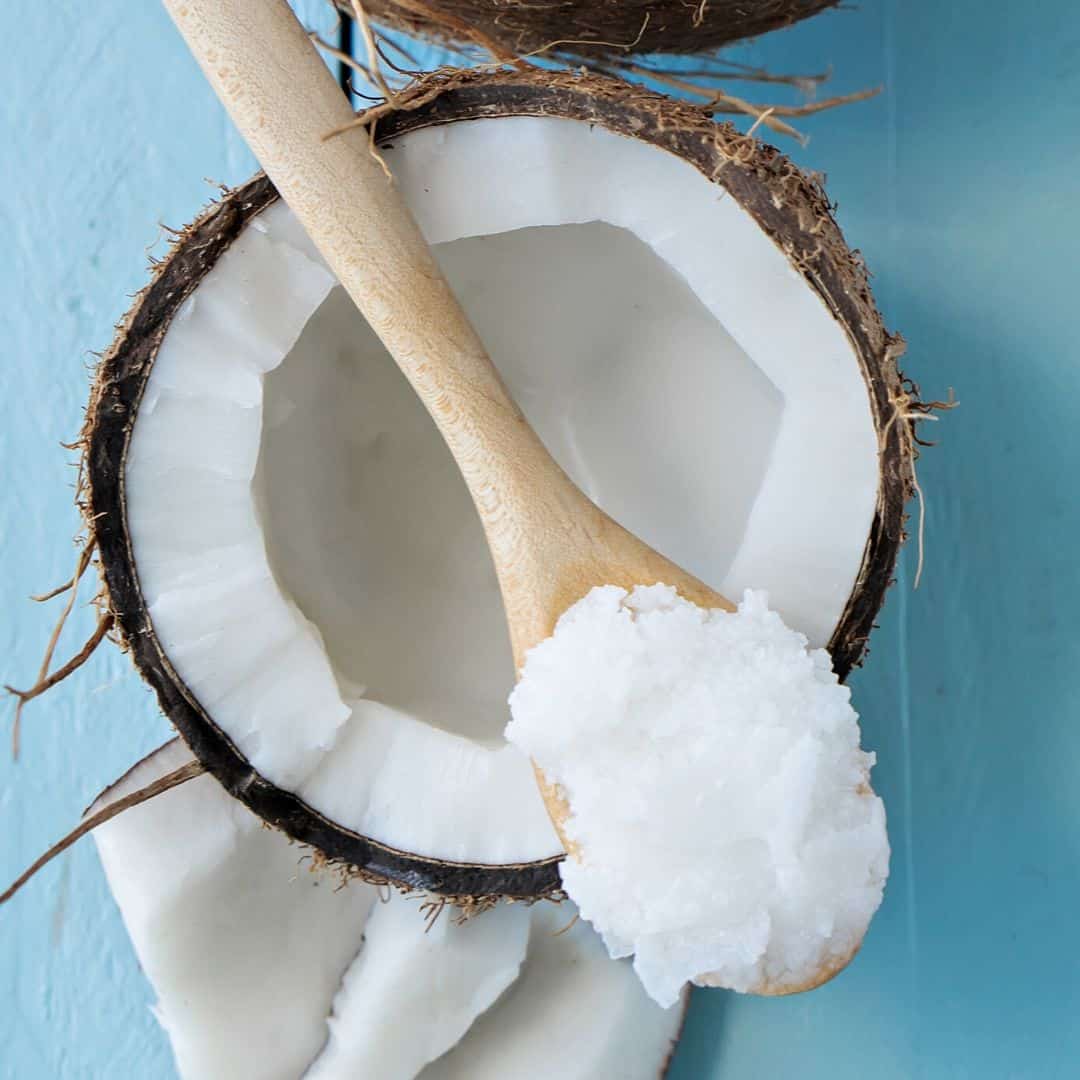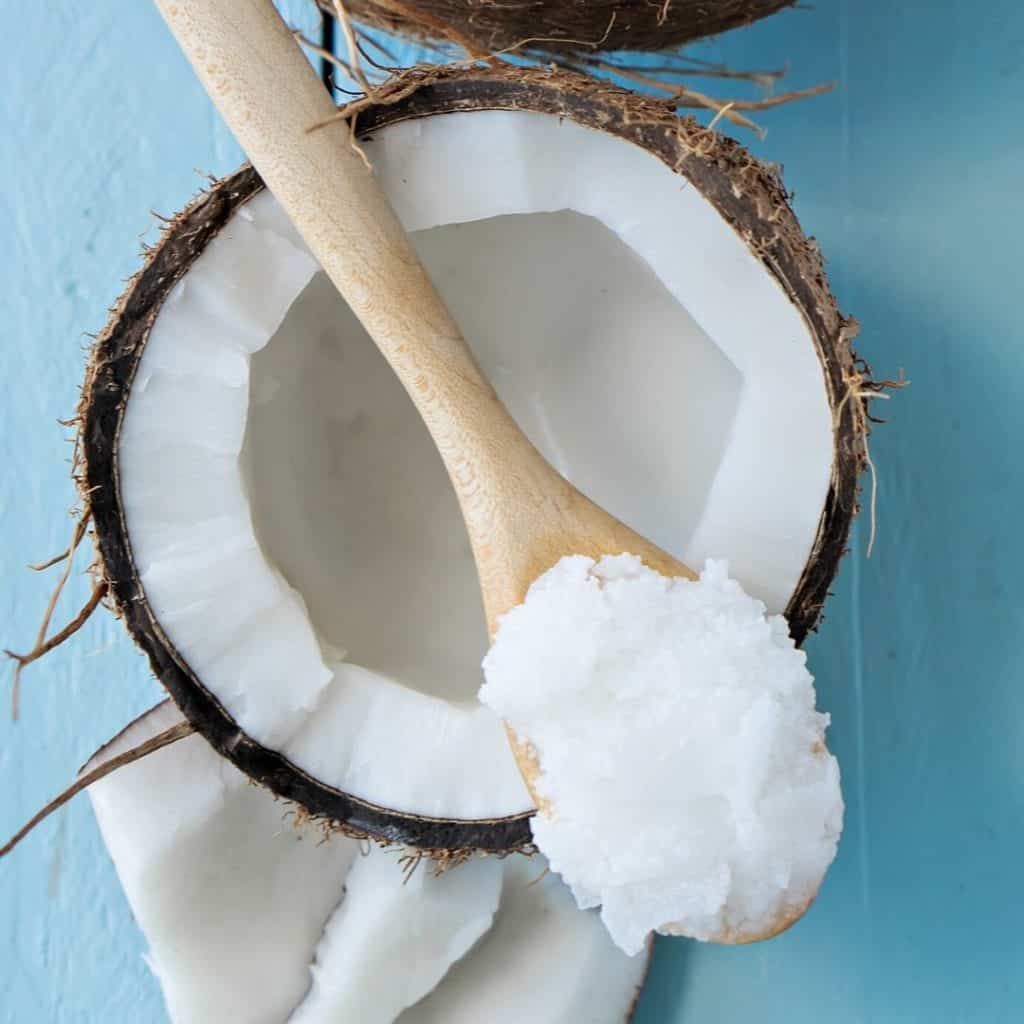 If it's summer and your coconut oil is soft, no need to drag out the double boiler. That makes this recipe even easier and quicker.
Simply whisk together the coconut oil, cacao powder, acai powder, sweetener, vanilla, and salt until smooth. The stir in your peanuts and drop by spoonfuls onto a wax paper lined baking sheet. Pop in the fridge until firm.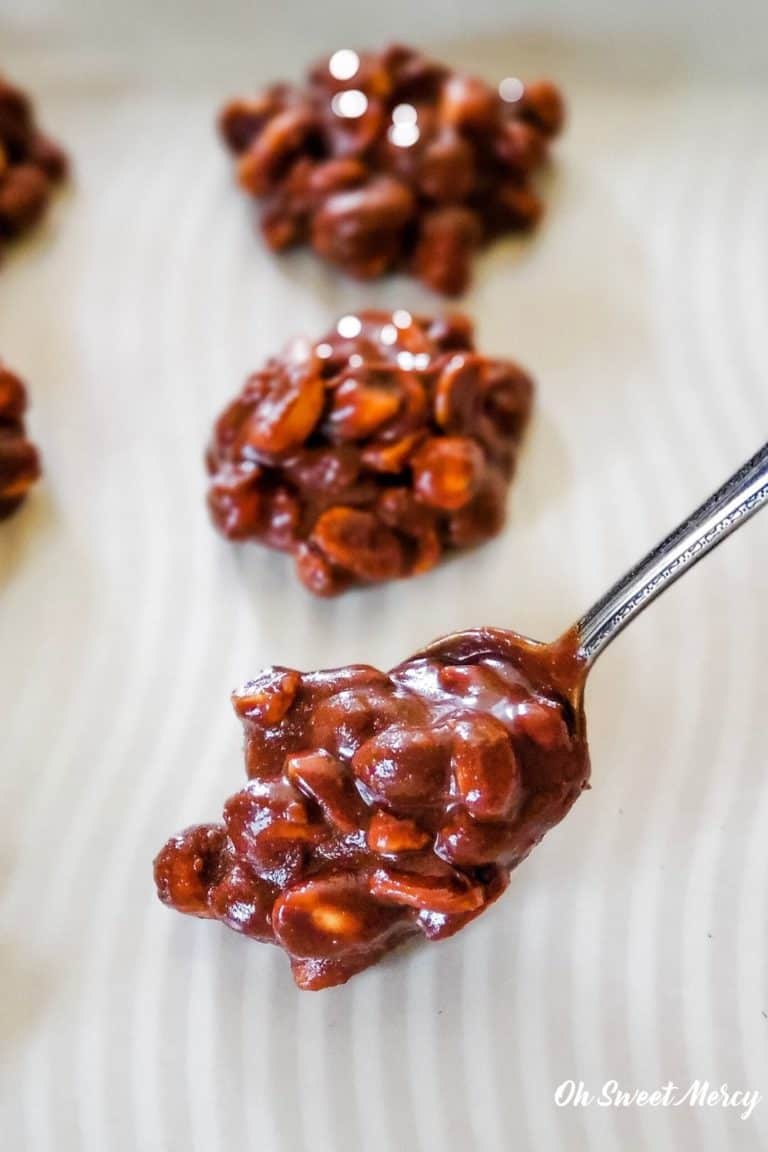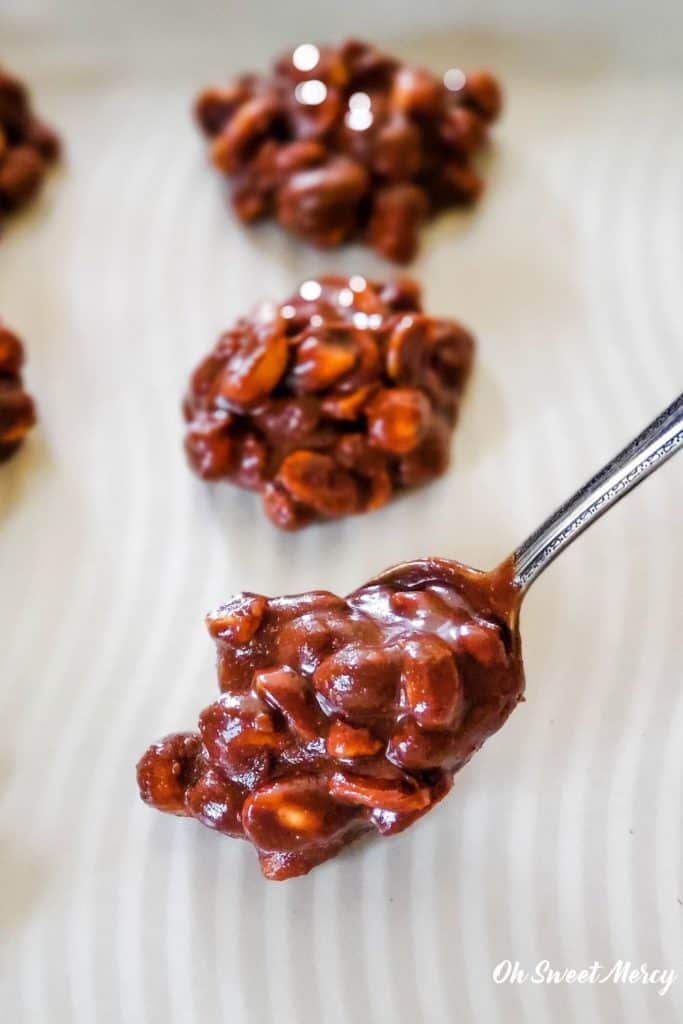 If your coconut oil is hard, very gently soften it in a double boiler or heat-safe bowl over a pan of simmering water. Don't let it melt completely, just until it's soft enough to stir fairly well.
If you do accidentally melt it you coconut oil, no worries. Whisk in the other ingredients, add the nuts, then pop in the fridge for about 5 minutes or so and it will thicken up a bit.
Give it a good stir and you should be good to form the nut clusters as I described above.
The whole process only takes around half an hour, too!
2. Or, Use Store-Bought, Stevia-Sweetened Chocolate Chips.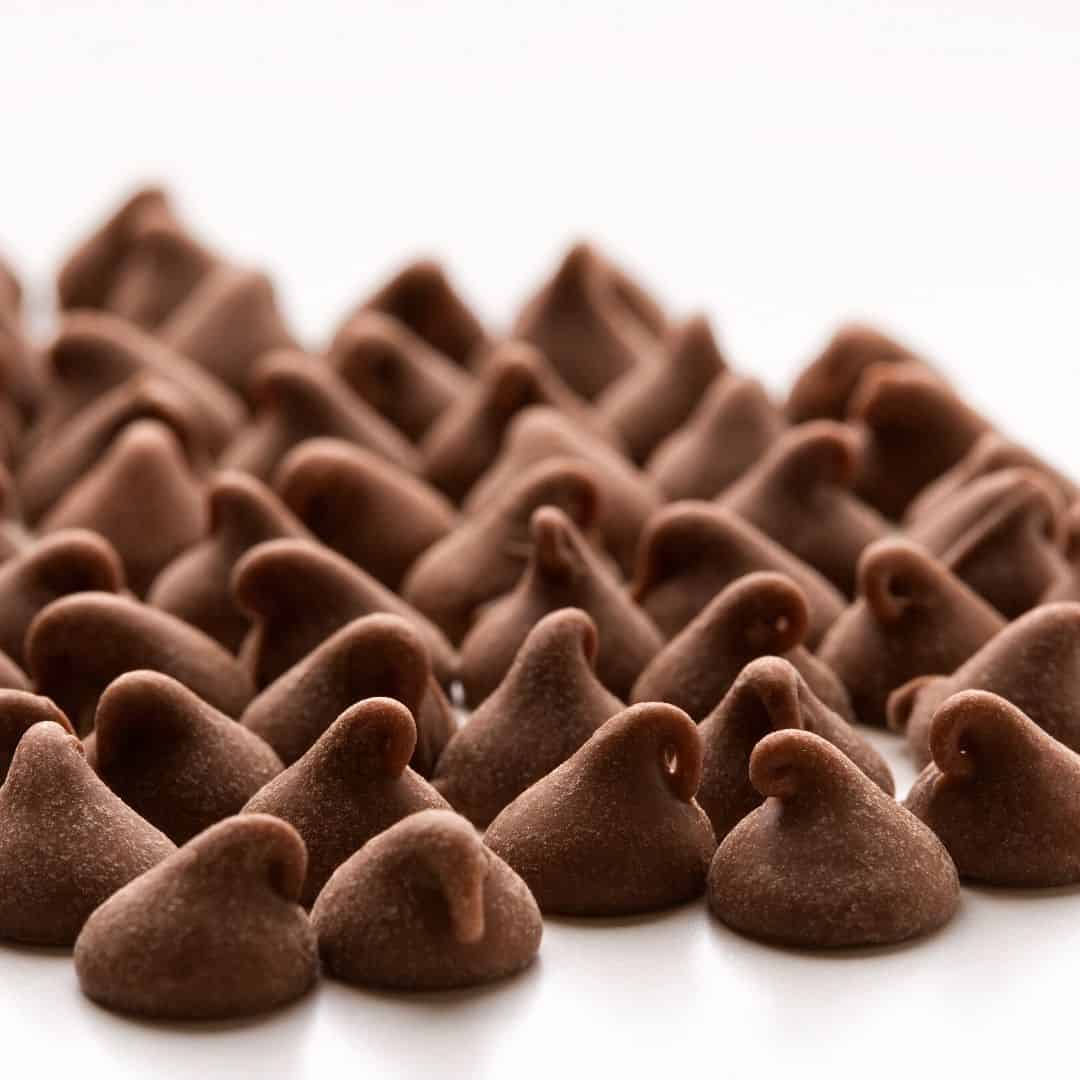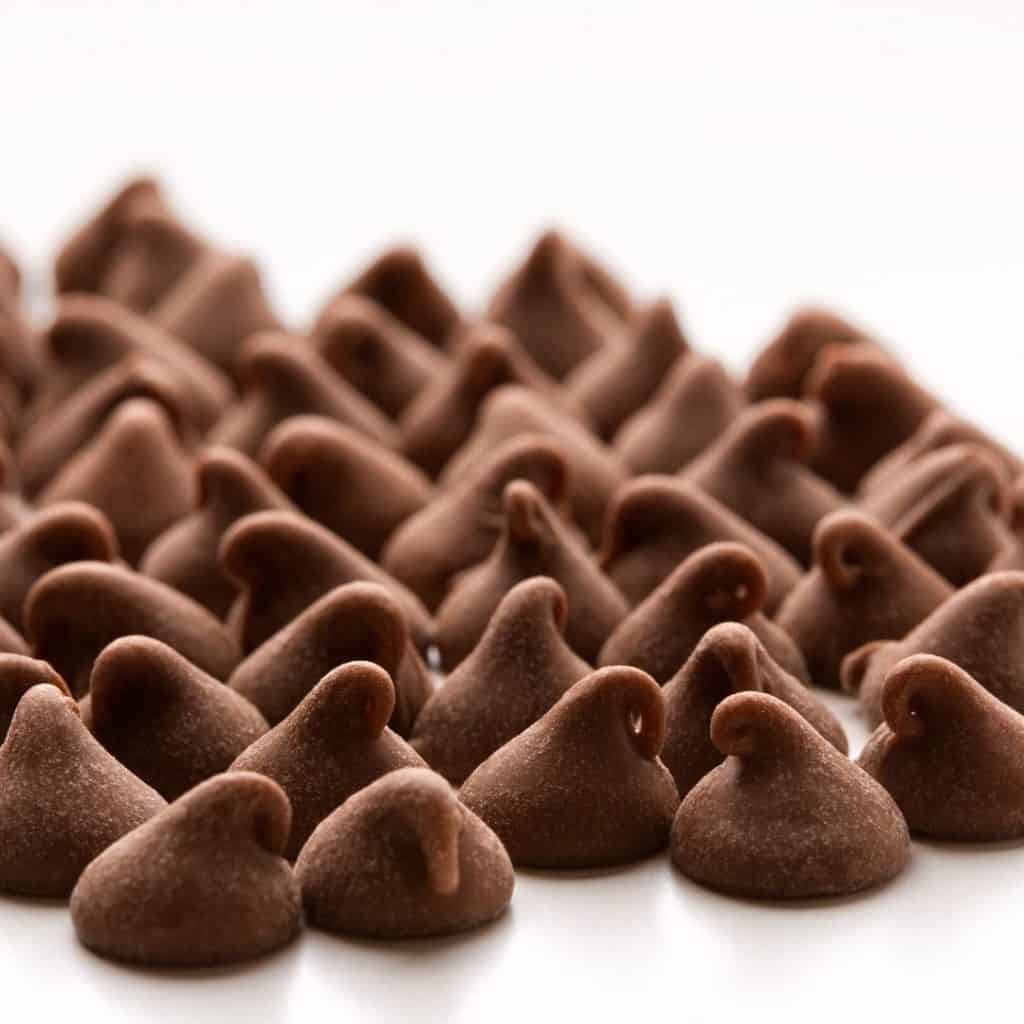 The super shortcut way to make them is with store-bought, stevia-sweetened chocolate chips. There are even brands that are on-plan for Trim Healthy Mama:
Or, make your own and keep a supply on hand with this great recipe from Wonderfully Made and Dearly Loved.
Simply gently melt your chocolate chips in a double boiler. Or, place a heat-safe glass bowl on top of a pot of boiling water.
Stir until melted and smooth, then remove the boiler top or bowl from the pan and on to a hot pad or heat safe surface.
If your chocolate chips have a high coconut oil content (such as homemade chocolate chips or the Trim Healthy Mama Chocolate Chips), take the double boiler top, or bowl, off the pan when the chocolate is about half melted. It should continue to soften as you stir in the nuts.
Whisk in the acai powder until no lumps remain and the chocolate is smooth.
Stir in nuts and mix well until the nuts are completely coated.
NOTE: Do NOT add vanilla extract to melted, store-bought, stevia-sweetened chocolate chips. You'll end up with crumbly, dry chocolate!

The first time this happened, I thought I'd overheated the chocolate. The second time I was very careful not to overheat it. The chocolate was melty and smooth until I added the vanilla extract!
Drop clusters by spoonfuls onto a wax paper lined baking sheet. Pop in the fridge for about 20 minutes or so or until hardened.
Store in an air tight container in the fridge or freezer.
How To Fit My Easy Low Carb Acai Chocolate Nut Clusters Into Your THM Meal Planning.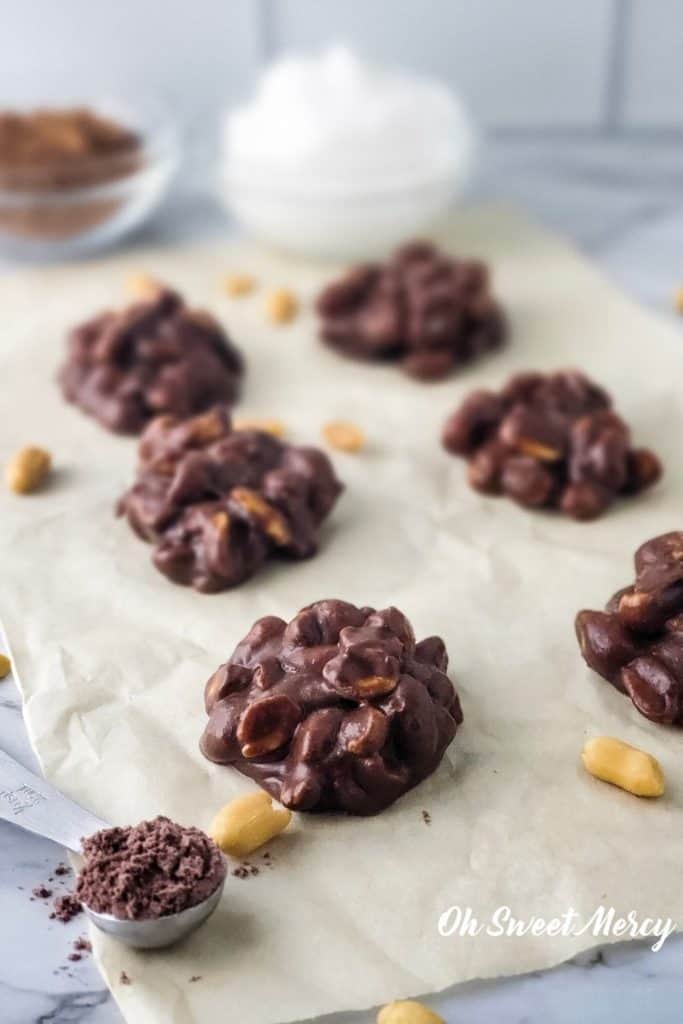 These yummy chocolate treats are a THM S on the Trim Healthy Mama Plan.
Enjoy them occasionally, as eating too many nuts can contribute to a stall in progress for some people.
They're perfect around the holidays, for birthdays, baby showers, or other special celebrations where off-plan foods are typically present.
Take them along when eating away from home, traveling, or even running errands to help you avoid the temptation of off-plan candies. Pack them with a freezie if the weather's hot.
What are your favorite candies? Will these low carb acai chocolate nut clusters help you stay on plan? I'd love to hear what you think and if they help you so come back and let me know!
Pin It!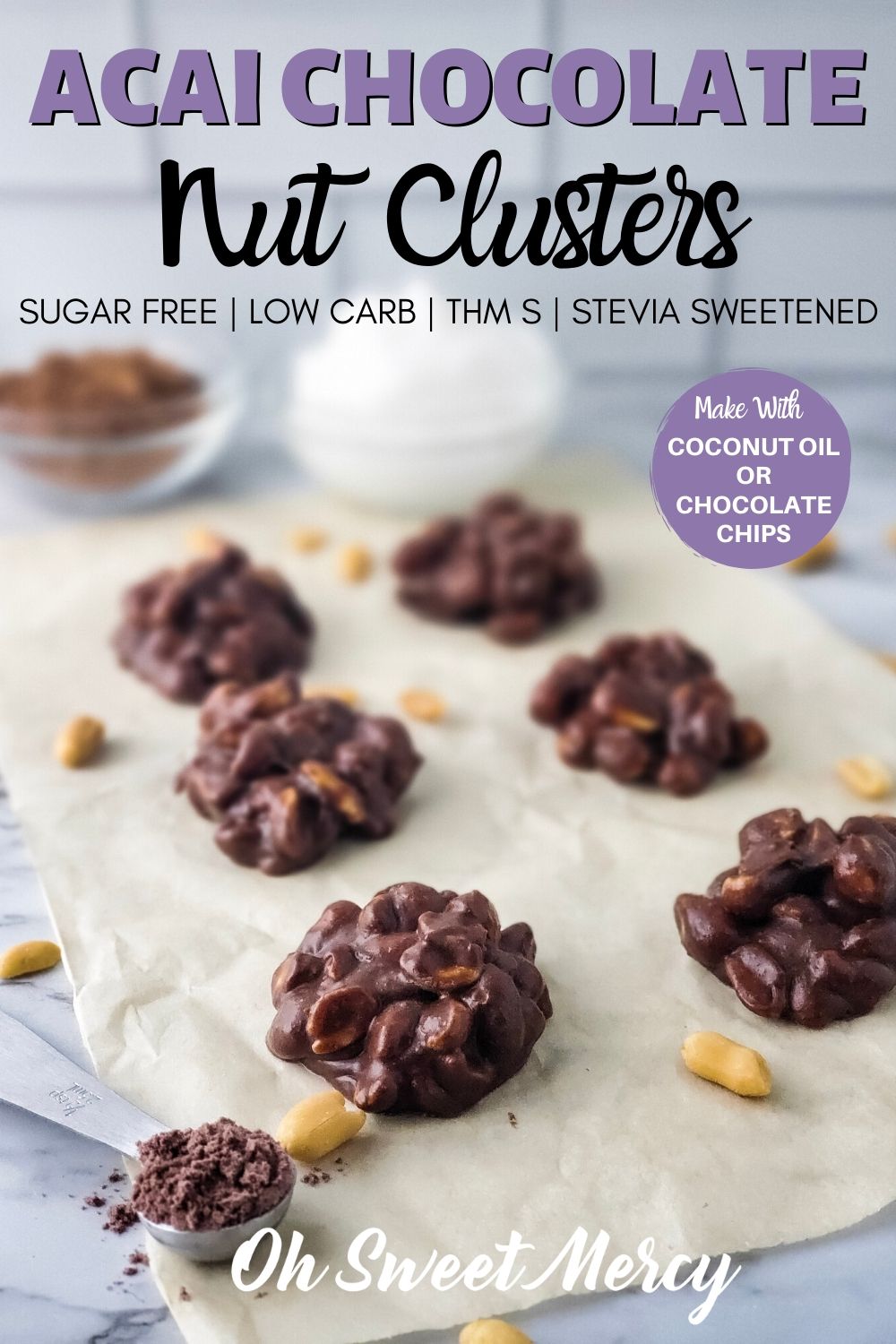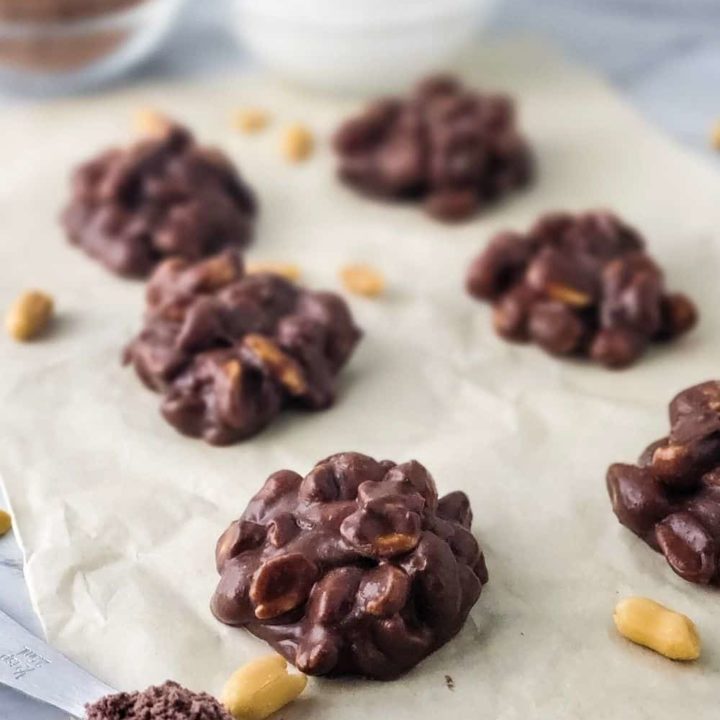 Sugar Free Acai Chocolate Nut Clusters | Low Carb, THM S
Yield: 12 clusters
Prep Time: 15 minutes
Chill Time: 15 minutes
Total Time: 30 minutes
Sugar free acai chococlate nut clusters are super easy to make and help you say no to sugar-laden temptations. Make with store-bought stevia sweetened chocolate chips or make your own coconut oil based chocolate coating.
Ingredients
Coconut Oil Chocolate Version
1/2 cup coconut oil
2 tablespoons raw cacao powder (or cocoa)
1 teaspoon pure vanilla extract
1/8 to 1/4 teaspoon pure stevia extract (or sweetener of choice to taste, preferably finely powdered)
1/16 teaspoon high mineral salt (2 doonks)
1 cup peanuts
Chocolate Chip Version
1 cup stevia-sweetened chocolate chips (see notes)
1 cup peanuts
1 tablespoon acai powder
Half and half, heavy cream, or almond milk if needed for consistency
Instructions
COCONUT OIL VERSION
If coconut oil is soft, whisk in cacao, acai powder. sweetener, vanilla, sweetener, and salt until smooth.
Otherwise, gently warm coconut oil until it's soft enough to stir but do not melt, then whisk in other ingredients (besides nuts)
Stir the peanuts into the chocolate mixture.
Drop by spoonfuls onto a wax paper lined baking sheet and refrigerate until firm, 15 minutes or so depending on how thick the clusters are.
Store in an airtight container in the fridge or freezer.
CHOCOLATE CHIP VERSION
Using a double boiler, or heat-safe bowl over a pot of simmering water, melt the chocolate chips, stirring frequently.
When chocolate chips are mostly melted, remove the double boiler top or bowl from the pan to a heat-safe surface.
Whisk in the acai powder until smooth. If chocolate is too thick, add a little cream, half and half, or almond milk to thin to a coating consistency.
Stir in the peanuts (see notes below).
Drop by spoonfuls onto a wax paper lined baking sheet.
Refrigerate until firm, 15 minutes or so depending on thickness of the clusters.
Store in an airtight container in the fridge or freezer.
Notes
The consistency of melted chocolate chips can vary depending on whether they are homemade, have a lot of coconut oil (or very little), or other factors. You may need to adjust the amount of peanuts depending on how thick the melted chocolate chips turn out.
If you over-melt your chocolate chips and the chocolate turns out dry and crumbly (but not burnt-tasting), whisk in some heavy cream or half and half until smooth.
Recommended Products
As an Amazon Associate and member of other affiliate programs, I earn from qualifying purchases.
Nutrition Information:
Yield: 12
Serving Size: 1 nut cluster
Amount Per Serving:
Calories: 153.1
Total Fat: 14.4g
Saturated Fat: 9.5g
Trans Fat: 0g
Unsaturated Fat: 11.8g
Cholesterol: 0mg
Sodium: 40.4mg
Carbohydrates: 2.7g
Net Carbohydrates: 1.6g
Fiber: 1.1g
Sugar: 0.3g
Protein: 2.7g
Nutrition information is approximate and based on the best knowledge available at the time of recipe publication. Your results may vary due to differences in ingredients. You can make your own calculations if this recipe does not include nutrition info by using an online calculator such as https://recipes.sparkpeople.com/recipe-calculator.asp