Raw ACV (apple cider vinegar) is some potent stuff.
It's very good for you, though, but many people can't stand the flavor and have a hard time incorporating it in their diet. I've been experimenting with different ways to make GGMS (Good Girl Moonshine) and last week, I discovered The One. It's my absolute favorite, and I'm calling it Zingy Raspberry Good Girl Moonshine.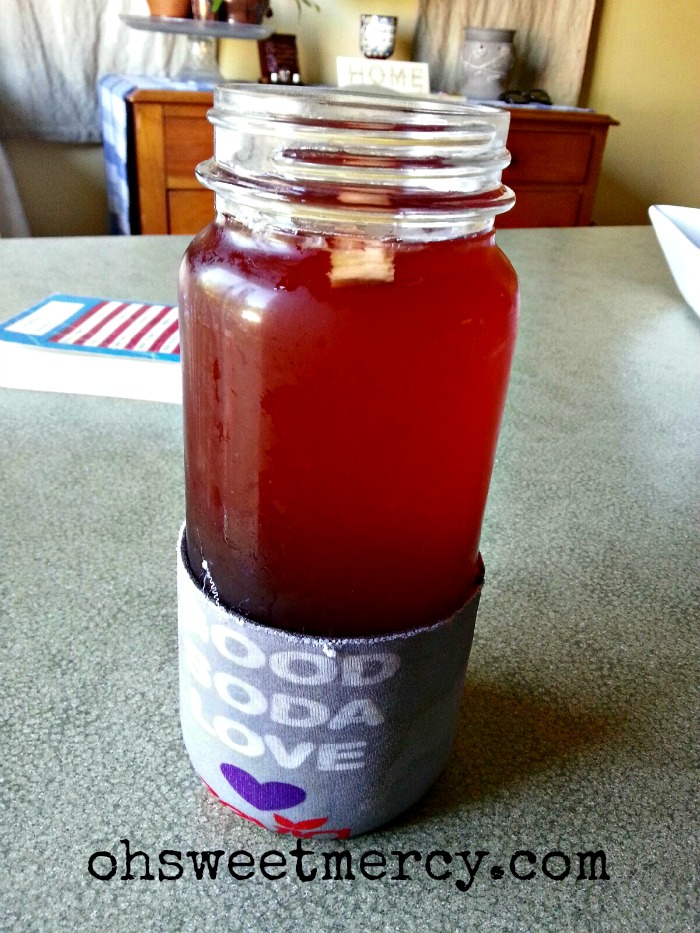 Good Girl Moonshine is a popular drink with Trim Healthy Mama plan followers.
It's a great way to get that super healthy ACV into your body to help you lose weight, detox, balance your whole body system and support your lymphatic system, especially as we enter into cold and flu season. But it can be hard to drink, especially if you don't like vinegar in the first place!
If you're not familiar with the Trim Healthy Mama plan, you can read my review here
To make Zingy Raspberry Good Girl Moonshine, I start by cold-brewing Raspberry Zinger tea.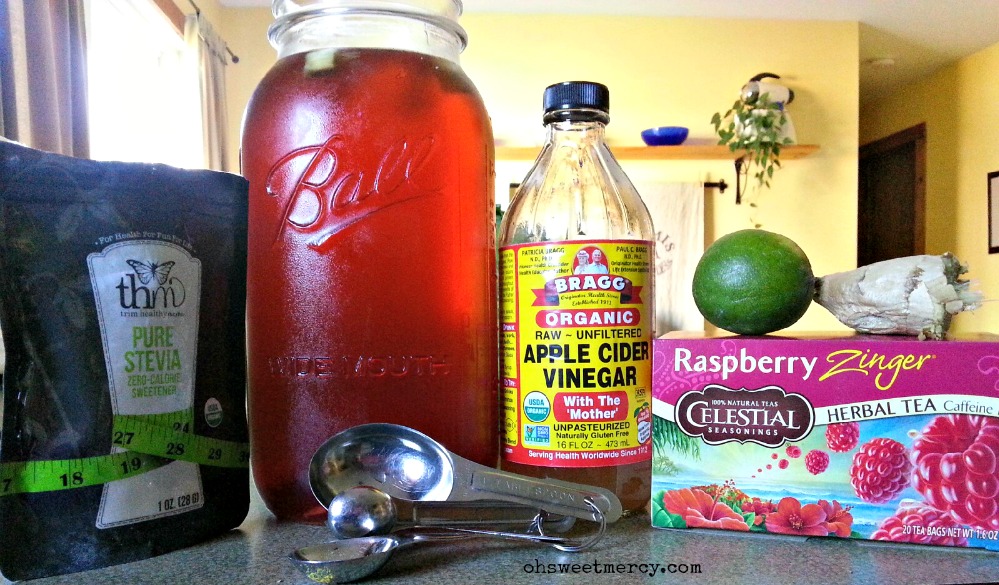 Made by Celestial Seasonings, it contains hibiscus, rose hips, roasted chicory, orange peel, raspberries, raspberry leaves and blackberry leaves. If you're a "purist," you may not choose to use this tea as it also includes the vague "natural raspberry flavor with other natural flavors." It is, however, kosher, if that is a concern for you.
Hibiscus tea may help with weight loss and rose hips are high in vitamin C and super healthy, so you could substitute those for the Raspberry Zinger, although I could not guarantee how close it would taste to this tea. I have also used store brand teas of this flavor combination and they work great as well.
This gallon-sized mason jar dispenser would be perfect for cold-brewing teas! Then you can make and flavor your GGMS to suit your mood.
Cold brewing tea results in fewer tannins.
This means it will be less astringent, and taste better. Cold brewing is super easy, too. I fill a two-quart mason jar with filtered water and add 4-6 tea bags. How many I add depends on how strong I want it…or sometimes, how many tea bags I have left. Then, I put it in the fridge before I go to bed and voila! In the morning there's a nice, cold jar of tea waiting for me.
To make this good girl moonshine, I add raw apple cider vinegar, fresh lime juice, fresh ginger slices and stevia.
I love the Trim Healthy Mama Pure Stevia Extract, a little bit goes a long way! I add 5-6 "doonks" per half gallon, or 2-3 doonks per quart.
If you want to know more about THM Pure Stevia Extract, and what a doonk is, check out my review here.
I don't have a citrus press or one of those manual juicers, so I have to find another way to juice my citrus fruits.
I used to slice them in half but it was just messy. And too much work. Now, I first roll and squeeze the lime a bit to loosen up the juice. Then, I stab the lime and kind of dig the blade inside the fruit a bit. Next, just squeeze the juice out. I make sure to squeeze all around the fruit – you can feel the pulp popping which releases the juice.
How much ACV should you add?
That is, in part, up to your tastes. The THM sisters are very liberal with it. I like a more subtle amount myself. I add one or two tablespoons per quart of water. As with all things, moderation is a good rule to follow. If you're new to ACV, start out with a small amount and increase a little each time you make your Good Girl Moonshine.
You can drink this right away, or let it set for a while for the flavors to blend.
I sip on one or two quarts of this per day, it's a great way to stay hydrated, too. It reminds me a little of those artificially sweetened diet soft drink mixes, but way better!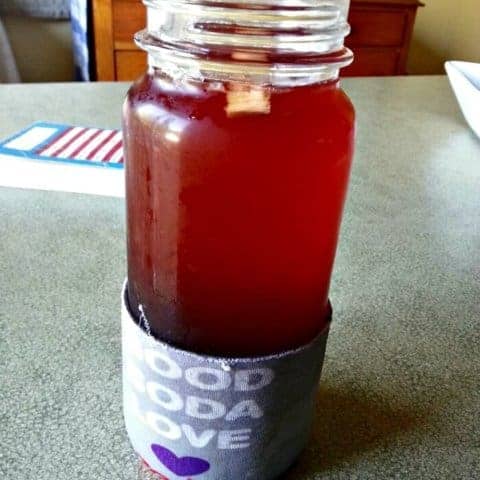 Zingy Raspberry Good Girl Moonshine
Prep Time: 5 minutes
Total Time: 5 minutes
This fresh, tangy-sweet Zingy Raspberry Good Girl Moonshine is perfect on a hot summer day. Plus, you get the healthy benefits of raw ACV.
Ingredients
2 quarts of Raspberry Zinger tea, brewed to desired strength
1-4 Tbs Bragg's Raw Apple Cider Vinegar, or to taste
Juice of one or two limes
A chunk or two of peeled, fresh ginger
Pinch or two of Mineral Salt or sea salt
Alternatively, you can use a garlic press to juice the ginger
Stevia, to taste
Instructions
Mix together and refrigerate to allow flavors to blend, or, if you can't wait, go ahead and drink up!
Best served cold or over ice.
Recommended Products
As an Amazon Associate and member of other affiliate programs, I earn from qualifying purchases.
Nutrition Information:
Amount Per Serving:
Calories: 0
Cholesterol: 0mg
Sodium: 0mg
Carbohydrates: 0g
Fiber: 0g
Sugar: 0g
Protein: 0g
Don't Forget to Pin This Zingy Raspberry Good Girl Moonshine Recipe to Your Favorite Pinterest Boards!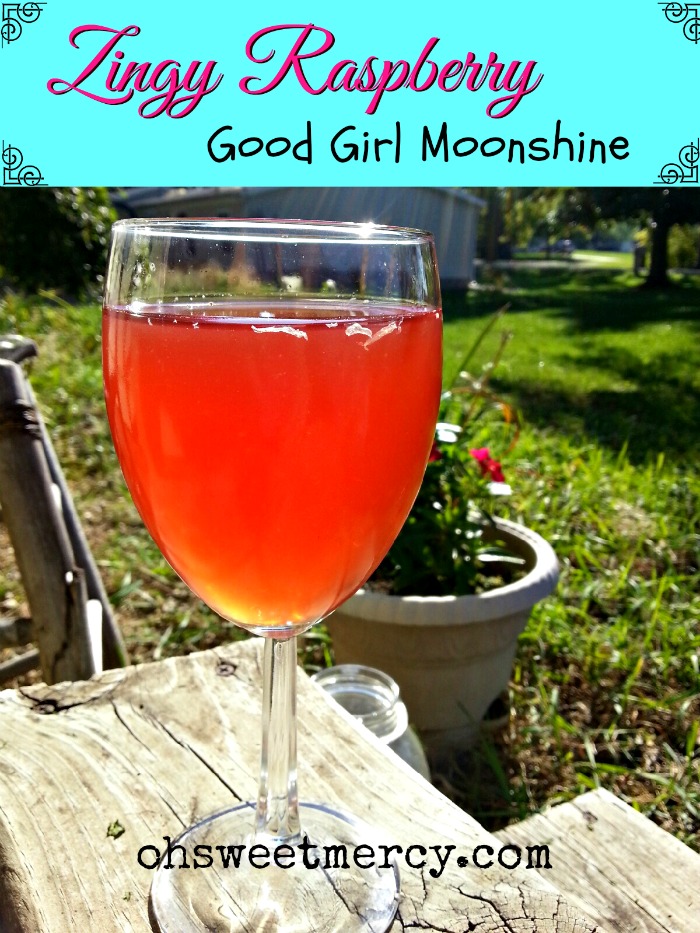 What is your favorite way to make Good Girl Moonshine?