Like this post and don't want to miss more like it? Be sure to sign up for my newsletter at the end!
Going gluten free means no more delicious, yeasty, bread-y bread.
I'm sorry, but there just isn't a gluten free alternative that EXACTLY matches the taste and texture of a good ole loaf of wheat bread. There are many recipes out there that come close, but that's it.
Close is not. quite. it.
Then there's any one of many variations of Bread in a Mug. Still close, but not quite it. But, I've got a secret to make it closer to that bread we love and miss.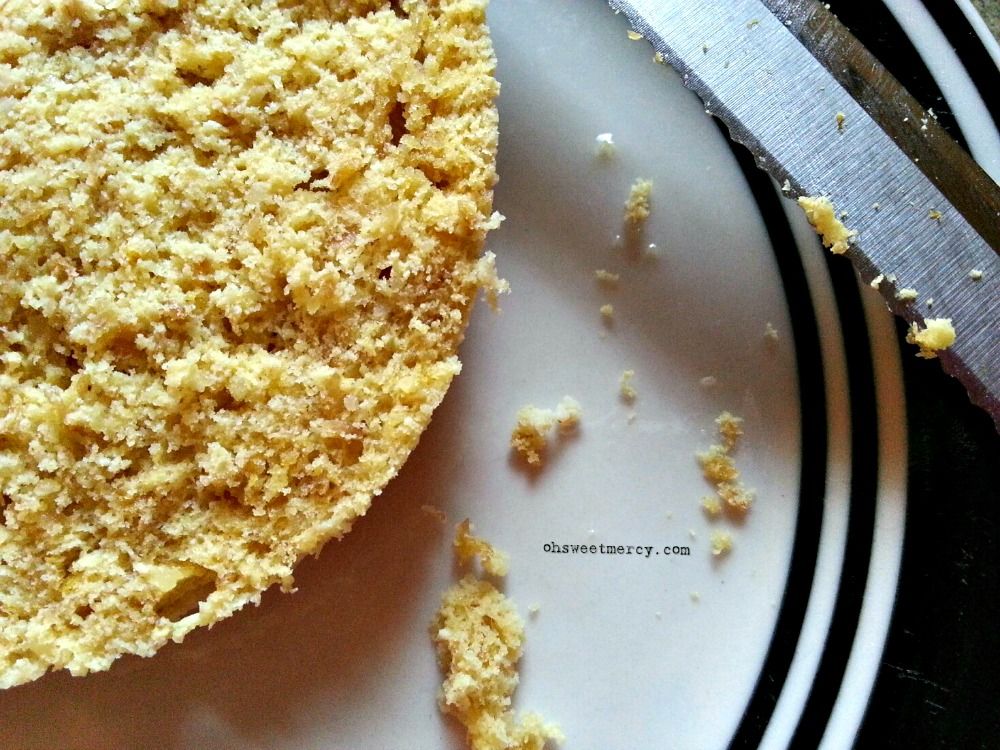 Bread can be tricky on the Trim Healthy Mama plan, but I've got a solution for you.
You can have bread, but it has to be low-carb bread. I don't buy low-carb bread – I don't think there even is such a thing as commercially made low-carb gluten-free bread – so I needed a super easy, low-carb, low-glycemic and gluten-free bread that you can whip up in no time.
If you read my post on How to Make an Egg White Omelette That Looks Like the Real Thing then you probably want to know what that slick trick is that I mentioned regarding nutritional yeast. Well, what if I told you that adding some "nooch" or "hippie dust" (nutritional yeast)  will make fabulous, low carb, gluten free bread in a mug that ha that yeasty, bread-y aroma you are missing?
Oh yes…you can!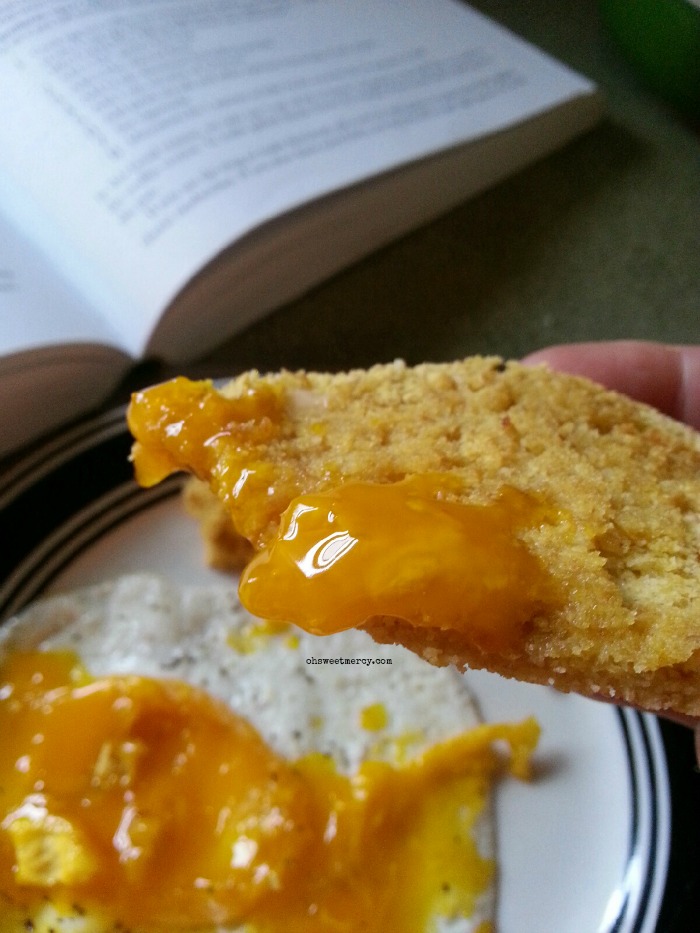 I've been playing around in my kitchen, and here is my version of BIM (Bread in a Mug)
You can make it in a mug, or if you have a squarish dish that is about the size of a slice of bread, like my favorite Corningware Etch dish, then you can make…wait for it…
SANDWICH BREAD!
Sandwich bread in a mug! Get out of town! I kid you not. I would not kid about something as serious as gluten-free-low-carb-low-glycemic-bread-that-you-can-make-in-minutes. Nope. Not my style.
I will tarry no longer…let's get on with it and make some bread in a mug!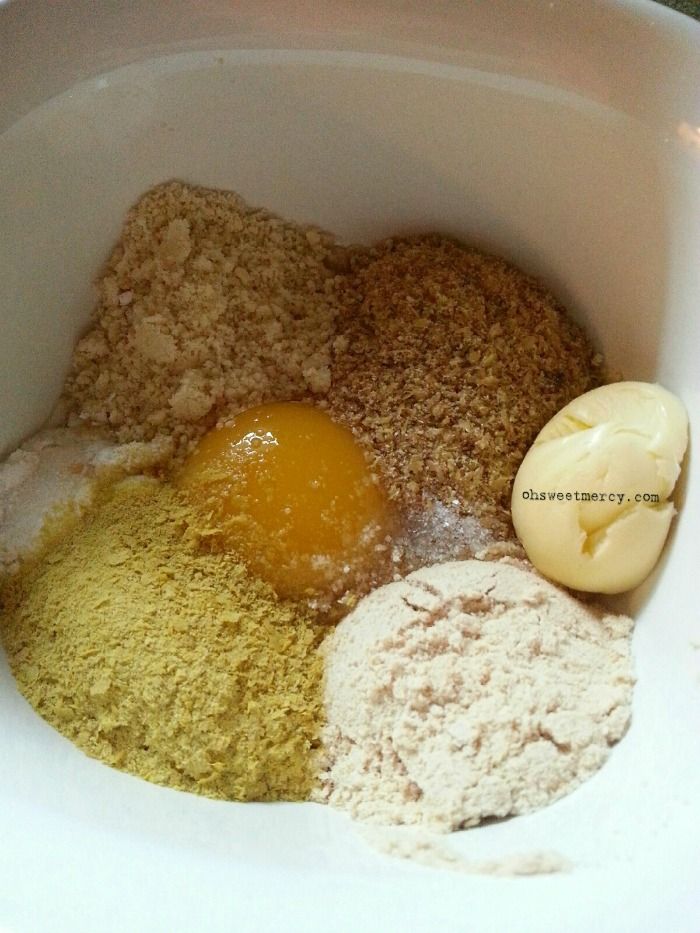 Take your mug or dish, or even a bowl…whatever you'd like. Scramble an egg in there.
Add the dry ingredients. The secret, magical ingredient here is nooch, so don't forget that! If you don't have it, it will still work, but it won't have that hint of yeasty, bready-ness. I use coconut flour in this, because I like the texture and the richness of coconut flour. If you don't  like coconut flour or can't eat it, no problem. Just increase the amount of flax and almond meals [see recipe below] Don't forget the baking powder!
Stir well. Add one teaspoon of butter or coconut oil and one to two tablespoons of water or almond milk. Coconut flour is highly absorbent! You'll want a muffin batter-like consistency.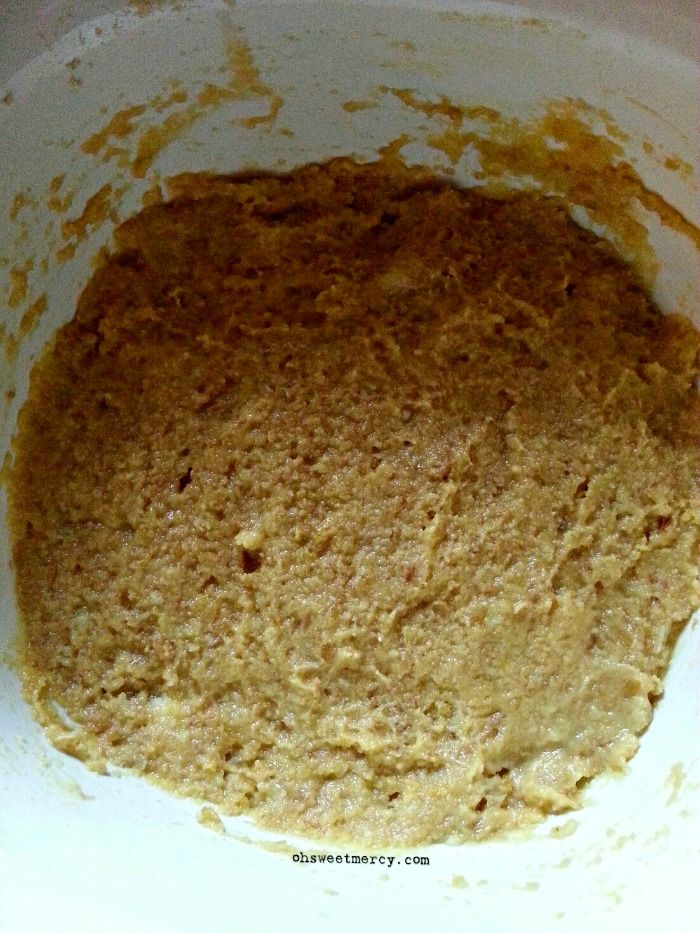 Here's where you need to make a decision.
If you don't like to use a microwave, you can bake your bread in a mug in the oven at  350 for 12-16 minutes. If microwaves don't bother you, then nuke it on high for one to one and a half minutes. I've found that if you use coconut flour, it tends to take a little longer, especially if you're making this in a mug. You can also cook this up in a waffle iron if you're feeling a little fun.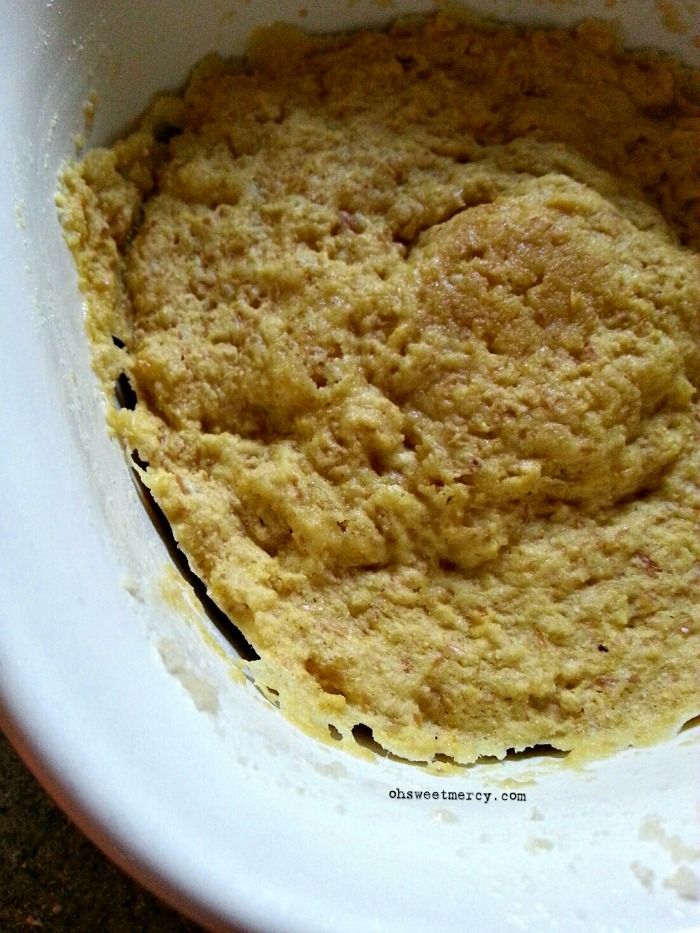 In a moment you'll have a healthy, high-fiber, gluten-free, low-carb, low-glycemic almost bready bread. You should detect a hint of bready-ness, thanks to the nutritional yeast. Let it cool a bit and remove from the mug or dish. Slice and butter that yummy bread. Fill it with your favorite sandwich fillings. Toast it! Enjoy the moment.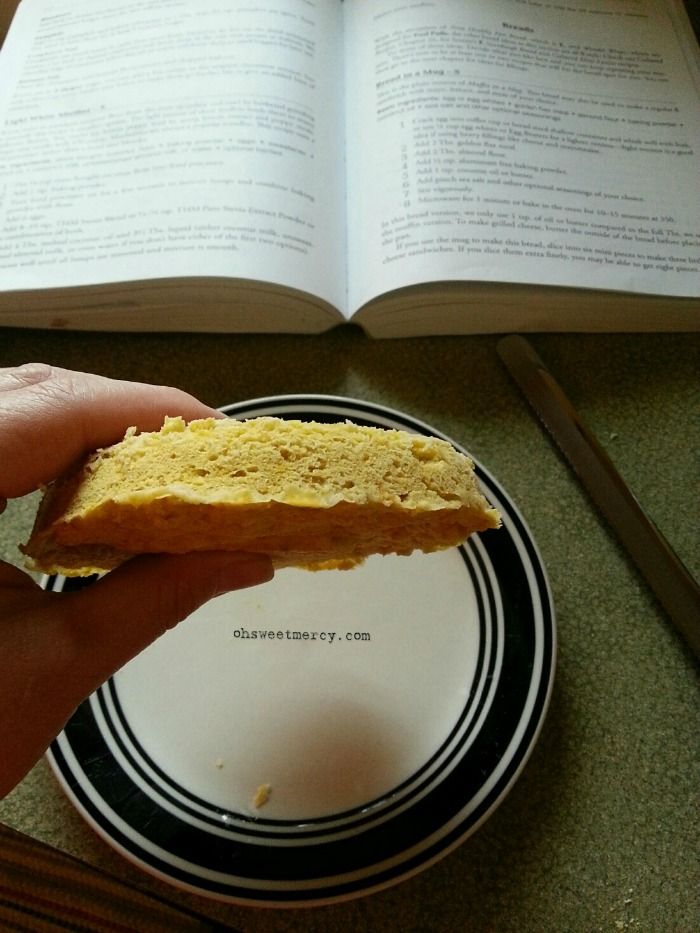 Trim Healthy Mamas take note.
This is an S style bread. It is also pretty high in protein, coming in at a little over 16 grams. It has 4.6 grams of NET carbs and 16.1 grams of fat. You could easily eat half for one meal and save the other half for another if you're wanting a lighter S style meal or snack.
We don't have to count calories on this plan, and in an S style setting we don't have to count fat grams either, but I've had requests for that information so I'm providing it. I love the freedom of not having to track every single thing on this amazing lifestyle! If you're tired of tracking every single thing every single day, why not join us in this Food Freedom we've found? You can get the new and improved Trim Healthy Mama plan book from my affiliate partner.
One Simple Secret for Amazing Low Carb Bread You Need to Try
Missing regular bread? The secret ingredient in this easy, gluten free Bread in a Mug will make it more like real, yeasty bread. Trim Healthy Mama friendly, too! Perfect for toasting and sandwiches.
Ingredients
1 egg
1 tablespoon almond flour
1 tablespoon golden flax meal
1 tablespoon coconut flour
1 to 2 tablespoons nutritional yeast
1/2 teaspoon baking powder
Pinch of mineral or sea salt
1 teaspoon butter or coconut oil
1 to 2 tablespoons of water, more or less as needed
Directions
Scramble egg lightly in a mug or dish, you may want to spray with nonstick spray or grease with butter first.
Add remaining ingredients and mix well.
Add water if needed to achieve a muffin batter like consistency - coconut flour is very absorbent, let the batter sit a few minutes and see if you need more liquid.
Microwave on high for one minute to one and a half minutes. I find it takes a bit longer using coconut flour.
If you prefer not to use a microwave, bake in a preheated 350 degree oven for 10-15 minutes or until cooked through.
Shake the mug a little or use a butter knife to run around the edge of the bread and it should just pop right out. Let it cool a bit and enjoy!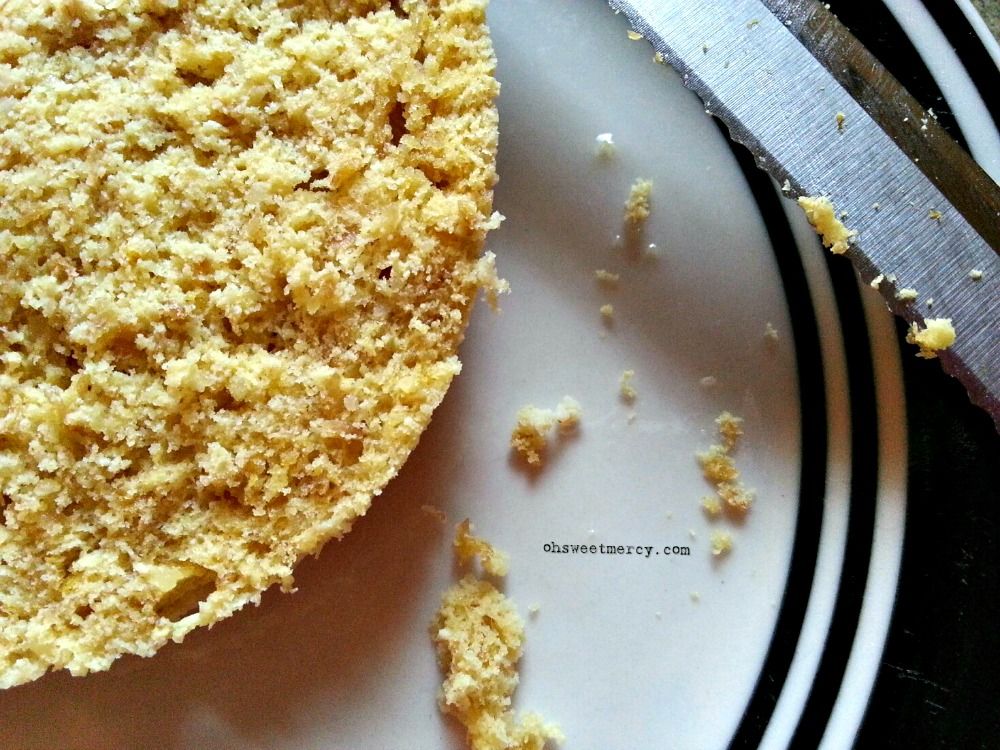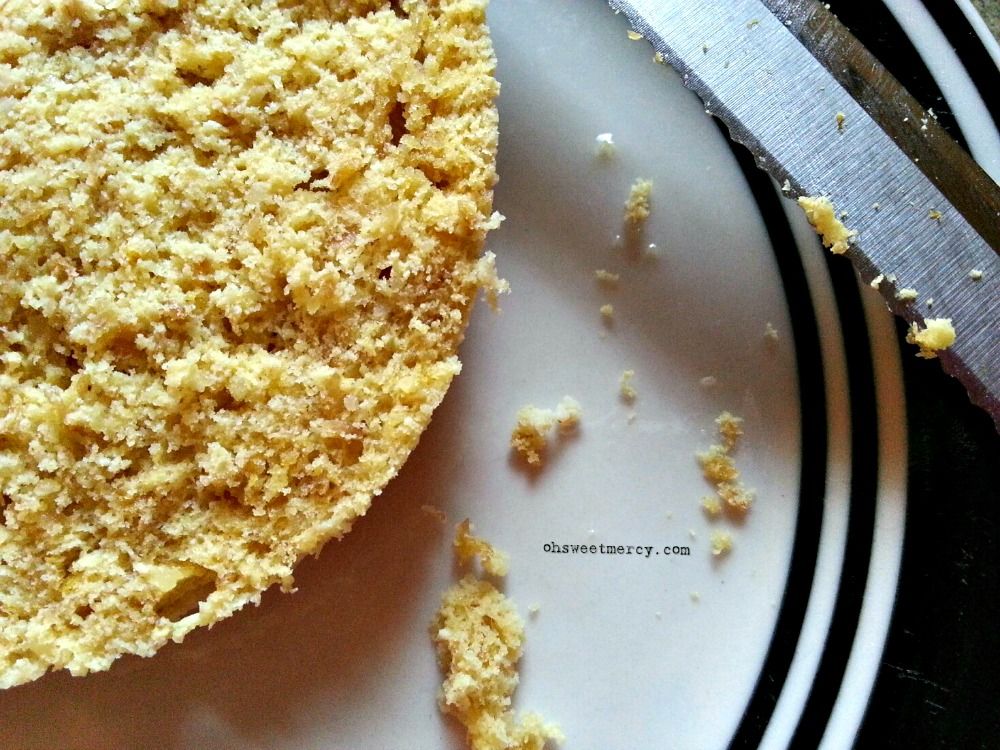 While my recipes are not officially endorsed by Trim Healthy Mama, I do my best to ensure they meet plan guidelines. Always refer to the THM plan book for complete information.
Like this recipe? You're not alone! Be sure to pin this to your favorite Pinterest boards!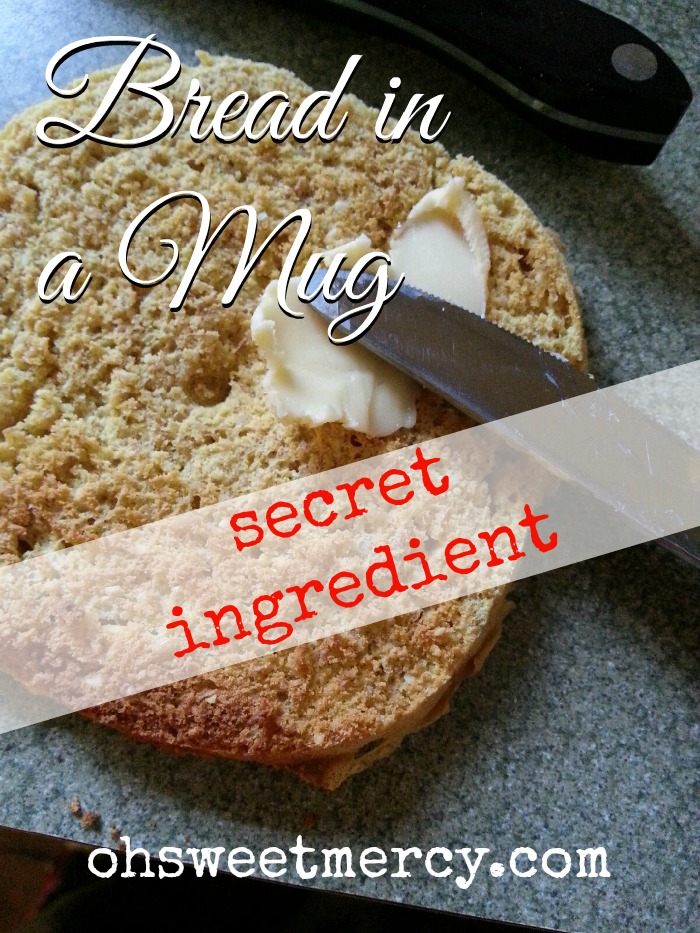 ---